Without any exaggeration, Alvin Kamara has the chance to become one of the best running backs of all-time. And that's true whether you're discussing real football or fantasy football.
Through any running back's first two seasons in the NFL, only Herschel Walker totals more receiving yards (1,552) than Kamara's 1,535. Among all running backs with at least 300 carries in their first two NFL seasons, Kamara ranks 10th-best in yards per carry (5.13), behind many of the NFL's most illustrious names.
RB Leaders in YPC (First 2 Seasons in NFL)

1. Clinton Portis (5.50)
2. Jim Brown (5.38)
3. Gale Sayers (5.31)
4. Chris Johnson (5.31)
5. Frank Gore (5.25)
6. Paul Lowe (5.22)
7. Barry Sanders (5.19)
8. Adrian Peterson (5.16)
9. Maurice Jones-Drew (5.13)
10. Alvin Kamara (5.13)

— Scott Barrett (@ScottBarrettDFB) April 19, 2019
Even from a fantasy perspective, Kamara ranks as one of the most efficient and productive running backs of all-time. He totals 674.6 PPR points through his first two seasons in the NFL, which ranks third among all non-quarterbacks ever, behind only Edgerrin James (781.2) and Eric Dickerson (692.6), just ahead of LaDainian Tomlinson (665.5).
On a per-touch basis, Kamara's numbers are somehow even more impressive. Throughout the history of the NFL, there are 895 instances of a running back totaling at least 100 carries in a single season. Within that sample, Kamara has two seasons ranking in the top-six all-time by fantasy points per touch.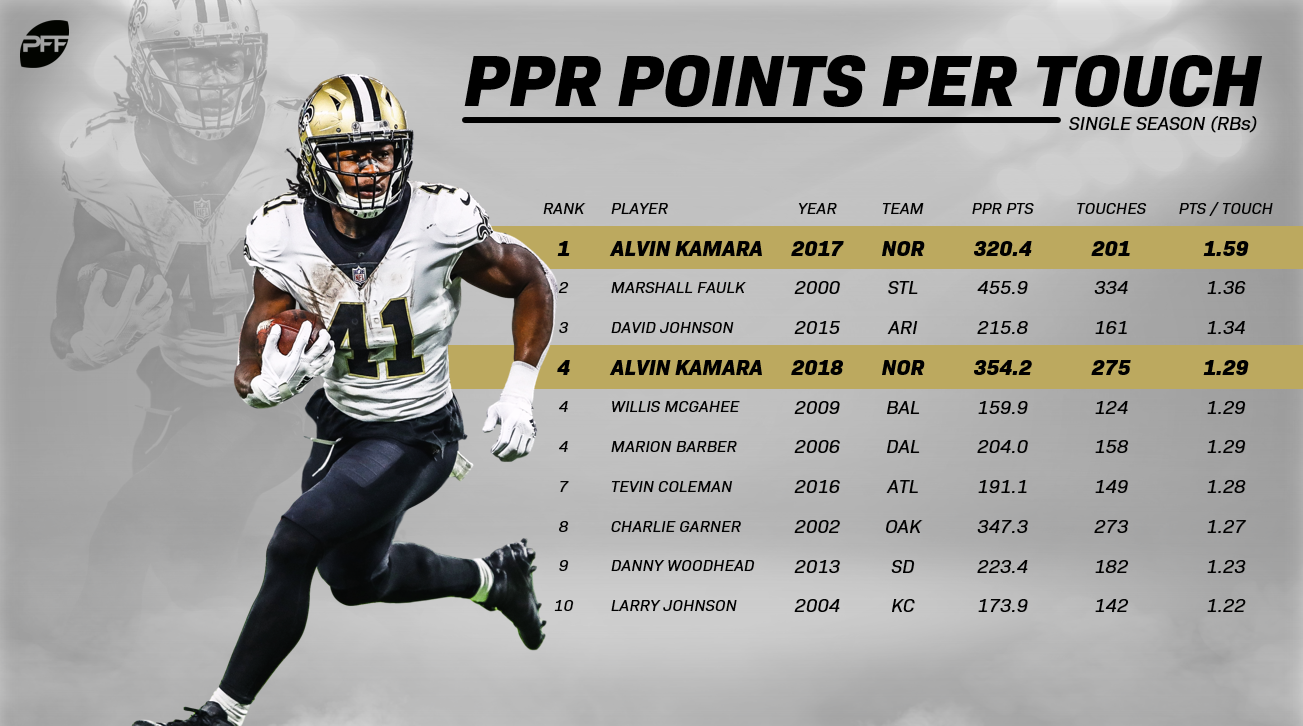 Kamara finished fourth-best in fantasy points per game in both 2017 and 2018. He's typically the fourth running back drafted in current best ball leagues. Of course, that seems like a fine valuation on paper, but he actually might still be a little undervalued.
Kamara is one of the most efficient running backs ever on a per-touch basis, but only ranks 23rd in touches per game (15.4) over the past two seasons.
With Mark Ingram suspended during the first four weeks of last season, we finally got to see Kamara's full potential as a bell-cow running back. Through those first four weeks, Kamara averaged a whopping 34.0 fantasy points per game, or the most by any player ever through the first four weeks of the season.
Kamara averaged 57.3 snaps per game, 14.0 carries per game, and 11.0 targets per game during that span. Across his final 11 games, he averaged only 38.9 snaps, 12.5 carries, and 4.9 targets per game.
It's unlikely Kamara gets full bell-cow treatment next season, but perhaps he does earn a larger role than what he received following Ingram's return from suspension. Ingram is now in Baltimore, while New Orleans signed Latavius Murray as his replacement. Sean Payton has never really used his primary running back in a bell-cow capacity, but it's also not necessarily a given he values Murray the same as Ingram. Ingram is making $5 million this year and made over $5 million last year, while the Saints are paying Murray just $3.6 million per year. Murray averages just 4.1 yards per carry and 11.5 receiving yards per game for his career, while Ingram averages 4.9 yards per carry and 23.4 receiving yards per game over the past four seasons.
Kamara is just about appropriately valued as the RB4 in 2019 fantasy drafts (I have him at RB3 in my own rankings), but note that he very well could be in line for the best fantasy season of his career, and if something were to happen to Murray, he might be the most valuable fantasy asset you could own.