There's an answer to the question, "When is it too early to do a fantasy football mock draft?" I suppose it depends on personal preference. For some people, it's months before their own fantasy draft. For others, maybe it's a year before. For me, there's no such thing as too early. (I hope you feel the same way.)
Today, we're going to be looking a year into the future to project the first two rounds of 2020 fantasy drafts. For those of you in keeper leagues, you might want to pay especially close attention.
If you thought this mock draft was too early, tomorrow we'll be projecting the first two rounds of 2021 fantasy drafts.
Round 1
Barkley led all non-quarterbacks in fantasy points in 2018, and I wouldn't be surprised if he repeats that distinction in 2019 as well. New York's offense will likely be worse without Odell Beckham Jr. on the field, but that shouldn't slow down Barkley. He was actually more productive (for fantasy) when trailing and in losses thanks to an uptick in receiving usage that more than offset a lack of scoring opportunities.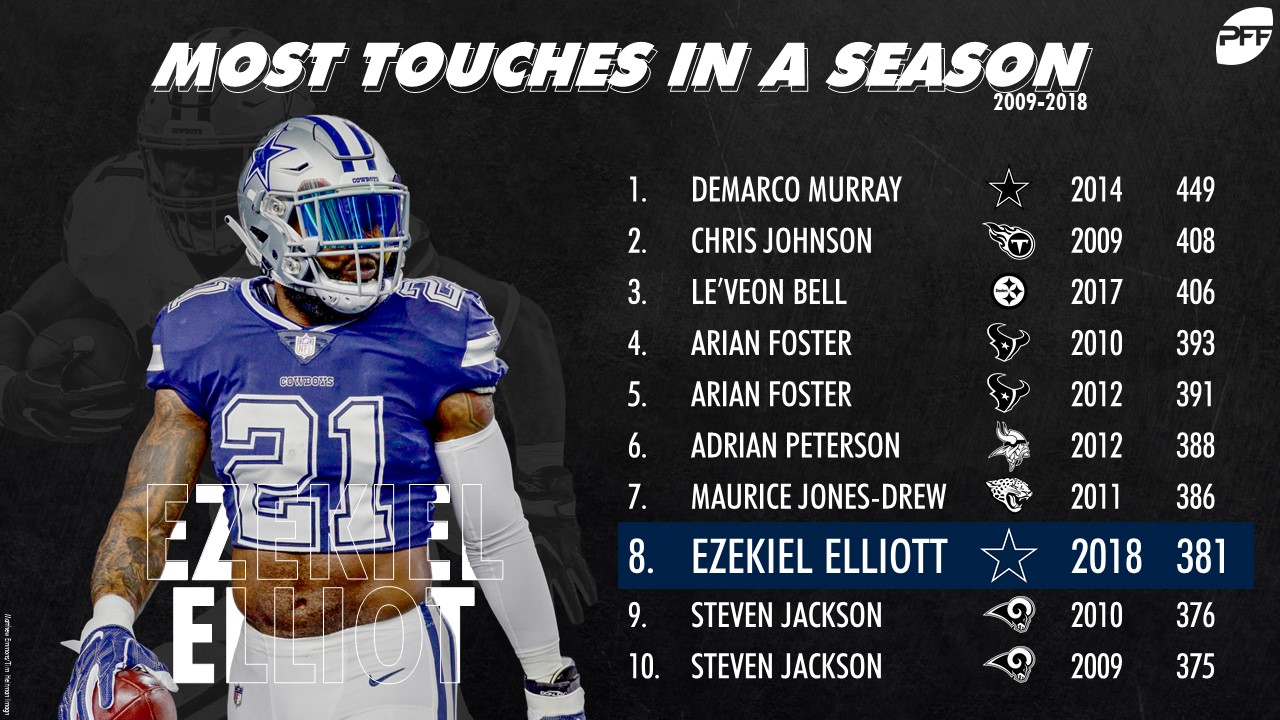 With Elliott now receiving a Le'Veon Bell-esque workload (304 carries and 95 targets in 2018), it's hard to imagine he won't be a top-three pick in 2020.
Kamara's 2020 draft slot will be entirely dependent on Latavius Murray's 2019 workload. As I've argued, if it's anything less than Mark Ingram's workload last year, Kamara very well could be the top pick in 2020 drafts.
Although McCaffrey led all running backs in fantasy points during the fantasy season (Weeks 1-16), I suspect he'll be a little more affordable in 2020 drafts. McCaffrey has legitimate 1,000/1,000 upside, but I don't see him being too likely to hit that with head coach Ron Rivera trying to reduce his workload.
For all the reasons I've outlined before, Johnson is one of the most undervalued players in the first few rounds of 2019 drafts. Fantasy players won't make that mistake again in 2020.
Either Conner is going to be valued almost exactly where we valued Le'Veon Bell a season ago, or Pittsburgh will use its running backs in a committee for the first time since 2012. I'm betting it's the former, and Conner will be a top-six pick in 2020.
Gurley has been a fantasy powerhouse over the past two seasons, leading all non-quarterbacks in fantasy points per game in back-to-back seasons. Those days might be behind him, however, thanks to head coach Sean McVay likely reducing his workload due to concerns over his arthritic knee. Still, even if Gurley sees a 25% dropoff in workload, that'd still be enough to take him here.
8. Le'Veon Bell, RB, New York Jets (Age: 28)
Although Bell's situation in New York might not be as attractive as it once was in Pittsburgh, it's attractive enough. I have a hard time imagining the all-time leader in fantasy points per game won't be worth a top-10 pick in 2020.
Hopkins has led wide receivers in total fantasy points in back-to-back years. I'm betting he does it again in 2019 and is the first wide receiver selected in 2020 drafts. Still, he ranks only 10th here because high-end running backs hold more positional value than high-end wide receivers.
If Hopkins is not the first wide receiver taken in 2020 drafts, it will likely be Adams, who led all wide receivers in fantasy points per game last year. There's not much target competition for Adams in Green Bay, and the offense seems poised to take a step forward under new head coach Matt LaFleur.
Kelce totaled 294.6 fantasy points in 2018, which ranked first among all tight ends and would have ranked ninth among all wide receivers. With Tyreek Hill facing a potential suspension, Kelce seems like a good bet to improve on those numbers in 2019. Given the positional advantage awarded to premium tight ends, Kelce will be well worth a first-round pick in 2020.
Gordon has ranked fifth, sixth and fifth among running backs in fantasy points per game over the past three seasons. However, he's also struggled with injuries and has Austin Ekeler potentially waiting in the wings. On top of that, he'll be a free agent next season. Despite all the risks, he's still a likely Round 1 pick in 2020.
Round 2
13. Odell Beckham Jr., WR, Cleveland Browns (Age: 27)
Beckham will benefit from improved quarterback play in Cleveland, but there's also more competition for targets and less of a demand for the offense to go as pass-heavy. Still, he will be good enough to offset those concerns. It's hard to imagine he won't be a borderline first-round pick in 2020.
14. JuJu Smith-Schuster, WR, Pittsburgh Steelers (Age: 23)
Smith-Schuster should benefit from an increase in targets following the departure of Antonio Brown, though he already saw a whopping 166 targets last year (fourth-most), and Brown's absence means tougher coverage and an increased focus from opposing defensive coordinators. Even so, he'll be just 23 years old in 2020 and seems like a safe bet to be a top pick in 2020 drafts.
15. Michael Thomas, WR, New Orleans Saints (Age: 27)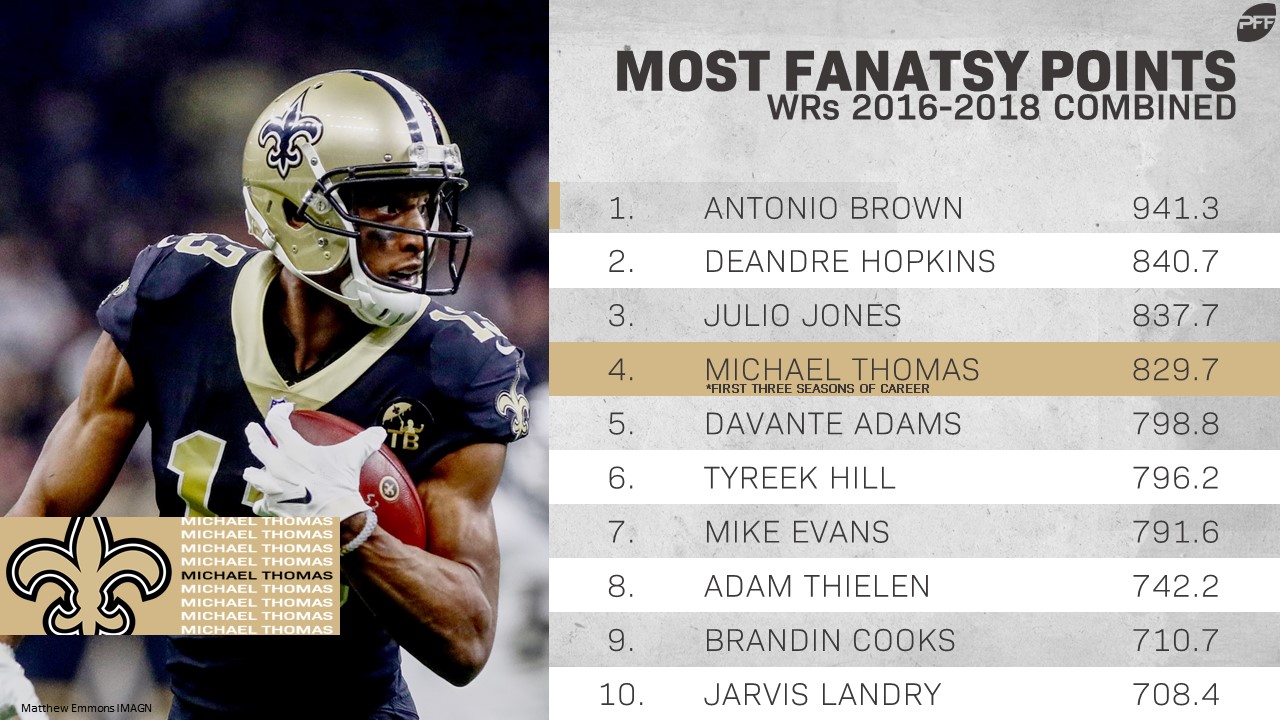 Thomas has ranked sixth, sixth and seventh among wide receivers in total fantasy points since entering the league. That sort of consistency means he'll likely be worth a selection within that range in 2020.
Earlier this offseason, Mixon told reporters he's getting in shape for 400 carries in 2019. I'm betting against that, but I do think he'll see an uptick in usage. This feels like a fair projected ranking for him, but he could wind up much higher depending on how many targets he steals from Giovani Bernard next year.
Jones will be 31 years old in 2020, but we've yet to see any decline from him in terms of play. Jones has led the league in yards per route run for four consecutive seasons. Unless that trend fails to hold in 2019, I'm guessing Jones will be a top-20 pick again in 2020.
If Cook can stay healthy in 2019, he might just be worth a first-round pick in 2020 drafts. He was efficient last year (ranking first in missed tackles forced per touch of 56 qualifying running backs) and saw good usage toward the tail end of the season. From Week 11 until the end of the season, Cook played on 76% of the team's snaps and averaged 15.7 fantasy points per game.
19. Antonio Brown, WR, Oakland Raiders (Age: 31)
Although Brown will still be a WR1 in 2019, I think he'll learn firsthand the importance of quarterback play. He'll have a good year with Derek Carr under center, but he won't have an Antonio Brown-like year, pushing him down the second round in 2020 fantasy drafts.
20. Devonta Freeman, RB, Atlanta Falcons (Age: 28)
After an injury-plagued 2018, Freeman is a near-afterthought in 2019 fantasy drafts. However, he finished 13th, 10th and first in fantasy points per game over his previous three seasons. I'm expecting a season more in line with those finishes in 2019, which will keep him higher on our radar for 2020 fantasy drafts.
Kittle broke numerous records in 2018, just his second season in the NFL. San Francisco drafted two wide receivers on Day 2 of the 2019 NFL Draft, but Kittle should still be the focal point of the team's passing attack in 2019. Given the positional advantage awarded to top tight ends, he'll be well worth a second-round pick in 2020.
Efficiency has never been good for Fournette, but volume always has. Even in a "down year" last season, Fournette averaged 23.8 touches and 18.5 fantasy points per four quarters. So long as Jacksonville doesn't draft or sign a replacement by this time next year, he's a good bet to be a top-24 player in 2020.
23. Damien Williams, RB, Kansas City Chiefs (Age: 28)
For reasons I outlined a few weeks ago, Williams is one of the toughest players to project for 2019. If he's the team's bell cow, he could be worth a top-six pick in 2019. If he's just the team's featured back, this ranking is probably a little too high. I'll split the difference and project him going at the tail-end of Round 2 for 2020 drafts.
24. Patrick Mahomes, QB, Kansas City Chiefs (Age: 24)
In 2018, Mahomes totaled the most fantasy points by any quarterback in any season all-time. In 2019, I'm projecting a regression to the mean, but that regression could still come and make Mahomes worthy of a top-24 pick in 2020.