Picking keepers in fantasy football presents different puzzles than other fantasy strategies. The first puzzle is how keepers are even selected. If there is no draft-round penalty for your keeper — the keepers are your first X round picks — then it's actually easy: Keep the highest-ranked players.
That's not what we're talking about today, though, because it's easy. More complicated is the decision when the keepers carry a draft-round penalty. Most commonly, that means you can keep the player at or close to the round he was drafted a year previous. It gives extra value to sleepers from the year before, underdrafted players who became surefire fantasy plays. Below are some players who were drafted late (or not at all) in 2018 who could make for interesting keeper options in 2019 based on their extra value.
(All ADP information comes from Fantasy Football Calculator.)
(2018 ADP: 9.02, 98th overall)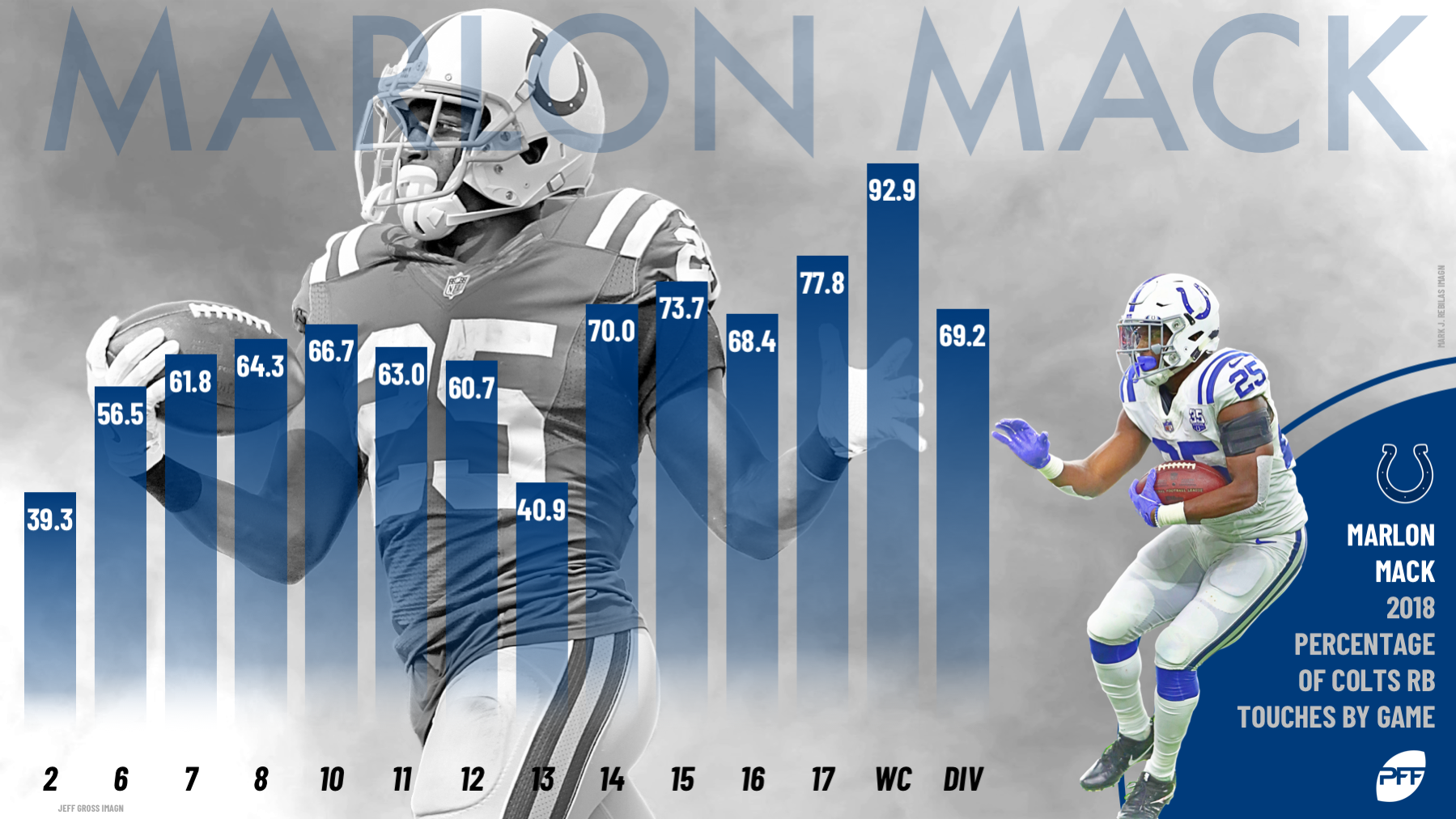 Mack was hurt entering the season last year, hadn't yet distinguished himself in the Colts backfield, and was contending with Nyheim Hines, Jordan Wilkins, and even Robert Turbin and Christine Michael for playing time. By the end of the year, though, he finished 14th at the position in PPR points per game, pushed Wilkins, Turbin, and Michael out of the way, and established himself as a real fantasy contributor. Mack has his downsides — he was tremendously gamescript-dependent in 2018 and won't have a huge target load with Hines around — but he's the No. 17 back in our PFF Fantasy staff rankings, and if you can get that at the value of around pick 100, that's worth it.
(2018 ADP: 9.05, 101st overall)
Like Mack, Jones was out to start the year and had backfield competition, with Jamaal Williams and Ty Montgomery to deal with. And like Mack, by the end of the year those questions were largely answered — Montgomery was elsewhere, Williams was rendered largely moot, and Jones was the No. 17 back in points per game despite not getting the No. 1 gig quickly and ending the year on IR. Now, he's the No. 14 back in our staff rankings.
(2018 ADP: 10.03, 111th overall)
Ryan's been notoriously roller-coastery in recent seasons, but he is coming off the 14th-best fantasy year for a quarterback all time after going as the No. 13 quarterback a year ago. You have to really like a quarterback to keep him, but Ryan's value makes him tempting.
(2018 ADP: 11.01, 121st overall)
Obviously. Mahomes went from an afterthought in most leagues to the best player in fantasy last year, and while yes, keeping a quarterback is a questionable decision in single-QB leagues, it's hard to get more value out of a quarterback than Mahomes offers.
(2018 ADP: 11.11, 131st overall)
It's easy to see why Chubb was a late pick in 2018, stuck behind Carlos Hyde and Duke Johnson on the Cleveland depth chart. By the middle of the season, though, Hyde was in Jacksonville and Chubb was leading the way, en route to finishing the year as PFF's top-graded overall running back and entering 2019 as the No. 15 back in our rankings. If you got in on the ground floor, there's big profit.
(2018 ADP: 12.08, 140th overall)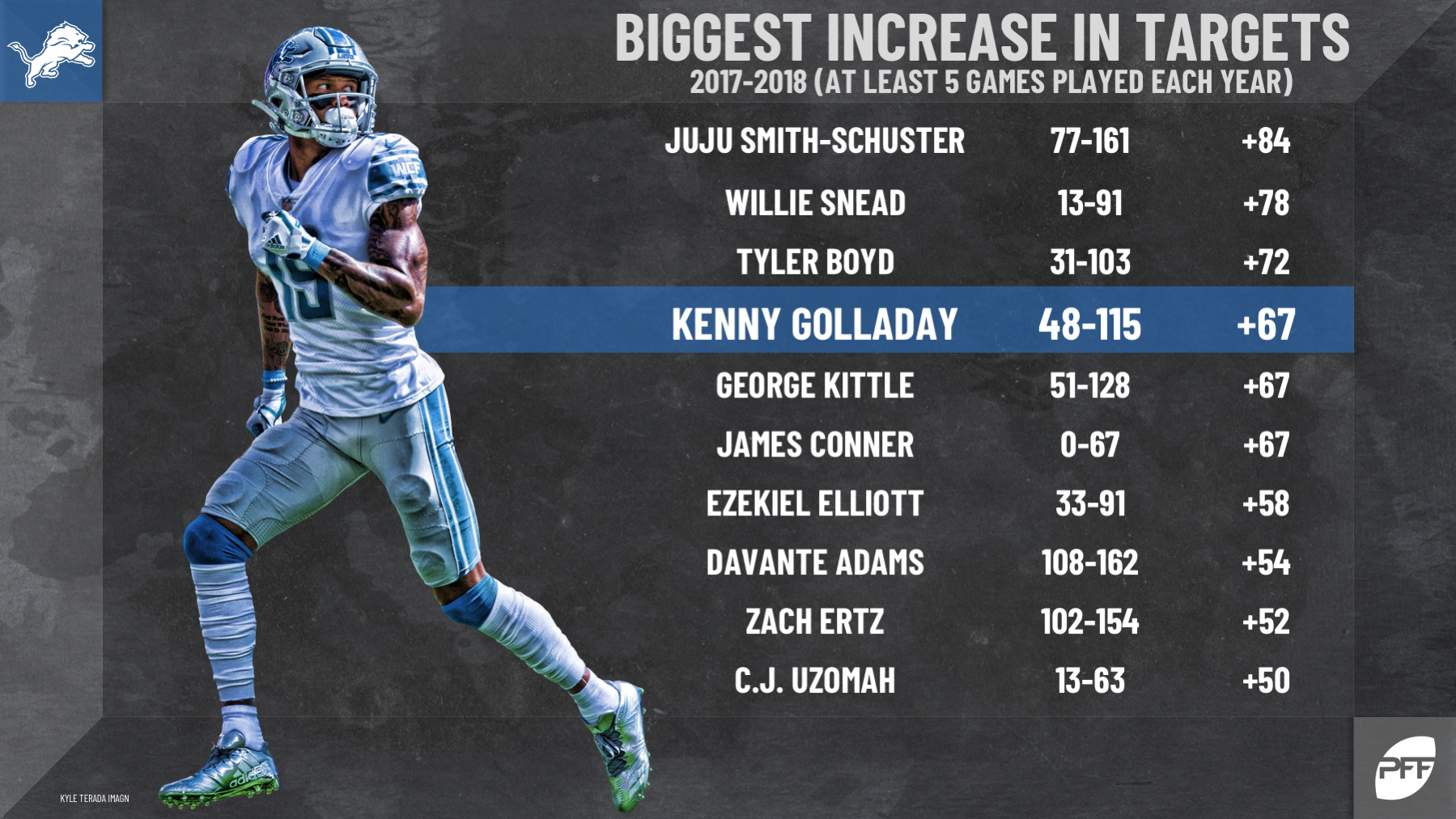 Golladay was third in the pecking order in Detroit, behind Golden Tate and Marvin Jones, entering his second season. A No. 3 receiver is always a long shot for fantasy performance. Instead, Golladay had 11 targets in Week 1, was top-20 in targets through Week 5, and saw Tate get traded and Jones hit IR, leaving Golladay room to finish as WR21 in PPR and enter this year 18th in our staff rankings.
(2018 ADP: 12.09, 141st overall)
For all practical purposes, there are three tight ends worth keeping in fantasy (depending on your format, of course, but for most of them). Travis Kelce's keeper cost is an early third-rounder. Zach Ertz' is an early fourth. And then there's Kittle, who can be kept for only the cost of a late 12th-round pick. A year after setting the all-time TE yardage record and the PFF-era TE yards-after-the-catch record, Kittle is a mid-to-late-rounder as a keeper and going as high as the second round in some drafts this year.
(2018 ADP: 13.01, 145th overall)
Like Golladay, Godwin was buried on the Tampa Bay depth chart, with Mike Evans the clear No. 1 and Godwin battling DeSean Jackson, Adam Humphries, and O.J. Howard for looks. Well, Jackson and Humphries are gone now, and Godwin is in line to rise from his 26th-place fantasy finish from last year with Jameis Winston ready for 16 games and Bruce Arians as coach now. He's the No. 20 receiver in our staff rankings.
(2018 ADP: 14.12, 168th overall)
Here's where the real value starts. Conner was taken as a handcuff a year ago, insurance in case the Le'Veon Bell holdout surprisingly lingered. And linger it did, as we never saw Bell take the field last year and Conner finished the year as the No. 6 PPR back despite missing three games to injury. Now, Conner is entrenched as the Pittsburgh No. 1 back, and even if there's more of a committee (with Jaylen Samuels and Benny Snell) than there was in 2018, he's well worth a keeper at this price.
(2018 ADP: 15.08, 176th overall)
Ekeler poses more risk than most backs in this piece, but he also poses significant reward. If Melvin Gordon's holdout lingers or he's traded away from the Chargers, Ekeler suddenly becomes the best back on the roster (if he isn't already), even if he doesn't profile as a bell-cow type and we'll see Justin Jackson get plenty of run. With Gordon, Ekeler's draft stock at this level is valuable. Without Gordon, this could be an incredible steal.
(2018 ADP: Undrafted)
If you snagged Mayfield off the wire once he took the job from Tyrod Taylor last year, he offers significant value this year, going as high as fifth at the position in ADP. While I wouldn't take him quit that high, he's still firmly in the QB1s and can be had for a last-rounder.
(2018 ADP: Undrafted)
Williams probably wasn't rostered in anything but the absolute deepest of leagues until at least Week 13 (when Kareem Hunt was released) and perhaps not until Week 14 (when Spencer Ware got hurt). All he did from that point (including the playoffs) was play six games, put up 612 scrimmage yards, score 10 touchdowns, and average nearly 25 PPR points a game. The No. 1 back in an Andy Reid offense can have crazy value, which explains why Williams is the No. 16 back in our staff rankings (and as high as 11th in Scott Barrett's individual ranks), and while he has more risk than some other backs in his range in the draft, his value at this price point is insane.
(2018 ADP: Undrafted)
Lindsay not only went undrafted in fantasy last year, he went undrafted in the NFL as well. He was definitely going to be behind Royce Freeman and probably Devontae Booker as well. Instead, he was the No. 1 back in Denver essentially form Day 1, topped 1,000 yards, made the Pro Bowl, and finished as the No. 13 PPR back. His stock is a little down from those heights this year — Freeman should be heavily involved and the team has added Theo Riddick — but for a last-round pick there is still plenty of value to Lindsay.
(2018 ADP: Undrafted)
Boyd was an afterthought in the Bengals offense entering last year. A.J. Green was still the star, John Ross was the up-and-comer, Joe Mixon and Giovani Bernard and Tyler Eifert would get fed. Instead, Eifert got hurt, Bernard didn't do much, Ross fell flat, and Boyd came out hot topping 90 yards three times in the first four weeks of the season and finishing the year as fantasy's No. 15 receiver despite missing two games. His lower production with Green hurt in the second half is a concern, considering Green is hurt again to start this season, but at a free keeper value, you can afford that risk.
Hunter Henry, TE, Los Angeles Chargers
(2018 ADP: Undrafted)
I mentioned above how there are only three tight ends really worth keeping this year, and while that's true, Henry could make it four, if only because he is free. Henry tore his ACL last offseason, which knocked him off of draft boards altogether, but his 2016-2017 seasons showed he has legitimate TE1 upside, and he's fourth in our staff rankings entering this year. If you snapped Henry up and stashed him in an IR slot last year, it could pay off now.