The Fantasy Focus is a weekly column that breaks down everything you need to know to set your fantasy football lineups. Make your start and sit decisions with fantasy facts, injury information, matchups stats, predictions for the week and more.
Now that the preseason is over, we can finally start to play some real football. What's that? The preseason ended over two weeks ago? Well, sort of. But the first two weeks of the regular season are essentially an extension of the preseason with all the starters getting their first full action of the year. It's always a weird time for football where a lot of what we see really doesn't have any bearing on what we should expect for the rest of the season. Keep that in mind as we roll into Week 3.
Greenline: BUF -5.4, O/U 44
Fantasy facts: John Ross continued to roll last week with four catches on eight targets for 113 yards and a score. Perhaps more importantly, he led the team in routes run with 42. That was four more than Tyler Boyd ran. Of course, the challenge with Ross is anticipating what his role is going to look like when A.J. Green returns. It's tough to project at this point, but Ross needs to be owned across the board, especially given Green's injury-prone ways over the last three seasons.
A lot of folks used Devin Singletary as a flex options last week. While the rookie did get in the end zone, he's clearly behind Frank Gore in the Bills backfield. Gore led the Bills backs in snaps with 41, while Singletary notched just 21. Gore also got all three goal-line carries. While Singletary is a hold for fantasy purposes, it's tough to endorse using him unless he's able to surpass Gore in the early-down pecking order.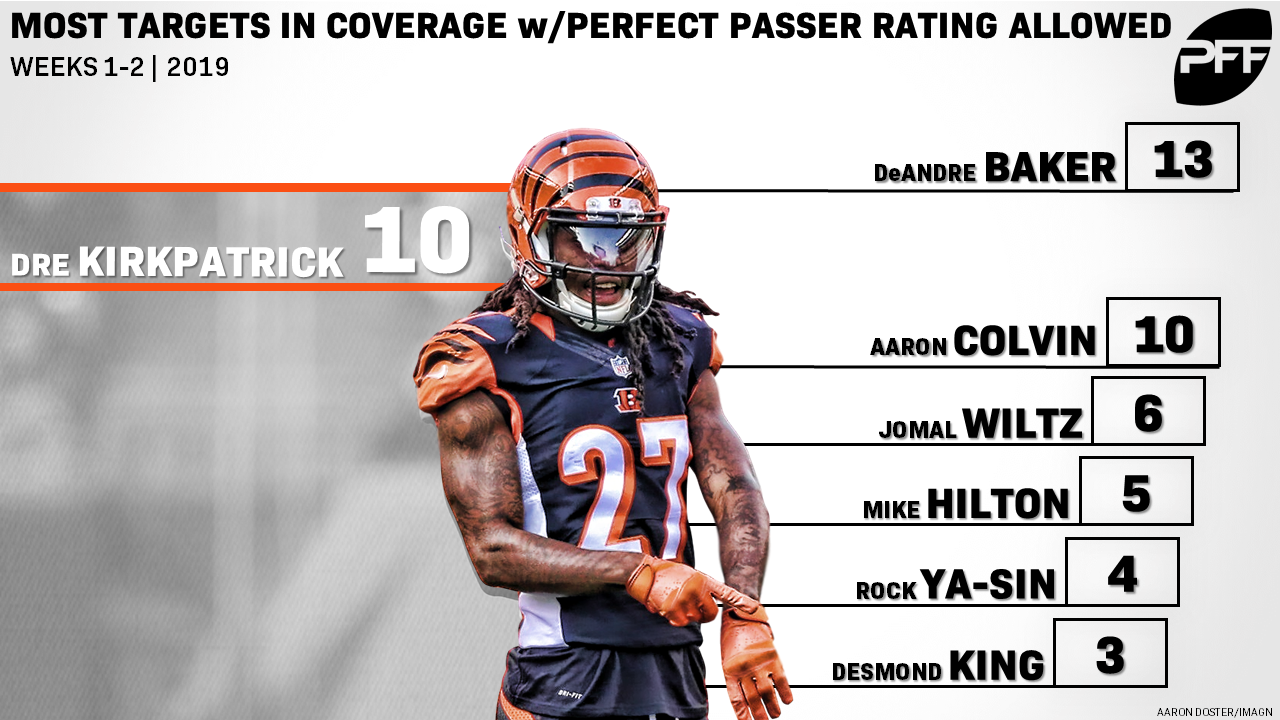 Matchup upgrade: Last week, John Brown saw another healthy workload with seven catches on eight targets for 72 yards. It wasn't the biggest fantasy performance, but his target share through two weeks in encouraging. Better yet, Brown put up this line despite being shadowed by Janoris Jenkins on 70% of his routes. Brown will draw primary coverage from Dre Kirkpatrick this week Through the first two weeks of the season, Kirkpatrick has allowed eight of the 10 targets thrown into his coverage to be caught.
Matchup downgrade: Andy Dalton has gotten off to a hot start and enters the week eighth among quarterbacks in fantasy scoring. That said, it's tough to trust him on the road in Buffalo against a Bills defense that has allowed just 4.9 net yards per attempt and two passing scores this season.
Key injuries: Devin Singletary is dealing with a hamstring. He's a risky play if he's able to suit up this week with Frank Gore locked in as the lead back. … Joe Mixon was able to get on the field last week and is not on this week's injury report.
Greenline: DAL -19.7, O/U 46.7
Fantasy facts: The Cowboys fed Ezekiel Elliott three goal-line carries last week, with the running back converting one for a score. That number may not sound significant, but it is. Elliott only had 11 goal-line carries all of last season. That low usage in the red zone was a big reason why Elliott posted lackluster touchdown numbers. If he continues to see heavy red-zone usage, Elliott is a viable threat to top double-digit rushing touchdowns.
Matchup upgrade: If there's one thing we've learned in 2019, it's to start your offensive fantasy options against the Miami Dolphins. That's good news for Amari Cooper owners this week, as the Cowboys star gets his shot at this secondary. Dolphins corners Eric Rowe and Jomal Wiltz have both allowed two scores in their coverage already this season. The sky is the limit for Cooper's fantasy production in this matchup. We're also using Randall Cobb as a spot start with Michael Gallup sidelined, and Devin Smith makes for an intriguing DFS play after the speedy wideout resurfaced last week.
Matchup downgrade: Josh Rosen will get the nod for the Dolphins this week, but he should be nowhere near any fantasy lineup this week. The Cowboys have allowed just 6.4 net yards per attempt so far in 2019. That also means we should fade Preston Williams and DeVante Parker.
Key injuries: Michael Gallup will miss 2-4 weeks with a meniscus injury. … Albert Wilson is still dealing with a calf injury and looks unlikely to play.
Greenline: GB -6.7, O/U 43.2
Fantasy facts: Don't be fooled into thinking that Geronimo Allison is ahead of Marquez Valdes-Scantling after Allison got in the end zone last week. Usage is more important than the box score. In terms of routes run, Davante Adams and Valdes-Scantling led the Packers with 35. That's 15 more routes than Allison ran. Hang tight with Valdes-Scantling. Bigger days are ahead.
Matchup upgrade: There's a full-blown committee in the Broncos backfield with Philip Lindsay and Royce Freeman splitting the workload nearly 50:50 last week. While this certainly complicates things, Lindsay remains the preferred fantasy option. He's very intriguing this week against a Packers defense that has allowed the fifth-most fantasy points to running backs this season, with opposing backfields averaging a massive 6.1 yards per carry.
Matchup downgrade: Davante Adams looks likely to see a shadow yet again this week. As expected, the Vikings shadowed Adams with Xavier Rhodes on 69% of his routes. Adams had no problem in the matchup, accumulating seven catches on eight targets for 106 yards. Look for Chris Harris to track Adams this week. While Harris was historically used as a slot corner, he's been asked to play on the outside more this season. Last week, he tracked Allen Robinson on 57% of his routes, and Robinson caught 2 balls on four targets for 13 yards in Harris' coverage. While those numbers certainly don't inspire much confidence, Adams owners need to start him every week, regardless of the matchup.
Key injuries: None
Greenline: IND -2.1, O/U 47.9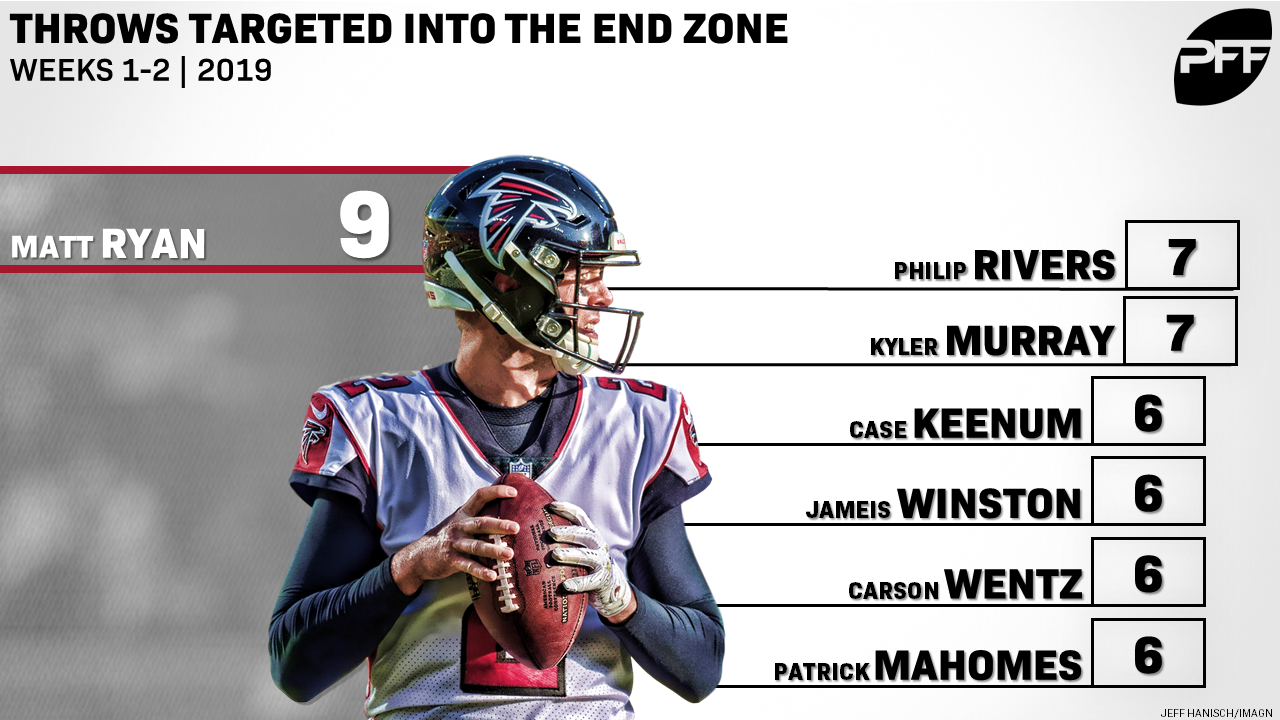 Fantasy facts: Matt Ryan leads the league with nine end zone throws through the first two weeks of the season and has converted four of these throws for touchdowns. In recent seasons, one of the biggest fantasy complaints about the Falcons offense is their play calling in the red zone. It looks like Dirk Koetter's aggressive tendencies in the red zone could be a good thing for Ryan and the Falcons' pass catchers.
Matchup upgrade: Devonta Freeman has sputtered out of the gate and currently ranks a lowly 39th among running backs in fantasy scoring. While it may be tempting to sit him this week, we recommend thinking twice before you do so. The Colts are allowing 5.7 yards per carry to running backs in 2019 and enter the week as the No. 2 matchup for the position.
Matchup downgrade: The Eagles helped propel Calvin Ridley to a top-10 fantasy performance last week, but look for him to come back to earth this week. The Colts have allowed the second-fewest fantasy points per game to right wide receivers so far this season.
Key injuries: Marlon Mack has yet to practice this week with a calf injury. Of course, we saw backup Jordan Wilkins rack up 82 yards on just five carries last week. Wilkins will be in play as a flex option if Mack is unable to suit up.
Greenline: KC -5.9, O/U 53.4
Fantasy facts: Demarcus Robinson put up the big stat line last week, but don't be fooled by the box score. Sammy Watkins is still very much the receiver to own in Kansas City as long as Tyreek Hill is sidelined. Watkins was Patrick Mahomes' favorite target yet again last week with 12 targets on the day. That's twice as many as Robinson saw.
Matchup upgrade: We had some concerns about Marquise Brown's usage after the rookie saw just eight passing plays in Week 1, but that all changed last week, as he led the Ravens wideouts in routes run and racked up 12 targets. Brown is positioned well to continue his productive ways against a Chiefs secondary that has been susceptible to the pass. He's likely to draw primary coverage from Charvarius Ward, who has allowed 10 catches on 16 targets for 151 yards in his two games played this season.
Matchup downgrade: There's no way around it. Baltimore is very good against the run. They were the worst matchup for running backs last year, and that trend has continued through the first two weeks of the season. Injuries abound in the Chiefs' backfield, but it's worth fading this game regards of who serves as the lead back.
Key injuries: Damien Williams and LeSean McCoy were both banged up in last week's contest. McCoy was able to get to limited on Thursday and is trending toward playing. However, Williams has yet to practice this week, and is in danger of missing Sunday's contest. If he doesn't suit up, expect a combination of McCoy and Darwin Thompson in the Chiefs backfield. While this week's matchup isn't good, Thompson offers major upside if Williams misses time. … Mark Andrews is dealing with a foot injury, but he managed to get limited work in on Thursday. He should be good to go this weekend.
Greenline: MIN -8.5, O/U 43.7
Fantasy facts: Dalvin Cook is off to a hot fantasy start and enters the week second among running backs in fantasy scoring. The Vikings back has been extremely effective after contact, with a massive 4.50 yards after contact per attempt. All of those extra yards are extra fantasy points. Cook is knocking on the door of elite fantasy territory.
While things are going well for Cook, a lot of fantasy players have been frustrated by the Vikings passing game. It's tough to draw any conclusion from the first two weeks of the season, especially from Week 1 where gamescript caused Minnesota to attempt just 10 passes. Last week, Kirk Cousins only posted 233 yards and score through the air, but the Vikings signal-caller did attempt five end zone throws. That's a big-time number that suggests a big passing day is brewing for Cousins. Likewise, Stefon Diggs saw three of his seven targets in the end zone last week. Look for this connection to go off sometime in the near future.
Matchup upgrade: And we could finally see some life out of the Minnesota passing game this week as both Adam Thielen and Stefon Diggs draw favorable matchups this week against the Raiders outside duo of Gareon Conley and Daryl Worley. So far this season, Conley is allowed a healthy 16.5 yards per catch. Worly has been even worse, with opposing receivers averaging a massive 21.6 yards per reception in his coverage.
Matchup downgrade: There's no denying the fact that Tyrell Williams is locked in as the No. 1 receiver in Oakland. Most weeks, that means we're locking him in our fantasy lineups, but Williams owners may want to think long and hard about this matchup as he's likely to draw a shadow from Xavier Rhodes. The Vikings corner has been one of the better shadow corners in the league in recent seasons and was a big part of Julio Jones' lackluster performance in Week 1.
Key injuries: None
Greenline: NE +20.7, O/U 43.1
Fantasy facts: Only one running back has forced more than 10 missed tackles through the first two weeks of the season: Le'Veon Bell with 13. Bell has a combined 20 forced missed tackles as a runner and receiver. Bell has typically been very good in this area, as he was fourth in forced missed tackles as a runner in 2017 with 44. While there isn't much to like with the Jets for fantasy purposes right now, Bell's heavy volume and ability to make plays will keep him squarely in the RB1 conversation.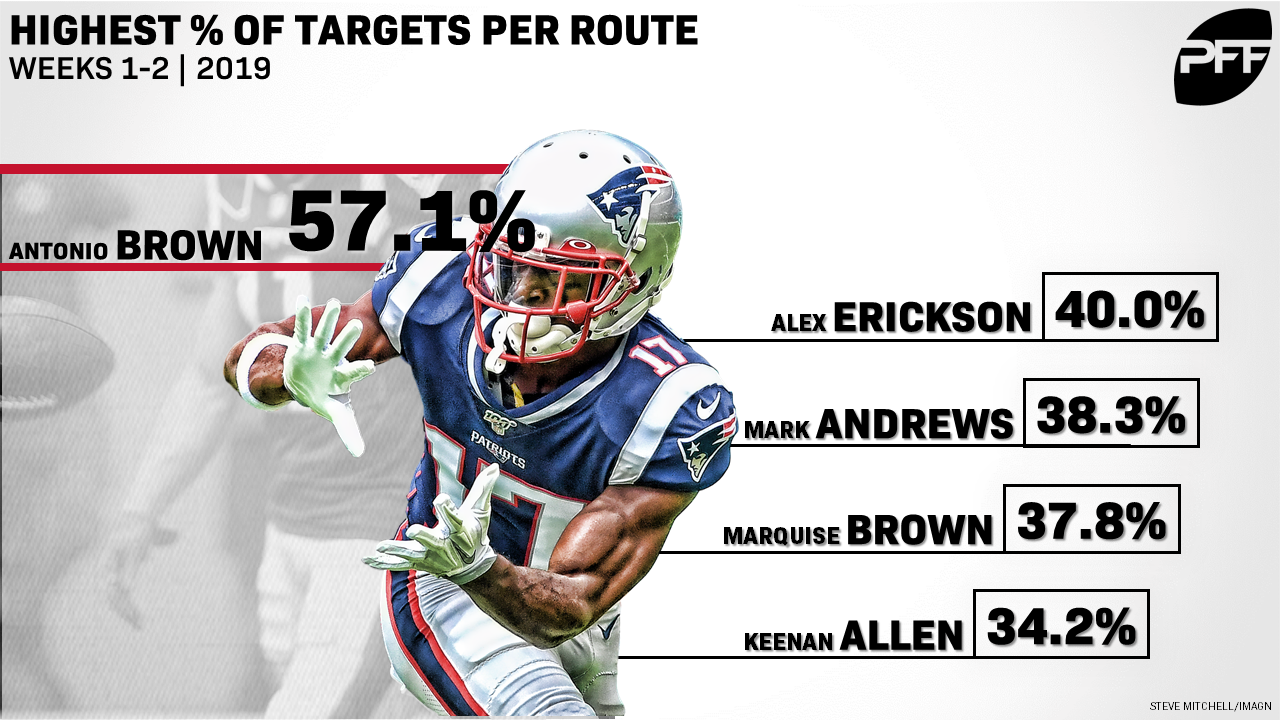 Matchup upgrade: Josh Gordon draws a favorable matchup this week following a lackluster outing against the Dolphins. Miami used Xavien Howard to shadow him, and Gordon caught two balls on four targets for 19 yards against Howard. Look for his numbers to rebound this week. Trumaine Johnson allowed 7-of-8 targets to be caught for 110 yards in Week 1. Meanwhile, Darryl Roberts has surrendered 10 catches on 15 targets through the first two weeks of the season.
Matchup downgrade: It's tough to find any reason to like Jamison Crowder in fantasy this week. The Jets will be down to their third-string quarterback and they get an absolutely brutal matchup against the Patriots secondary. While Stephon Gilmore and Jason McCourty are the household names, it's actually slot corner Jonathan Jones who has been playing arguably the best football. Jones enters this week as the No. 1 corner in PFF grading, allowing a 47% catch rate at just 9.1 yards per reception. Fade Crowder in this matchup. You also want no piece of Robby Anderson, who projects to see a shadow from Gilmore this week.
Key injuries: The Jets will be without Sam Darnold until at least Week 5. Trevor Siemian also landed on injured reserve this week, so Luke Falk will get the nod at quarterback this week. … It doesn't look like Demaryius Thomas will get his revenge game, as the veteran is doubtful to play with a hamstring. … Matt LaCosse is trending toward playing after getting limited work in earlier this week. We aren't adding LaCosse just yet, but keep an eye on him.
Greenline: PHI -6.5, O/U 46
Fantasy facts: There wasn't much to get excited about for the Eagles' passing game last Sunday night, but we did at least see one encouraging stat from Carson Wentz that didn't make the box score. In that contest, Wentz through six balls to end zone. While he only converted one for a score, Wentz's aggressive tendencies as a passer bodes well for fantasy upside going forward.
Matchup upgrade: The Eagles secondary got lit up for the second straight week, and that means good things if you own either Kenny Golladay or Marvin Jones. Of course, I don't need to tell you to start Golladay, but Jones owners may be thinking twice after his disappointing start to the season. However, keep in mind that the Chargers actually prioritized Jones last week and shadowed him with Casey Hayward. He won't have the same treatment this week and is a sneaky bet to go off.
Matchup downgrade: The Lions parting ways with C.J. Anderson is certainly a good thing for Kerryon Johnson's rest of season outlook. Johnson is now locked in as the feature back in Detroit. However, Johnson owners need to be aware that his week's matchup is a rough one. The Eagles run defense is no joke and has allowed just 2.9 yards per carry and zero rushing touchdowns to opposing running backs so far this season.
Key injuries: The Eagles are decimated in the passing game this week. Alshon Jeffery has a calf injury and isn't likely to play. Dallas Goedert is also sidelined with a calf. Philly looks like they'll also be without DeSean Jackson, who is dealing with an abdominal injury. Look for the Eagles to lean on Zach Ertz and Nelson Agholor this week. J.J. Arcega-Whiteside and Mack Hollins make for deep plays and DFS darts.
Greenline: CAR -2.8, O/U 46.1
Fantasy facts: David Johnson has yet to face base defense on any of his carries this season. That isn't a huge surprise given what we expected from Kliff Kingsbury's, but it's noteworthy nonetheless. Running against subpackage defenses means the back has an advantage with extra defensive backs on the field. Johnson didn't have the most efficient game last week, but a big day is brewing.
Speaking of big days brewing, Kyler Murray enters the week second in end-zone throws with nine. Murray has only converted one for a touchdown so far, but that rate is likely to go up if Murray continues to take shots to the end zone. Murray is also tied with Patrick Mahomes for the second-most deep ball throws with 15. Murray is screaming big-play upside right now.
Murray's presence in the offense has also seemed to revive Larry Fitzgerald's fantasy value. The future Hall of Famer has seen six deep ball targets already this season. That may not sound like a lot, but it's a huge number considering the fact that he saw just 15 in 2018 and 12 in 2017. Fitzgerald's fantasy arrow continues to point up.
Matchup upgrade: Veteran TE Greg Olsen was one of the few bright spots for the Panthers in Week 2. While he likely won't have Cam Newton throwing him the ball, he's still an interesting streamer play against Arizona. The Cardinals have allowed the most fantasy points per game to tight ends this season after Mark Andrews shredded them last week.
Matchup downgrade: The Cardinals have struggled against the pass in 2019 but have been solid against the run with opposing backs averaging just 3.4 yards per carry. While that isn't what you want to see if you own Christian McCaffrey, it isn't overly concerning. McCaffrey is capable of getting his for fantasy purposes even in bad matchups thanks to his ability in the passing game.
Key injuries: Cam Newton was spotted in a walking boot earlier this week and is trending toward not playing. The entire offense gets a downgrade if Kyle Allen gets the start. … David Johnson injured his wrist last week, but he isn't on this week's injury report.
Greenline: TB: 7.4, O/U 47.6
Fantasy facts: Daniel Jones led all quarterbacks in the preseason with a ridiculous 0.80 fantasy points per dropback. Jones went 29-of-34 for 416 and two touchdowns, both of which came on end zone throws. While we certainly don't expect that sort of efficiency out of Jones in the regular season, his performance in August is still very intriguing. Jones isn't in play in 1QB formats, but he absolutely needs to be owned in 2QB and superflex leagues.
Matchup upgrade: It's hard not to like both Mike Evans and Chris Godwin this week against the Giants secondary. Janoris Jenkins has shadow in both of his games this season and is likely to be on Evans. A friendly reminder that shadow coverage isn't always a bad thing. Jenkins has nine catches on 12 targets this season. Godwin's matchup is the low-hanging fruit this week, as he'll see both DeAndre Baker and Grant Haley in coverage. Baker has surrendered scores in both games this season with an 84.6% catch rate in his coverage. Haley is a former teammate of Godwin at Penn State, but he's graded out poorly in coverage and will have his hands full with Godwin.
Matchup downgrade: The Buccaneers were able to shut down Christian McCaffrey last week, and currently rank as the second-worst fantasy matchup for running backs. Of course, that doesn't mean anything for Saquon Barkley owners as the Giants running backs is an every-week starter in season-long leagues. However, it's wise to fade Barkley in DFS contests.
Key injuries: Both Sterling Shepard and Cody Latimer were in the concussion protocol to start the week. Shepard looks to be on track to play, but Latimer will likely be sidelined this week. Bennie Fowler also popped up on the injury report on Thursday with a DNP due to a hamstring injury. That's typically a bad sign. The Giants will likely be short-handed at wide receiver yet again this week.
Greenline: LAC -3.8, O/U 48.2
Fantasy facts: Through the first two weeks of the season, Keenan Allen is leading the league in target share. Last week, Allen saw a shadow from Darius Slay on 87% of his routes, and still saw a massive 15 targets in that contest. He's also seeing heavy usage in the red zone, and enters the week tied for the league lead in end zone targets with four. If this usage continues, Allen could be in the elite fantasy conversation going forward.
Matchup upgrade: Philip Rivers hasn't gotten off to the best fantasy start, but he does rank eighth in the league with 626 passing yards. He's never going to offer the biggest fantasy ceiling, but Rivers is a sneaky play this week against a Texans defense that currently ranks as the eighth-best matchup for quarterbacks.
Matchup downgrade: Temper your expectations for DeAndre Hopkins this week. The Texans receiver is all but guaranteed to see a shadow from Casey Hayward. Last week, the Chargers used Hayward to shadow Marvin Jones on 68% of routes. Jones caught just one ball on two targets for six yards against Hayward. While Hopkins is a much better player than Jones, Hayward's coverage certainly puts a damper on Hopkins' Week 3 fantasy outlook.
Key injuries: None
Greenline: SF -5.9, O/U 44.7
Fantasy facts: Be careful with the 49ers backfield. We saw a three-headed monster last week with Raheem Mostert playing 30, Matt Breida with 21, and Jeff Wilson seeing 15 snaps. Of course, much was made this week about Kyle Shanahan's endorsement of Wilson as the preferred goal-line back. Wilson led the team in Week 2 with two goal-line carries, scoring on both. Mostert also saw a goal-line carry. With the ball being spread around in this backfield, it's tough to trust any of the 49ers backs for fantasy purposes.
Matchup upgrade: Jimmy Garoppolo is coming off a three-score outing in Week 2 and is in play as a streamer option again this week. The Steelers have allowed six passing scores and a hefty 9.0 yards per attempt to opposing signal-callers this season.
Matchup downgrade: Ben Roethlisberger's season-ending injury puts Mason Rudolph at the helm going forward. Rudolph certainly has upside and a good surrounding cast, but he's still a very volatile fantasy option. And this isn't the week to roll Rudolph out there in fantasy lineups. The 49ers defense has been very good against the pass through the first two weeks, allowing the ninth-fewest fantasy points per game to the position.
Key injuries:. Tevin Coleman isn't likely to play this week, but he could get back on the field in Week 4.
Greenline: SEA 4.2, O/U 44.9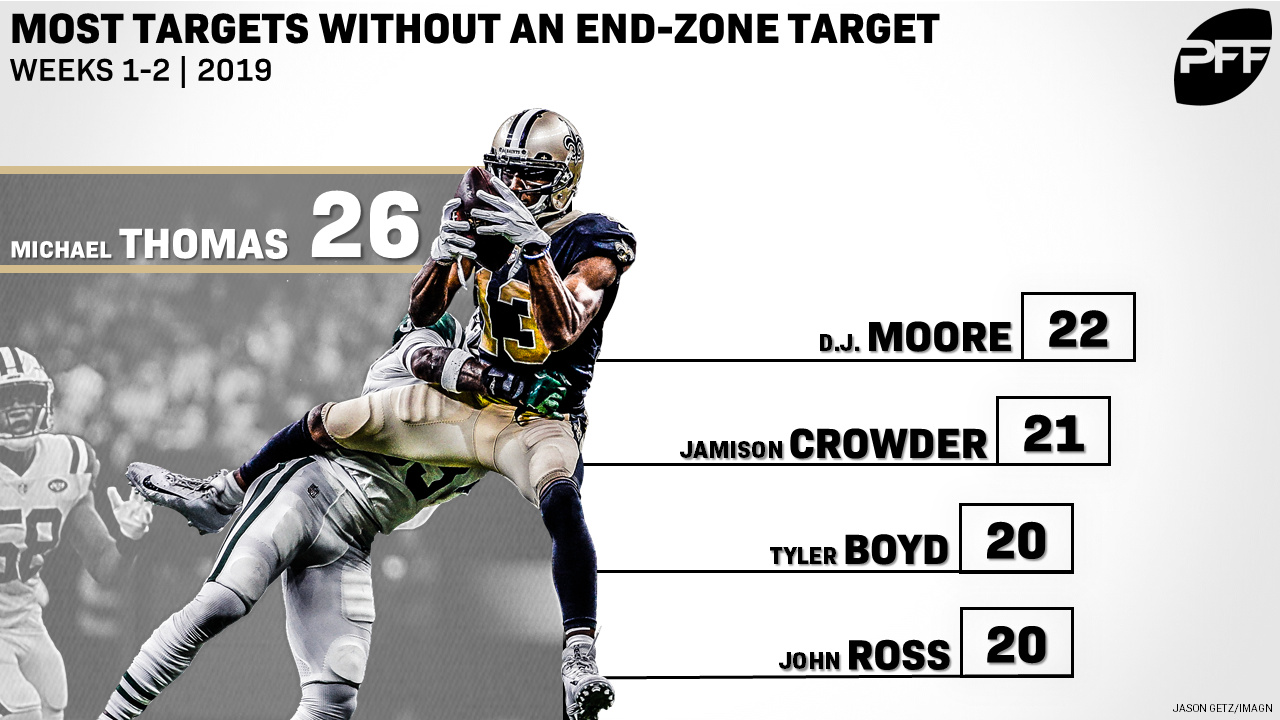 Fantasy facts: None of Michael Thomas' 26 targets have come in the end zone this season. That makes him the most heavily targeted wide receiver to not see an end zone target. A lack of work in the red zone certainly puts a cap on Thomas' upside. To make matters worse, Thomas won't have Drew Brees throwing him the ball for the next six weeks.
Matchup upgrade: However, all is not lost for Thomas owners. The Saints wideout gets a big-time matchup upgrade against the Seahawks. Seattle CB Tre Flowers has allowed 10 catches on 15 targets this season. Look for Thomas to see heavy volume yet again this week.
We're also upgrading Tyler Lockett on the other side of this contest. Lockett will see primary coverage out of the slot from P.J. Williams. This has been one of the better matchups in the league over the last two seasons. Lockett is coming off a double-digit catch outing in Week 2 and looks to be poised for another big stat line.
Matchup downgrade: Seattle has struggled against the pass this season, but the Seahawks remain stout against the run. Through the first two weeks, the Seahawks have surrendered the sixth-fewest fantasy points to opposing running backs with an average of just 3.8 yards per carry. Alvin Kamara will have to carry the load with Drew Brees out, but he could get bottled up in this contest. Don't freak out if it isn't the best performance.
Key injuries: Drew Brees will miss at least the next six weeks his a thumb injury. The Saints have yet to clarify whether it will be Teddy Bridgewater or Taysom Hill under center. Both quarterbacks should be owned in 2QB formats. … Tre'Quan Smith is dealing with an ankle injury and didn't practice Wednesday or Thursday.
Greenline: LAR -3.7, O/U 48.7
Fantasy facts: Jared Goff has only attempted four throws over 20 yards downfield. That's tied for 29th in the league through the first two weeks of the season. While a quarterback doesn't necessarily need to throw the ball downfield a lot to put up decent fantasy numbers, a lack of deep-ball throws typically limits a player's fantasy upside. If this number doesn't increase going forward, Goff will likely be a low-ceiling option in most weeks.
Matchup upgrade: Through the first two weeks of the season, only the Bengals, Dolphins, and Colts have allowed more fantasy points than the Browns have to running backs. While Todd Gurley still doesn't completely have our fantasy trust, he's in a great position to produce in this matchup.
Matchup downgrade: It shouldn't be a surprise that the Rams are one of the league's toughest matchups for quarterbacks. So far this season, Los Angeles is yielding just 6.1 yards per attempt and have yet to surrender a passing touchdown. Baker Mayfield is still dripping with fantasy upside, but he's going to have his hands full in this matchup.
Key injuries: The Browns will be without David Njoku for at least the next four weeks, as the tight end suffered a broken wrist on Monday night. … Tyler Higbee suffered an internal injury last week and will miss time. His absence places Gerald Everett on the tight end streamer radar.
Greenline: CHI -4, O/U 42.4
Fantasy facts: David Montgomery saw a league-high five goal-line carries in Week 2. While he was only able to convert one for a score, this usage is extremely encouraging. The Bears took the training wheels off Montgomery last week, and he looks to be clearly ahead of Mike Davis in this backfield. We're locking Montgomery in as a high upside RB2 option this week.
Matchup upgrade: There hasn't been much to like about Anthony Miller performance so far this season, but keep an eye on him Monday night. Miller figures to see plenty of rookie Jimmy Moreland out of the slot. The seventh-round selection in April's draft has allowed nine catches on 10 targets for 115 yards and a score this season. Don't fire up Miller in season-long lineups just yet, but he is worth a look in DFS contests.
Matchup downgrade: The Redskins have used Josh Norman as a shadow in each of their two games this season, and that isn't a good thing for Allen Robinson this week. Norman was on Amari Cooper last week, and Cooper managed no catches on one target versus Norman. To be fair, Robinson has been one of the league's most heavily targeted receivers with 20 targets through the first two weeks. That volume does keep him in season-long starting lineups, but Robinson owners shouldn't panic if he posts a suboptimal day.
Key injuries: Jordan Reed remains in the concussion protocol for the Redskins. Vernon Davis will be a streamer option yet again if Reed is unable to clear the protocol. … Trey Burton is trending toward playing after getting a limited session in on Thursday. Burton doesn't offer major upside, but he is in the TE2 conversation going forward.