While preparing my fantasy football rankings each week, I come across statistics and trends worth monitoring. The following are 32 interesting stats — one for each NFL team — that helped inform my Week 17 rankings as well as my 2021 re-draft rankings. Several can be found in premium stats as well as the PFF fantasy stats.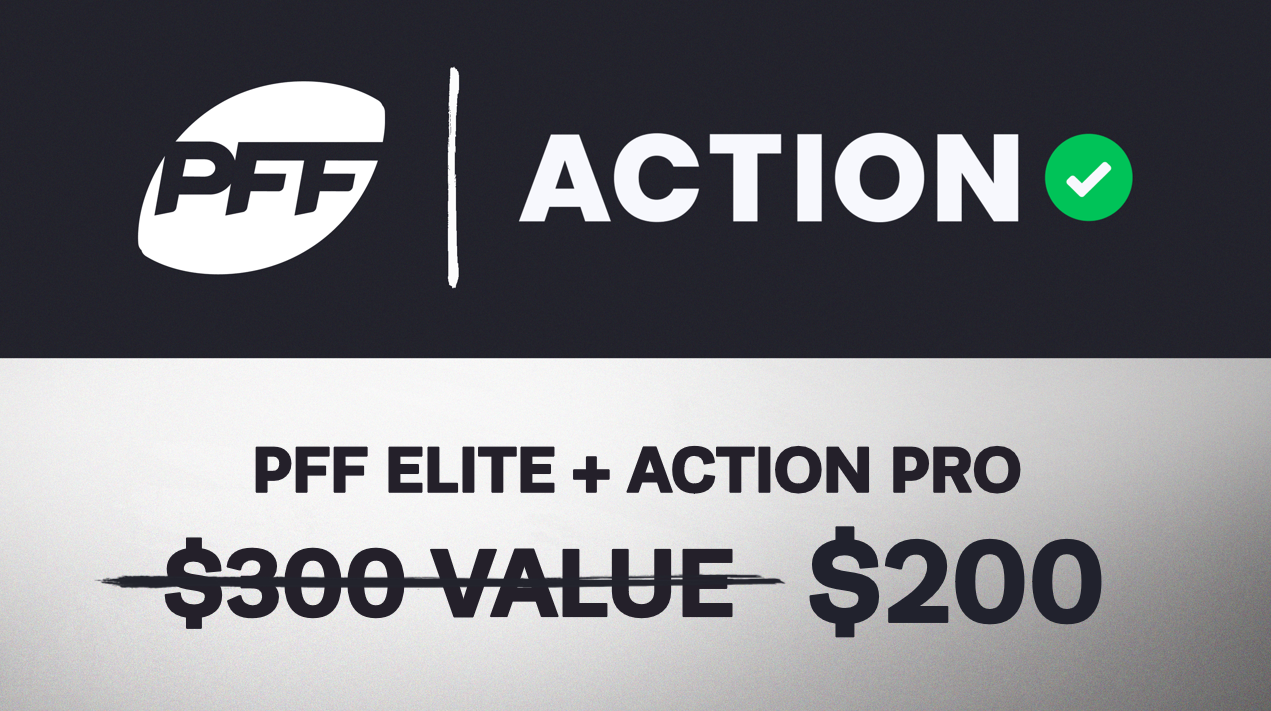 Arizona Cardinals – DeAndre Hopkins has gained 22 first downs on hitch routes, which leads the league. He and Stefon Diggs are the only receivers with more than 14.
Atlanta Falcons – Matt Ryan ranks second in end zone throws (49). He ranks 13th in end zone throws that result in touchdowns (15).
Baltimore Ravens – Lamar Jackson has avoided 33 defenders on his rushing attempts, more than doubling the next-closest quarterback.
Buffalo Bills – Stefon Diggs leads all wide receivers in receiving yards on passes thrown in front of the first down marker at 531. Cole Beasley isn't far behind in fourth at 500.
Carolina Panthers – Robby Anderson is the only undrafted player to put together a 1,000-yard receiving season. He's gained 1,056 yards on 92 catches.
Chicago Bears – Allen Robinson II leads the league in explosive plays off of contested catches.
Cincinnati Bengals – Giovani Bernard's 130 receiving yards on screen passes leads the league. He has caught nine of 11 screen passes. The three other running backs with over 100 receiving yards off of screens have 14 or more screen receptions.
Cleveland Browns – Baker Mayfield ranks third in accuracy percentage over the last four weeks at 69.7%.
Dallas Cowboys – CeeDee Lamb has posted 379 receiving yards on third downs, the second-most for all wide receivers.
Denver Broncos – Melvin Gordon leads all running backs on power run plays in terms of attempts (46), yards (309), first downs (15) and avoided tackles (13). No other back is within 100 yards of him. Phillip Lindsay ranks fifth with 173 rushing yards.
Detroit Lions – D'Andre Swift ranks fifth in fantasy points per snap among running backs at 0.49.
Green Bay Packers – A.J. Dillon leads all running backs in avoided tackles per attempt at 0.38. The next best for a running back is 0.29.
Houston Texans – Will Fuller still leads the league in touchdowns (5) and first downs (7) off of go-routes despite missing the last few games.
Indianapolis Colts – Jonathan Taylor ranks second in first down or touchdown percentage when there are six men or fewer in the box (36.1%).
Jacksonville Jaguars – James Robinson has the most rushing yards off of draw plays this season at 118. He only has 10 draw runs but has converted half of them into first downs.
Kansas City Chiefs – Darrel Williams leads all running backs in percentage of carries with a first down or touchdown at 35.9%.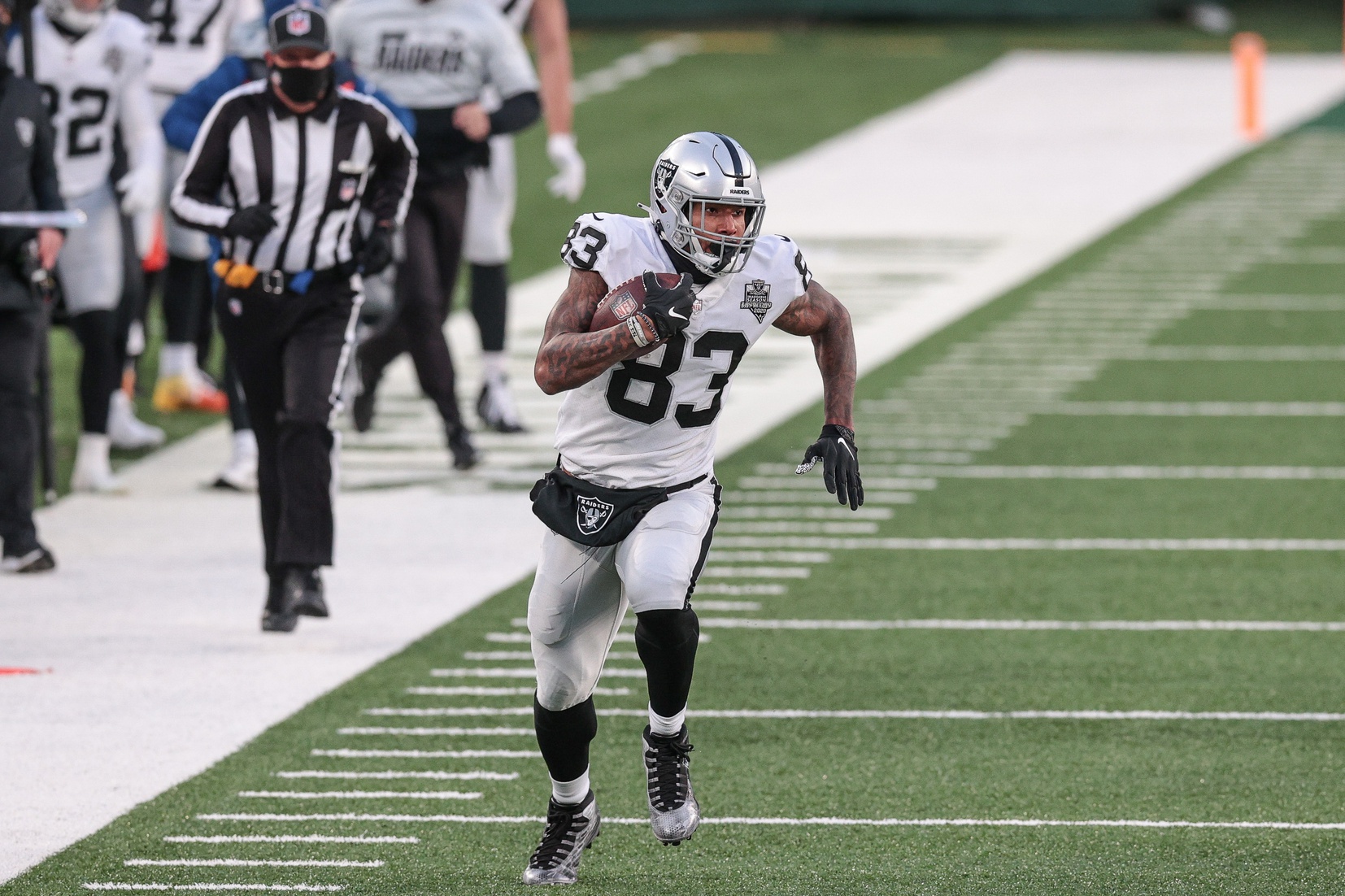 Las Vegas Raiders – Darren Waller is the only player regardless of position to have been drafted in the sixth or seventh round to put up over 1,000 receiving yards this season. The next closest is 695.
Los Angeles Chargers – Keenan Allen has converted 27 third downs into first downs, five more than any other wide receiver.
Los Angeles Rams – The Rams are tied for third in average yards before contact per attempt at 1.8. This is a big upgrade from last season when they averaged 1.0 yards before contact per attempt.
Miami Dolphins – Mike Gesicki leads the league in receiving yards off of corner routes at 203. He has caught eight of his nine corner route targets and has a 100 yard lead over all other players regardless of position.
Minnesota Vikings – Kirk Cousins is the only quarterback to gain a first down or touchdown on over half of his rushing attempts at 55.6%.
New England Patriots – Sony Michel is gaining 3.7 yards after contact per carry — third-most among running backs.
New Orleans Saints – Alvin Kamara ranks first among running backs in touchdown carries from inside the 5-yard line at 11. He has only attempted 15 carries inside the 5. The next-closest back is Dalvin Cook with 10, but it took him 26 attempts to get there.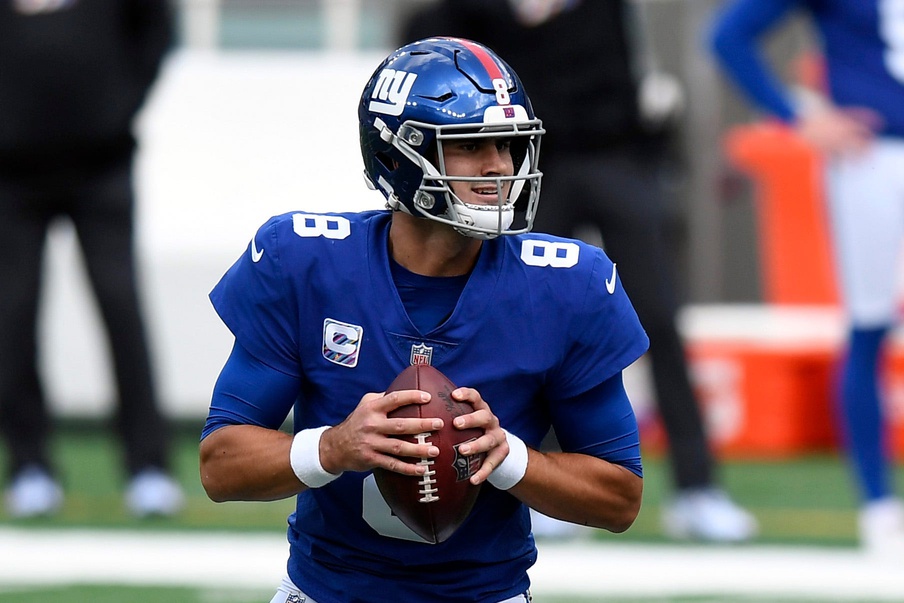 New York Giants – Daniel Jones leads all quarterbacks in average depth of target over the last four weeks at 10.6. His average depth was below average (7.3) over the first 12 weeks of the season.
New York Jets – The Jets rank last in the league with only 98 red-zone plays. On the bright side, they've beaten their 2019 total of 96. On the downside, this could be their third time in four years with 100 or fewer red-zone plays. The league average so far this year is 149.
Philadelphia Eagles – Jalen Hurts leads all quarterbacks in uncatchable inaccurate throw percentage at 28.8%. Carson Wentz ranks second at 25.5%.
Pittsburgh Steelers – JuJu Smith-Schuster is the only receiver with four touchdowns off of crossing routes. He's also tied for the league lead in first downs from crossing routes at 16.
San Francisco 49ers – Deebo Samuel has accumulated 146 receiving yards on jet motion passes, catching all 11 "passes" thrown his way. Seven of those 11 were converted into first downs.
Seattle Seahawks – David Moore leads the league in receiving yards on plays where his quarterback scrambles before throwing. He has 193 yards on those plays, and teammate Tyler Lockett is fourth among wide receivers at 113.
Tampa Bay Buccaneers – Mike Evans is the only wide receiver with multiple touchdowns this season on end zone fades with two. Nineteen of 59 end zone fades have been successful across the league this season.
Tennessee Titans – A.J. Brown leads all WRs in receiving yards on slant routes at 293. He has caught 14 of 15 slants and has scored two touchdowns on them.
Washington Football Team – Terry McLaurin has turned 10 receptions in front of the sticks into explosive plays. No other receiver has more than seven.