The 2020 fantasy football season is over for the vast majority of redraft and dynasty leagues, with the champion crowned after last night's Bills-Patriots game. That means today is Day 1 of preparation for the 2021 season. To help begin that process, I'm here to offer the first draft of my 2021 PPR redraft rankings.
Everything on this list can and will change between now and September as players change teams in free agency and depth charts are affected by the NFL Draft. The 2021 rookie class was not included in this iteration of the rankings. All unrestricted free agents are noted.
Due to the timing of writing this and data collection, the Monday Night Patriots/Bills game was not included in any player statistics or rankings.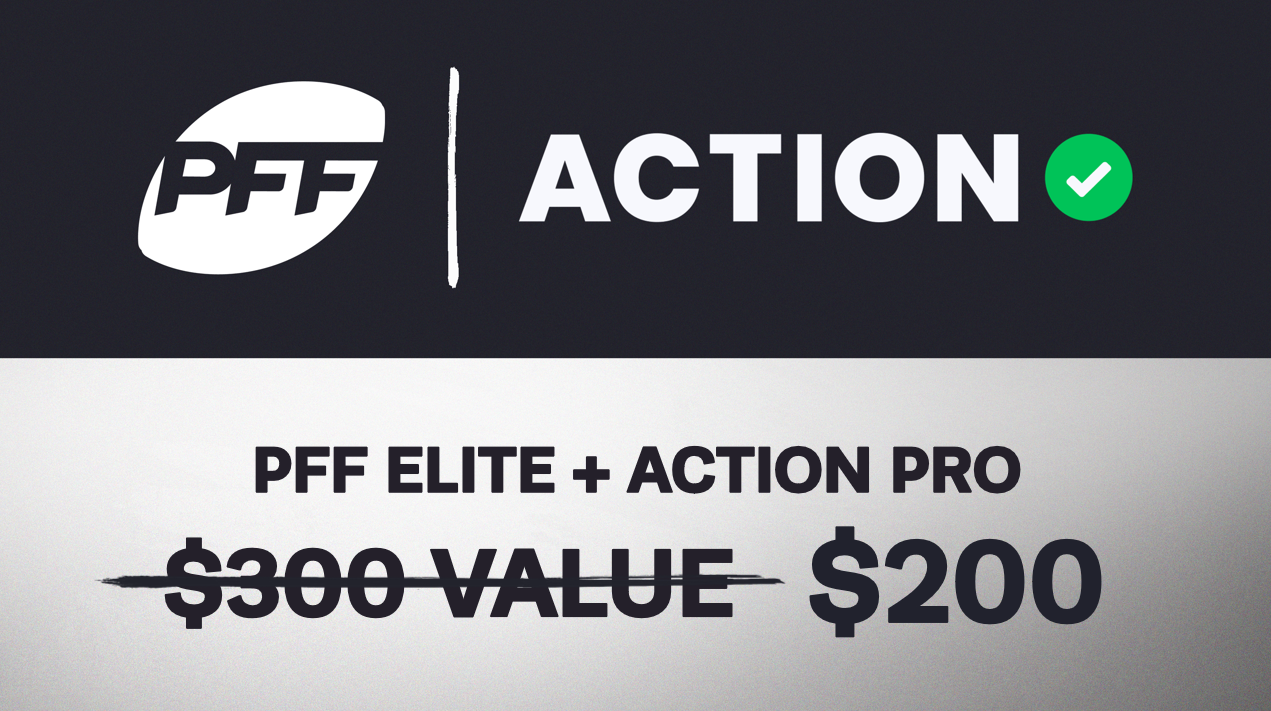 McCaffrey scored 446.4 fantasy points in the first 16 weeks of 2019, while the best running back of 2020 currently sits at 377.8 points. McCaffrey was only available for three weeks this year, but if we only consider Weeks 1, 2 and 9, McCaffrey led all running backs in fantasy production with 90.4 points. McCaffrey should be the top option for 2020 barring his injury lingering on into 2021.
Cook has put together an incredible 2020 season. He's sustained 0.50 fantasy points per snap, ranking second among running backs. The Vikings run blocking has been below average in 2020, so there is a chance Minnesota can improve in front of Cook in 2021, giving him even more opportunities to break big runs. His 51 targets rank 13th among running backs. That doesn't put him with the elite pass-catching running backs, but it does give him an edge over other backs who are primarily elite rushers.
Barkley's 2018 production is better than anything we've seen out of a back in 2020 outside of Alvin Kamara. His production took a hit in 2019, and then he was hurt for nearly all of 2020, but Barkley should bounce back. Barkley has the right combination of rushing talent, receiving talent and a team willing to always give him touches — this pushes him ahead of some of the other backs.
Ekeler was RB4 throughout 2019 and RB7 during the weeks he's been healthy in 2020. Ekeler is known for his receiving for good reason, but he's also been dominant on the ground. His 3.25 yards after contact per carry is 11th among those with at least 100 carries.
The main thing holding Ekeler's rushing fantasy value back is the offensive line. The Chargers have the lowest run-blocking grade on the offensive line by a wide margin this season. It's difficult for a team to be that bad in back to back seasons. Los Angeles has the cap space to help their offensive line, so Ekeler should have better fantasy production in 2021.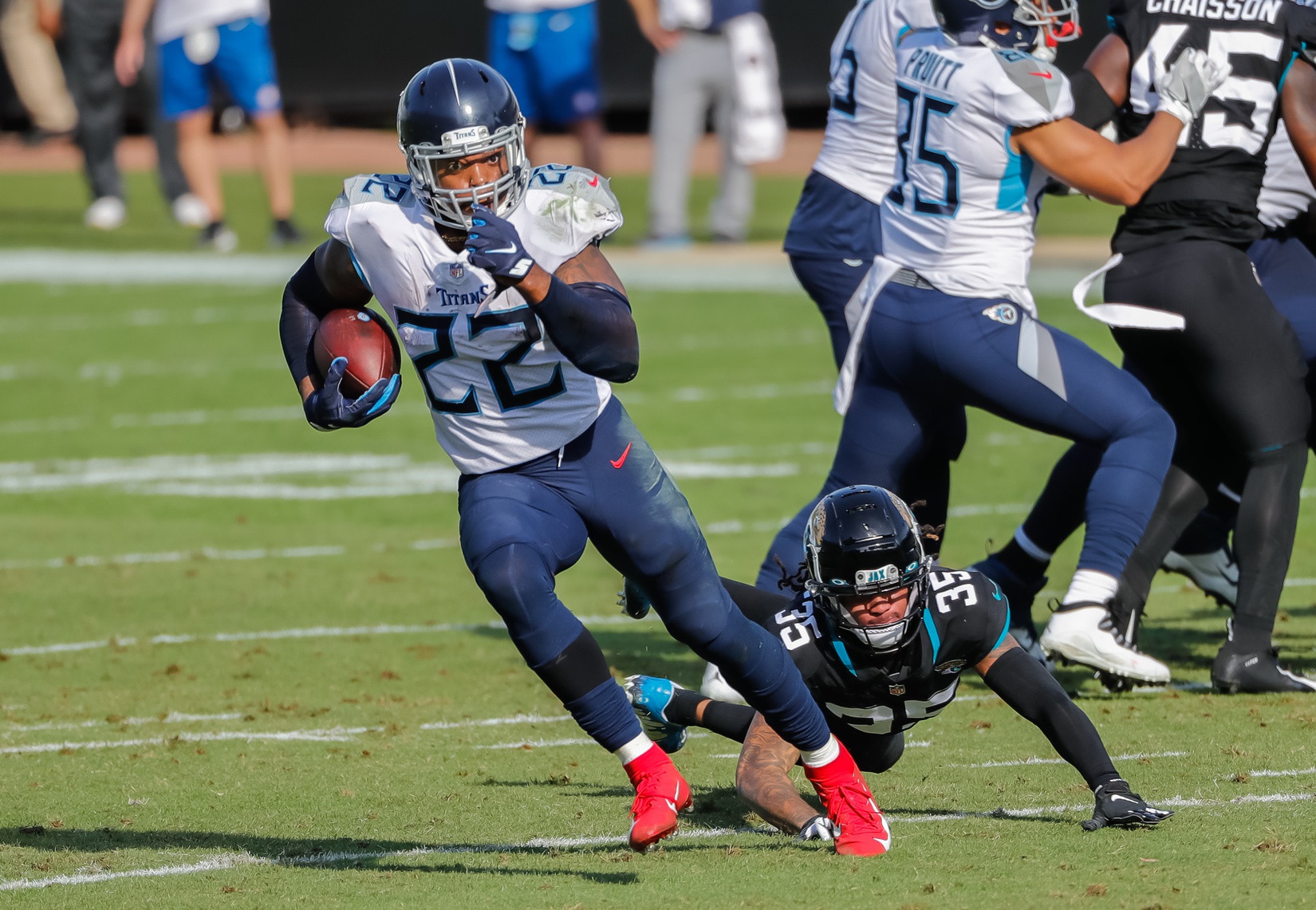 With Henry, you know exactly what you're getting. He's been a top-six fantasy back in each of the last two years in PPR leagues despite his lack of receiving value. It will be hard for him to reach the very top without that receiving production. The only slight concern is that Tennessee used a third-round pick on a running back last year in Darrynton Evans. Evans spent most of 2020 injured, but he could take two or three carries away from Henry per game in 2021.
Kamara is the clear top running back of 2020 thanks to his six rushing touchdown performance on Friday. His relatively low rank is completely due to the possibility that Taysom Hill is the starting quarterback in 2021.
Running backs in New Orleans have a 31.2% target share in games where Drew Brees starts this year compared to 19.5% when Hill starts. The Saints ran eight plays with four yards or fewer to score a touchdown in the four weeks Hill started. On those plays, Hill ran three times, dropped back to pass three times and Kamara ran twice. Kamara has been the ball carrier on one-third of the red zone attempts in games Brees starts.
The combination of fewer targets and fewer red zone carries makes it harder to trust Kamara. The Saints have the worst salary cap situation in the league for 2021. His great offensive line shouldn't be impacted much by salary cap cuts or free agents leaving, but the team not being as good could also negatively impact Kamara's touchdown situations.
Hill and Adams are in a league of their own at wide receiver. Adams dominates the Packers' target share, putting him above most everyone else, while Hill makes more big plays. There are two concerns for Adams that Hill doesn't have.
First: The Packers could find another weapon at wide receiver opposite Adams, which could lead to a lower target share. Hill has proven he can sustain his target share with other weapons for Kansas City.
Adams had a 37-year-old quarterback. There are pretty good odds that Aaron Rodgers can remain great in 2021, but time catches up with everyone eventually. There are larger odds that Adams sees a bigger drop off in play from his quarterback than Hill.
Jones is a bit of a wild card. On the bright side, he has played behind a great Green Bay offensive line in a great offense, but he's also never received as many touches as other elite backs. The combination of production on a smaller sample size has allowed him to be a great fantasy running back.
He very well could leave Green Bay this offseason. The situation he ends up in will largely dictate where he should be drafted. In all likelihood, he ends up with a team that gives him the ball more often than the Packers but with less talent around him. That will probably keep him out of the top tier of running backs.
Kelce could be considered the fantasy MVP this season with how much value he's given the people who drafted him. If his fantasy production was cut in half, he still would have been a top-six fantasy tight end this season. Due to the gap between him and other fantasy starters, he should be a late first-round pick next year.
The debate between him and George Kittle will continue again this offseason. The edge should go to Kelce because of how much more the Chiefs pass compared to the 49ers and how much better a quarterback Kelce has throwing to him than Kittle.
Taylor has dominated in the second half of 2020. He's the sixth-best back over the last seven weeks despite missing a game. He should pick up right where he's leaving off this season. His only problem is that the Colts will still have a great receiving back in Nyheim Hines to compliment him. The other backs at the top will have a bigger share of offensive opportunities.
Metcalf doesn't have the target share of Davante Adams and hasn't made as many big plays as Tyreek Hill, but he just turned 23. Metcalf's offensive grade is 84.3, which is only 15th-best among wide receivers. He still has room to be more consistent from one week to another.
For a lot of the top fantasy receivers from the season, it's hard to come up with a scenario where they can produce better fantasy numbers in 2021. Metcalf still has room to improve, and if he does he could be the best fantasy receiver next year.
Robinson has put together an excellent rookie season, but the main concern is that the Jaguars might find a back to better compliment him than what they had in 2020. Their plan was for Chris Thompson to be the receiving back, but he spent most of the season injured. Ryquell Armstead spent the entire season on the Reserve/Covid-19 list, and Devine Ozigbo also missed the majority of the season.
Robinson is very good, but he's not as good as some of the other backs who run as much as Robinson did. His ranking will go up if Jacksonville doesn't address the backup running back spot in the draft or free agency.
Montgomery is in a similar position to Robinson in that he almost never left the field in 2020, but we know the Bears will have a better backup in 2021. Tarik Cohen is a talented receiving back and will take away some of the opportunities from Montgomery.
Gibson proved to be an excellent rusher in 2020. His ability to move up the running back rankings might depend on how many weapons Washington can bring in for 2021. They are in desperate need for more wide receiver help. If they can get the help they need, J.D. McKissic might become a more traditional receiving back instead of someone constantly lining up at wide receiver. In order for Gibson to be a clear first-round back every year, he needs to be more involved in the pass game.
Swift's value will change largely depending on what the Lions do with their coaching staff and running back room. Swift's PFF grade is eighth-best among the 10 rookie running backs who played the most in 2020. Despite not playing as well as others, he became the every-down back for Detroit late in the season. Swift could be anywhere from the featured player in the Lions offense to a rotational back.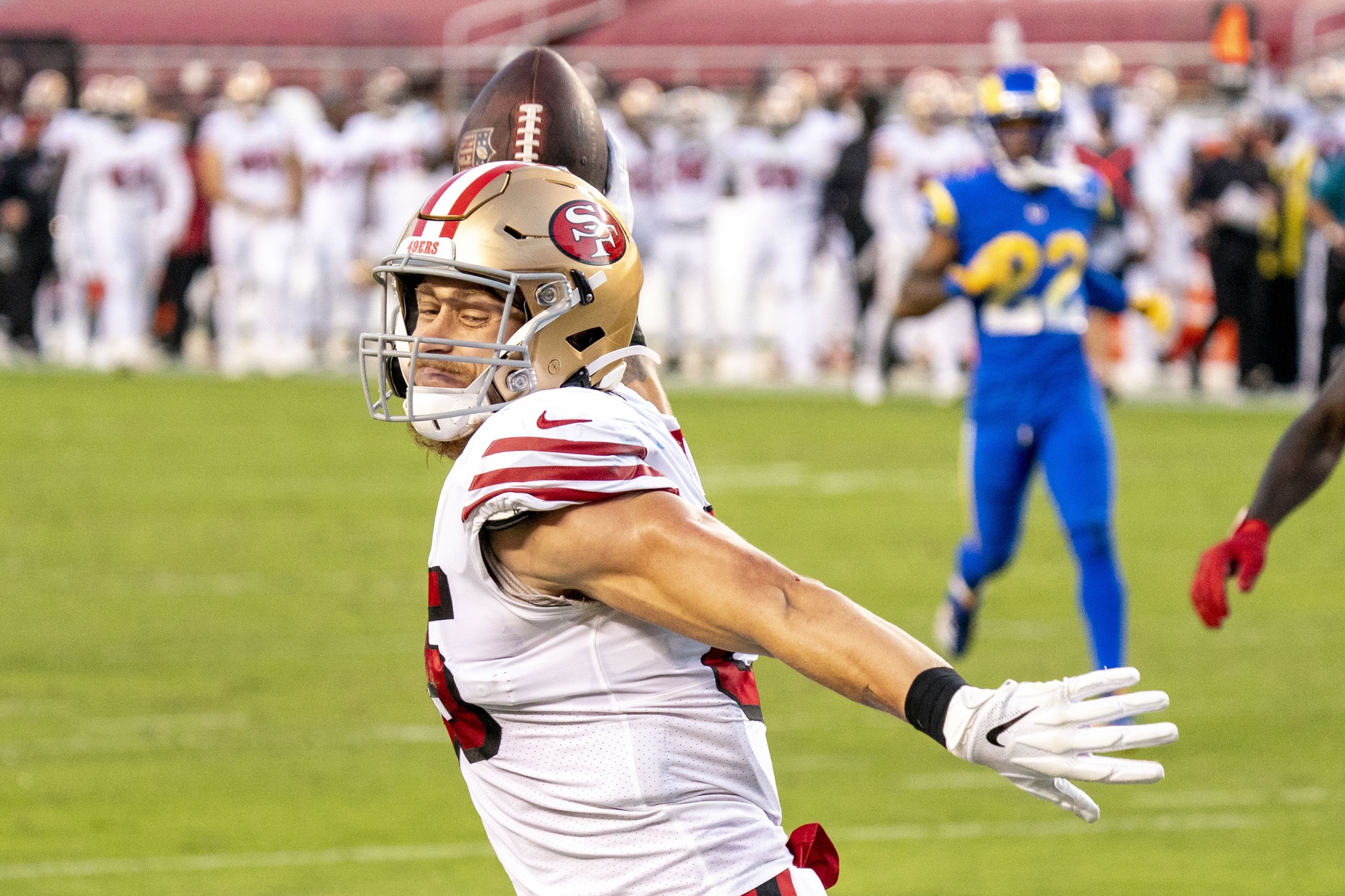 Kittle remains in fourth place in fantasy points per snap among tight ends despite spending most of this season dealing with injuries and not playing at 100%. He shouldn't have a problem being a top-two fantasy tight end again in 2021. The only concerns are how much San Francisco runs the ball, plus the fact that they have more talent at wide receiver, which might take away from Kittle's target share slightly.
Thomas was the clear top wide receiver in 2019. His PFF grade over the last three years combined is the highest among all wide receivers. Most of his games this season came with Taysom Hill at quarterback, and he will probably be his quarterback in 2021. Thomas caught 30 passes, which is tied for fifth-most among wide receivers in that time, but didn't score a touchdown. He might be the most talented wide receiver in the NFL when healthy, but quarterback play could keep him out of the top-tier of fantasy wideouts.
Ridley ranks third-best in fantasy points per game at wide receiver. The main reason he's ranked a little lower than that is uncertainty in Atlanta. They will have a new coach, and Atlanta could trade Matt Ryan. If Ryan is replaced with a rookie, it's unlikely that the rookie will play as well as Ryan in the first year. It could be a great thing for Ridley's long-term value even if it hurts him a little in 2021.
Elliott has typically been a top-five draft pick, but there is plenty of reason to be concerned about his future. His 0.29 fantasy points per snap are by far the lowest among backs with at least 200 fantasy points this season. Tony Pollard has looked great in the opportunities he's been given. Pollard has earned more playing time as the season's gone on. Pollard graded better than Elliott as both a  rusher and receiver in each of the last two seasons. Elliott could be fine, but most of the backs ranked ahead of him don't have the same potential of losing playing time to their backup.
Brown is tied for fifth in fantasy points per snap at 0.26. He has room to improve with a higher target share in 2021. Both Corey Davis and Jonnu Smith are free agents this offseason. If either of them leaves, then Brown will only see more targets. He will turn 24 by the time next season hits, so it's reasonable to think he could play even better next year, too.
Sanders' PFF grade in 2019 ranked second-lowest among qualifying backs. He improved slightly in 2020, but not by much. While he has looked fine as a pure rusher, the passing game is still a work in progress. His 0.67 yards per route run mark is the third-lowest among backs with 140 routes run.
The Eagles seem like they are in prime position to bring in a receiving back or someone who can compliment Sanders in the backfield in 2021. There are very few running backs who stand out enough to deserve an every-down role in an offense, and Sanders is decidedly not one of them.
Jefferson is an excellent young wide receiver with a very bright future. The only thing holding him back from ranking higher is target volume. He has 109 targets on the 2020 season, ranking 17th among wide receivers. However, most of the wide receivers ranked ahead of him on this list have at least 125.
With Dalvin Cook and Adam Thielen still on the roster, it will be hard for that number to grow much next year.
Fuller is an unrestricted free agent this offseason. He was WR5 at the end of Week 12 before getting suspended for the rest of the season. He will miss the first game of the 2021 season, which gives him a slight downgrade. His fantasy value will largely depend on where he ends up and how good his quarterback is.
The Steelers' top three wide receivers are all within three fantasy points of one another on the season. Claypool has 43 fewer targets than Diontae Johnson and 25 fewer targets than JuJu Smith-Schuster, but the rookie has played well this season.
He should be Pittsburgh's top wide receiver in 2021. Smith-Schuster is a free agent and might not be a Steeler next season. More playing time should get Claypool more targets; if Smith-Schuster is gone, the Notre Dame product should have no problem seeing double-digit targets each week next season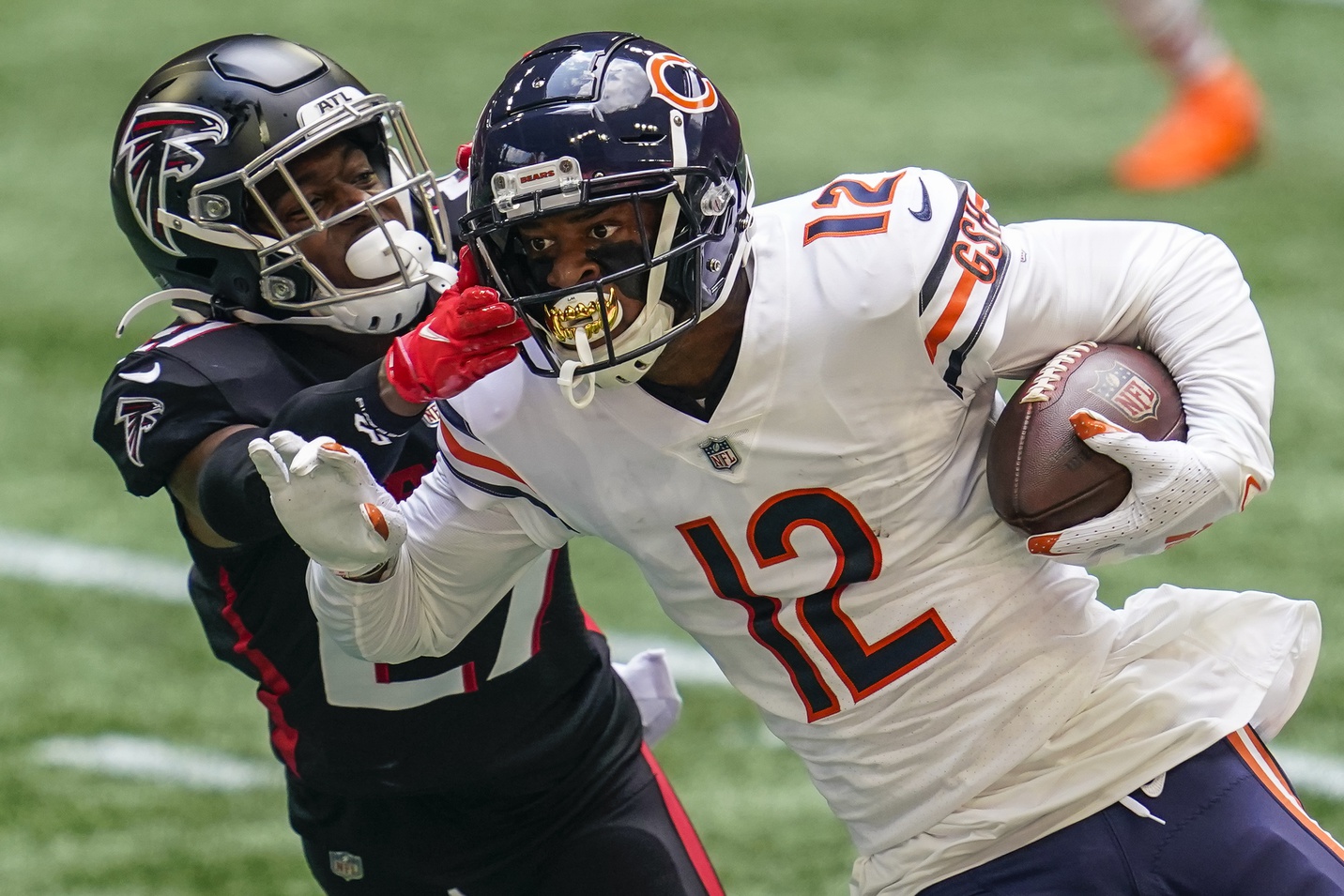 Robinson is an excellent wide receiver, but his ranking here is lower than where he's ended up the past two seasons. He leads all wide receivers in targets this year and finished second in targets in 2019. His 2.05 fantasy points per touch rank third-lowest among the top 10 fantasy wide receivers this season.
Robinson, an unrestricted free agent will likely see fewer targets if he opts to join a new team this offseason. Similarly, if he stays with the Bears, they will likely be more comfortable with their other receivers who are rookies this year, which would also result in a lower target share for Robinson.
His ranking could move up if he ends up with a better quarterback throwing to him.
Davis has scored only the 31st-most fantasy points among wide receivers this year, but he ranks top-five in PFF overall grade.
He would project to see a significant target increase with a new team. His rank here would drop if he stays with the Titans, but he definitely has top-10 fantasy potential with the right team.
Despite sitting at QB2 on the season, Mahomes remains in the top quarterback spot due to his consistently excellent play over the past three years. This makes him the safest option among the elite quarterbacks.
It's worth noting Mahomes' ranking here is a bit lower than his ADP was in August. That has everything to do with the number of quality quarterback options and nothing to do with Mahomes. There were 10 quarterbacks who were worthy starters throughout the entire fantasy season.
Two more rushing quarterbacks had limited starts this season, but they both are in the top three in fantasy points per dropback among those with at least 100 dropbacks. If they are both starters in 2021, that leaves 12 solid starting options at quarterback. If you can easily get one of those signal-callers several rounds later, it doesn't make as much sense spending a second- or third-round pick on a quarterback.
Akers' ranking here probably isn't as high as some others will have him for 2021. He likely remains in a running back by committee next season, as Darrell Henderson was the highest-graded running back across the league before injuring his quadricep in the middle of the season.
Henderson should return to playing at 100% by next season. He's been a larger factor in the passing game than Akers, too. Akers should still see double-digit carries per game, but Henderson is too good of a player to leave on the bench for most of the game when healthy.
Aiyuk has scored the third-most fantasy points over the past seven weeks when he was healthy and played. The main concern is that most of the 49ers' weapons weren't healthy in many of those games. George Kittle just returned from injury, and he will likely lead San Francisco in targets as long as he is on the field.
Aiyuk should see more targets than Deebo Samuel, but Samuel will stay a big part of the offense when active. Raheem Mostert isn't going anywhere, either. Aiyuk should be great whenever he's thrown the ball, but it will be hard for him to maintain double-digit targets each week like he was doing over the second half of the season.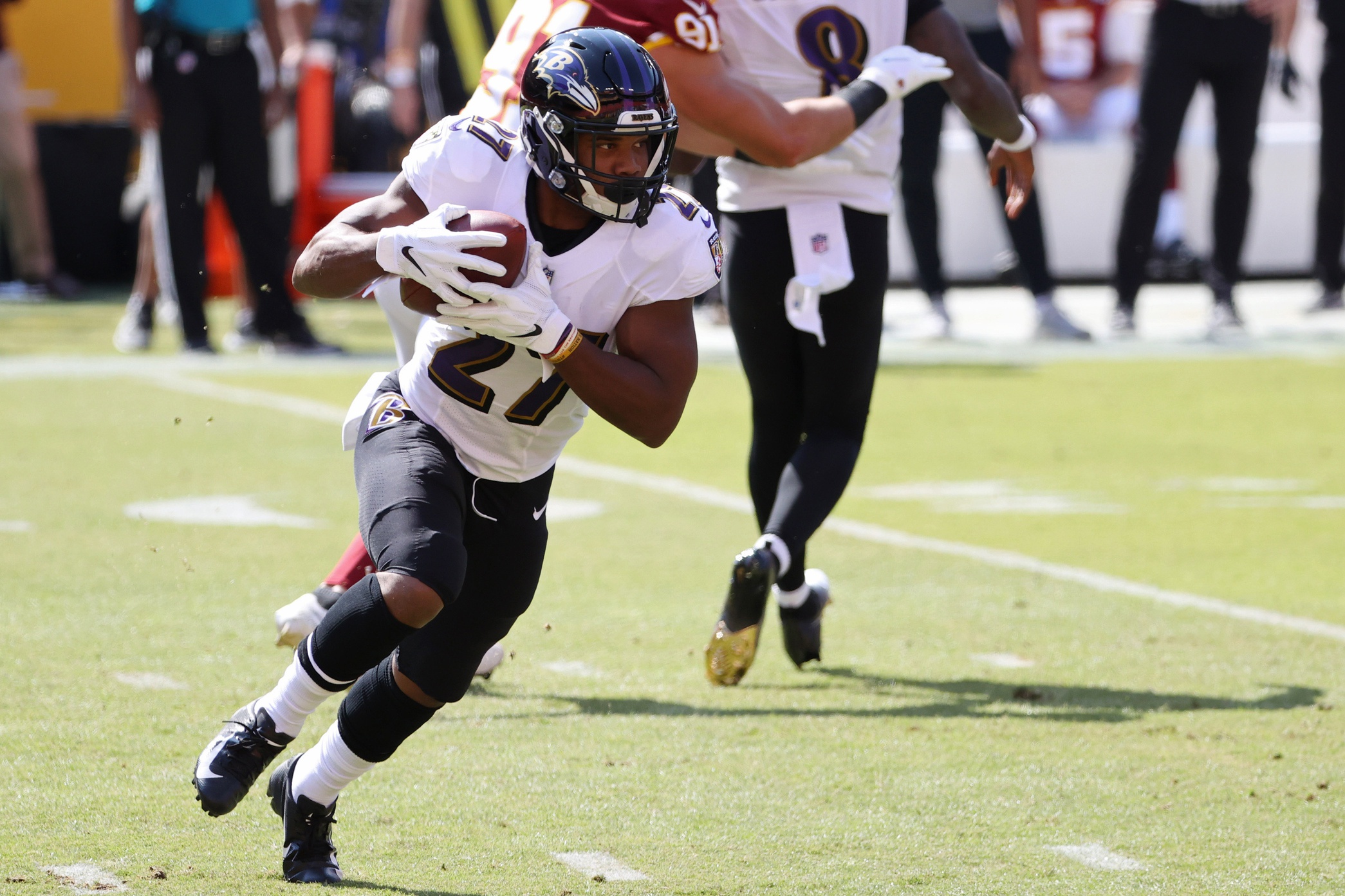 Dobbins has taken over as the lead running back in Baltimore, but his upside is limited. Mark Ingram II is no longer a part of the running back rotation, though the Ravens will still feed Gus Edwards significant carries each game.
Ideally, Dobbins would get the third-down opportunities over Justice Hill, but Dobbins' 0.58 yards per route run ranks fourth-lowest among running backs in 2020. While being a part of the Ravens' offense gives him a high floor, he needs to improve as a receiver and play much better than Edwards to improve his ceiling.
Hardman is someone a lot of people expected to take a big step forward this year, yet he didn't. He never ended up being fantasy-relevant in 2020, but there is reason to believe that can change in 2021.
Both Sammy Watkins and Demarcus Robinson are free agents this offseason. Kansas City has invested a lot of money in its core players, so there is a chance Hardman can move up to the second wide receiver spot on the depth chart.
Hardman didn't have as many big plays in 2020 as his rookie year, but he was catching more passes and has a higher PFF overall grade. Sometimes, it takes a few years for a wide receiver to develop, and 2021 could be his time to shine.
Plenty can change between now and next season with where Hardman ends up on the depth chart, but it would be hard to ignore the second wide receiver in a Patrick Mahomes-led offense.
Edwards-Helaire will end the 2020 NFL season with 176.0 fantasy points, 21st among players at his position. Running backs in Andy Reid offense's have had plenty of fantasy success in the past, but then again, Reid hasn't always had Patrick Mahomes, Tyreek Hill and Travis Kelce.
The Chiefs will probably have Damien Williams back to compete with Edwards-Helaire in 2021, and while the first-round pick should still lead Kansas City in carries and targets out of the backfield, that isn't a big enough share of the offense for him to rank any higher at this point.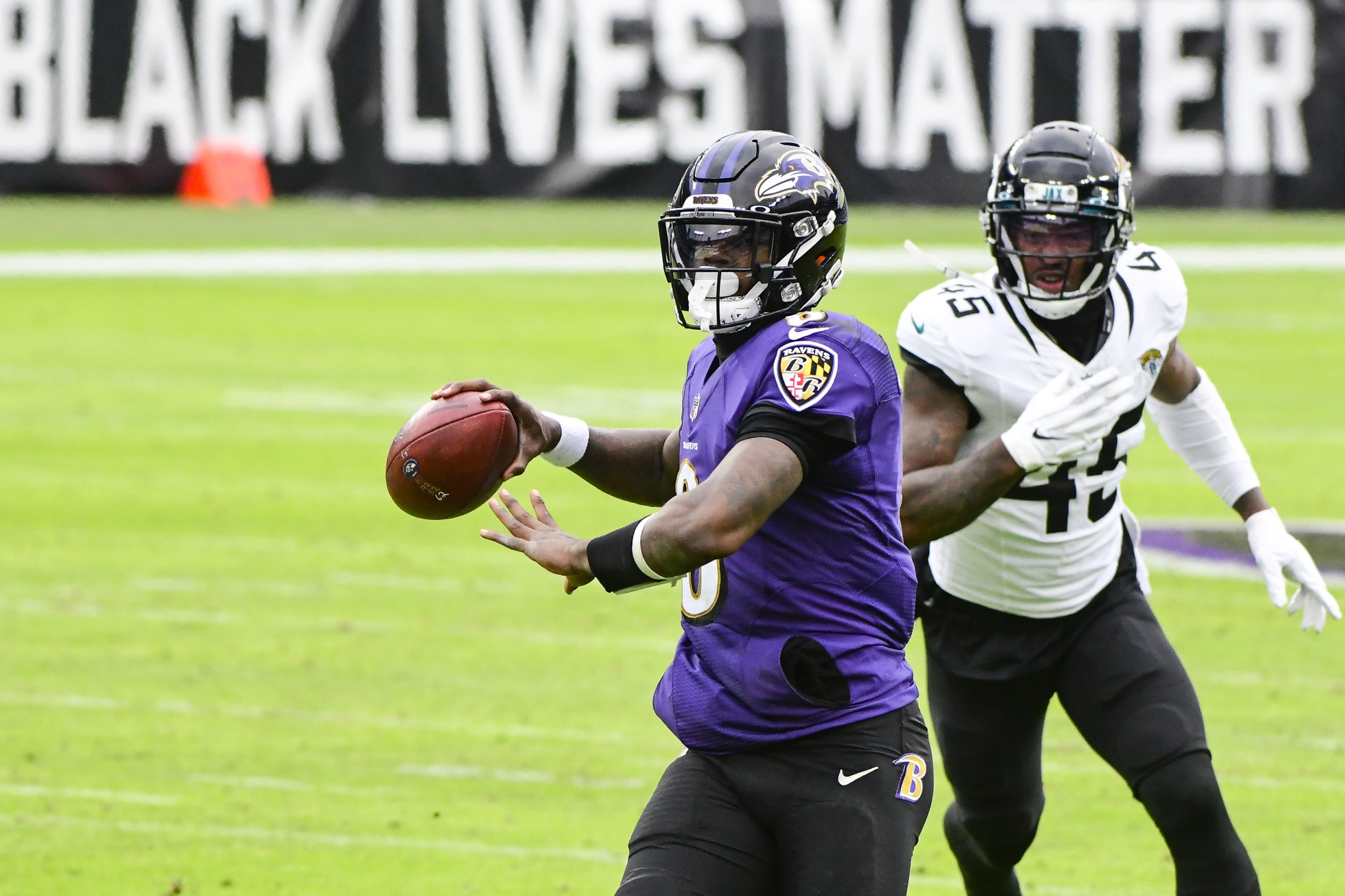 Jackson may have started the season slowly, but he returned to his MVP form down the stretch of the 2020 season. He leads all quarterbacks in fantasy points over the last four weeks (115.1) and also ranks first among players at his position in fantasy points per dropback in that time (1.14). The Ravens should have the cap space to improve the offense this offseason, leaving Jackson among the top-three fantasy quarterbacks for 2021.
Dillon's 85.2 PFF run grade ranks fifth among qualifying backs this season, though that grade has come on the small sample size of only 45 carries.
Both of the Packers' top backs are free agents this offseason, and if Green Bay lets both of them go, Dillon will skyrocket up this list. But the chances are that one of the two backs will return, leaving Dillon in a two-man committee.
Penny was a first-round pick for Seattle in 2018 and looked like a great fantasy back late in the 2019 season when he ran for 129 yards and a touchdown on 14 carries in Week 12. He gained 74 yards and one touchdown on 15 carries the following week, adding career-highs in targets (5), catches (4), receiving yards (33). Penny then tore his ACL in Week 14, keeping him out of action for over a calendar year before his return in 2020.
Seattle's top backs are both free agents this offseason, so while Penny would have value as one of the team's top two backs, there is also a scenario where he is the Seahawks' every-down back in 2021.
Snell is in a position to be the lead back in Pittsburgh in 2021 if James Conner leaves the team in free agency.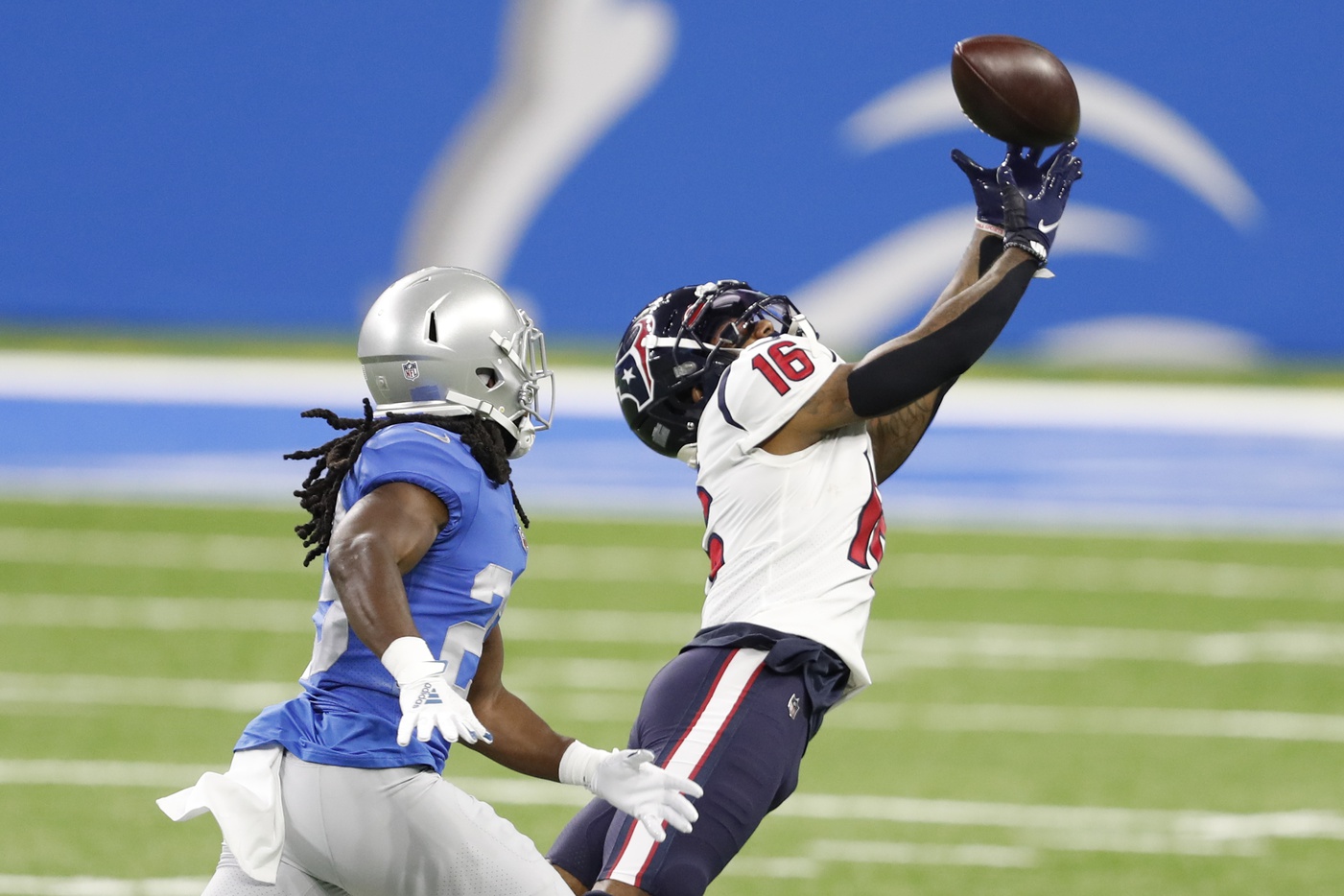 Coutee has been a top-20 fantasy wide receiver since joining the Texans' starting lineup. The third-year receiver has played well enough that he should be among the starters in Houston in 2021.
Herbert has scored the 10th-most fantasy points among quarterbacks since entering the starting lineup in Week 2, but his fantasy stock will be hanging in the balance as we enter the offseason.
His value could increase or decrease based on what Los Angeles does next year. The rookie signal-caller is one of the top five players for the Chargers in offensive snaps played, with the other four players being unrestricted free agents. Los Angeles has cap space to invest in the offense and bring up Herbert's value, but they could also lose Hunter Henry and not find an adequate replacement, which could bring Herbert down.
Higbee was one of the biggest fantasy busts of the 2020 campaign at the tight end position. However, there is reason to believe he can return to being a top-10 fantasy tight end next year.
He remains one of the best tight ends in the NFL. His PFF receiving grade over the last two seasons combined ranks sixth among players at his position, as does his 2.11 yards per route run. The main thing holding him back is his playing time. For example, Gerald Everett was on the field for 86.9% of snaps when the Rams were in third-and 7-plus situations this season.
Everett is an unrestricted free agent at the end of the year, and the Rams are about to have significant salary cap problems, so plenty of teams will be able to give Everett a bigger contract and more playing time than Los Angeles can. This should give Higbee the chance to play in every situation for the Rams in 2021, giving him more targets and more fantasy production.
Smith is one of the most talented tight ends in the NFL; he's earned a top-10 PFF receiving grade on the season at 78.8, and his 3.26 fantasy points per touch is fourth-best among tight ends with at least 50 targets.
The main thing holding him back is the fact that he plays for a run-first team that has a lot of great receiving options at wide receiver. Smith has 54 targets on the season, 19th-most among tight ends. Smith is an unrestricted free agent this year, and the Titans could move on from him with Anthony Firkser seemingly ready to take his role.
Smith should go to a new team where he should see more targets, and more targets with his talent should lead to great fantasy production.
Hill's fantasy value in 2021 is entirely dependent on whether Drew Brees retires. Hill scored the fifth-most fantasy points over the four-week stint as the team's starting quarterback. Some regression can be expected, but the combination of talent around him and value from running the ball should keep him among the top-10 quarterbacks if he's the starter.
Vaughn showed everyone on Saturday that he can be the No. 2 back in Tampa Bay in 2021. Leonard Fournette and LeSean McCoy are both free agents, which should open the door for Vaughn to share the backfield with Ronald Jones.
Hurts ranks second among fantasy quarterbacks over the last three weeks, and he has a 10-point lead over the third-best quarterback in that time. There is a chance the Eagles go back to Carson Wentz next year, but there is also a chance that Hurts retains the starting job and doesn't run as much as he has in his first three starts.
As long as he's a starter, he should be among the top 10 fantasy quarterbacks. There will likely be enough good fantasy quarterbacks next year for every team to get one — Hurts is one of those quarterbacks if he's named the Eagles' starter.
Burrow was sitting right at QB12 over the first 11 weeks of the season before suffering a season-ending injury. There is plenty of reason to expect him to take a step forward in 2021 in this young offense. He wasn't necessarily a top-tier fantasy option in 2020, but he does have the upside to get there.
Goedert ranks fifth among fantasy tight ends in the last seven weeks. He has the upside to be a top-five fantasy tight end, but as long as Zach Ertz is on the roster, Goedert won't reach his fantasy potential.
Jarwin was expected to be the starter in Dallas at the start of the season before suffering a season-ending injury.
He has graded better as a receiver over the last two seasons than his replacement, Dalton Schultz. Jarwin should win the receiving tight end job between the two if both are healthy. Schultz has been a top-12 fantasy tight end since taking over. Jarwin should do the same, especially with Dak Prescott throwing him the ball.
Tagovailoa has only ranked 23rd among fantasy quarterbacks since becoming the starter in Miami, but he has an upside that most fantasy backups don't.
We know exactly how most fantasy backups will do in 2021: They can be started in the right matchups but aren't likely to become top-five fantasy options. However, the Dolphins have both the draft capital and cap space to help Tagovailoa significantly this offseason. He's regularly playing with different skill players around him due to injury, so simply having consistency in the players around him should help, too.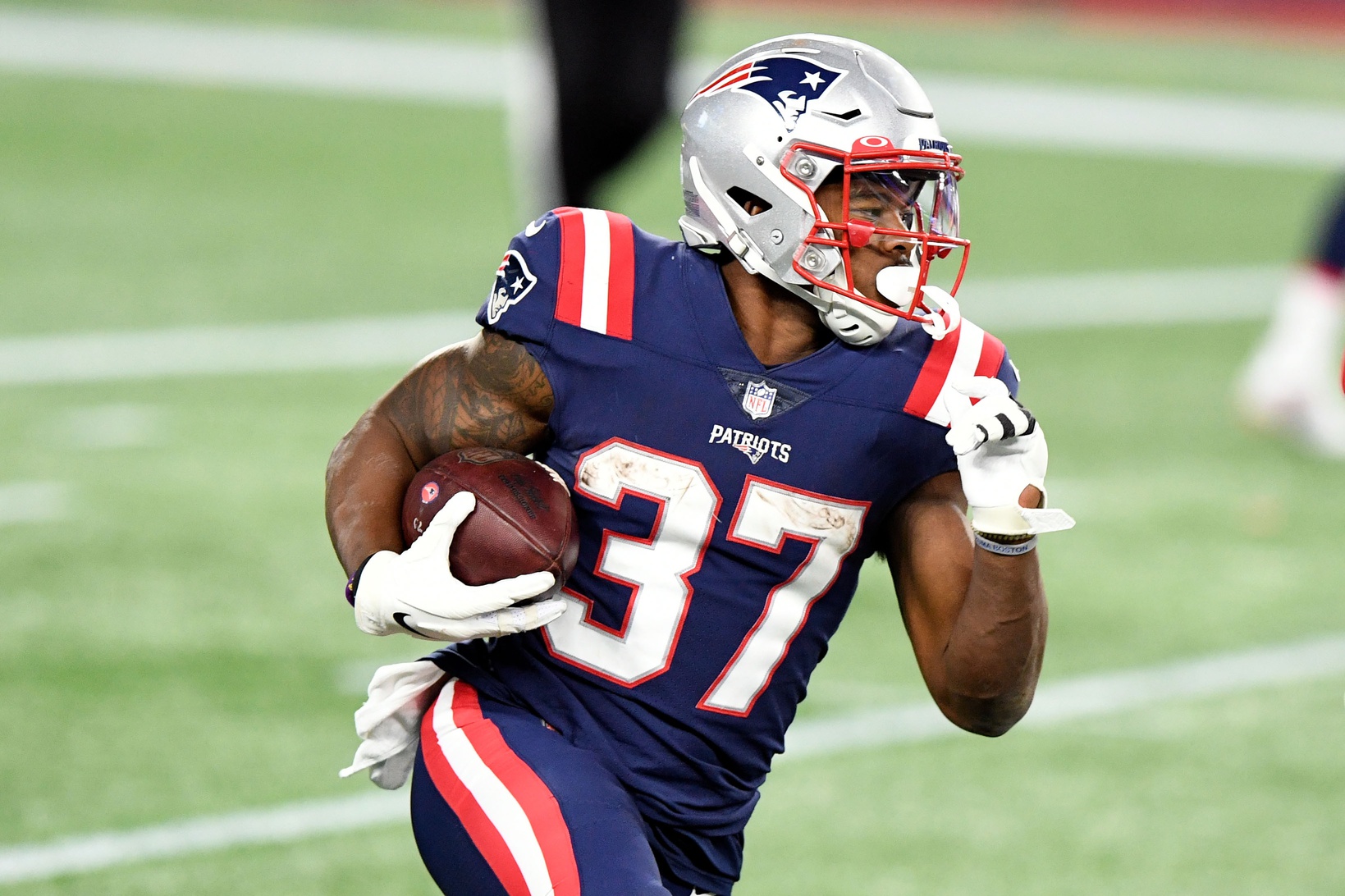 Harris has earned a 90.3 PFF grade on the season. He's been a non-factor in the passing game, and he's averaging 13 carries per game over the last month. He simply hasn't had enough upside to trust him in the Patriots' 2020 offense.
If New England goes out and gets a different quarterback — one who doesn't take a lot of the red-zone carries — and rosters fewer backs to compete with for playing time, Harris could have a bit more value.
Johnson ranks fifth among wide receivers in yards per route run at 2.59. Most of the wide receivers in the top 10 in yards per route run are also top-10 fantasy wide receivers. If Johnson can win one of the three starting jobs, he has the potential for big numbers.
Engram's fantasy value has primarily been due to volume, as his 98 targets are fourth-most among tight ends. New York will have Saquon Barkley back to take a higher percentage of Giants' offensive plays. New York will also likely upgrade at wide receiver, taking more targets away from Engram.
Miller's fantasy value is dependent on what happens in free agency. Chris Godwin, Antonio Brown and Rob Gronkowski are all unrestricted free agents. As long as one of the two wide receivers leave, Miller should be on the field for most offensive plays. The more skill players the Bucs lose, the higher the target share Miller should have.
Everett is an unrestricted free agent who should be the top receiving tight end for a new team in 2021.
Thomas is a top-six fantasy tight end this season, but his value has been entirely dependent on his volume. He is one of three tight ends with over 100 targets on the year; his 2.26 fantasy points per touch are 52nd best among 70 qualifying tight ends, while his PFF grade of 64.4 is also below average for a starting player at the position.
Washington should be upgrading at wide receiver this offseason, which should take away from Thomas' targets. Washington could also look to upgrade at tight end, or at least find someone to take away some of Thomas' snaps.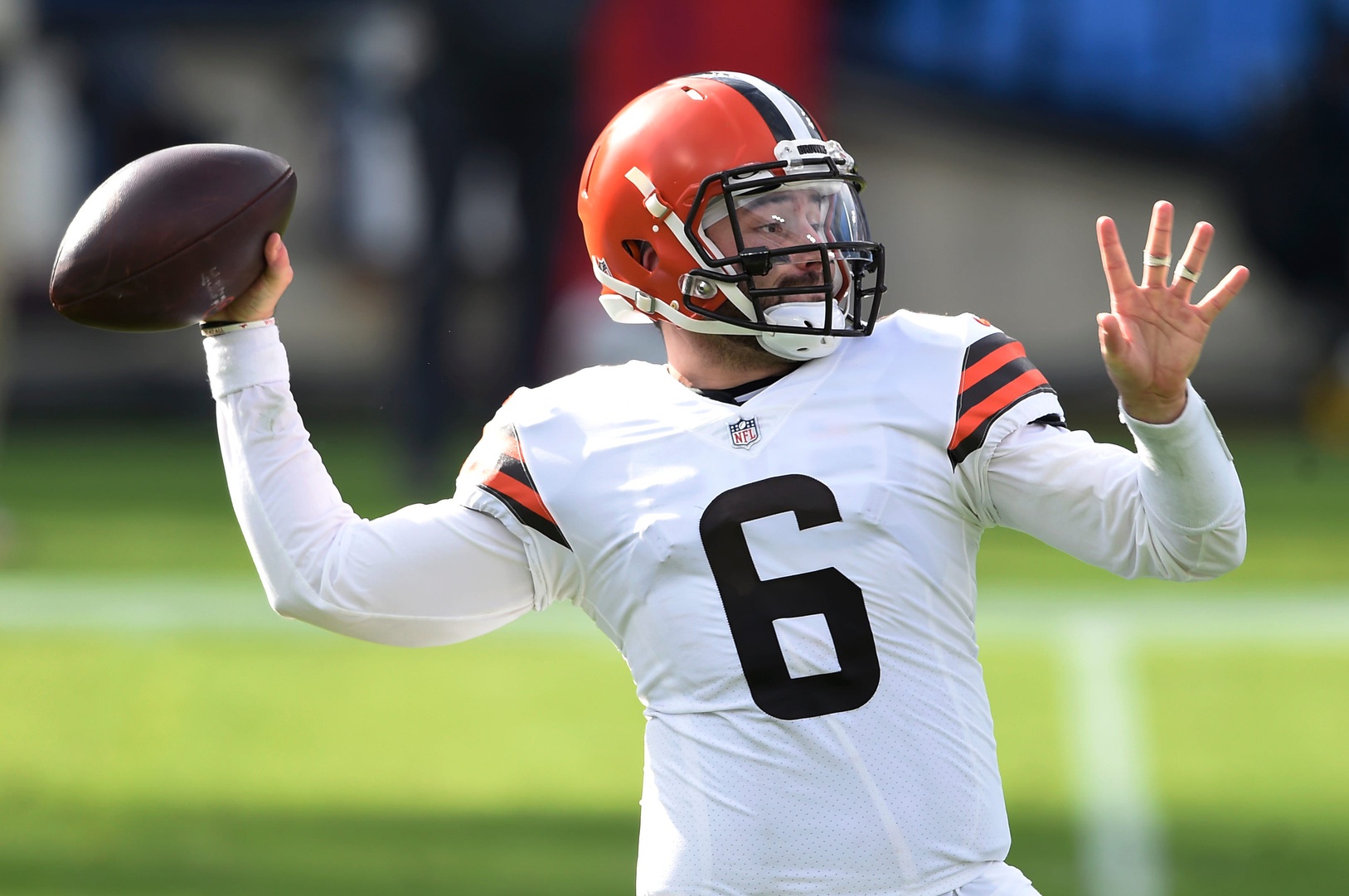 Mayfield has looked great over the second half of the season, earning a top-eight PFF overall grade over the last eight weeks. The only problem is that it hasn't translated to fantasy success, as he's QB15 over that time.
The big problem is that the Browns are a run-first team, which is unlikely to change in 2021. As long as Cleveland has Nick Chubb and Kareem Hunt, Mayfield's fantasy ceiling is relatively low.
Reagor has earned a 64.1 overall PFF grade and has yet to record more than 60 receiving yards in a game. Reagor should play better in 2021 than 2020, but there was less to be excited about with Reagor than other young wide receivers.
Firkser's fantasy value is entirely dependent on whether Jonnu Smith leaves Tennessee in free agency. Firkser takes the third-and-long snaps for the Titans, and in the game Smith missed this season, Firkser took all of the snaps in 11 personnel. His 1.65 yards per route run currently ranks 10th among tight ends.
His fantasy upside is limited with the Titans because they are a run-first team with great wide receivers, but he should have touchdown potential every week in 2021.
Rodgers was excellent for Philadelphia throughout 2020 when they dealt with injuries at tight end. He's sitting at second in yards per route run, just behind George Kittle and ahead of Travis Kelce. It was on a small sample size of 130 routes, but it should be enough for a team to take a chance on Rodgers to be their receiving tight end in 2021.
Kmet has taken over as the lead tight end in Chicago over the second half of the season, but it's still Jimmy Graham scoring the touchdowns. Kmet's upside will largely depend on whether the Bears let go of Graham in the offseason.
Bridgewater's play has declined as 2020 has progressed. He's thrown only two touchdowns in his last four games and is running off five straight games without throwing for 300 yards. Carolina might bring in a quarterback to compete with Bridgewater, making it harder to trust him in 2021.
Brees can still be a low-end QB1, but there is a good chance he retires after the season. If he announces that he's coming back and the Saints acknowledge they are keeping him as the starter, Brees would move up the list. That said, he still wouldn't rank in the top 100.
Winston scored 337.4 fantasy points in 2019, third-most among quarterbacks. Granted, he dropped back to pass more than any other quarterback that year, but with the right weapons, he can be fantasy gold. It's unclear if he will find a starting spot in 2021, and even if he does, that team might not have enough weapons.