With two weeks of fantasy football data at our disposal and sample sizes increasing, we now have a better sense of each team's strengths and weaknesses. This column will use PFF's extensive data to highlight stats that reveal team and player mismatches for every game of every week. Weekly matchups are crucial to fantasy production in both DFS and season-long leagues, and these stats will be an extremely valuable tool for fantasy owners to identify player targets and avoids.
Here are the facts and stats to know for Week 3:
A Thursday night home game against the Titans might be the perfect time for Leonard Fournette to get back on track. Tennessee's defense has been extremely kind to opposing RBs thus far, allowing 215 rushing yards after contact (third most) at a generous clip of 4.0 yards after contact per attempt (third). Fournette is still getting yards in chunks, with five carries going for 10-plus yards (sixth-most) but has yet to bust out a truly big play (zero carries of 15-plus yards).
John Brown is on pace to become Buffalo's first 1,000-yard receiver since Sammy Watkins in 2015 — through two games, Brown is averaging 2.79 yards per route run (11th) with a stellar 134.1 passer rating. Brown will see quite a bit of Bengals cornerback Dre Kirkpatrick, who has slumped in coverage – 10 targets, eight receptions, 2.63 yards per cover snap (eighth most), and a perfect 158.3 passer rating.
The Eagles are very thin at wide receiver with a banged-up Alshon Jeffery and DeSean Jackson. Enter Nelson Agholor. I noted that offenses are attacking the Lions via the slot receiver in last week's column, and we saw this in action with Keenan Allen seeing six targets and a 4-60 line out of the slot (only 16 slot snaps, yields a ridiculous 38% target rate). Lions slot cornerback Justin Coleman currently leads the NFL with 16 slot targets. After seeing nine targets against the Falcons, expect Agholor to be busy once again with a chance to repeat his 7-99-1 slot line.
Philadelphia was repeatedly dusted by Julio Jones and Calvin Ridley on Sunday night and have allowed outside wide receivers to amass 374 receiving yards (second-most), four touchdowns (most), on a league-high 38 targets. Kenny Golladay (88% wide snap rate) will be a major problem for the Eagles – when lined up wide he has 16 targets (fourth most), 11 catches (fourth), 151 yards (seventh), two touchdowns (second), and is averaging 5.81 yards per route run (fourth).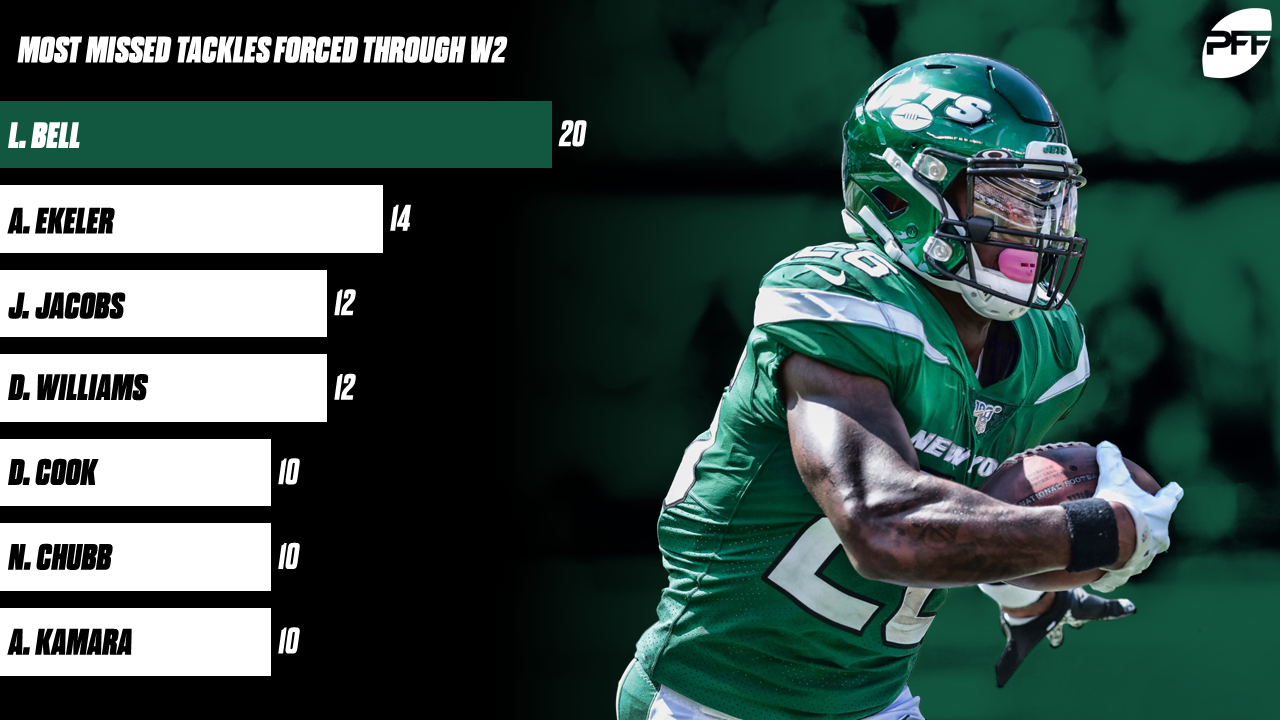 The Jets offense currently runs through Le'Veon Bell, who is making defenders miss at an astronomical rate — his 20 missed tackles forced are six more than anyone else. New England has a very fundamentally sound defense — their four missed tackles are the fewest in the NFL.
Sony Michel looks more like a plodder than a playmaker — in 36 rushing attempts this season, he has not forced a single missed tackle (the only player failing to do so with at least 15 touches). The Jets have boasted a solid run defense thus far, allowing 2.5 rushing yards after contact per attempt (13th) with a 4.05-yard average depth of tackle (14th). If the Patriots running game cannot get going, perhaps Tom Brady will air it out to his weapons.
Josh Jacobs has quickly become one of the most elusive running backs in the league – he has forced 12 missed tackles (third-most) with 146 rushing yards after contact (second). The Vikings run defense was just gashed repeatedly by Aaron Jones and they have allowed 2.1 rushing yards before contact per attempt (fifth-most) this season.
Dalvin Cook has been electric through the first two games, crushing opposing defenders to 185 rushing yards after contact (39 more than Jacobs), and looks as matchup-proof as any back in the entire league. And yet, the Raiders run defense presents a formidable matchup. Oakland has allowed just one explosive run on 45 attempts, the third lowest rate in the league, with zero rushing yards before contact per attempt.
Ravens/Chiefs looks like it will be an old-fashioned shootout and the matchup plays right into the hands of gunslinger Patrick Mahomes. Offenses are attacking the Ravens deep — they have an 11.3- yard average depth of target and 21% of passing attempts have been targeted 20-plus yards downfield, both of which are the highest in the NFL. However, the Ravens have yet to allow a deep touchdown and their deep passer rating allowed is a measly 59.7. Does matchup matter for Mahomes? His deep passing stats are straight out of a video game — 15 attempts (second), 10 completions (first), 389 yards (first), five touchdowns (first), and a 149.3 passer rating (third).
If Lamar Jackson is to keep up the Mahomes, he will need to continue slinging it deep – 15.8% of attempts (10th), 224 yards (third), two touchdowns (fifth), and a 140.0 passer rating (fifth). The Chiefs are allowing a 125.0 passer rating on deep passes (seventh worst), though at a low rate of just 9.9% (10th-fewest).
The Colts defense is keeping everything in front of them and have only allowed four deep pass attempts this season (second-fewest), one of which connected for a touchdown. Matt Ryan has 12 deep pass attempts (fourth-most), with five apiece targeting Julio Jones and Calvin Ridley. While the pair certainly have the talent to get loose, this matchup presents a unique challenge. Also, efficiency has been an issue for Ryan – he has only managed a completion on three deep passes for two touchdowns (both to Ridley).
Emmanuel Sanders ranks first among all pass-catchers with four close-range targets from inside the 10-yard line, connecting for two touchdowns (along with a go-ahead two point conversion, which ended up being for naught). The Packers defense has only allowed one close-range target all season and they intercepted the pass.
Davante Adams is in a major smash spot against a Denver secondary that allowed Tyrell Williams to explode for a 6-105-1 line with a perfect 158.3 passer rating in Week 1. The Broncos fared better against Allen Robinson and company, but Trubisky's incompetence was largely to blame. Adams is a different beast — he pasted the shadow coverage of Xavier Rhodes for 7-106 and a productive 3.03 yards per route run (15th).
The #FishTank is fully on in Miami. While Dak Prescott has led the charge for the first two games, now is the time for a freshly paid Ezekiel Elliott to show why he is worth the money. The Dolphins run defense ranks at the bottom of the league with 2.3 rushing yards before contact per attempt (30th) and a 5.29-yard average depth of tackle (27th). Zeke has a legitimate chance to double his 94 rushing yards after contact, which would yield to a monster performance.
The Dallas defense has shown cracks in defending the run as their 3.2 rushing yards before contact per attempt and 6.38-yard average depth of tackle are both worst in the league. With a combined 32 rushing yards after contact, neither Kenyan Drake nor Kalen Ballage have done much of anything — though force-feeding them the football is probably Miami's best chance to keep this game close.
The Daniel Jones era begins on Sunday now that Eli Manning has mercifully been benched. Jones' first order of business will be to get the ball into the hands of his generational running back, Saquon Barkley. The Bucs defense looks rejuvenated under Todd Bowles and they have been particularly stout against the run, somehow allowing a total of negative two rushing yards before contact with a league-high 17 TFLs (five more than any other defense). When Barkley is met in the backfield, he will need to be up to his usual tackle-breaking self (nine total missed tackles forced, eighth-most).
The Giants secondary has been an absolute sieve in coverage this season and DeAndre Baker is the primary culprit, allowing an outrageous 5.33 yards per cover snap (worst among all cornerbacks by a full 1.5 yards) and a perfect 158.3 passer rating. Mike Evans has a prime opportunity to improve upon his middling 1.35 yards per route run (61st) in this matchup as Baker should be the cure to his efficiency woes.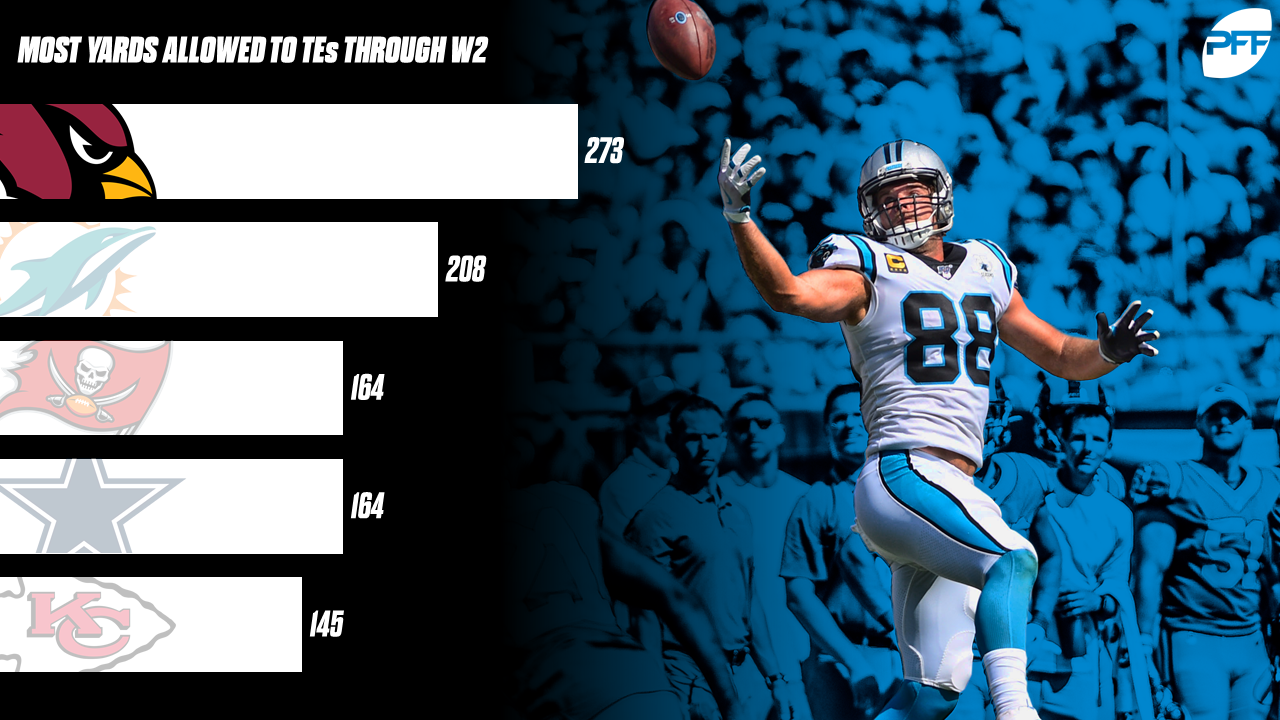 Tight ends have tormented the Cardinals to the tune of a league-leading 23 targets, 17 catches (most), 273 yards (most by 65 yards), three touchdowns (most), and a 152.7 passer rating (highest). Greg Olsen has been heavily involved in the Panthers offense (78 routes run, second most) while being lumberingly explosive with three explosive receptions of 15-plus yards (fourth most). If Cam Newton misses this game, Olsen should be a reliable safety valve for Kyle Allen.
The Cardinals offense is heavily utilizing slot receivers with 39 targets (most), buoyed by Larry Fitzgerald's league-high 20 slot targets. Carolina's coverage unit has mostly contained slot receivers, allowing just 20 targets (17th) for 108 scoreless yards and a 74.6 passer rating (fourth).
Jimmy Garoppolo was an assassin when kept clean against the Bengals, tossing three touchdowns with a 126.3 passer rating. For the season, the 49ers offensive line has given Jimmy G a clean pocket on 80% of dropbacks (second most). Pittsburgh has a middling pass rush with a 31.6% pressure rate (19th), and their coverage unit has not held up well when the opposing quarterback is kept clean – five touchdowns (most) and a 139.9 passer rating (fourth).
The Saints have been smashed by the run this season, allowing 222 rushing yards after contact (second-most) at a rate of 4.2 yards per attempt (second). Nobody loves to run the football quite like the Seahawks and the duo of Chris Carson/Rashaad Penny will look to take advantage. Carson was the man in Week 1 — he forced three missed tackles and racked up 45 yards after contact (15th), while Penny shouldered the load in Week 2 with 5.30 yards after contact per attempt (seventh).
Austin Ekeler has somehow looked even better than Melvin Gordon through the first two games, toasting defenses via both the ground (14 total missed tackles, second most) and air (3.40 yards per route run, fourth). Houston's rush defense looks suspect without Jadeveon Clowney — they have allowed an explosive run of 10-plus yards on 19% of rushing attempts (second-most) and a 4.77-yard average depth of tackle (ninth-worst). The Texans have also allowed production to pass-catching backs – 17 targets (sixth most), 13 catches (sixth), 116 yards (seventh), five missed tackles (third), and two explosive catches of 15-plus yards (fourth).
Jared Goff performs much better when throwing in rhythm – he owns a 138.8 passer rating (second-best) on throws with a snap to pass of 2.5 seconds or less. The Browns coverage unit has shown cracks to quick passes, allowing a 118.5 passer rating on these throws. Brandin Cooks has caught four of four quick targets for 56 yards, three explosive plays, one touchdown, and a perfect 158.3 passer rating.
Baker Mayfield has struggled against the Cover 3 scheme this season, tossing all four of his interceptions on 23 attempts. The Rams defense rolls out a Cover 3 on 48% of passing plays, the fourth highest rate in the league.
Mitchell Trubisky is having major issues through the first two weeks, throwing uncatchable inaccurate passes on 29% of attempts (second most) and an impossibly low 3% perfect throw percentage (31st). Trubisky is even worse under pressure with a pathetic 2.4 yards per attempt and 22.9 passer rating. The remedy could be Washington's similarly poor pass rush, which only pressures opposing QBs on 23% of dropbacks (third-fewest).
Scary Terry McLaurin has been a major bright spot for the Redskins with a 142.4 passer rating and four explosive plays on a hefty 18.1-yard average depth of target (third-highest). The rookie has a 21% target share that has room to increase as the season moves along. Despite allowing 32-year-old Emmanuel Sanders to turn back the clock, the Bears coverage unit has generally been stout – their 11.3% explosive pass play rate is third-best and they have allowed just one deep ball reception.