Digesting the first week of the NFL and fantasy football season is a balancing act between overreaction, willful ignorance, and identifying real actionable data from such a small sample size.
I analyzed PFF data from Week 1 and pulled out matchup-specific facts for the 13 games on Sunday's main DFS slate, highlighting mismatches that could have a significant impact on Week 2.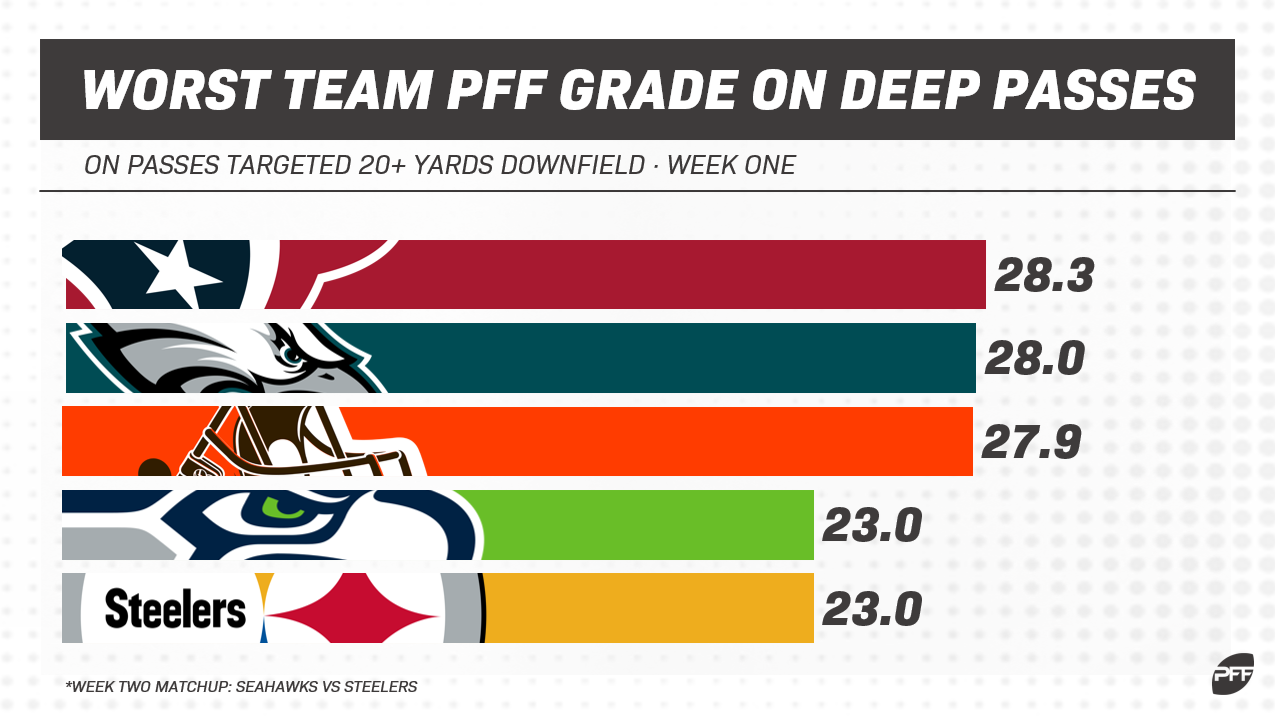 Russell Wilson looked downfield often in Week 1 against the Bengals — 25% of Wilson's throws were deep passes of 20-plus yards, connecting on 3-of-5 attempts for 111 yards and a touchdown. We all watched Tom Brady torch the Steelers defense with the deep ball for 127 yards and 2 touchdowns — Pittsburgh tied one other defense to record PFF's worst coverage grade on deep passes. That other defense? The Seahawks. Sneaky shootout potential here.
With Hunter Henry and Mike Williams injured, Keenan Allen should become the focal point of the Chargers offense. He ran 56% of his routes from the slot in Week 1 where he was targeted a whopping 40% of the time and caught 6 balls for 77 yards. Lions slot corner Justin Coleman was targeted a league-high 12 times out of the slot in Week 1, allowing 6 catches for 28 yards and a score.
Rushing attempts from inside the 10 are extremely valuable, and Mark Ingram (five) and Gus Edwards (four) combined for a whopping nine attempts in Week 1, with Ingram finding the box twice. Despite trailing for the virtually the entire game, the Arizona Cardinals did not see a single close-range rushing attempt against the run-heavy Lions (32 rushes, fourth-most) in Week 1.
The Vikings appear to be firmly on team "establish the run" this season, and we all witnessed Dalvin Cook run circles around the Falcons in Week 1. Cook had a league-high three explosive runs of 15-plus yards, accounting for 56% of his total rushing yardage. The Packers were one of only four teams to not allow a single explosive run in Week 1, while recording PFF's fifth-best run-defense grade. They stymied the Bears run game with a 2.92-yard average depth of tackle (sixth).
John Brown's debut for the Bills could not have gone better, as Josh Allen targeted him early and often, particularly when he lined up out wide — 18 routes run with five targets, four receptions, 91 yards, one touchdown, and a perfect 158.3 passer rating. Giants rookie DeAndre Baker is currently PFF's second-lowest-graded corner after getting burnt repeatedly in Week 1 — in 15 cover snaps out wide, he surrendered four catches for 132 yards (a preposterous 8.8 yards per cover snap) and a touchdown with a perfect 158.3 passer rating.
Tom Brady punished the Steelers for blitzing to the tune of 107 yards, two touchdowns, and a stellar 155.8 passer rating. The Dolphins blitzed on 69% of pass plays (second most) in Week 1 despite getting torched repeatedly by Lamar Jackson. Miami recorded PFF's worst coverage grade against the blitz, allowing 15 catches on 15 attempts for 196 yards, five touchdowns, and a perfect 158.3 passer rating.
Dak Prescott was an assassin when given a clean pocket in Week 1, completing 23-of-28 passes for 363 yards, four touchdowns, and a perfect 158.3 passer rating. The Redskins pass rush was lacking in Week 1 — they only managed to pressure the quarterback on 27% of dropbacks, the eighth-lowest rate in the league.
Marcus Mariota was on fire when using the play action fake in Week 1, piling up a ridiculous 19.7 yards per attempt (tops among all quarterbacks) and three touchdowns. The Colts secondary was victimized by Philip Rivers via play action in Week 1, allowing 16.9 yards per attempt (fourth) and a touchdown. If the Colts sell out to stop Derrick Henry, can Mariota capitalize?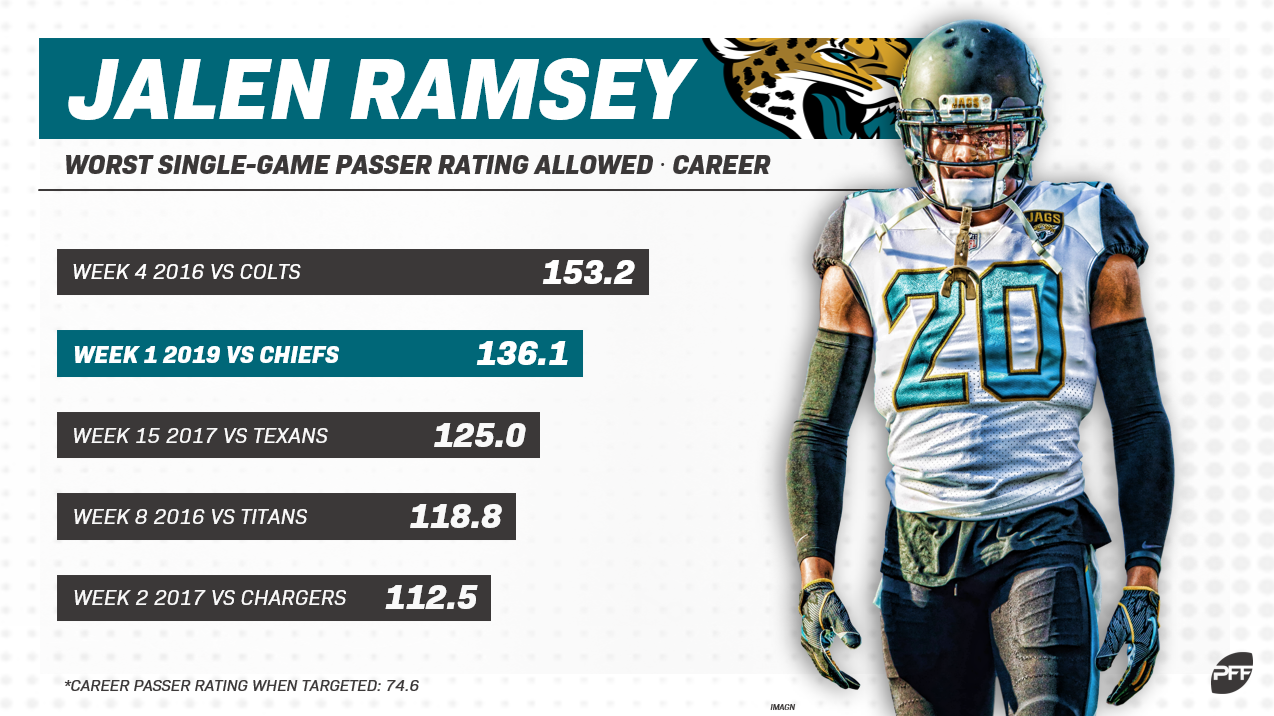 Jalen Ramsey had a forgettable game (seventh-worst PFF grade among cornerbacks) against the Chiefs in Week 1 where he allowed six catches for 84 yards, two touchdowns, and a 136.1 passer rating. While Ramsey has proven to be a bona fide stud in coverage, he will have a stiff test to show that Week 1 was an aberration – Ramsey will be in shadow coverage against DeAndre Hopkins, who toasted Marshon Lattimore's shadow coverage with 3.00 yards per route run, two touchdowns, and a 128.5 passer rating.
The 49ers offensive line gave Jimmy Garoppolo a clean pocket on 82% of his dropbacks in Week 1, the second highest rate in the league. And yet, Jimmy G failed to take advantage – he completed just 16-of-23 passes for 117 yards, an interception, and a 63.1 passer rating. The Bengals secondary struggled when left on their own in Week 1 (fourth worst clean pocket coverage grade), allowing clean Russell Wilson to pick them apart with 11-of-13 completions for two touchdowns and a perfect 158.3 passer rating. Can Garoppolo clean this up?
We have discussed the importance of close-range targets from inside the 10-yard line, and no player was targeted more from this money zone in Week 1 than Travis Kelce. In fact, Kelce was already standing in the end zone for all three of these close-range targets – he just failed to connect on any of them. The Raiders saw five close-range dropbacks (second most) and gave up a one-yard receiving touchdown in Week 1. Positive regression is coming.
Allen Robinson was a busy man in Week 1 with 13 targets, catching an inefficient seven balls for 102 yards. However, he should have had a monster game — Mitchell Trubisky missed him on a number of passes (including four uncatchable targets). The Broncos right cornerback is Isaac Yiadom, whom the Raiders tormented over and over in coverage during Week 1, to the tune of 10 targets, nine catches, and 123 yards on 27 cover snaps. It would not shock for Nagy to line up Robinson out wide in order to take advantage of Yiadom on the perimeter.
Alvin Kamara was a fixture in the Saints passing game against the Texans, running 32 routes and racking up eight targets, seven catches, and 72 yards for 2.25 yards per route run (second among 18 HBs with five or more targets). The Rams surrendered a staggering 11 targets, 10 catches, and 81 yards to Christian McCaffrey on just 37 routes run (2.19 yards per route run ranked third).
The Eagles secondary inspired Case Keenum to transform into the vintage Vikings version. Keenum burned Philadelphia when he had extra time in the pocket to throw, which forced defensive backs to cover for an extended period – all three of Keenum's passing touchdowns came on throws with a snap to attempt time of 2.5 seconds or more. Even though the Falcons offense laid a complete egg against Minnesota, Matt Ryan had 2.5 seconds or more on 60% of his dropbacks (fifth most). Can Philadelphia slow down Julio Jones and company?
Le'Veon Bell looked fresh in his return to the field, evading a league-high nine tackles at a rate of 0.53 missed tackles forced per attempt (second-most). With Trevor Siemian at the helm, expect the Jets run a ball control game plan and force-feed Bell. The Browns struggled to contain Derrick Henry and the Tennessee rushing attack in Week 1, allowing an explosive run of 15-plus yards on 14% of attempts (20th), an average depth of tackle of 4.61-yards (19th), and missing four tackles.