Via a PFF Elite subscription, fantasy football players can access our data on deep passing stats here (for receivers) and here (for quarterbacks)
Over the past three seasons, DeSean Jackson has seen 44.3% of his total yardage come on deep targets (balls traveling 20 or more yards through the air). Among 109 qualifying wide receivers, that ranks third-most, behind only Tyreek Hill and Tyler Lockett.
Jackson totals 4,657 yards from deep passes across the last 10 years, which is 1,259 (31%) more than the next-closest receiver (Calvin Johnson, who saw only three fewer deep targets). I don't think it's any question Jackson has been the league's best deep threat over the past decade, and maybe one of the greatest of all-time.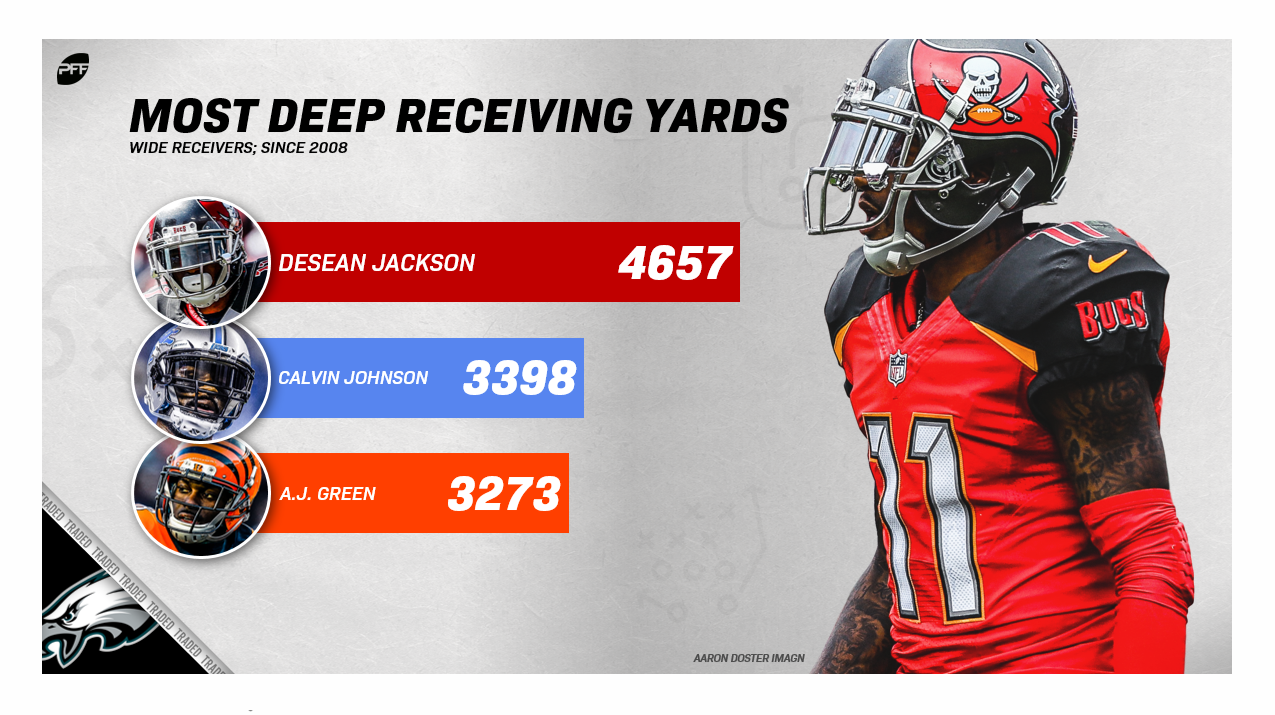 Among all wide receivers in that 10-year sample (counting backward from 2018), Jackson has ranked 10th, 65th, first, 12th (10 games played), first, third, 35th (11 games), 15th, third, and third in receiving yards from deep passes. His ranking of 65th in 2017 stands out as glaringly bad, and perhaps that's a big reason why Jackson wanted out of Tampa Bay. Now, the obvious question is whether his 2018 was a big step in the right direction, then. Well, it would be, if 84% of his deep yardage didn't come from Ryan Fitzpatrick, who handled just 39% of the team's total passes in 2018.
Though we've seen a massive decline in fantasy production from Jackson since arriving in Tampa Bay, he's still played exceedingly well. In each of the past two seasons he's ranked top-25 (of over 100 qualifying wide receivers) in PFF receiving grade.
This is mostly just speculation, but perhaps Jackson wanted out of Tampa Bay to be with a more accurate deep passer. On Wednesday, Jackson said he talked to Carson Wentz and told him he was really impressed with "his deep ball."
According to our data, Wentz has been the far more accurate deep passer in recent years. Over the past two seasons Wentz ranks seventh-best of 26 qualifying quarterbacks in deep accuracy percentage (45%), while Jameis Winston ranks fifth-worst (35%). I suspect a return to Philadelphia will mean a return to fantasy relevance for Jackson in 2019.