This is our bi-weekly check in on the value changes in dynasty fantasy football leagues. As we head into Week 5 of the NFL season, you should have a good idea where your dynasty team stands. You either got off to a hot start and are gearing up for playoff positions or maybe you're dead in the water and already looking to 2019. Either way, there will be a lot of players put up on the trade block in your leagues for you to consider.
Some of those players we covered last time. Philip Rivers and Chris Godwin were both buys and are outplaying their current dynasty rankings. Jay Ajayi (injured) and Demaryius Thomas (ineffective) are both playing lower than their dynasty ranks so hopefully you got something of value for them. DeSean Jackson was another sell but is still playing out of his mind so his value remains high (and tradeable!). Meanwhile, Kareem Hunt, Mike Evans and Trey Burton were all holds and have quickly rebounded from early-season struggle to be top-10 fantasy options at their respective positions.
Below is this edition's batch of players that have seen their dynasty stock fluctuate to the point that we need to recalibrate.
(PFF dynasty rank: 8)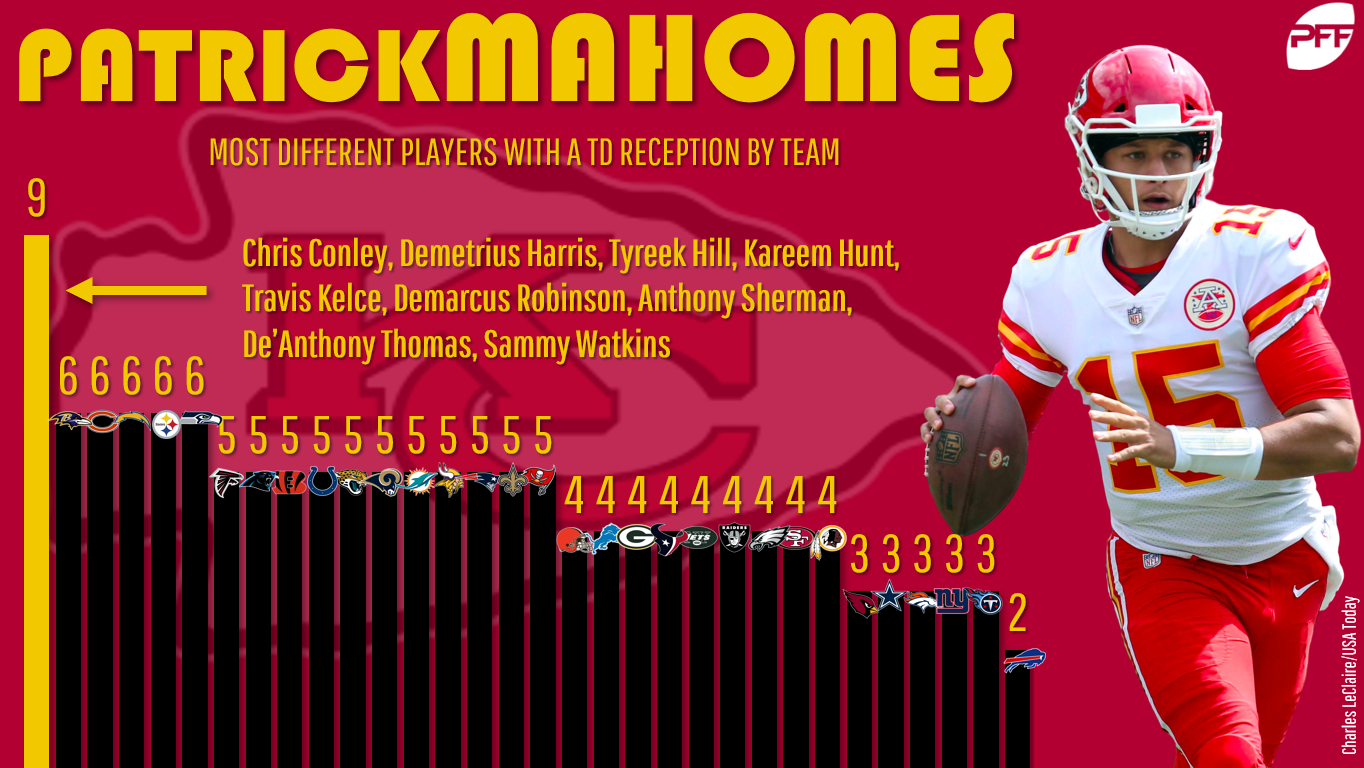 We'll start with the man of the hour and likely NFL MVP through four weeks. Mahomes is averaging exactly 300 yards per game this year while his 14 touchdowns are three more than the next-closest quarterback. And while throwing zero picks is impressive, the more impressive stat may be the fact that Mahomes has thrown a touchdown to nine different players already. Some quarterbacks don't throw touchdowns to nine players in a season and Mahomes has done it in a month.
Now comes the question of if he can keep it up, and there's no reason to think he can't through this season and beyond. Not only is he super young but so are the players around him, from Kareem Hunt (23) to Tyreek Hill (24) to Sammy Watkins (25). And the touchdowns to nine different players reinforces the notion that Mahomes isn't relying squarely on one or two elite receivers. Spreading the ball around removes the significance any one pass-catcher has, making Mahomes an automatic QB1 every time he suits up.
Verdict: Buy. I usually don't advocate buying a quarterback (at least in single-QB leagues) but I would make an exception for Mahomes. Mahomes can go off any week and, at his age, could be your dynasty quarterback for a decade. Bringing him to your team would literally mean never worrying about the position again.
(PFF dynasty rank: 20)
Few players have been a bigger disappointment this year than Henry. After DeMarco Murray and his 184 carries left in the offseason, expectations were high that Henry would take on an even bigger load. Even with Tennessee signing running back Dion Lewis, the thinking was Lewis would handle more of the passing-down duties and leaving first-, second- and goal-line situations to Henry. That coupled with his efficiency (he was sixth in yards after contact last season) was supposed to lead to a big fantasy season.
But while the attempts this year have been expected (Henry's on pace for more than 200), his efficiency is way down. YCo/A is down only slightly from 3.23 last year down to 2.85 this year but he's averaging just three yards per carry this year compared to 4.2 last year. Some blame injuries the offensive line or Henry or both but whatever the cause, it's caused the Titans coaches to look more toward the pass than the run. After seeing double-digit carries in the Titans first three games, he saw only eight last week in a Titans win. If Henry isn't getting carries, his value will take a severe hit as he won't challenge Lewis, whom the Titans brought in specifically for the pass catching role, for targets. Lewis is currently second on the team with 21 targets compared to Henry's four.
Verdict: Hold. You won't get anywhere near the value of what Henry could have brought before the season but he's also still in a good situation on a (for now) ascending offense. Unless you can get a serious haul for Henry, you're better off holding until he gets it in gear.
(PFF dynasty rank: 40)
When Bernard first entered the league, expectations were sky high. As the first running back taken in the 2013 draft, Bernard was routinely taken in the top half of rookie drafts and viewed as the Bengals' future bell cow. It hasn't exactly worked out that way between injuries and time shares as Bernard has never topped 200 carries or been anything better than a RB2 in fantasy leagues. But he's stuck around as a pass-catching back who can spell the bell cow when needed, much like he's been doing the last two weeks for Joe Mixon. In that time, he's been a top-10 fantasy running back, scoring three rushing touchdowns while having at least four catches in those games.
Verdict: Sell. Bernard's been an extremely efficient runner this season and should still see carries when Mixon returns which means he'll provide value for deeper rosters, especially in PPR leagues. But he'll be 27 by season's end and already starting to decline, currently ranking 56th out of 60 backs in elusive rating and avoiding only two tackles on the season.
(PFF dynasty rank: 13)
To call Smith-Schuster's rise up dynasty rankings a surprise would be an understatement. In rookie drafts last year he was routinely picked behind receivers like Corey Davis and Mike Williams. Their value is, admittedly, to be determined, but he was also picked after Zay Jones, which … yeah. Not only did Smith-Schuster blow them all out of the water in their rookie seasons, he finished as the 16th-highest-scoring receiver across the entire NFL. And he did this while paying most of the season as a 20-year-old. Expectations this season were great, to the say the least, but Smith-Schuster continues to defy them. He's currently the eighth-highest-scoring receiver in PPR leagues while seeing the third-most targets in the league.
Verdict: Sell. Before you scoff, hear me out. Yes he's in an amazing offense but he has to play with Le'Veon Bell this season, which will cut into his targets. Furthermore, there's no sign of Antonio Brown going anywhere so it's not as if there's a lot of room for Smith-Schuster to enhance his fantasy value. If I had him, I'd target a truly elite receiver (Michael Thomas, DeAndre Hopkins) and make the young Smith-Schuster the headliner in a package.
(PFF dynasty rank: 77)
After a breakout 2016 season that saw Enunwa finish with over 800 yards and four touchdowns and a WR3/4 in fantasy his dynasty value was on the rise until a bulging disc in his neck knocked him out of the 2017 season. He was non-existent as a dynasty asset behind other Jets receivers like Robby Anderson, Jermaine Kearse, and even Terrelle Pryor before the season but has quickly established himself as rookie quarterback Sam Darnold's favorite target. So much so that his 37 targets are more than double the next closest Jet. The added attention has led to at least four catches and 50 yards receiving over the first four games and another WR3/4 fantasy ranking.
Verdict: Buy. Enunwa is on pace to be a top-40 fantasy receiver but could easily improve upon that if Darnold progresses. Sure, the targets have made that possible but he's also 21st out of 94 qualifying receivers in yards per route run, which means he's been efficient when given the chance. Enunwa could be had for a cheap package and is a solid starter.
(PFF dynasty rank: 7)
When the Vikings signed quarterback Kirk Cousins this offseason, there was renewed optimism that Rudolph could return to a top-three fantasy season since Cousins did the same for tight end Jordan Reed in Washington. But Rudolph actually hasn't seen an uptick in fantasy scoring. He's on pace for 88 targets after seeing 81 last year despite the Vikings leading the league with 47.2 pass attempts per game. He's also on pace for more receptions than last year (72-57) but only because he's setting a career high in catch rate of over 80%. In all, his 18 receptions for 188 yards and two touchdowns is good for being fantasy's sixth-highest-scoring tight end.
Verdict: Hold. Up to this point, Rudolph is the same ol' Rudolph — a mid-TE1 when it comes to fantasy scoring who will never break through to that top-tier. If you don't have a Rob Gronkowski, Travis Kelce, or Zach Ertz on your team, Rudolph is a fine consolation.