[Editor's Note: This story was written and published on Wednesday, Oct. 17th — before Carlos Hyde was reportedly traded to the Jacksonville Jaguars for a fifth-round pick on Friday, Oct. 19th.]
The Cleveland Browns are failing to utilize one of their deadliest weapons and as a result, the offense is not just leaving points off the scoreboard- they're leaving 'em on the bench.
Duke Johnson Jr. has been in the top-10 among running backs in both elusive rating and yards per route run from the slot every single season he has been in the NFL. He has also led the Browns in receiving grade in two of his first three seasons. This season, Johnson is averaging 8.33 yards per touch, which ranks second among running backs with at least 30 touches in 2018.
Despite his proven efficiency, Johnson is on pace for just 88 touches this season. He ranks 58th among the 59 running backs with 30-plus touches in touches per game (5.5), just a few tenths of a touch ahead of the (not so) great Raiders running back, Doug Martin. 
Meanwhile, Carlos Hyde is seeing 52 percent of the Browns' offensive snaps, 70 percent of their rushing attempts and 1.5 targets per game.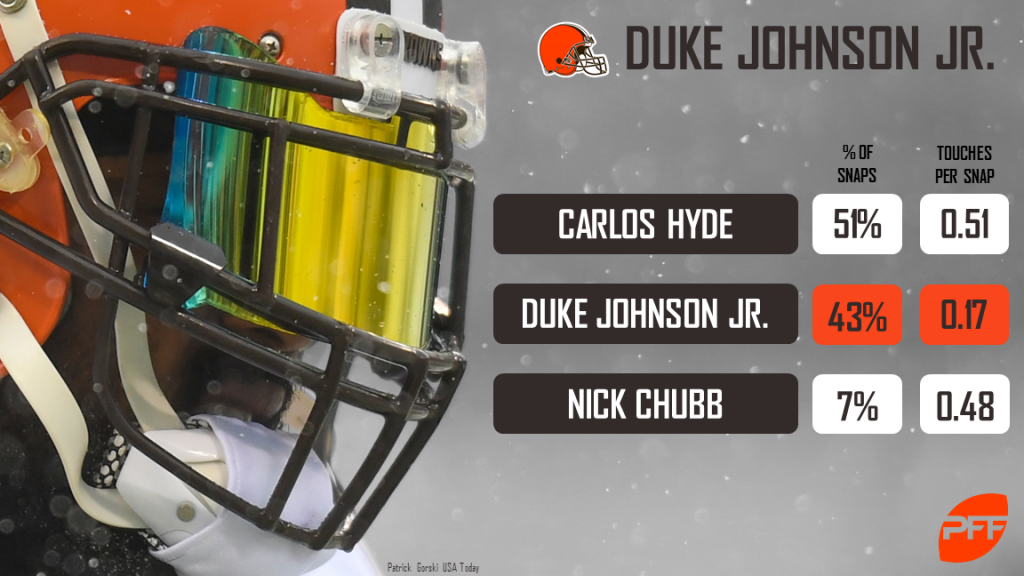 The Browns' team receiving grade of 56.9 ranks 31st among NFL teams, and they don't have any receivers with a receiving grade of higher than 63.5. Yet, one of their most explosive pass-catching options is seeing career-low touches by a wide margin. Simply put, the Browns are making a huge mistake.
Some may argue that Johnson is better suited as a change-of-pace back who can't handle a large workload and still be successful or healthy. However, Johnson has never needed many touches to make a large impact because he is so incredibly efficient with the touches he does get. He averaged just 9.75 touches per game last season, yet he made a huge impact for the Browns as their highest-graded receiver while also posting a 67.4 elusive rating, the seventh-highest mark among running backs with at least 50 carries. 

Last season was arguably the best of Johnson's career, as he earned a receiving grade of 89.4, which was good for fourth among running backs and 10th among all offensive players. Johnson's 2.05 yards per route run was sixth-best among qualifying running backs, and his 2.47 yards per route run from the slot also ranked sixth.
Johnson earned a 78.2 overall grade, which was tied for the seventh-best mark among all running backs with at least 75 carries. His success in 2017 was enough to earn a contract from new general manager John Dorsey for an average of $5.2 million annually, which has him currently slotted as the 11th highest-paid running back in the NFL.
Johnson's remarkable efficiency and ability to create yards through his elusiveness in the open field were not just a one-year-fluke, either. 2016 was statistically the worst season of Johnson's young career, but the dual-threat back still averaged 1.26 yards per route run from the slot and 1.86 yards per route run in total, both marks ranking in the top-10 among qualifying running backs. He also averaged 4.9 yards per attempt as a runner and amassed 514 receiving yards as a receiver. More impressively, he generated a 72.5 elusive rating on top of a 34.6 breakaway percentage, which ranked sixth and 15th, respectively.
Going back to Johnson's impressive rookie season (2015), he finished with a receiving grade of 83.5 and ranked inside the top-10 in both slot yards per route run (2.94) and elusive rating (53.8) among qualifying running backs. His 72.0 overall grade was the 12th-best mark for running backs with at least 100 rushing attempts.

It's no secret that Browns receivers have struggled this season. Mayfield has the highest percentage of dropped passes in the league, as his top-four receiving options have already dropped 15 passes on the season and have been faulted six interceptions. Rashard Higgins going down gives the coaching staff no excuse not to incorporate Johnson into the offense more going forward. There is a clear need for receiving ability on the field, yet Johnson is on pace for just 26 routes from the slot on the season, whereas he ran 66 last year.
Johnson should push for more carries, as well, and there is a myriad of metrics to support that. Hyde has done the best he can, but he has been a very inefficient player this season for the Browns. Hyde's 14.4 breakaway percentage ranks 52nd among 58 running backs, his 33.7 elusive rating ranks 43rd and his 2.38 average yards after contact is 50th of 69 qualifying running backs. By comparison, Johnson has a breakaway percentage of 34.2 (18th), a 137.8 elusive rating (2nd) and 5.05 average yards after contact (2nd). Johnson makes more of the touches that he is given and is clearly the better receiver of the two backs, yet Hyde still runs an average of 14 routes per game.
The gross misuse of Johnson by the Browns this season is inexcusable. At his best, Johnson is one of the most efficient and elusive dual-threat options in the game. He put up a career year last season and was rewarded with a contract that paid him like one of the top-10 backs in the NFL. Oddly enough, his touches have been cut in half as a result.
The constant dropped passes, lack of quality receiving options and mountains of data all suggest that it's time to give Johnson more touches; it's time for the Browns to truly unleash one of their deadliest offensive weapons.