Rookie running backs make an immediate impact in fantasy football every season. Jonathan Taylor (sixth) and James Robinson (seventh) each ranked in the PPR top 12 at the position last year. Antonio Gibson (13th), D'Andre Swift (18th), Clyde Edwards-Helaire (22nd) and J.K. Dobbins (24th) each qualified as an RB2 that flashed RB1 production when given opportunity.
The 2021 rookie running back class is extremely top heavy with three elite prospects capable of being instant fantasy studs. Additionally, there are several sleepers from the middle rounds that could emerge as key contributors this season.
Here's how I have the rookie running backs ranked for the 2021 season.
The Steelers drafted Harris to be their next Le'Veon Bell — a true bell cow running back capable of handling a monster workload. From 2013-2017, Bell averaged a whopping 24.9 touches per game. That's the type of workload that fantasy managers dream of — Christian McCaffrey averaged 25.1 touches per game in his record-breaking 2019 season.
Jump all over any Harris discount that arises out of concern for Pittsburgh's reigning 31st-ranked run-blocking offensive line. The former Alabama standout impacts the game as both a runner and receiver with the size and strength to hold up as an every-down playmaker.
The Broncos traded up for Williams to be their running back of the future. The former Tar Heel is the most elusive back in this class, leading the nation with a 76 missed tackles forced and a 48% missed tackle rate last season. PFF's Mike Renner compared Williams' playing style to Saints superstar Alvin Kamara.
The future is now for a Broncos team with playoff aspirations. Expect Williams to follow a similar track to J.K. Dobbins from last season. Dobbins split carries with Mark Ingram early in the season, and then the Ravens benched the older Ingram and turned lead backfield duties over to their ascending rookie come playoff time. Melvin Gordon is 28 years old and entering the final year of his contract — he will probably be phased out of the offense at some point this season.
Additionally, do not discount the possibility that the Broncos trade for Aaron Rodgers. That would elevate the entire Denver offense and transform Williams into a threat for double-digit touchdowns.
The Jaguars have a crowded backfield, but Etienne can still be an impact rookie as a receiving back that handles 10-15 touches per game. Jacksonville drafted Etienne in the first round because they have a real role in mind — he is going to see significant snaps as a rookie. Jacksonville should be one of the most improved offenses in the entire league with Trevor Lawrence under center, and the Clemson legend already holds an established connection with his former college teammate.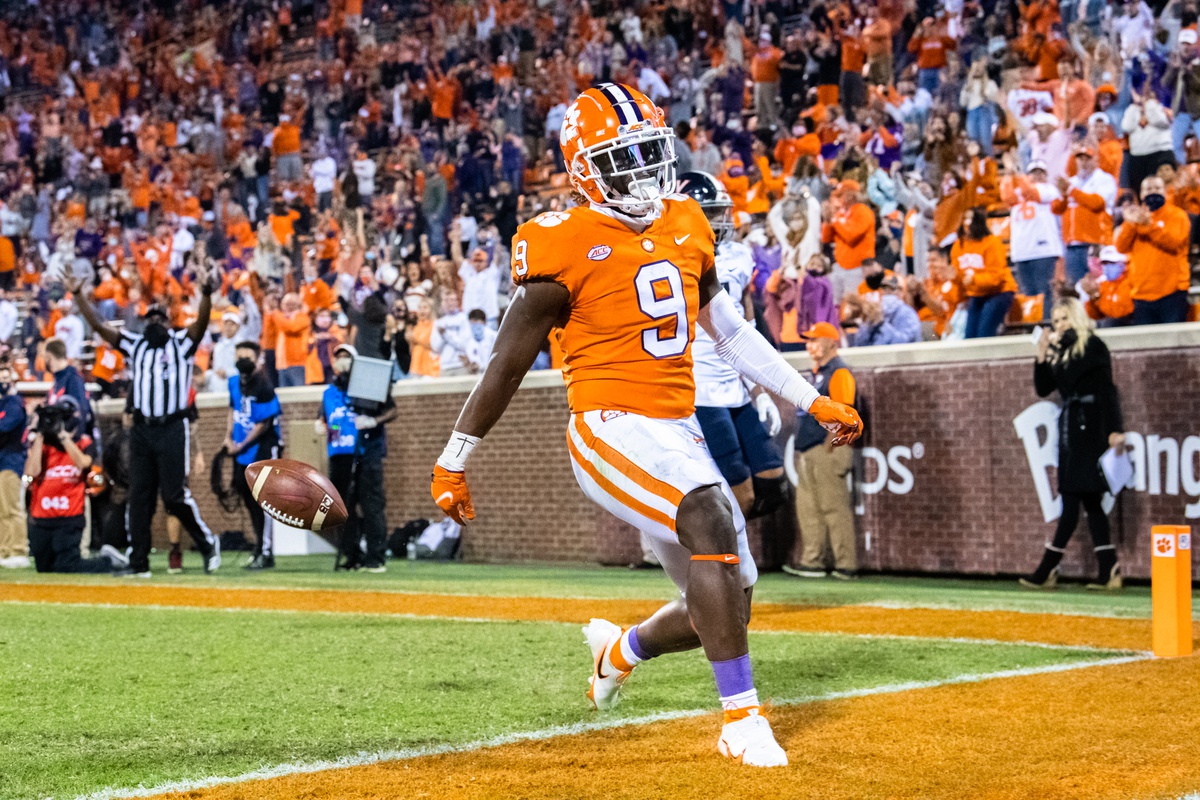 Rest in peace, James Robinson RB1 season — we will always remember your glorious breakout as an undrafted rookie turned fantasy superstar.
Kyle Shanahan stocking up on running backs is sure to create an absolute fantasy football nightmare. San Francisco possesses a ridiculously overloaded backfield with Sermon joining Raheem Mostert, Jeff Wilson Jr. and Wayne Gallman to create a four-headed monster.
Sermon posted a stellar 93.2 career rushing grade (fourth in the 2021 NFL draft class) and has the talent to eventually emerge as San Francisco's starting running back. However, when that might happen is anyone's guess. The former Ohio State bruiser should be viewed as a high-upside committee back worth selecting in the middle rounds of fantasy drafts.
Hubbard enters the NFL with the most coveted handcuff role in the entire league. Mike Davis parlayed the position of Christian McCaffrey's backup into RB1 production and the No. 12 PPR fantasy finish last season. The former Oklahoma State product is a more talented runner than Davis — his 1,300 rushing yards after contact in 2019 led the nation, with Jonathan Taylor and J.K. Dobbins coming in at second and third.
Of course, Hubbard possesses negligible fantasy value while McCaffrey is healthy. Yet his upside is arguably the most attainable of all the running backs outside the big three — only one thing needs to occur for Hubbard to become an RB1 (a McCaffrey injury).
The Jets have a wide open backfield with Carter joining Tevin Coleman, LaMical Perine and Ty Johnson in a jumbled committee. As a fourth-round pick with minimal attached draft capital, Carter is unlikely to be an early-season contributor. He'll have to earn his role in this offense.
The former North Carolina stud had a breakout 2020 season with a 91.7 PFF grade (fourth) while averaging 4.5 yards after contact per attempt (fifth). However, Carter measures in on the small side at 5-foot-8 and 199 pounds and might be limited to committee duties in a best-case scenario.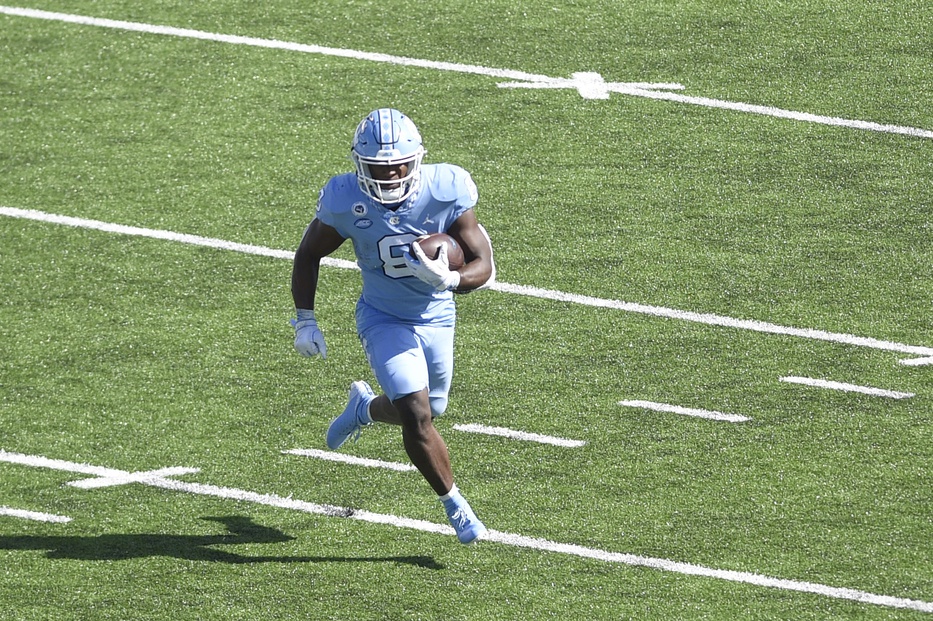 Further complicating matters, the Jets could realistically sign another veteran running back in free agency. This backfield looks extremely juicy for Carter right now, but the presence of another veteran would be a disaster for his 2021 fantasy value.
The Eagles stole Gainwell in the fifth round of the 2021 NFL Draft. He started over Antonio Gibson in 2019 (Gainwell opted out of the 2020 season) and tallied an exceptional 1,466-13 rushing and 51-610-3 receiving line.
Gainwell's outstanding receiving ability will get him on the field early as the backup to Miles Sanders. The former Memphis superstar legitimately has the skill set of a slot receiver at the running back position — a difference-making characteristic in PPR fantasy football leagues. Gainwell could top out with a similar role to Alvin Kamara or Austin Ekeler as a dangerous pass-catcher out of the backfield who consistently sees 10-plus carries and five-plus targets per game.
Bill Belichick has been frustrating fantasy managers with his running back usage for years. The Patriots backfield is once again wide open, with neither Damien Harris nor Sony Michel earning true lead back duties. The burly 6-foot and 246-pound Stevenson is a battering ram in the mold of La'Garrette Blount who could push for goal-line touches straight from the jump.
Mitchell joins an extremely crowded 49ers backfield as a sixth-round pick with an uphill battle to even make the roster. However, Kyle Shanahan has a proven track record of turning late-round draft picks into star running backs. Perhaps the former Ragin Cajun is next — he possesses the ideal build for an all-around back at 5-foot-11 and 218 pounds and has the necessary speed and burst to blow past defenders after running a 4.38 40-yard dash.
Cleveland has a two-header monster in Nick Chubb and Kareem Hunt. However, Felton adds a new element to the offense as a true slot-running back hybrid out of the backfield. He was a highly productive receiver at UCLA, posting 17 catches of 15-plus yards since 2019 (second).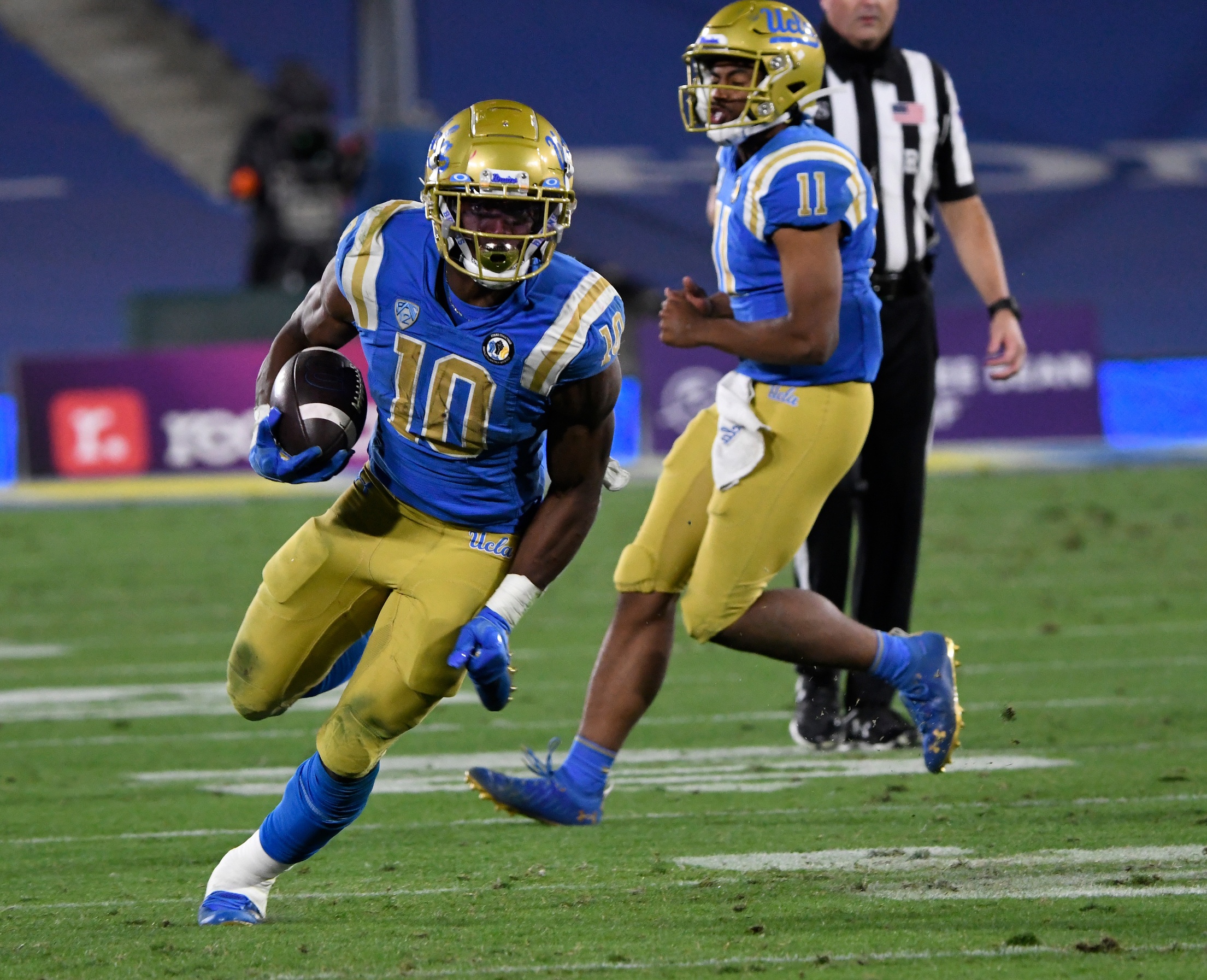 Felton is the logical handcuff to Hunt, which is quite a valuable role in fantasy football.
Doaks joins a Dolphins team without an established hierarchy at running back. The former Bearcat is a stout 5-foot-11 and 228 with elite explosiveness (he posted a 40-inch vertical jump) and fast enough wheels with a 4.58-second 40-yard dash. Even if he can't displace Myles Gaskin as a starter, the No. 2 or 3 role would be quite valuable in what will be a significantly improved Dolphins offense.
Hill was the No. 2 rusher in the SEC in 2019, racking up 1,348 rushing yards — which trailed only Clyde Edwards-Helaire — while also piling up 741 yards after contact (fourth) and 61 missed tackles forced (second). He is a bruising and explosive running back who is difficult to bring down on initial contact, with one of the best stiff-arms among any player in this entire draft class.
The Jamaal Williams role is up for grabs in this Packers offense, and the former Mississippi State Bulldog is fully capable of inheriting that role as a dynamic runner and receiver.
Jefferson blew up as an 18-year-old freshman at Oregon State with a ridiculous 1,374-12 rushing line (ninth-most rushing yards in the nation) and 48 missed tackles forced (18th). He has a long depth chart climb to fantasy relevance behind D'Andre Swift, Jamaal Williams and Kerryon Johnson, but his hard-nosed running style and elite vision is sure to impress head coach Dan Campbell.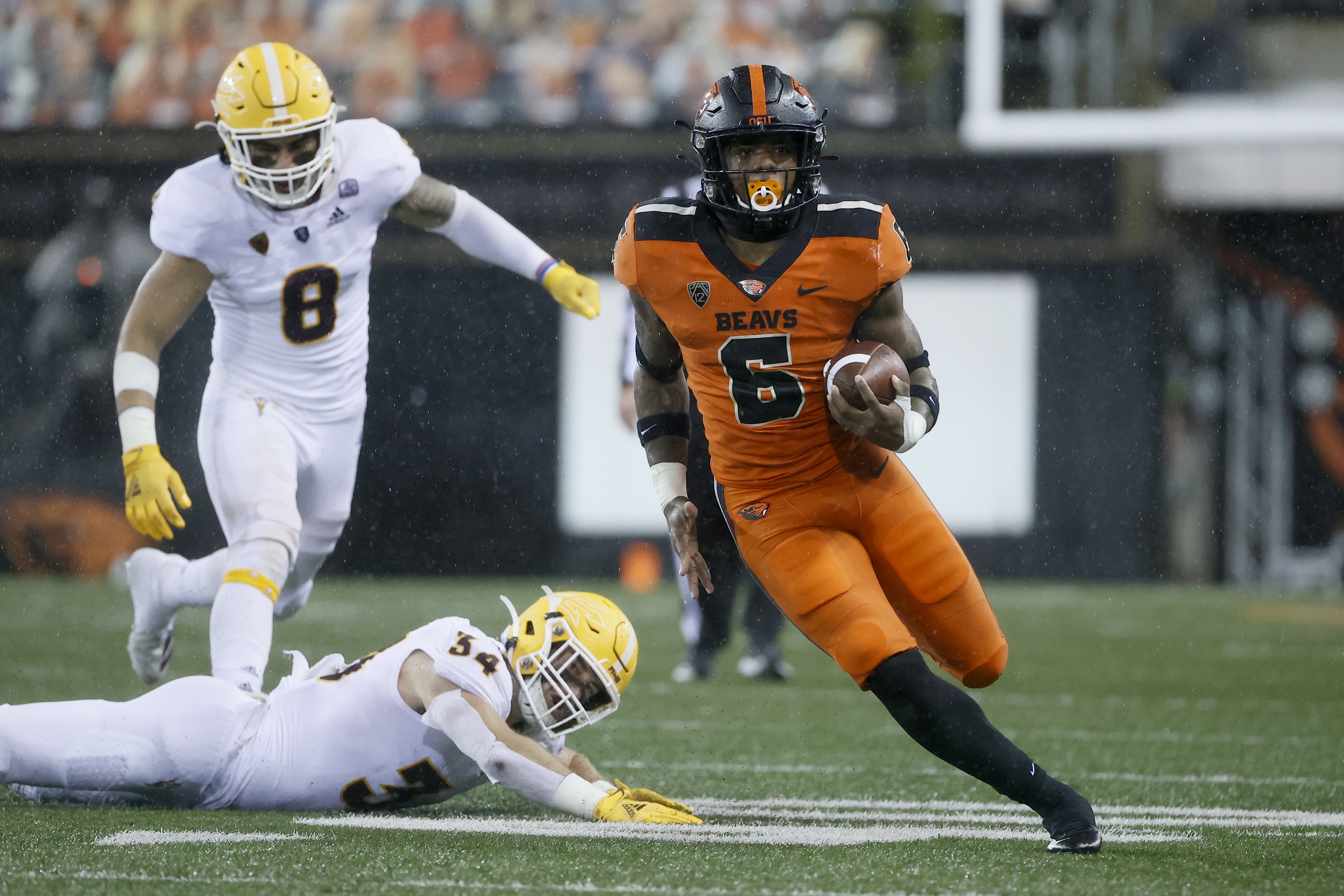 Jefferson is a few injuries away from fantasy relevance on a Lions team that wants to pound the rock.
Hawkins has the best chance to be this year's James Robinson as an undrafted free agent running back turned fantasy difference maker. These players are completely different from a stylistic perspective — Hawkins is a slender 5-foot-9 and 196 pounds compared to Robinson at 5-foot-10 and 220 pounds. What Hawkins lacks in size he more than makes up for with 4.4-second speed and jitterbug moves to juke defenders.
Whoever emerges as the Falcons starting running back will be a difference-maker in fantasy football.
Rountree is a very patient runner with the experience to operate in an NFL offense from Day 1. The Chargers have an established alpha back in Austin Ekeler, but the early-down hammer role is obtainable with neither Joshua Kelley nor Justin Jackson demonstrating anything exciting last year.
The former Missouri Tiger racked up 3,043 rushing yards in his last three seasons and churns out yardage with plus balance. Perhaps he manages to carve out a role behind Ekeler on an explosive Chargers offense.