Round 1 of the 2020 NFL Draft is in the books, and there's a lot to unpack for fantasy football purposes. We have you covered with fully updated 2020 fantasy football projections and 2020 fantasy football rankings. But it's also worth breaking down the fantasy football implications of each of the skill position picks.
No surprises at the top, as the Bengals took the gimme putt and selected the reigning Heisman Trophy winner. Burrow figures to start on Day 1 and is an immediate upgrade on Andy Dalton. Better yet, he steps into a fairly solid situation with a skill position stable of Tyler Boyd, A.J. Green, Joe Mixon and John Ross.
We all know the jaw-dropping passing stats from last year, but Burrow is more than just a pocket passer. He also displayed impressive mobility as a runner. That dual-threat ability bodes well for future fantasy success. Burrow is the slam dunk top dynasty quarterback in this year's class, and our initial fantasy football projections also put him in the immediate QB2 conversation.
2020 fantasy football projection
: 311 completions, 520 attempts, 3,665 yards, 22 TDs, 56 rushes, 306 yards, 2 TDs
Miami didn't actually have to tank to still get Tua. Unlike Burrow, there isn't necessarily a clear path to a Week 1 starting job for Tagovailoa, as we do expect Ryan Fitzpatrick to open as the starter. However, like we saw with Daniel Jones and the Giants last season, it likely won't take the Dolphins long to make the move to Tagovailoa. While the Dolphins have a lot of work to do from a personnel standpoint, Tagovailoa will have some intriguing weapons in DeVante Parker, Preston Williams and Mike Gesicki.
From a long-term standpoint, it's fair to consider Tagovailoa just a tick behind Burrow in dynasty leagues. Of course, Burrow doesn't come into the league with Tagovailoa's injury baggage. That being said, Tagovailoa was hyper-efficient at Alabama, tossing a touchdown on 12.7% of his career college throws. For redraft purposes, we're going to be in wait-and-see mode for when the Dolphins decide to start him. At this point, we're projecting him for 13 games, which should put Tagovailoa in the QB2 conversation from October on.
2020 fantasy football projection
: 272 completions, 445 attempts, 3,138 yards, 19 TDs, 38 rushes, 205 yards, 2 TDs
Similar to Tagovailoa, Herbert lands in a situation where he could open the season as the backup behind Tyrod Taylor. But we don't expect him to stay there for long. In LA, Herbert is paired up with a very solid surrounding cast that features Keenan Allen, Mike Williams, Hunter Henry and Austin Ekeler. That group should allow him to hit the ground running when he assumes the starting duties.
Herbert is far from the cleanest prospect in the draft, but his college metrics comp fairly closely to Ryan Tannehill's. That may not have been the most flattering thing to say a year ago, but Tannehill showed last season that he can still be a starting NFL quarterback who is capable of putting up QB1 fantasy numbers. That's certainly well within the range of potential outcomes for Herbert, especially given his weapons in L.A. However, out of the gate we expect back-end QB2 production from Herbert. 
2020 fantasy football projection
: 297 completions, 479 attempts, 3,512 yards, 17 TDs, 40 rushes, 214 yards, 2 TDs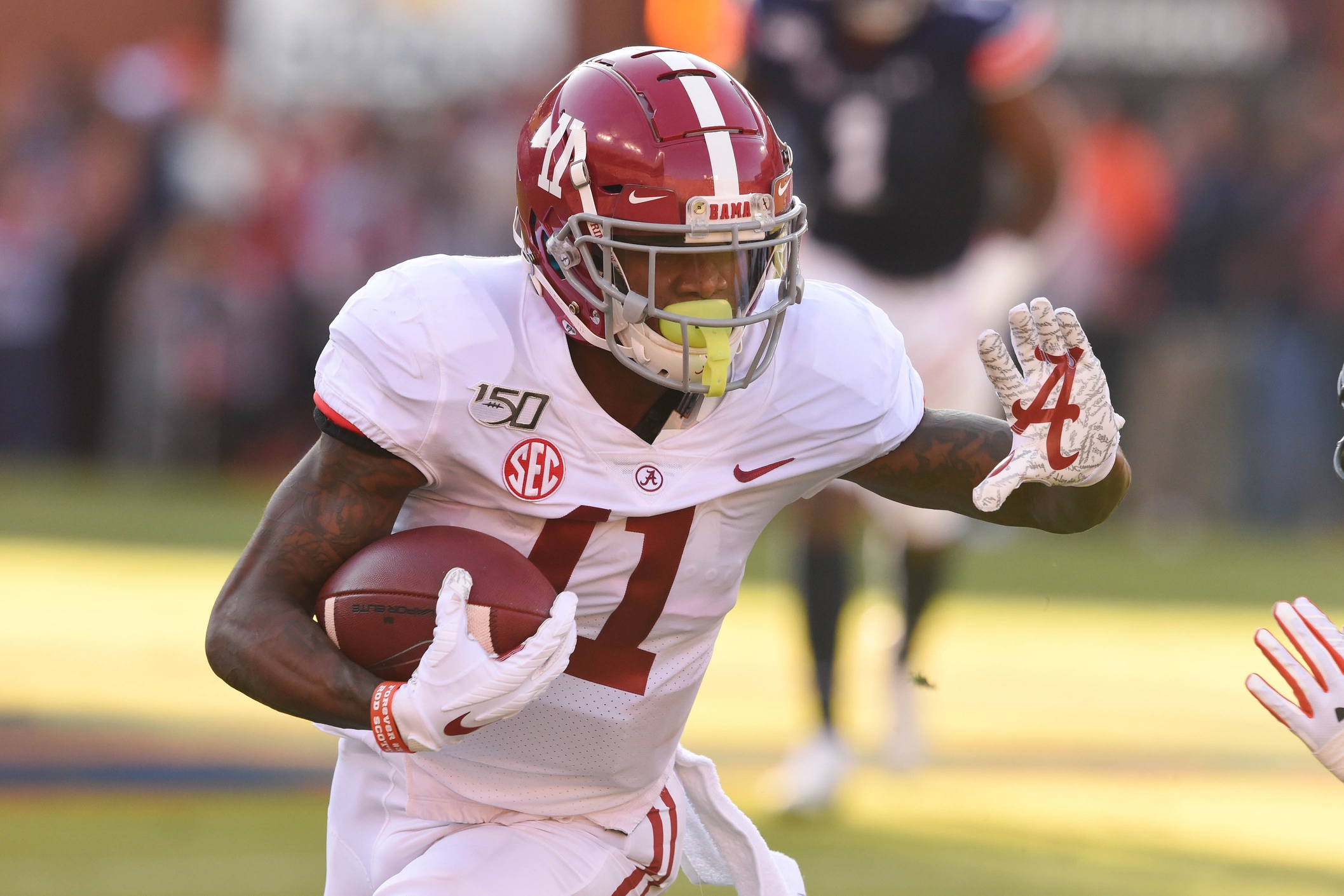 The fastest player in this year's draft comes off the board as the first wideout selected and actually lands in a very appealing spot. Ruggs steps into a situation where he has very little competition for targets. Sure, the Raiders will continue to use Hunter Renfrow in the slot and Tyrell Williams will also be in the mix, but Ruggs is in a good spot to produce immediately. Of course, we do still expect Darren Waller to remain the top receiving target on this roster.
Key to understanding Ruggs' fantasy potential is knowing who he is as a player. Yes, he does have world-class speed, but Ruggs wasn't used to take the top off the defense at Alabama. In fact, his career aDOT of 11.4 was over 1.5 yards lower than Jerry Jeudy's. Instead, Ruggs does his damage after the catch, and that skill set fits very well with Derek Carr. The Raiders' signal-caller tied for 34th out of 37 qualifiers in aDOT last season at just 6.9 yards. 
There's no way around it: For fantasy purposes, this is a disappointing landing spot. In Denver, Jeudy won't have a shot to be the No. 1 target with Courtland Sutton cemented in that role. He'll also be catching passes from an unproven quarterback in Drew Lock. Don't get me wrong — this is an appealing wide receiver corps for football purposes, but the landing spot puts a cap on Jeudy's fantasy ceiling. 
To make matters slightly worse, Jeudy's presence on this depth chart also pulls Sutton's fantasy value down just slightly. Sure, we can argue that Jeudy will help take some of the attention away from Sutton, but we also have to account for fewer targets being on the table. There are only so many balls to go around, and Jeudy's presence moves Sutton from a fringe WR1 to more of a back-end WR2.
Another wide receiver off the board and another poor landing spot. Lamb steps into an already-loaded depth chart with Amari Cooper and Michael Gallup in-house, and that doesn't bode well for his target share early on. In our initial fantasy football projections, we had both Cooper and Gallup with over 20% of the Dallas targets. That doesn't leave a lot of meat on the bone. While we can expect their numbers to dip slightly, Lamb isn't going to significantly eat into their workload.
Some had Lamb as the top wideout in this year's class, but fantasy football is all about opportunity. At least initially, that opportunity doesn't appear to be there for Lamb. That being said, this Dallas wide receiver corps is downright scary, and that's a good thing for Dak Prescott. The Dallas signal-caller finished as the No. 2 fantasy quarterback last year, and he's now cemented as a top-five option in 2020 fantasy football drafts.
It's no surprise the Eagles went with a wideout in this spot, though many expected Philly to go with Justin Jefferson. Instead, they went in a very different direction with Reagor. While Jefferson is more of a big slot type, Reagor offers a downfield presence and dynamic playmaking ability. That's something this roster sorely lacked last season.
Philly still has veterans Alshon Jeffery and DeSean Jackson, though neither player has been the picture of health in recent seasons. In theory, that means there is a path for Reagor to be the Eagles' top wide receiver target right out of the gate. But let's not get too far ahead of ourselves. Philly was among the league leaders in 12-personnel usage last season, and we fully expect the same again in 2020. With Zach Ertz and Dallas Goedert eating up targets, I'm conservatively viewing Reagor in WR5 territory in my initial rankings.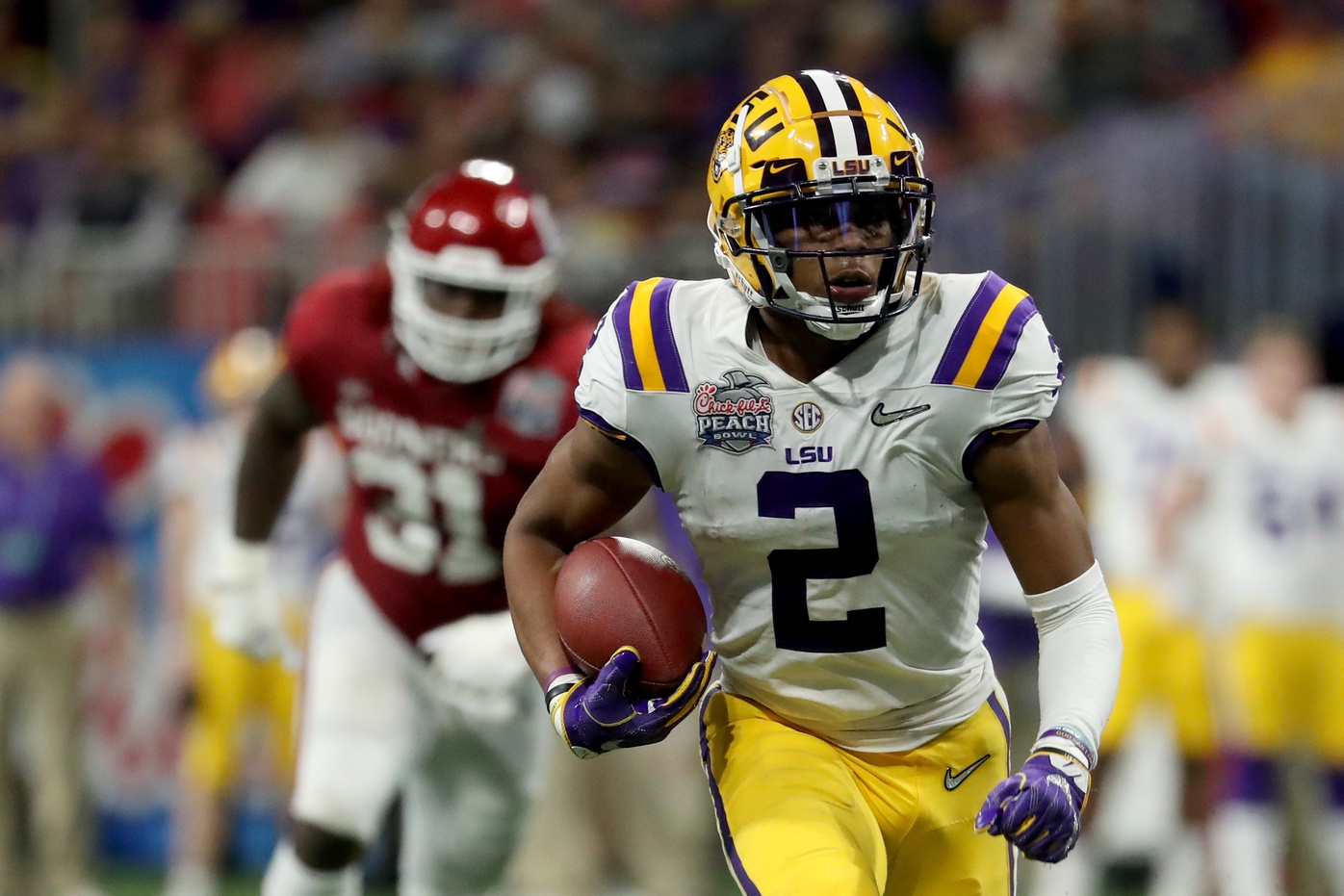 The aforementioned Jefferson comes off the board with the very next pick to the receiver-needy Vikings. With Stefon Diggs out of the mix, Minnesota essentially had Adam Thielen and no one else heading into the draft. Jefferson gives them a reliable short and intermediate target who flashed impressive speed at the Combine.
We could argue that Jefferson has a slightly redundant skillset to Thielen, but it's also important to note that Thielen is entering his age-30 season. Jefferson could be poised to be the long-term replacement. However, in the short-term, he steps into one of the better situations for fantasy purposes out of this year's first-round wideouts. He immediately slides in as the clear No. 2 wideout, but, like Philly, we do expect the Vikings to lean on their tight end duo of Kyle Rudolph and Irv Smith. That being said, Jefferson's initial projection positions him as the No. 3 rookie wideout in 2020 redraft leagues.
The 49ers traded into this spot to nab the athletic wideout with freakish measurables from Arizona State. Aiyuk went the JuCo route, so he doesn't have as extensive of a resume as some of his peers in this year's class, but his performance in 2019 is certainly intriguing. He was largely used closer to the line of scrimmage with a relatively low aDOT of 10.1, but that doesn't mean he can't make plays downfield. A healthy 384 of his 1,192 receiving yards came on targets of 20-plus yards.
Aiyuk steps into a solid spot in San Francisco with Deebo Samuel and not much else on the depth chart at wide receiver. George Kittle remains the top receiving target, but there's a clear path to the No. 3 target for Aiyuk. While he doesn't quite stand out for redraft purposes, this is a favorable landing spot for Aiyuk's long-term dynasty outlook. 
In one of the most surprising moves of the evening, the Packers traded up to select Love. A polarizing prospect to say the least, Love steps into an eerily similar situation to Aaron Rodgers when he was drafted back in 2005. Barring any injury to Rodgers, Love will get at least one redshirt year in Green Bay where he'll be afforded the rare opportunity in today's NFL to develop as a first-round quarterback. 
While this pick doesn't necessarily spell the end of Rodgers' tenure in Green Bay, the writing is very much on the wall for the Packers to be moving on. At this point, I'm not going to rank or project Love for 2020 fantasy football, but he remains the No. 4 quarterback in this class for dynasty purposes.
The champ is here. Kansas City ended Round 1 with a bang for the fantasy football crowd, selecting the lone running back in the first round. Edwards-Helaire has a skill set that is tailor made for an Andy Reid offense and is very reminiscent of Brian Westbrook. Like everyone at LSU last year, Edwards-Helaire had a massive year, increasing his yards per carry from 4.4 in 2018 to a healthy 6.6. He also flashed impressive elusiveness with 84 combined forced missed tackles and 3.65 yards after contact per attempt.
There's certainly a lot to like about this pick for fantasy purposes, but we can't completely write Damien Williams out of the story just yet. I expect the Chiefs to work Edwards-Helaire in behind Williams to start the season, but the rookie will eventually take over lead duties. In some ways, this situation is similar to what we saw in Philly last year with Miles Sanders and Jordan Howard. So an anticipated early-season committee keeps Edwards-Helaire's projections down, but he could very well be a league-winner when we reach December.
2020 fantasy football projection
: 175 carries, 708 yards, 5.6 TDs, 50 targets, 40 catches, 294 yards, 1.9 TDs