• Don't get cute early.
• There are more potential workhorse running backs available in the early rounds than ever.
• Round 6 or later is the right time to draft a quarterback in traditional formats.
---
The final week of fantasy football draft season is just about upon us. Lives will be changed for the better or worse for the next four months based on the decisions we make during a 90-minute fantasy draft. Why do we do this to ourselves? Good question, but we're already here: Let's boogie.
What follows are my top 10 fantasy football draft commandments for 2022.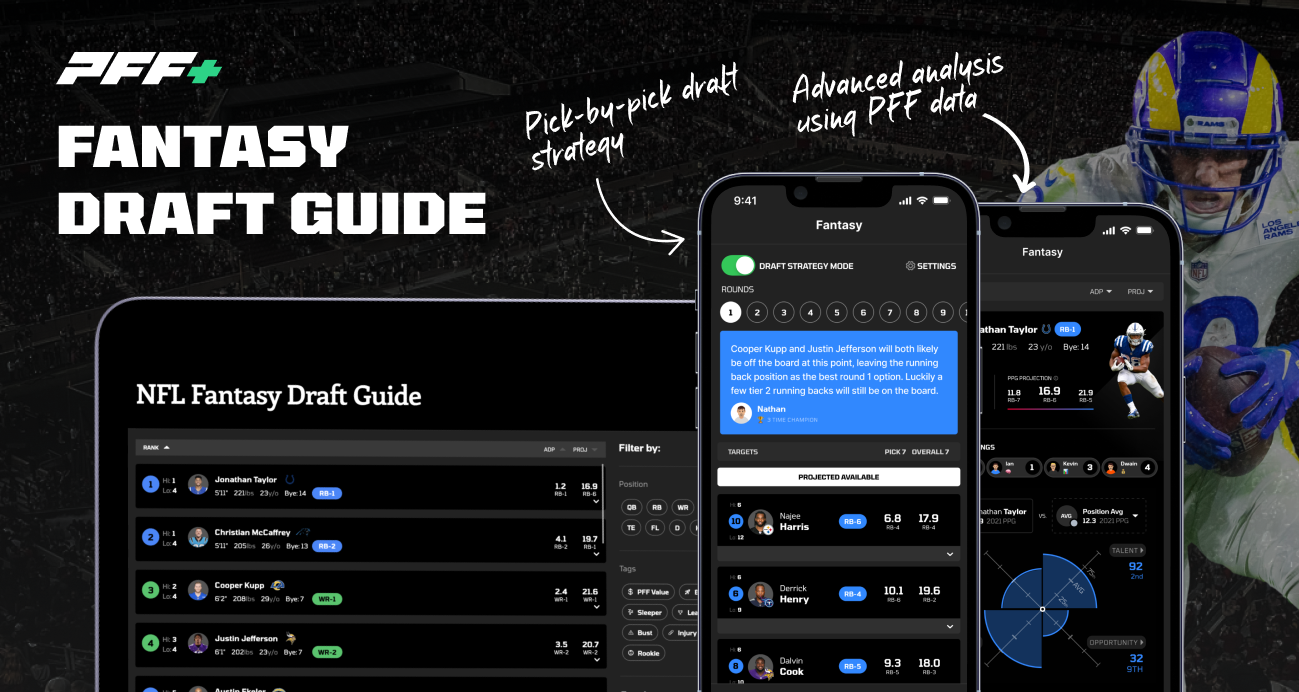 ---
1. Don't get cute early
Fantasy drafts are sort of like the NFL draft in terms of average draft position (ADP): Many can logically predict a good amount of the early rounds (especially the first), but things get far more random and tough to call in the later stages. This is mostly because of the heightened attention paid to the top 20 or so players at each position; early-round ADPs are sharper and better to follow than what you get in the mid-to-late stages of drafts.
This isn't to suggest you can't draft your RB7 ahead of the guy the public has deemed the RB6. Rather: Don't make a habit of going after players with an average draft position well below (12-plus spots) where you're presently picking in the early rounds. The ADP on sites such as Yahoo and ESPN can sometimes be different enough to foster some serious values. Getting "your guy" is great; there's a better chance you won't need to reach in order to secure the player you want in the third round as opposed to the 13th.
---
2. There are more potential workhorse running backs available in the early rounds than ever
As my co-host of The PFF Fantasy Football Podcast, Dwain McFarland, likes to say: "Every season is different, and every draft is a dynamic, living organism."
It's possible to start a draft WR-WR-WR and come away feeling good. Still, I've found that coming away with at least one, if not two or three, running backs inside of the top-four rounds is ideal. There is simply an abundance of backs who check a lot of boxes in terms of projected workload, offensive environment and personal ability:
Round 2:

Legal concerns that seemed like much more of a potential 2022 problem earlier in the offseason have left

Alvin Kamara

as a bargain second-round pick. More pass-catching friendly backs like

D'Andre Swift

and

Aaron Jones

are also plenty viable here. Also, don't forget about

Saquon Barkley

and

Leonard Fournette

: two of my

top-10 favorite values at ADP

this season considering their second- (and sometimes third!) round price tags despite having a first-round-caliber workload. While

Nick Chubb

is a

fade for me in Round 2

, it's always possible that the NFL's arguable best real-life running back continues to make the most out of his relatively underwhelming workload. Throw in the potential boom upside of

Javonte Wiliams

, and I'm typically much happier to take one of these running backs after the first six or seven wide receivers are off the board.
I don't have a "Do not draft list." Every player can feasibly be a target at the right ADP, but the fabled "RB dead zone" basically starts at the end of Round 4 and arguably persists through Round 6 or 7. Don't be afraid to lean on some workhorses early and embrace what the kids like to call a "Hero RB" or "Superhero RB" draft before taking the better-priced wide receivers, tight ends and quarterbacks in the middle rounds.
---
3. If it's close, take the player with the better best-case scenario
When putting together my fantasy football rankings, the one question I routinely keep coming back to: Which player has the most overall upside if everything goes their way?
This idea led me to ask a question to fantasy Twitter: What should we call backup running backs that possess huge handcuff potential and have enough of a role to provide some weekly value? Thankfully, Fantasy Footballer legend Mike Wright came through and nailed it: Flex with benefits.