• Drafting a running back with one of the first three picks is a good idea in 2022, but if fantasy football managers don't like the RBs, starting WR-WR-WR is an alternative.
• Cincinnati Bengals WR Ja'Marr Chase, Buffalo Bills WR Stefon Diggs and Las Vegas Raiders WR Davante Adams are the primary targets when drafting from the middle-to-late positions.
• Dallas Cowboys WR CeeDee Lamb is the priority Round 2 target from any draft position, and Round 3 offers multiple young talented options.
• Jacksonville Jaguars RB Travis Etienne and New York Jets RB Breece Hall are priority Round 4 targets when they make it. A group of explosive pass-catching running backs who are selected after Round 6 also offer the WR-WR-WR drafter multiple options to address their backfield.
---
Yesterday, we outlined why the RB-RB-RB start isn't dead in 2022 and which archetypes to target. Today, we turn our attention to the wide receiver position.
Anyone who has read my draft strategy articles or listened to the PFF Fantasy Football Podcast knows I don't subscribe to any single strategy.
Every season is different, and every draft is a dynamic, living organism.
We must be ready to deploy whatever strategy is necessary based on how a draft unfolds, and a WR-WR-WR start is a viable option when boards fall the right way.
Wide receivers don't carry the same ceiling as running backs, but they make up a larger portion of the top-50 scorers.
We have access to two potential RB1 archetypes in Round 4 and multiple explosive backs with passing-down roles after Round 6.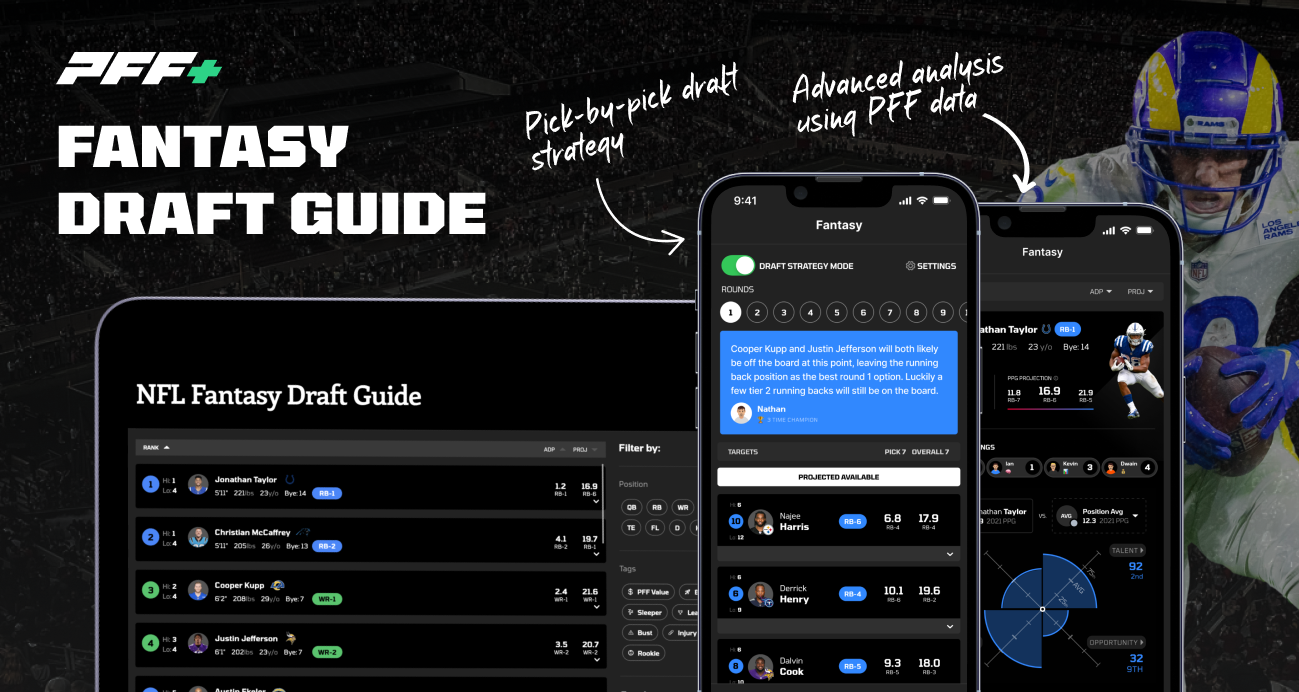 WR SCORING
Since 2011, wide receivers have made up a more significant portion of the top-50 fantasy options in point-per-reception (PPR) and half-PPR formats.
PPR POINTS TOP FINISHERS BY POSITION
Finish:
<=3
<=5
<=10
<=25
<=50
<=75
<=100
<=150
RB
67%
56%
41%
36%
35%
34%
34%
33%
WR
33%
42%
54%
57%
55%
54%
52%
51%
TE
0%
2%
5%
7%
9%
12%
14%
16%
0.5 PPR POINTS TOP FINISHERS BY POSITION
Finish:
<=3
<=5
<=10
<=25
<=50
<=75
<=100
<=150
RB
79%
67%
53%
44%
42%
37%
36%
35%
WR
21%
31%
43%
50%
50%
51%
52%
50%
TE
0%
2%
5%
6%
9%
11%
12%
16%
STANDARD POINTS TOP FINISHERS BY POSITION
Finish:
<=3
<=5
<=10
<=25
<=50
<=75
<=100
<=150
RB
91%
84%
67%
56%
47%
43%
40%
37%
WR
9%
16%
30%
40%
47%
48%
50%
48%
TE
0%
0%
3%
4%
6%
9%
11%
15%
If we know more wide receivers will populate the leader boards in these formats than running backs, that is a potential advantage to be used in our favor. While we love the ceiling outcomes for backs, we must deal with a higher miss rate.
Today's focus is on PPR leagues, but the standard leaders were included above because the scoring format has a dramatic impact. In that format, running backs and WRs are deadlocked at 47% each inside the top-50 scorers.
---
WR TARGETS
My favorite position to unleash the WR-WR-WR start from in 2022 is Picks 6-12 due to the high-quality options available around the turn. It can be done from earlier positions, but fantasy managers will need a receiver to fall in Round 2 to make an exciting build.
Most top-12 and top-24 finishers at receiver are frequent flyers, and there is no shortage of options over the first three rounds of drafts.
Jefferson will be only 23 years old and already has WR7 and WR4 finishes, averaging 16.9 and 19.5 points per game, respectively. Only Odell Beckham Jr. and Michael Thomas posted better point-per-game totals in their first two seasons since 2011.
Jefferson is an alpha who tops my receiver ranks for 2022.
Kupp won't repeat his 2021 jaw-dropping performance, where he outscored Josh Allen by 20 points. However, he has two top-five wide receiver finishes in the last three years, and the Rams' schedule is loaded with shootout potential in 2022.
Kupp should be one of the first two receivers taken and offers a litany of game-stack options vs. other lethal offenses.