With the 2021 NFL Draft now only three weeks away, we at PFF are continuing our division-by-division three-round NFL mock draft series with a look at the AFC South.
As we have already done for the AFC East, AFC West, NFC East and AFC North, we have used the PFF Mock Draft Simulator to make the perfect picks for each team in the division.
The Tennessee Titans stock up with positions of need after losing some key members in free agency, taking a cornerback and a wide receiver, among others. The Jacksonville Jaguars also load up with some big-time players, including a quarterback at No. 1 overall, though there are no prizes for guessing who that quarterback may be. The Indianapolis Colts, even without many picks, rebuild their offensive line to protect newly signed signal-caller Carson Wentz. The hapless Houston Texans are here, too, though only just.
View PFF's 2021 NFL Draft position rankings:
QB | RB | WR | TE | T | iOL | DI | EDGE | LB | CB | S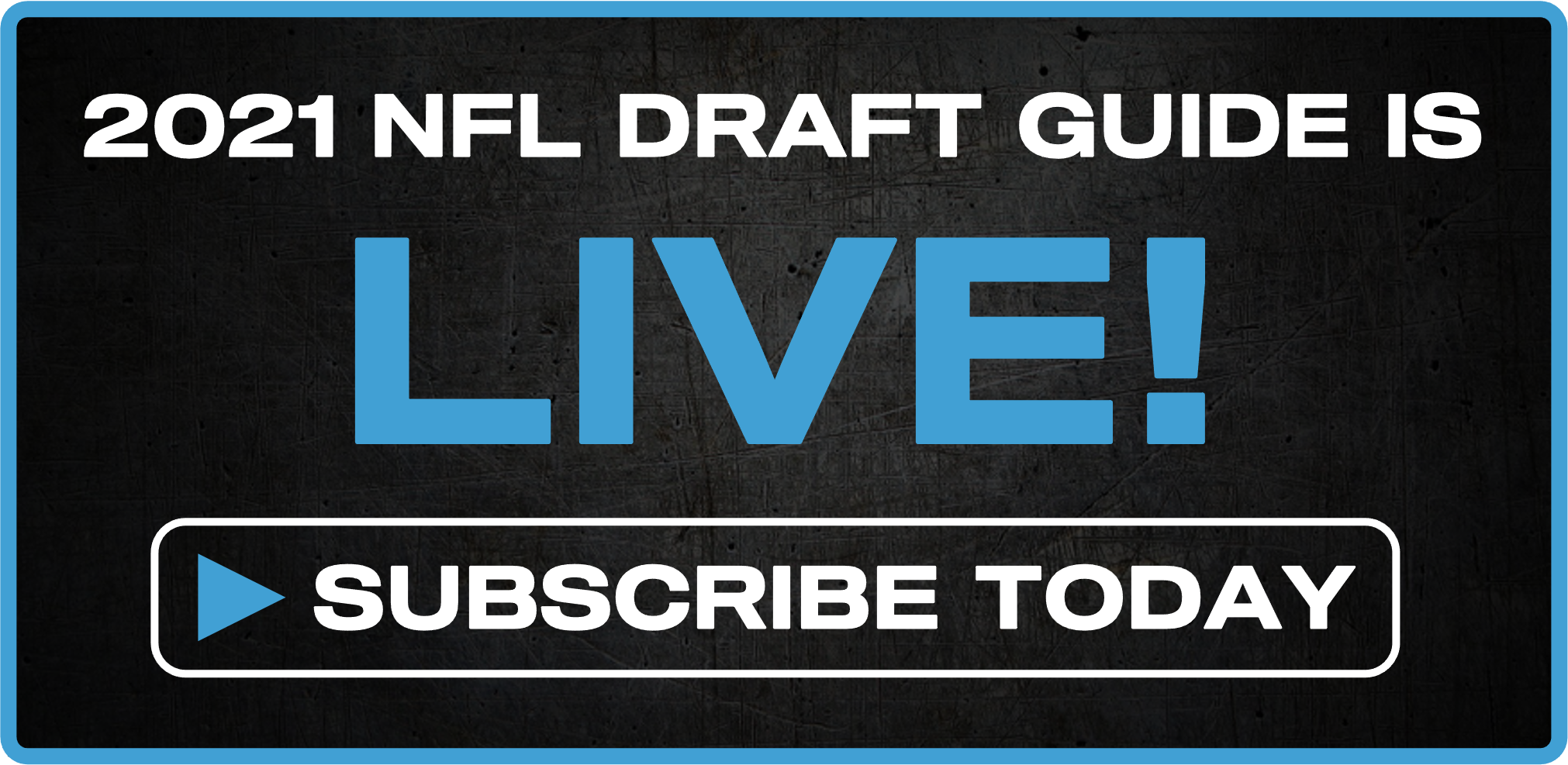 Because we are trying to create the perfect environment and picks for every team, we refresh the mock draft simulator after each team has picked. You can try your hand at building the perfect roster by clicking here.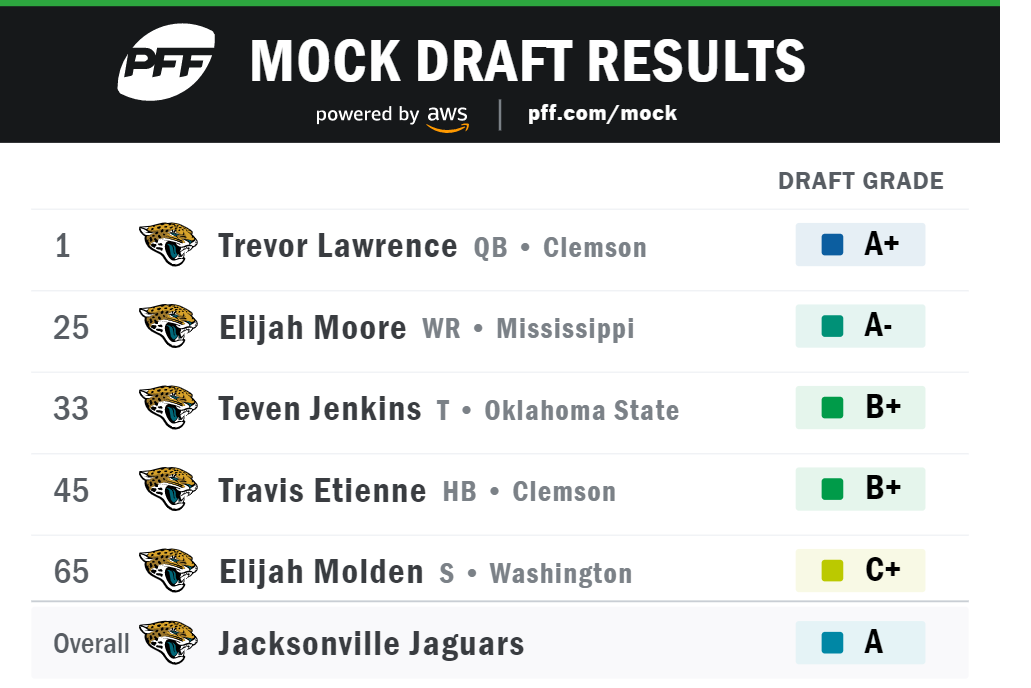 Lawrence earned a top-five PFF grade on vertical-lead and over-the-shoulder throws (98.2), play-action attempts (92.6), deep passes (97.7) and third-down attempts (90.9) last year. OK, next.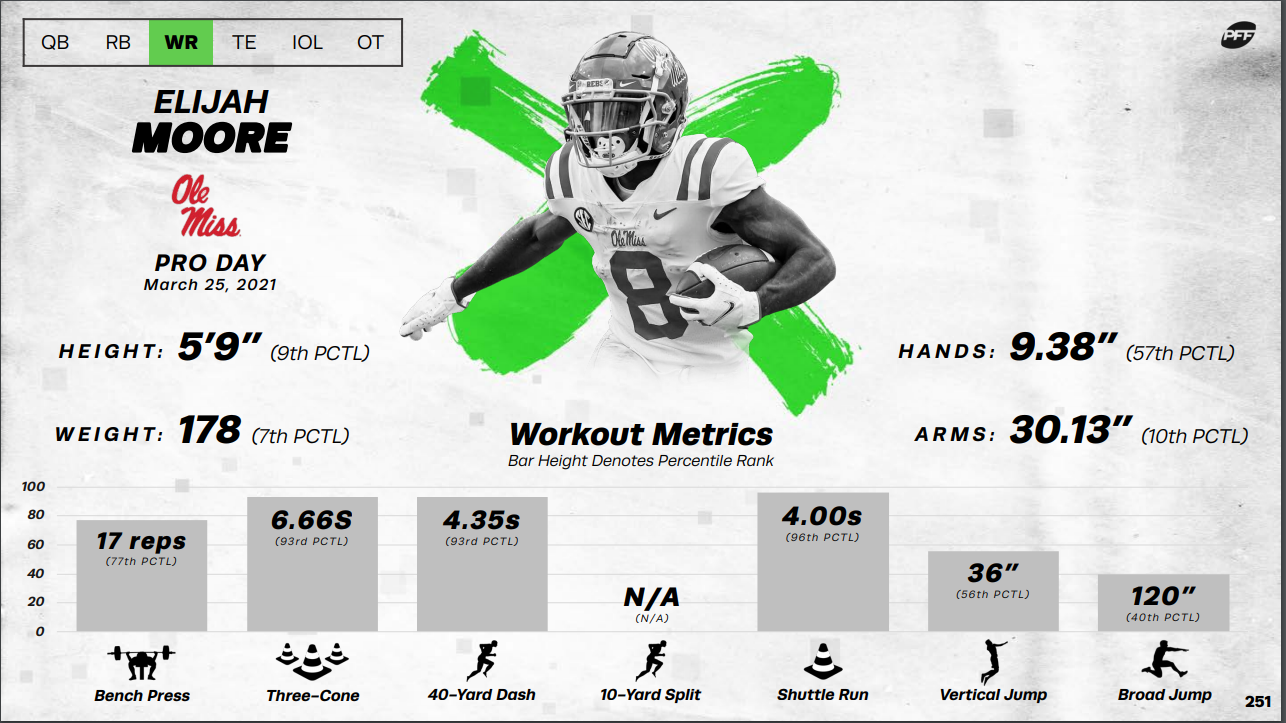 The Jags will most likely go with a tackle or receiver with their second pick in the first round. Both positions have so many options to choose from at either this spot or Pick 33, and there is easily a scenario where they take Teven Jenkins at No. 25 and then Moore at No. 33.
Moore projects as a slot receiver, which will help the Jaguars given that they just lost Keelan Cole. And he will fill a different role than Laviska Shenault Jr. can in the slot. Moore earned a 90.2 PFF grade in the slot last year, the third-highest mark among receivers who played at least 100 slot snaps.
Our college-to-pro projection for Moore is Seattle's Tyler Lockett:
---
"Moore's closest comps are Tyler Lockett and Tavon Austin, a contrasting set. The former was a third-round pick and a complete receiver in college, whereas the latter was a top-10 pick and fit the profile of an 'offensive weapon.'
Surprisingly, the two fared similarly in terms of fantasy production their first three seasons, though Lockett has taken his game to the next level as his career has progressed.
Moore made plays downfield in college, but it wasn't the strength of his game. Translating that production to the NFL will be a big part of determining if he's truly worth big-time draft capital."
Read more — 2021 NFL Draft Comps: Ole Miss WR Elijah Moore draws comps to Tyler Lockett via Kevin Cole.
---
The team recently signed Marvin Jones Jr., who primarily played outside in Detroit. They also still have D.J. Chark Jr. on the roster, so rounding out their receiving corps will go a long way toward giving Trevor Lawrence a nice floor when he starts his NFL career.
Jenkins is the baby-faced assassin — he bullies people in both the run game and passing game.
There is certainly room to improve from a technical standpoint as a pass protector, but he's strong enough to enter the NFL ready to deal with the physical battles he will endure.
The team did just tag left tackle Cam Robinson, but as we wrote in our franchise-tag takeaways, "In his four years in the NFL, Robinson ranks dead last among qualifying left tackles in PFF grade (56.2). That mark is seven grading points worse than the second-lowest-graded left tackle and 14 grading points worse than third place."
They need to get some sort of competition at that spot, and Jenkins didn't allow a single sack across 211 pass-blocking snaps last year.
James Robinson burst onto the scene with a hugely impressive breakout season at running back for the Jags, but there is still room to pair him with an explosive running back like Etienne.
Robinson is a good pass-blocker and a decent receiver out of the backfield, so he can still play on third down. But with this pick, the team could start a rotation between the second-year pro and Etienne on early downs to keep both of them fresh.
Based on his film, Etienne is not quite ready to line up and pass protect — he doesn't seem to be interested in that aspect of the game and earned a 56.6 pass-block grade over his career — but you are getting one of college football's best running backs in the last decade. He is a player who can affect the game in the running game and the passing game.
Safety and nickel is a big need for the Jaguars, and it wouldn't be surprising to see them snatch one up earlier in the draft. Here, they are getting a good one in Elijah Molden at No. 65 overall. Molden didn't show out athletically at his pro day, which is a concern…
Height: 5-foot-9 (3rd percentile)
Weight: 192 pounds (13th)
Arm: 29 1/2 inches (3rd)
Hand: 9 1/2 inches (71st)
Vertical Jump: 37 inches (62nd)
Broad Jump: 125 inches (76th)
Bench: 13 reps (21st)
40-yard dash: 4.62 seconds (19th)
…but it bodes well for him that he was as productive as he was without that top-end athleticism. Molden played almost exclusively in the slot, so he fits perfectly. The Jaguars' coverage grade against slot receivers last season was an abysmal 33.6, and they get a quick fix here at the top of the third round.
The Colts are a big-time trade-back candidate here. They could trade down a few spots, pick up an extra pick — they only have two in the first 105 picks as things stand — and still get a really good tackle.
Walker Little was sitting there at No. 21 in this particular mock draft, with Penei Sewell, Christian Darrisaw and Rashawn Slater off the board. Little, of course, is the top-ranked tackle after those three. The Stanford product allowed pressure on just 2.9% of his pass-blocking snaps over his college career.
After Anthony Castonzo's retirement, the Colts need to quickly find someone to step in and provide clean pockets for Carson Wentz. The former Eagles quarterback finished with a 37.2 PFF grade under pressure in 2020, 30th out of the 32 quarterbacks who faced at least 100 pressured dropbacks. That number should regress toward average in 2021, but getting him as many clean pockets as possible is still a pressing need for the Colts.
Bobby Okereke had a rough sophomore campaign after looking like a steal as a rookie, so Indy gets some insurance with former North Dakota State and former LSU linebacker Jabril Cox.
The Colts employ a defensive system that asks a lot of its linebackers, especially in the run game, so the Colts are going to need two sturdy guys. Having depth is also going to help them here. Cox is long and lean but gets after it in the run game and should be able to cover running backs and tight ends man to man while using his length to dissuade throws in zone. Cox generated an 84.7 coverage grade in single coverage last season, proving that he can hold his own in man-to-man assignments.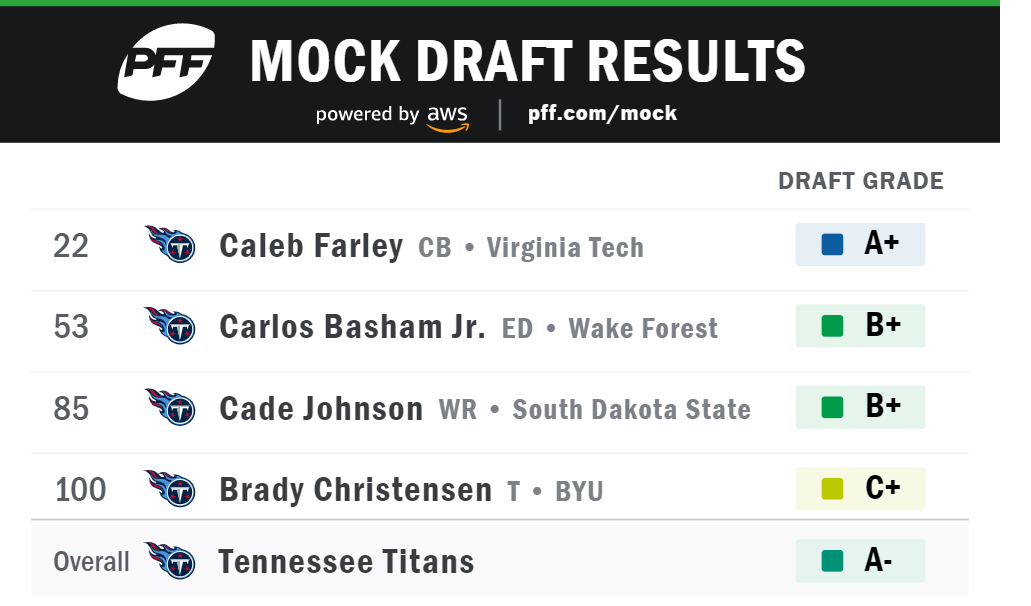 Positions that were once clear strengths for the Titans have suddenly become areas of uneasiness. With Adoree' Jackson out the door, the team gets a replacement in Caleb Farley at Pick 22.
Size and Speed.

That's how to describe @HokiesFB DB Caleb Farley as he prepares for the NFL.
@pff_seth and ACCDN host @WesGotRange break down Farley's prospects. #NFLDraft2021 | @ACCFootball pic.twitter.com/M4dW0rwuPm

— ACC Digital Network (@theACCDN) April 6, 2021
Athletically, Farley is a top-15 pick at least, but injury concerns combined with his decision to opt-out in 2020 could see him fall down boards. If he's healthy — as he supposedly is — this could be a steal for the Titans, who signed Janoris Jenkins but still don't know what they have in Kristian Fulton and didn't get good play out of Chris Jackson in the slot last season.
Pick 53 is going to be a weird spot for the Titans. It's a good draft for receivers and tackles, both positions of need for Tennessee, but with two more picks before the fourth round, they can afford to find an immediate-impact type of player and then land a tackle and receiver a little later.
Basham didn't have the 2020 season that was expected of him, but in 2018 and 2019, he showed his ability to collapse pockets in the passing game while also being a violent run defender.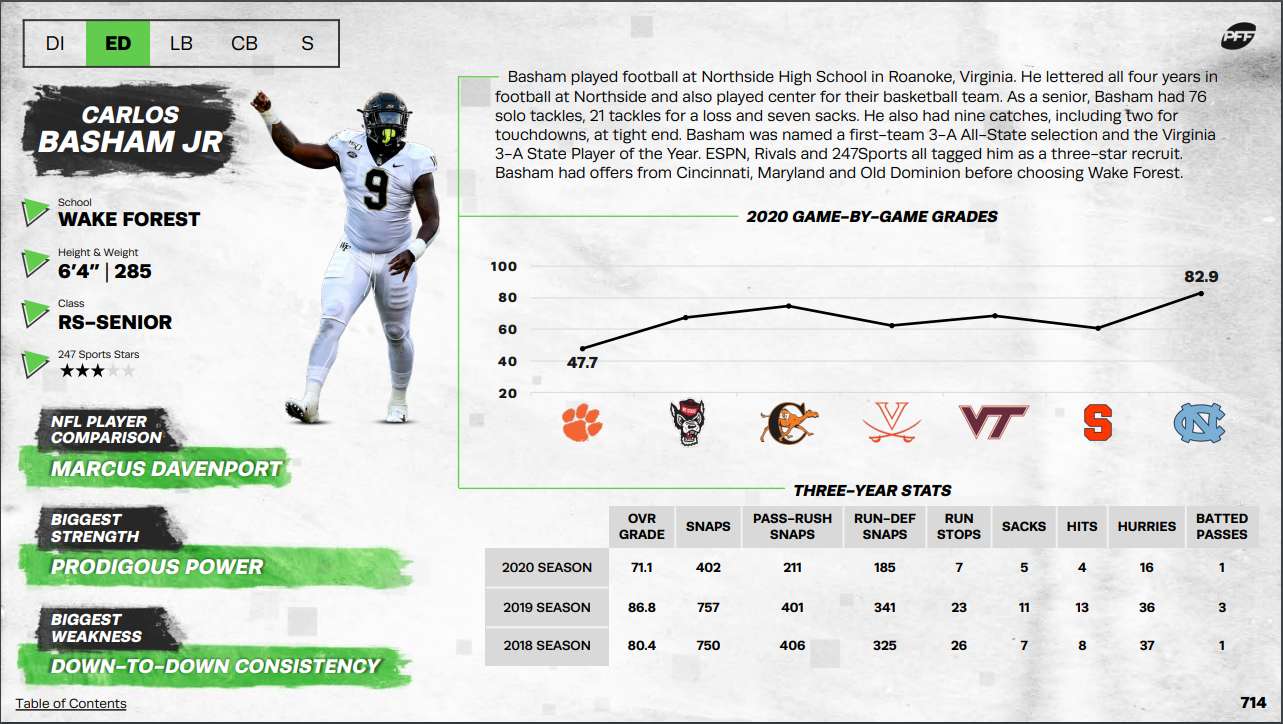 OK, Titans fans. Here come your Corey Davis and Jack Conklin replacements.
At receiver, Johnson comes in as a nice slot option with serious quickness and burst, who has no problem catching balls over the middle of the field. The competition level was also going to be an issue for Johnson, but he came to the Senior Bowl and absolutely dominated, putting to bed at least some of those concerns.
Like his Cougar teammate Zach Wilson, there is also "level of competition concerns" with Christensen, but his 2020 tape is so absolutely ridiculous that it's hard not to fall in love with the big tackle.
He moves well in space, mauls everyone in the run game, and yes he's the one who created those giant pockets for Wilson to set up shop in last season. Importantly, he wasn't a one-year wonder for Cougars, either. Everyone looked great in 2020, but 2019 was not so easy for most on the BYU offense. Christensen put up a 91.8 pass-block grade in 2019 playing against numerous Power 5 squads, one of the best marks in the country that season.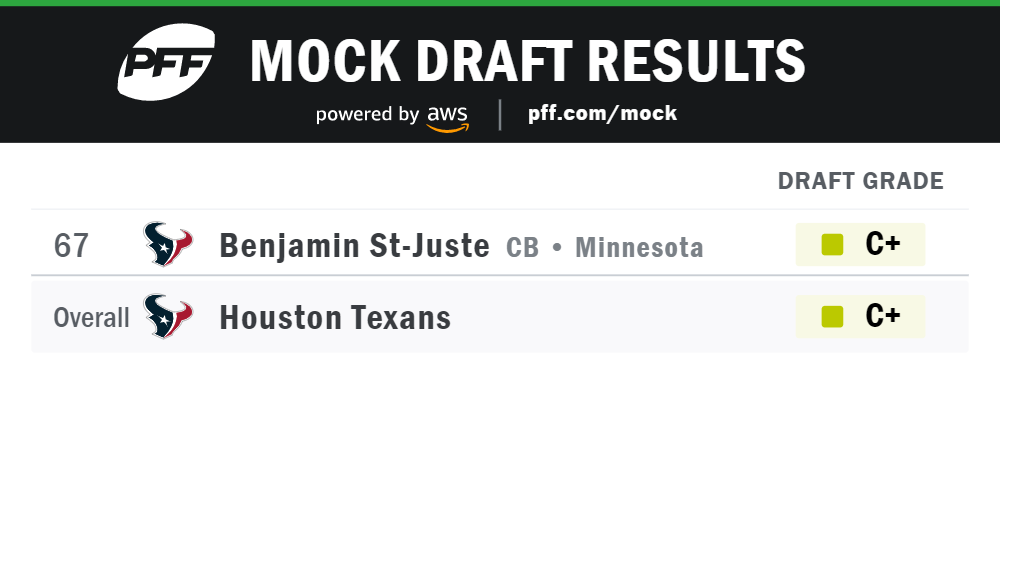 I'm not going to lie to you, people. At pick 67, with their first pick in the draft, the Texans could take absolutely anyone at any position. The only thing that matters for them right now should be finding someone who can play anywhere on the field because they are below average at almost every position group.
I went with St. Juste because I like his length and his press-man ability. If there is a prototype for what cornerbacks are going to look like in the NFL going forward, it's someone who is 6-foot-3, 205 pounds, as St-Juste is. If the technique ever comes around at an elite level, the Texans will have themselves a starting cornerback for years to come.