Today is just the start of what will be a wild offseason. We've witnessed a flood of tags on deadline day; some were good and expected, while others were bad and completely unexpected.
Below, we outline everything you need to know about the tagged players and the butterfly effect the decisions have on teams' future plans for free agency and the 2021 NFL Draft.
Tag price: $13.7 million (second consecutive tag)
Prediction of tag outcome: Long-term deal by July 15 deadline
Sentiment: Ever since Vic Fangio took over as the Denver Broncos' head coach prior to the 2019 season, Simmons has easily been one of the best safeties in the game. He leads the position in PFF grade over the past two years and ranks third among all defensive players in PFF WAR generated.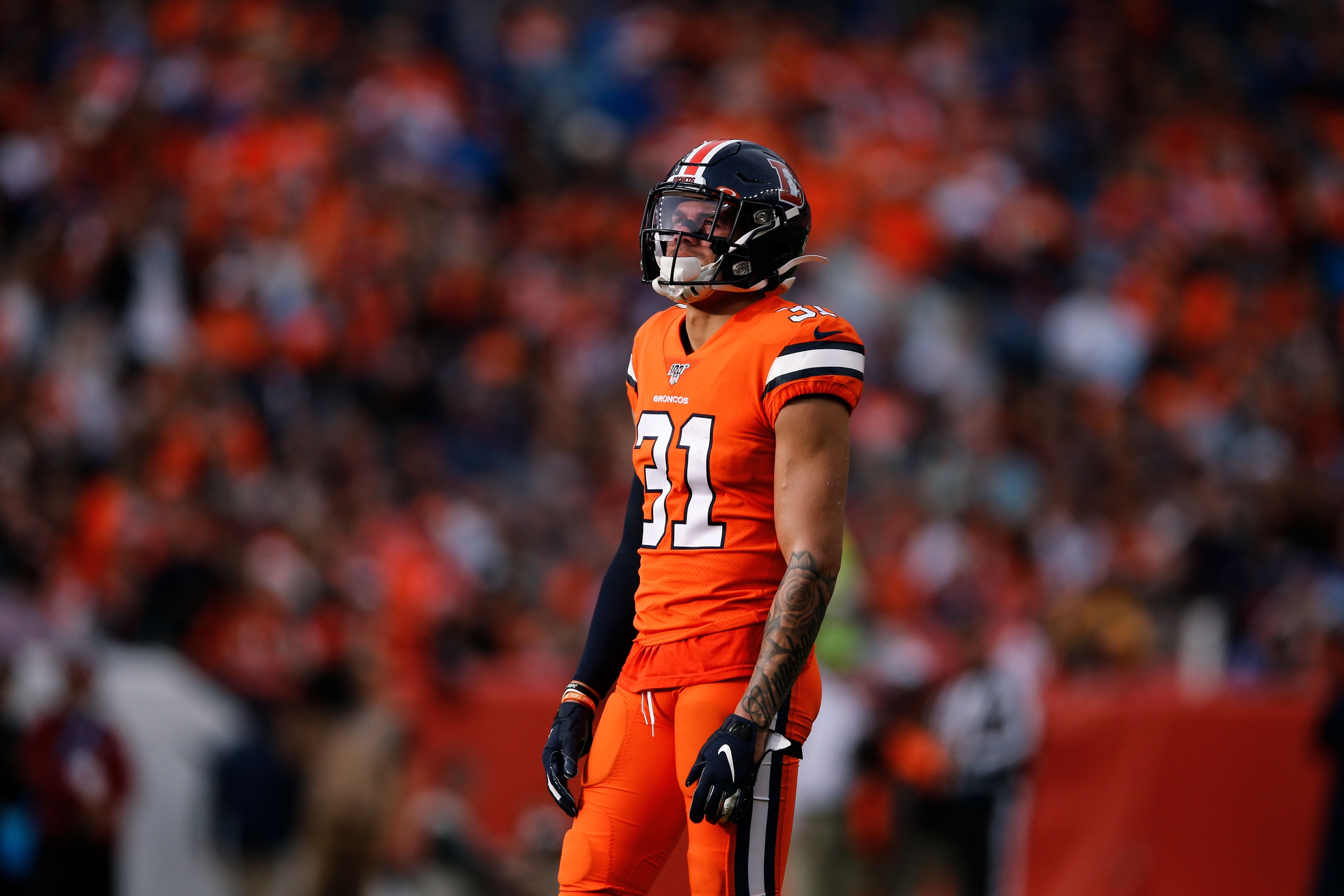 Fangio's defense rotates safeties post-snap more than any other unit in the NFL, and it's tailor-made for Simmons to make plays in coverage. He's instinctive with great range, and those traits have helped him record 23 combined pass breakups and interceptions since 2019 (second-most at the position).
Both sides have made it clear that they want a long-term deal, so it would be quite a surprise if that didn't happen by the July 15 deadline. Barring any blockbuster additions, Simmons is Denver's best player on the roster. 
What's next for the team: Denver still has some issues to tackle in their secondary this offseason, specifically at cornerback. The 2021 NFL Draft will be pivotal in addressing this need. Virginia Tech product and PFF's CB1 Caleb Farley is in the cards at No. 9 overall, but I would assume that a quarterback is a more likely play for the Broncos.
A dream-scenario for Denver would be Florida State cornerback Asante Samuel Jr. sliding to them in Round 2. Fangio covets instinctive and athletic corners like Samuel to plug into his deceptive zone defense.
Samuel may not be the biggest guy on the field, at 5-foot-10, 184 pounds, but you can count on him to make plays. In his three years at Florida State, Samuel produced one of the 10 highest coverage grades among Power Five outside corners and came in at No. 2 among the group in forced incompletion rate (23.8%).
Tag price: $13.6 million
Prediction of tag outcome: Long-term deal by July 15 deadline
Sentiment: Moton does not get enough credit for how great of a pass-protector he has been over his NFL career. He didn't play much in his 2017 rookie campaign, but since notching a starting spot in 2018, Moton has ranked second to only Mitchell Schwartz in pass-blocking grade among all right tackles. Moton also ranks as one of the league's 10 most valuable tackles over that span.
What's next for the team: It'll be very interesting to see how Carolina addresses the rest of its offensive line this offseason, considering the team has four other free agents there outside of Moton — guards John Miller, Chris Reed, Michael Schofield and left tackle Russell Okung.
And the Panthers don't really have all that much money to spend on the unit, either. One thing is for certain, though: Moton had to be brought back in order to prevent this offensive line from turning into a liability in 2021. Carolina doesn't need an elite set of pass-protectors; it just needs to make sure the group isn't a hindrance, and that starts with locking up Moton.
Perhaps the Panthers could address their offensive line needs in Round 2 with a prospect such as Alex Leatherwood, who might end up an option at left tackle or guard.
[Related: Carolina Panthers use franchise tag on RT Taylor Moton]
Tag price: $11.2 million
Prediction of tag outcome: Long-term deal by July 15 deadline
Sentiment: New York's secondary has struggled over the past couple of seasons, ranking 25th in team coverage grade. Maye, however, is far from the reason why. He has been one of the best safeties in the league in coverage during that span. He ranks fourth at the position in coverage grade since 2019.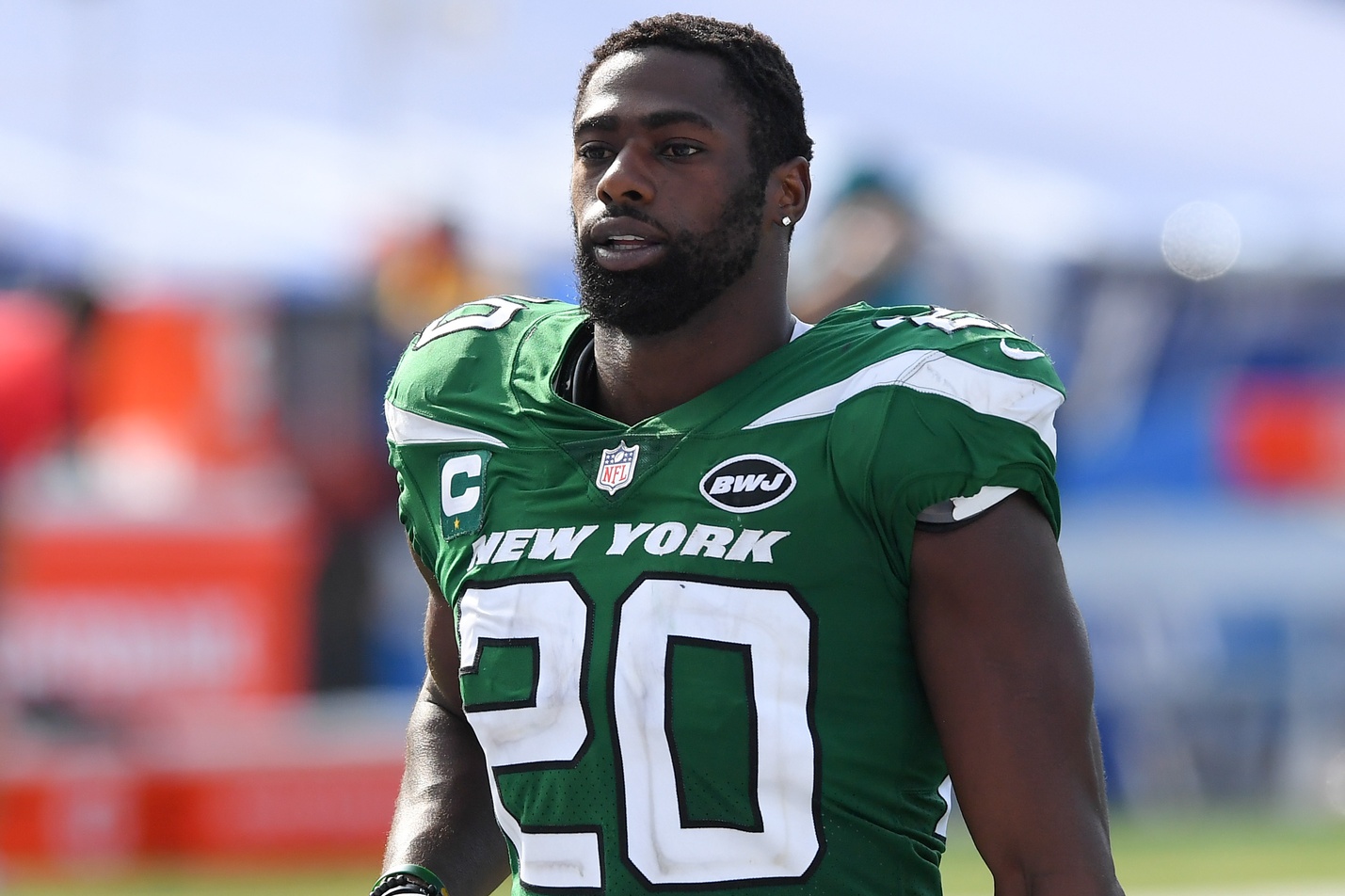 At deep safety, in particular, Maye jumps to No. 1 on the back of three interceptions, seven forced incompletions and six passing stops at the alignment. 
What's next for the team: Locking up Maye long-term is a top priority for general manager Joe Douglas — and rightfully so — but he and new head coach Robert Saleh still have a lot of work to do to improve their secondary.
Retaining slot corner Brian Poole, who owns the seventh-best slot coverage grade since joining the Jets in 2019, should be one of their first moves in free agency, along with bringing in a fresh face at outside corner.
Jason Verrett is one player to keep an eye on after the immense success he had with Saleh in San Francisco in 2020. After playing just over 200 coverage snaps in the four years prior to 2020 combined, Verrett made an unbelievable comeback with the 49ers this past year, ranking ninth among all outside corners in coverage grade.
[Related: 2021 Free Agency: S Marcus Maye, G Brandon Scherff receive franchise tags]
Tag price: $18 million (second consecutive tag)
Prediction of tag outcome: Long-term deal by July 15 deadline
Sentiment: Washington will be doing everything it can to lock up Scherff on a long-term deal after placing the franchise tag on him for the second consecutive season. He anchored the Football Team's offensive line in 2020 with a strong 86.3 PFF grade that trailed only Wyatt Teller, Zack Martin and Quenton Nelson for the best among guards.
Injuries have gotten in the way at times in Scherff's career, but he has still generated the ninth-most WAR at the position since entering the NFL in 2015.
What's next for the team: The Football Team can easily afford this move and will still have plenty of cash in the bank to do a little more in free agency. I expect Washington to prioritize either the tackle or wide receiver positions in free agency, and whichever one they don't address will be their focus in Round 1 of the 2021 NFL Draft (assuming we see the top five quarterbacks taken inside in the top 10).
Washington should be one of the first teams calling former Detroit Lion Kenny Golladay. His signing would ease the stress on rising star Terry McLaurin and help the team with its deep passing attack. That's all dependent on if Washington gets a quarterback who can effectively throw the ball downfield, though. In 2018 and 2019 combined, Golladay racked up the third-most receiving yards on 20-plus-yard targets (930).
[Related: 2021 Free Agency: S Marcus Maye, G Brandon Scherff receive franchise tags]
Tag price: $19.4 million (second consecutive tag)
Prediction of tag outcome: Long-term deal by July 15 deadline
Sentiment: Pure run-stuffing interior defensive linemen aren't the most valuable players on the field, but they carry more weight — literally and figuratively — than originally thought. Williams certainly fits that bill. He was one of the best run defenders in the league in 2020, while his work as a pass-rusher was good, not great. He finished fifth in run-defense grade and 32nd in pass-rush grade in his first full season with the Giants in 2020, ending the year as one of the five most valuable players at his position. 
What's next for the team: New York desperately needs to supply Daniel Jones with receiving weapons in what will be a pivotal Year 3 for the 2019 No. 6 overall pick. Whether it be pursuing one of the big-name receivers who avoided the franchise tag, such as Kenny Golladay, or addressing the need with their 11th overall pick, the Giants' brass knows it needs to make a major investment.
Alabama speedster Jaylen Waddle, who converted the highest rate of his targets into a 15-plus yard gain among Power Five wideouts since 2019, is an intriguing option for New York if the team opts to direct its attention to the 2021 NFL Draft.
He has all the fixings to be a perennial deep threat, and Jones showed a lot of growth in his deep passing last season. The volume numbers weren't hot in that regard, but when he did launch it deep, it usually turned out well, as his No. 3-ranked passing grade on 20-plus-yard throws can attest. 
Perhaps Golladay or Waddle could help pump the volume numbers up and help New York field an efficient passing offense.
[Related: New York Giants placing franchise tag on DI Leonard Williams]
Tag price: $13.6 million
Prediction of tag outcome: Plays on the tag
Sentiment: This one is truly a head-scratcher. Instead of opting to use an early-round pick in the 2021 NFL Draft to bring in a talented tackle or even trading one of those picks away to Baltimore for Orlando Brown Jr., the Jaguars decided to retain Robinson, who has generated negative WAR over the past two years.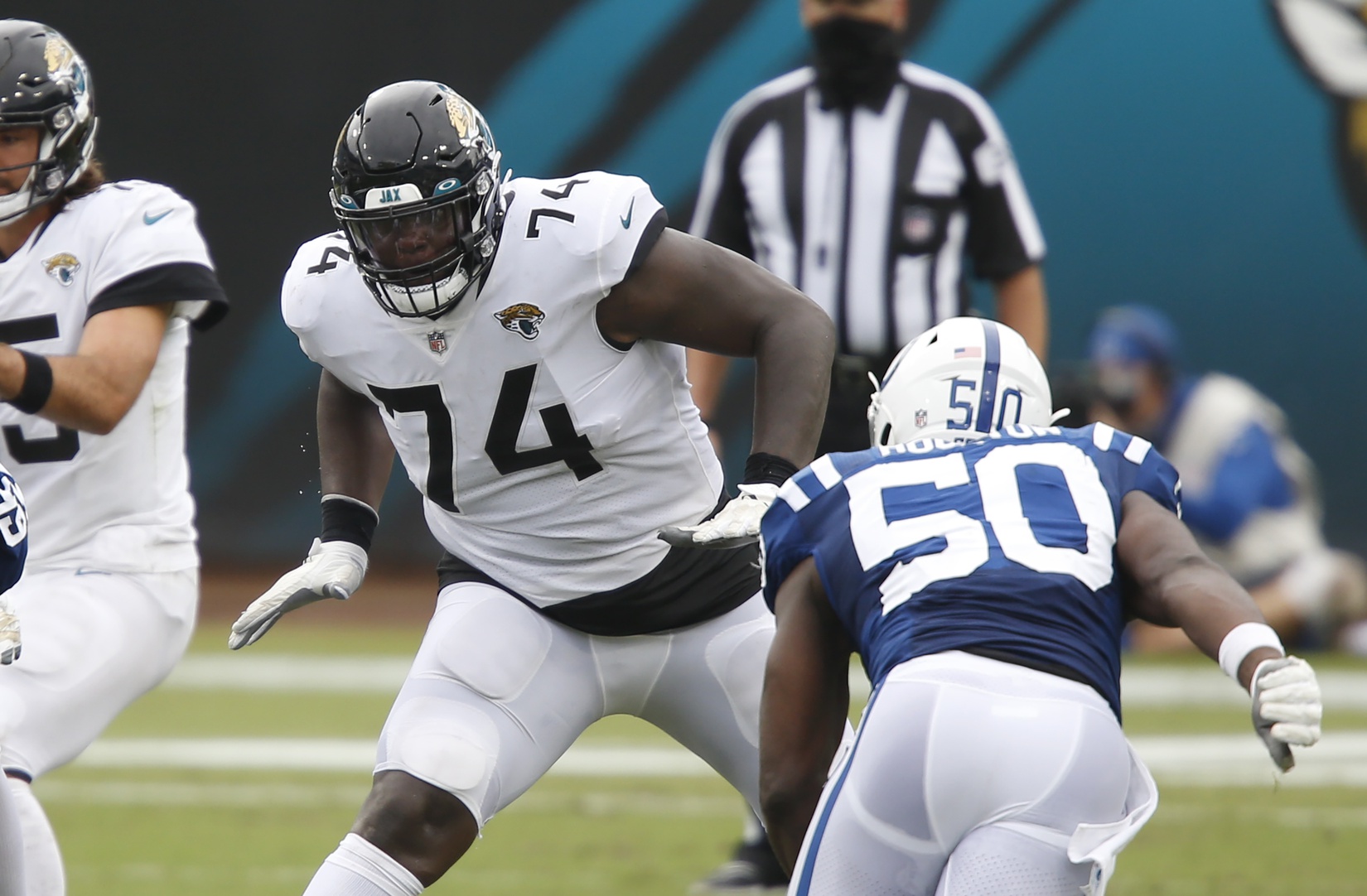 In his four years in the NFL, Robinson ranks dead last among qualifying left tackles in PFF grade (56.2). That mark is seven grading points worse than the second-lowest-graded left tackle and 14 grading points worse than third place.
What's next for the team: The good news is that Jacksonville still has plenty of cap space to build a quality roster around eventual franchise quarterback Trevor Lawrence. The Jaguars have needs throughout their roster, but the top priority for them in free agency should be safety John Johnson III.
He's a premier talent at the position and is hitting the market only because the Rams can't afford him. Johnson has proven to be capable of playing in any role in any scheme throughout his NFL career, recording PFF grades above 80.0 in three of his four seasons — all of which ranked 11th or higher at the position. The one season in which he failed to reach that mark was 2019, when he was limited to only six games due to injury.
Tag price: $16.5 million
Prediction of tag outcome: Long-term deal by July 15 deadline
Sentiment: Godwin may not have had an outstanding 2020 campaign — a bad case of the drops in the Bucs' postseason run certainly didn't help matters — but let's not forget it was an injury-riddled year for the fourth-year wideout.
Godwin still earned an 80.2 receiving grade in the regular season, a top-20 mark at the position, and he ranked sixth in passer rating generated when targeted (131.9). This, of course, came just one year after he led all players at his position in both PFF receiving grade (90.7) and PFF WAR.
With a clean bill of health, we should see the same explosive Godwin return as the Buccaneers look to run it back in 2021.
What's next for the team: Now that the franchise tag debacle has been settled in Tampa Bay, general manager Jason Licht needs to get creative to retain his team's Super Bowl champion core.
Edge rusher Shaquil Barrett, off-ball linebacker Lavonte David, wide receiver Antonio Brown, tight end Rob Gronkowski and interior defender Ndamukong Suh are all set to hit the open market when the new league year opens, yet the Bucs have virtually no cap space left. Barrett and David are the key members of that group, as they are projected to receive fairly large deals.
Barrett owns the 11th-best pass-rush grade and the third-highest pressure rate among edge defenders since joining Tampa Bay in 2019, and David leads his position in coverage grade over that same time frame.
It seems likely we see one of the two depart from Tampa Bay due to the team's cap situation, but the Buccaneers aren't going down without a fight.
[Related:Tampa Bay Buccaneers to franchise tag star WR Chris Godwin]
Tag price: $18 million
Prediction of tag outcome: Plays or is traded on the tag
Sentiment: This is going to be an interesting situation to monitor in the coming weeks. The last thing Robinson wanted this offseason was to play on the franchise tag instead of receiving an extension.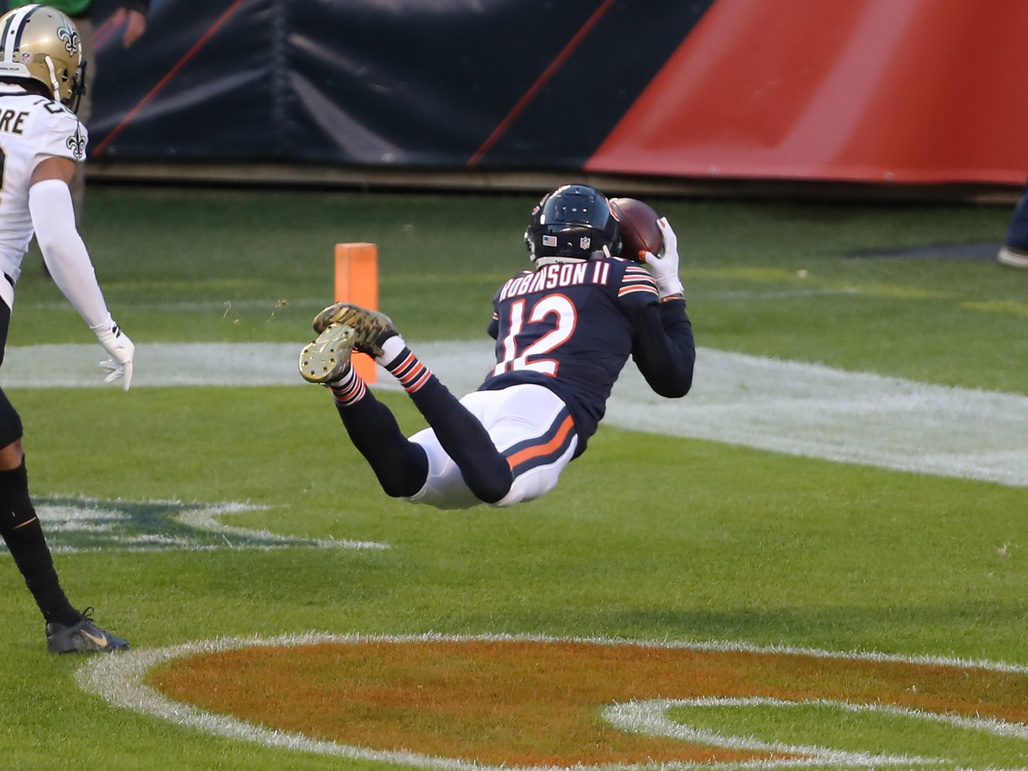 While he may end up having to do that, Robinson also could very well be traded on the tag for good compensation. That would, in turn, help Chicago's quest to find a franchise quarterback. Despite one of the worst quarterback situations in the NFL this past season, Robinson still managed to generate a top-five PFF grade and a top-five PFF WAR total by a wide receiver for the season.
He has been the engine of the Bears' offense — by far the best player Chicago has had on the side of the ball since he arrived in 2018. Some team with the draft capital and cap space could be willing to pony up for a player of Robinson's caliber. 
What's next for the team: With this move, Chicago is now $20 million over the cap. The team will have more moves to make in the coming days to get under the threshold.
While that is something to monitor, all eyes are still on the quarterback position. Options are running out, and Russell Wilson is a pipe dream. Unless he comes out and publicly says, "I want to be a Bear, not a Seahawk," Chicago has to turn its attention toward the draft, which is likely to require a trade up. That's why a tag and trade is entirely possible, as it would help that cause.
[Related: Chicago Bears placing franchise tag on WR Allen Robinson II]
Tag price: $11 million
Prediction of tag outcome: Plays on the tag
Sentiment: It's understandable that New Orleans wants to keep Williams, but this comes as a shock considering how bad the team's salary cap situation is. This tag places the Saints about $60 million over the cap, but it also means they retain one of the best safeties in the game. Williams has generated the fourth-best PFF grade among safeties and the fourth-most WAR among all defenders since he entered the league in 2017.
What's next for the team: General manager Mickey Loomis and head coach Sean Payton will have to pull a rabbit out of a hat to get New Orleans' cap situation in order for 2021. Restructures are likely to be in order for Michael Thomas, Terron Armstead, Andrus Peat and Malcolm Jenkins, resulting in over $25 million in cap space to be opened up.
Still, there is a lot of work to do.
We will certainly see a handful of cap casualties — Janoris Jenkins, Kwon Alexander, Emmanuel Sanders and Malcom Brown are likely among them. And if those four cuts occur, the Saints would still be over the cap with free agent quarterback Jameis Winston still to pay. Things will be interesting in New Orleans over the next few days.
[Related: New Orleans Saints use franchise tag on safety Marcus Williams]