The Buffalo Bills are the kings of the AFC East for the first time in a long time, but draft season brings hope and renewal for the three teams looking up at them. Fans of the New York Jets, Miami Dolphins and New England Patriots all feel like they are just a couple of draft picks away from claiming the division's top spot in 2021.
We'll be putting together mock drafts for each division leading up to the 2021 NFL Draft, starting with the AFC East. This mock draft was created to help the three teams behind the Bills immediately contend for the division title next season. And for the Bills, we looked to solidify their standing atop the AFC East.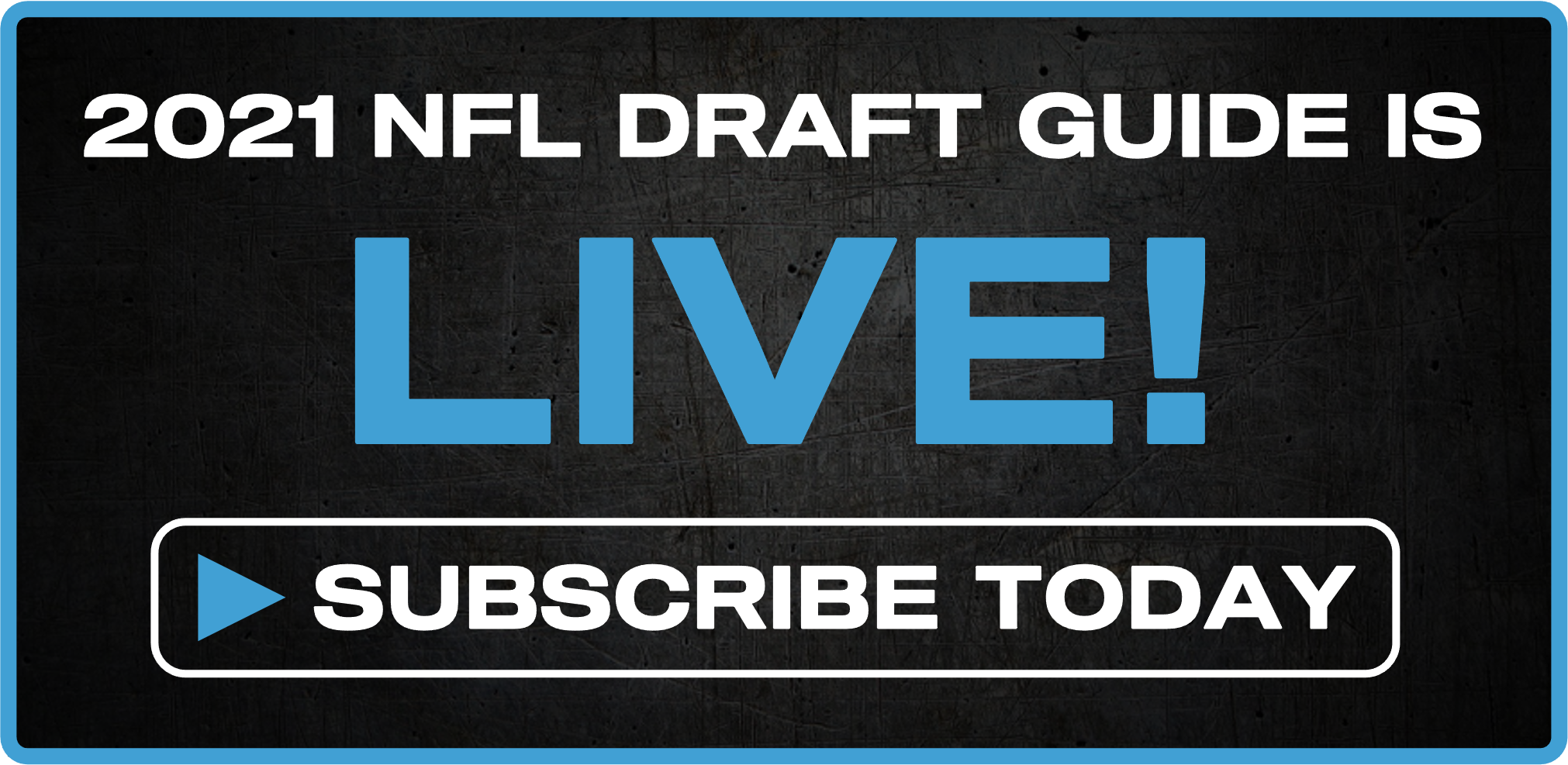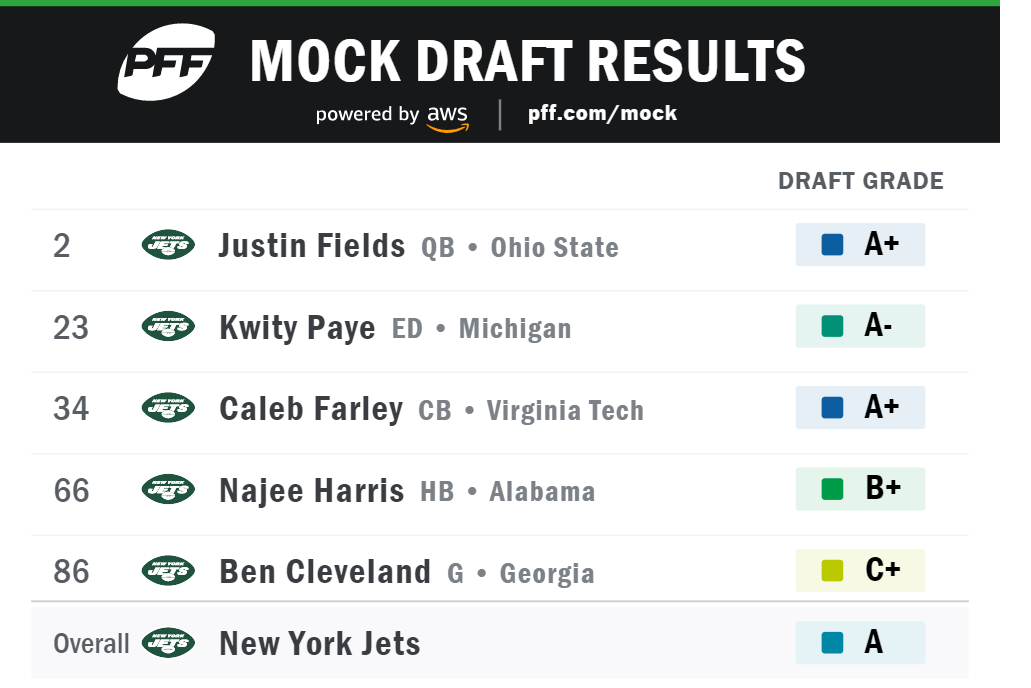 Like many teams in this draft, the Jets' draft starts and, to an extent, ends with their selection of a quarterback in the top five. I'm not going to entertain the idea that New York won't pick a quarterback at No. 2. Even if the team likes Sam Darnold, who has a 63.1 career PFF grade, more than everyone else in the entire world, it has enough draft picks early on that to at least take one of the "big five" quarterbacks and still improve the roster later.
The PFF overlords have Zach Wilson as QB2 in this draft, but I, Seth Galina, have Justin Fields at this spot with a bit of a gap between them. And that's why I have the Jets selecting him.
I don't really believe in scheme fits for quarterbacks, especially those taken in the first round, because quarterbacks need to be scheme-irrelevant. We also tend to talk about scheme fit in broad terms; what we are really saying is that a certain head coach or offensive coordinator creates open throws for his quarterback at a high rate.
Every quarterback taken in this draft is going to need their team to do that for him whether they base in a wide zone scheme like the Jets and 49ers or otherwise. If you think a quarterback taken this early in the draft can play in just one system, that's a red flag. There are only so many pass concepts that NFL teams run, so there is massive overlap in what the quarterbacks will be to be asked to do, no matter where they land.
So, the pick is Fields because it's the fastest way to usurp the Bills for the division.
At Pick 23, it was hard to pass up the athletic ability of Michigan's Kwity Paye. I was hoping to pick Virginia Tech's Christian Darrisaw, but he was taken earlier and I didn't want to reach on a second-round tackle or guard this early. The Jets got better at the edge spot after signing Carl Lawson but could still use Paye early in a rotation until he gets his feet underneath him.
I also think New York needs someone to match Josh Allen's quickness. So many of Allen's big plays come after he's escaped the pocket. He ranked second in the league in total plays where he scrambled (124) and graded out as the second-best signal-caller on such plays (89.9). The Jets need to keep him contained, and with Carl Lawson and now Kwity Paye, I think they can handle that.
At Pick 34, it's a no-brainer to take Farley should he fall that far. Teams might have injury concerns with the young cornerback, but his tape is so good that taking him in the second round means he won't kill your team if he doesn't pan out. The Jets are not great at cornerback, so if 2019 Farley shows up to training camp, he could be an immediate starter. They need anyone who can cover Stefon Diggs, who posted the second-highest receiving grade against single coverage last season (94.2).
Yes, I know all running backs should be put out to pasture, but I am a simple man who loves watching gigantic players plow through other human beings for a living. The Jets are lacking at the position and could also use a running back who they can feature in the passing game now that they head into the season without Le'Veon Bell, an established receiving weapon.
I also think Harris' receiving ability fits more with what the Jets will likely ask of their quarterback. Whoever ends up at the helm for the team will probably want his running back to be a serviceable outlet for the passer rather than run quick option routes like Alvin Kamara or even Bell.
Finally, we are able to upgrade a porous interior offensive line with Ben Cleveland. The former Georgia guard is very large but surprisingly nimble for his size. Last year, Jets' guards combined for a cumulative 56.1 grade, ranking 29th in the league. Putting refrigerator human Cleveland and then even an actual refrigerator would be an upgrade there.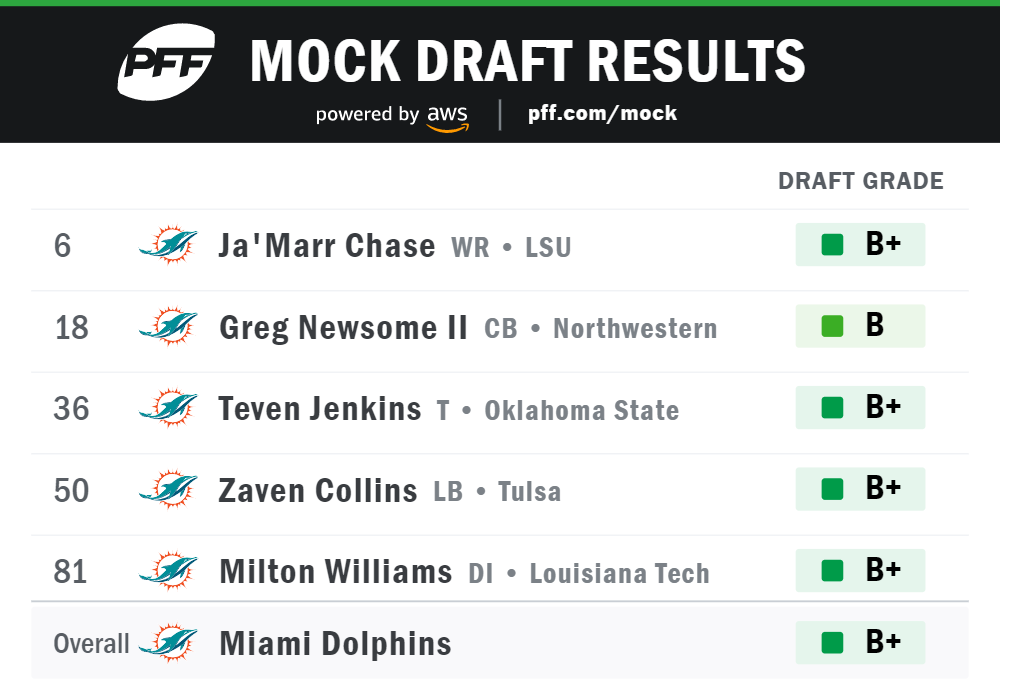 The Dolphins are in a weird spot for me because they are young in some of the important positions where they lack talent. The question becomes: Do you think those young players at quarterback and tackle improve and become solid contributors, or do you take players high in this year's draft at those positions again because of how important it is to be good there? Also, in this exercise, we are trying to one-up Buffalo in 2021, so let's get players who can help us win right now.
Miami could go quarterback or tackle at Pick 6, but I went with a receiver, even after their signing of Will Fuller V this offseason. Chase is the best wideout on our board and gives the Dolphins a daunting receiving corps. He has graded out well from the slot, earning a 93.3 mark in 2019, but projects as an outside receiver. That would give Miami a ton of outside receivers, with Chase joining Fuller and Devante Parker.
In the modern game, though, you need to have players who move around position to position to create the best matchups possible. With Chase in the fold, Miami's talented receiver corps would be able to do that.
The Dolphins could go in a few directions here, but I went with Newsome because I think another coverage guy would be important, especially with the Bills signing Emmanuel Sanders. Flores' defense played straight Cover 1, man to man, on 38% of its snaps last season, meaning Miami needs a lot of players who can cover. Xavien Howard and Byron Jones are a great tandem, but we don't know much about Noah Igbinoghene right now and the safeties aren't great cover players. Newsome gives you some peace of mind about having to go against Stefon Diggs, Cole Beasley and Sanders.
Finally, we can address the tackle situation at Pick 36. This mostly has to do with Jenkins falling into our laps at this point, but even at least having a battle for the two tackle positions between Jenkins, Austin Jackson and Robert Hunt means you should end up with at least one combination that can protect Tua Tagovailoa.
You could also see someone slide inside if need be. It gives the Dolphins some options, at the very least. Jenkins got better each year at Oklahoma State, improving from a 78.8 grade in 2018 to 85.7 in 2019 to 92.0 in 2020, and is an older prospect, so there is some plug-and-play opportunity there.
The mind works in overdrive when thinking about how to fix the Jets and now the Dolphins with all these early-round picks even though most of them won't pan out. With that said, picking Zaven Collins and Milton Williams finishes our revamp of the Dolphins, no question about it.
Miami is really bad down the spine of its defense from defensive tackle to linebacker to safety, so we upgrade at two of those positions. Collins is a linebacker's linebacker, but importantly, going back to the discussion of Miami playing a lot of man coverage, he can cover people or use his size to play as a hole defender and get into passing lanes.
Milton Williams is an athletic interior defender who has been shooting up draft boards and could allow Flores to start stunting his defensive line more to wreak havoc as he did in New England.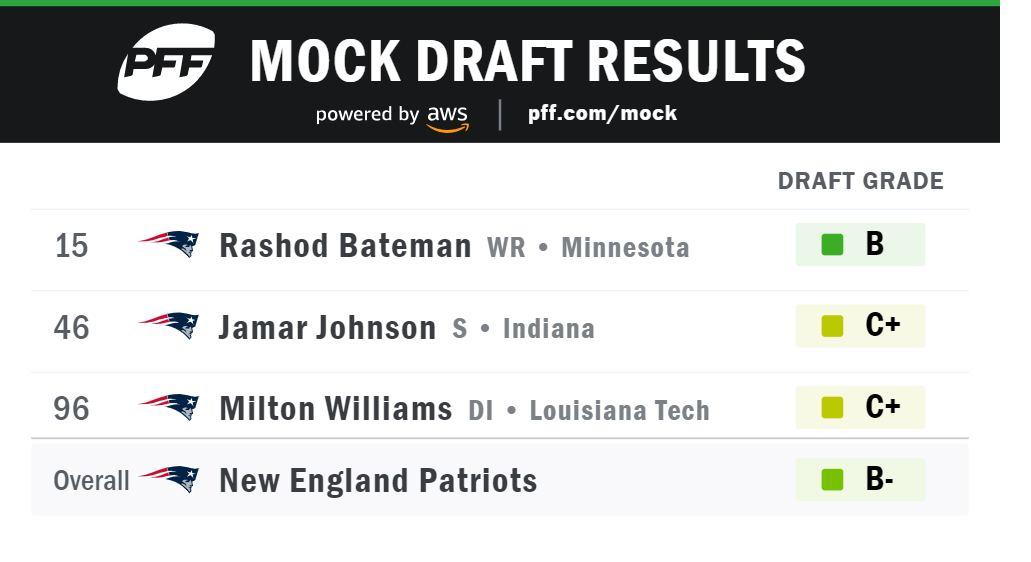 If we are talking about topping the Buffalo Bills as early as next season — and based on Bill Belichick's free agency moves, the Patriots feel this way — then although New England probably should take a quarterback for the long run, it desperately needs an electric receiver right now.
Bateman really should be among the "big four" pass-catchers in this class, as the film and numbers paint an incredible picture of the young receiver. The Patriots would get tremendous value out of whoever of the five receivers/tight ends fall to them at Pick 15. The Pats did upgrade their receiving corps this offseason, but is there a true no-questions-asked No. 1 receiver? There isn't, but there could be with Rashod Bateman or even Alabama's Jaylen Waddle.
Johnson played a ton of different positions in a very unique Indiana defense. He saw 236 snaps at free safety in 2020 and 232 as a slot cornerback in 2019. That sounds like a Bill Belichick type of player. Johnson has been soaring up draft boards, as has Milton Williams.
Williams gives the Patriots depth but also allows them to utilize more stunts and games, as is the case with the Dolphins above. The Patriots played the second-highest percentage of snaps on defense with a defensive line stunt last season. At the end of the day, Williams is just a freak, posting 97th percentile or higher scores in the three-cone, 40-yard dash, shuttle, vertical and broad jump among interior defenders. Are people at his size allowed to be that athletic?
The Patriots really filled most of their holes in free agency, and they get back Dont'a Hightower after he opted out of the 2020 season. In the draft, they will be hoping to hit on a guy who can come and play at a high level right away, but it could be at almost any position. If they don't end up going in for a quarterback, one could expect them to trade down.
The Bills are in a position where they need to maintain their loaded roster but also inject fresh talent to avoid regression. In this mock draft, we went for speed and athleticism with the Ronnie Perkins, Tyson Campbell and Kendrick Green picks. Let's see if they can catch lightning in a bottle and have a ready-made NFL athlete right out of the box.
Perkins is going to be an asset right away in the NFL, even if it's just on third down. The Bills need to see if they can get generate pressure opposite of Jerry Hughes in 2021, and the hope for them is that they luck into finding their next great pass rusher.
The Bills ended up re-signing Levi Wallace, but Tyson Campbell is a completely different type of corner to both Wallace and Tre'Davious White. The latter two don't score as highly in the "athleticism" category as Campbell, and sometimes you need that type of changeup on your roster. Campbell wouldn't be coming for White's job, but he might be for Wallace's. The Bills would be able to see if any of them can move inside and man the slot, a place of slight weakness for the team.
With Green, Buffalo is getting someone who has played both center and guard, and his athleticism can work in the Bills' predominantly outside zone scheme. Green earned a 92.3 grade on outside zone plays compared to a 58.7 mark on all gap scheme plays in 2020.