While the Washington Football Team took home the NFC East crown a season ago, one could make the argument that they aren't the favorites to repeat, especially with a healthy Dak Prescott or actual development from Daniel Jones. Still, they are the team to beat, so we've put together a three-round mock draft for each team in the division with the goal to win the league as early as this next season.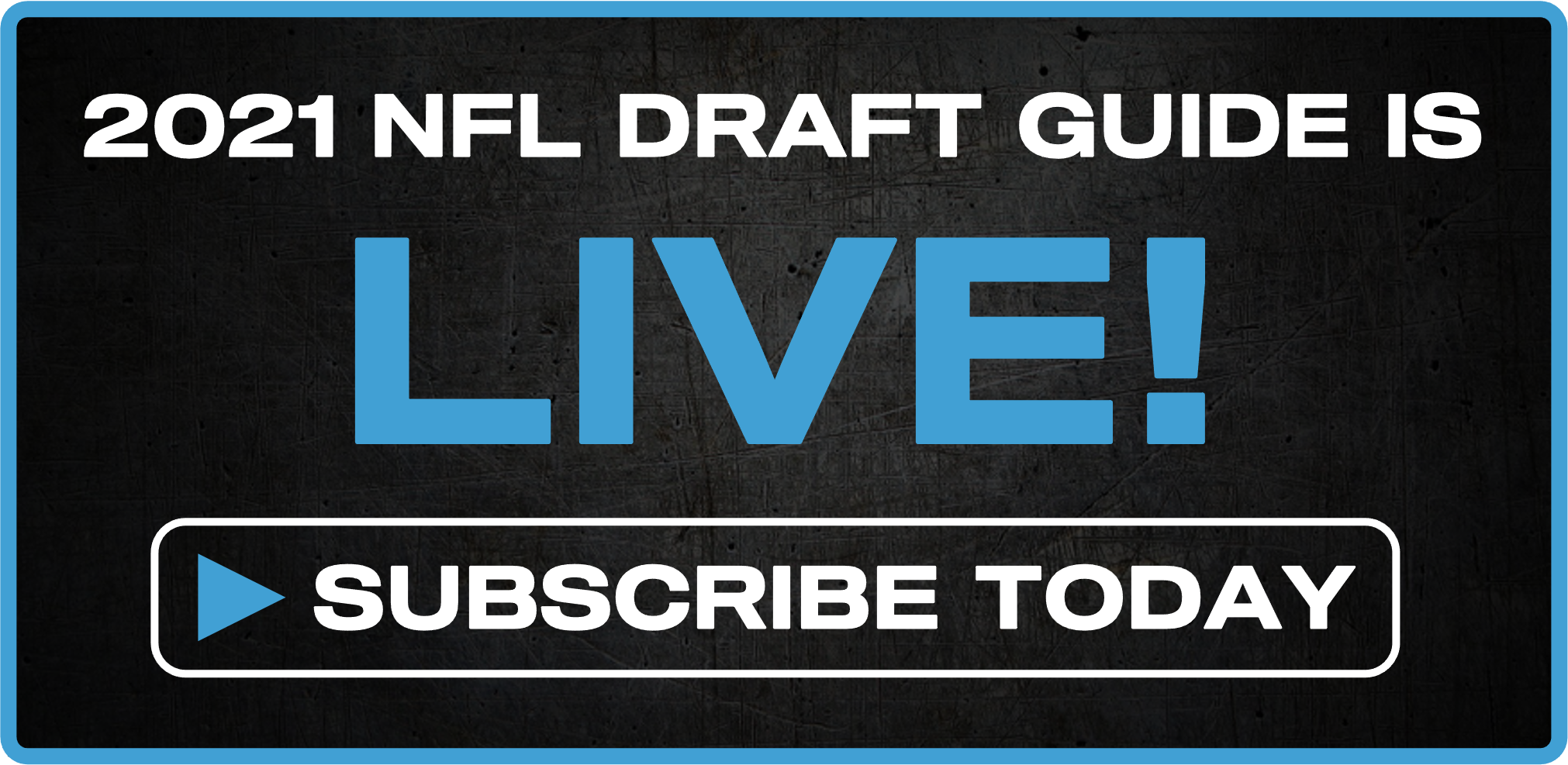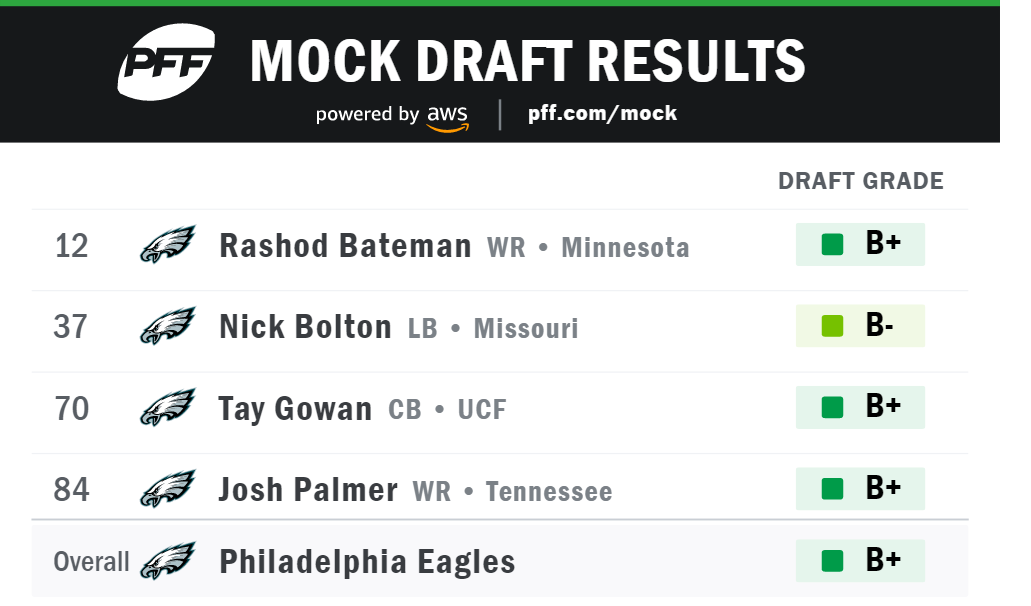 The Eagles aren't trading down and then picking a quarterback in real life. And we are trying to win the division immediately in this exercise, so we won't be taking a quarterback, either.
The Eagles need to sprint to the microphone and announce whichever receiver falls to them at Pick 12. In this mock draft, Bateman is available and immediately slots in as the best receiver on the team. In fact, he would become the best outside receiver on the team as well as the best slot receiver. This is such an unbelievable need for the Eagles. It would be shocking to see them go elsewhere with the pick.
Another position of need for the Eagles is at linebacker, and Bolton fills that hole right away. Bolton could end up being either a Mike or Will linebacker. Regardless, his processing speed and ability to diagnose and make tackles for loss are going to be top-notch. He made the fourth-most tackles for loss or no gain over the past two seasons among all college linebackers. He isn't quite the athlete that some other top linebackers are in this class, although he did run a lightning 40-yard dash and always finds the ball.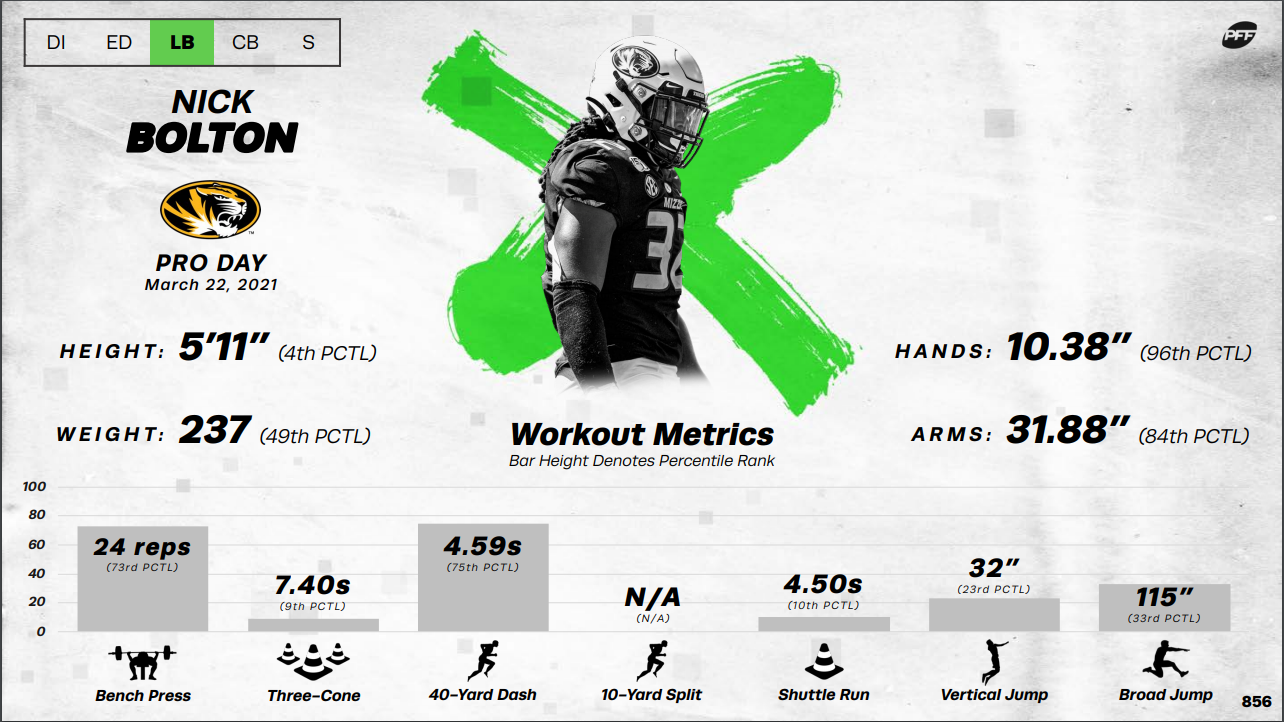 At this point, the Eagles probably need to start loading up on corners, safeties and receivers, so we take UCF's Tay Gowan here. Gowan didn't test particularly well, and with only one year of play at the FBS level, he could fall a bit in the draft. But whoever does pick him is getting one of these tall, modern cornerbacks who can disrupt with length early in the route and then has enough burst to recover later if needed.
There's just no guarantee that Jalen Reagor or J.J. Arcega-Whiteside ever become more than just average NFL players, so the Eagles need to keep rolling the dice with receivers and hope one of them sticks. Palmer has the chance to be what Philadelphia thought it was getting in JJAW — a guy who didn't have a lot of versatility coming out of Stanford but had the NFL body to eventually develop more moves and routes. That hasn't happened yet, and Palmer is similar in that regard. He doesn't have all the technical aspects of the position down pat, but he's new to the game and is a 6-foot-1, 210-pound player who is just starting to come into his own as a receiver.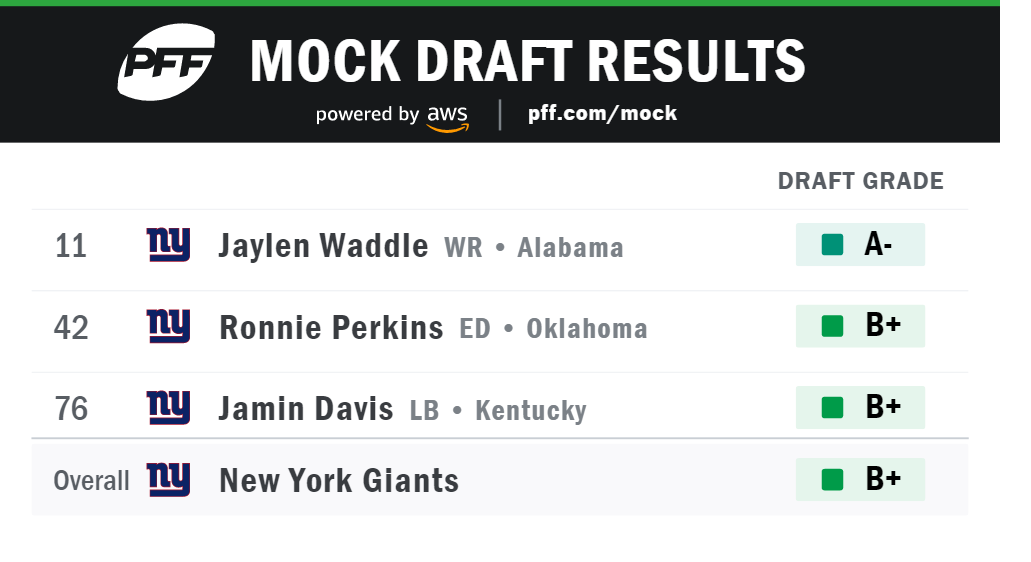 The Giants are in a weird position with their offensive line because while you would assume they want to see if their young players develop, none of them played particularly well lasts season. New York could try to dump more resources into that group because it desperately needs to protect quarterback Daniel Jones. With that said, we are going with Waddle here to give Jones another weapon and praying the offensive line improves enough to give Jones time to target him.
Whichever receiver or tight end falls to the Giants at Pick 11 is going to be one of the best values in the draft. All the top pass catchers are so close in skill that New York might draft the actual WR1 without having to use a super premium pick on him.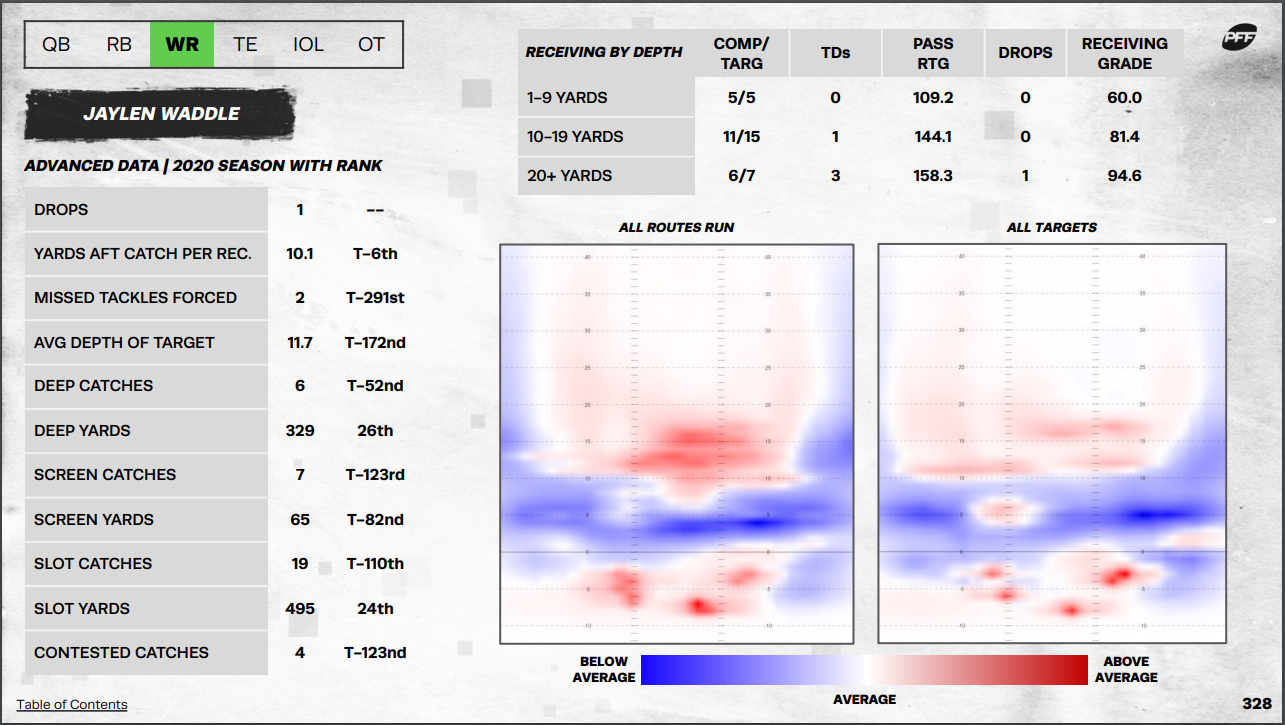 As the Sooner defense got better last year, so did Ronnie Perkins. He exploded onto the scene with a stellar 2020 campaign. Perkins earned a 73.1 grade after his first two seasons in Norman, posting a mere 11.9% pass-rush win rate. Then, he dominated his way into a 90.5 grade and a 24.7% win rate last season. You love to see that type of improvement, and he's clearly a very good, speedy pass rusher. But you are banking on a lot of development for him to see the field consistently on first and second down. He can get to the quarterback, and someone is going to fall in love with his athletic ability. Why not Dave Gettleman?
Blake Martinez somehow became a more-than-serviceable linebacker for the Giants, but there is still room for them to get better and faster at this position. New York had to start 2020's Mr. Irrelevant Tae Crowder next to Martinez, and the results were not very good. Crowder produced only a 36.4 grade as a rookie last year.
Davis would bring some speed and size to the position, letting him run free and hit anything that moves from the Will linebacker position. He's fantastic against the run and can be protected by all the zone coverages against bad matchups in the pass game that defensive coordinator Patrick Graham runs.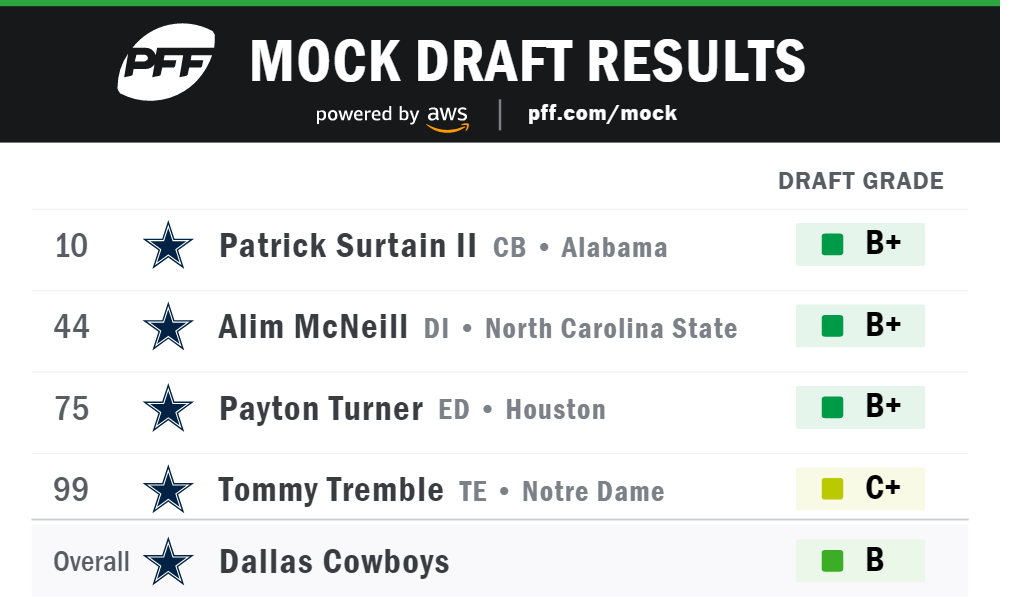 The Cowboys are in a big-time trade-back position — especially if Surtain doesn't fall to them at Pick 10. I think there is a bit of a gap between Surtain and the next cornerback in the draft, and I'm not sure you'd want to take that player this early. With that said, Dallas is lucky enough to get Surtain here. Cowboys fans might not be too impressed with taking an Alabama cornerback in consecutive drafts, but Surtain is the real deal, boasting press skills that make your mouth water.
McNeill is almost surely going to be the steal of the draft. He represents everything you need in the modern nose tackle. He's quick, so he can be a one-gap nose even from a zero alignment, but he can also two-gap with his strength and ability to move centers where he needs them to be. As far as his pass-rush skill set goes, Dallas would be hoping his quickness helps him win early before he eventually learns whatever moves can provide him some staying power in the NFL.
We love to see guys who improve every year, and that's what Turner did in only four games this past season for Houston. Projected high draft picks who exploded onto the college scene but don't possess top-notch bodies of work usually have traits you can't teach. Turner was a nightmare for Group of Five tackles, and the projection is that he'll make the jump eventually and dominate NFL tackles.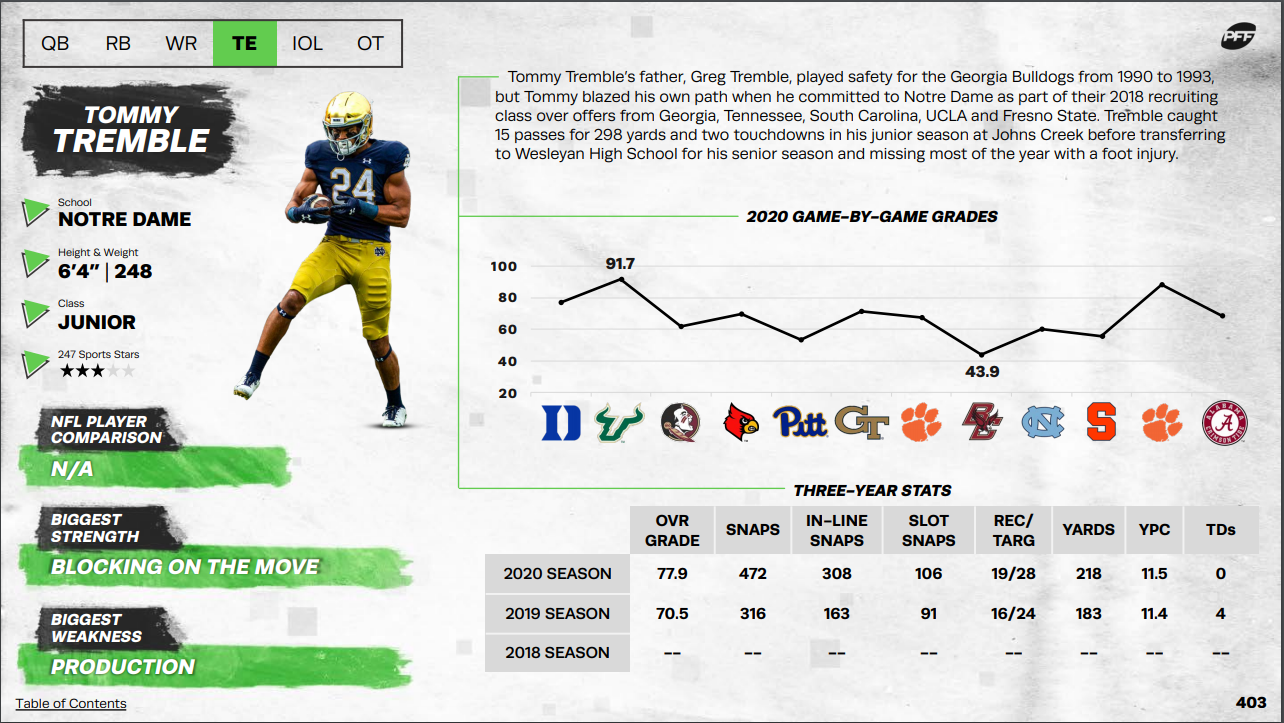 Whatever one thinks of Blake Jarwin, there is still some room for Dallas to add a tight end late in the third round. Tremble has been rocketing up draft boards because of his tenacity as a blocker and the idea that his lack of receiving production was more due to Notre Dame's offense and quarterback rather than himself. For someone to be thought of this highly at a pass-catching position while not being an elite pass catcher means a team is getting a real glue guy — and possibly a do-everything fullback type of player.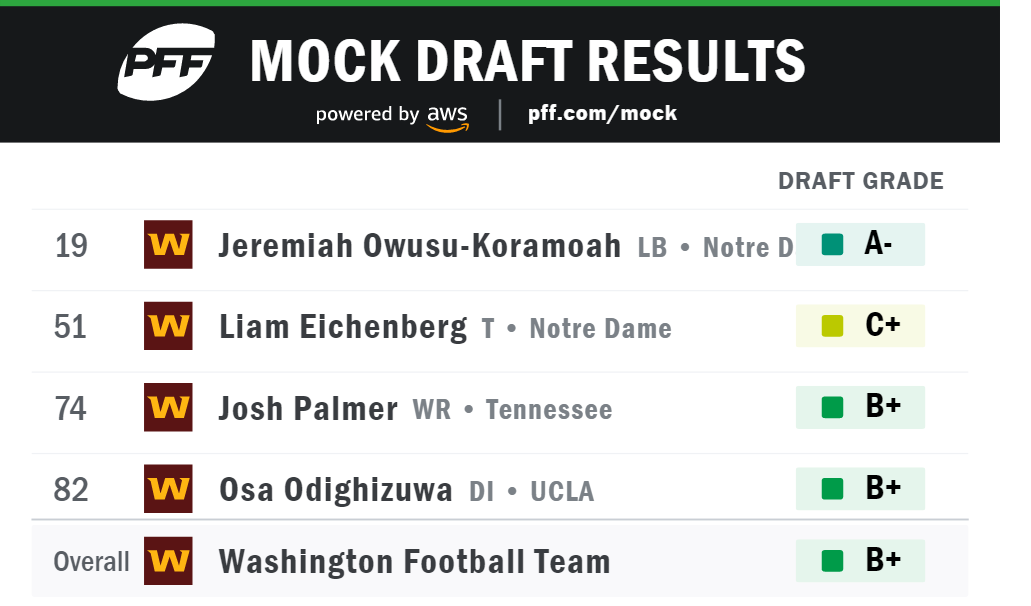 Whether JOK ends up playing as the Nickel or the Will, there is a place for him on Washington's defense. With the team's signing of William Jackson III, there is probably some room to play more man coverage than the predominantly zone defenses the Football Team played last season. And that would probably mean a move inside to Will for JOK.
A more zone-heavy approach could see him stick at Nickel. Either way, Washington is getting one of the most explosive players in the draft. He has an NFL body, so he can fit in right away. He also has the playmaking skills to get the job done from any position they put him in.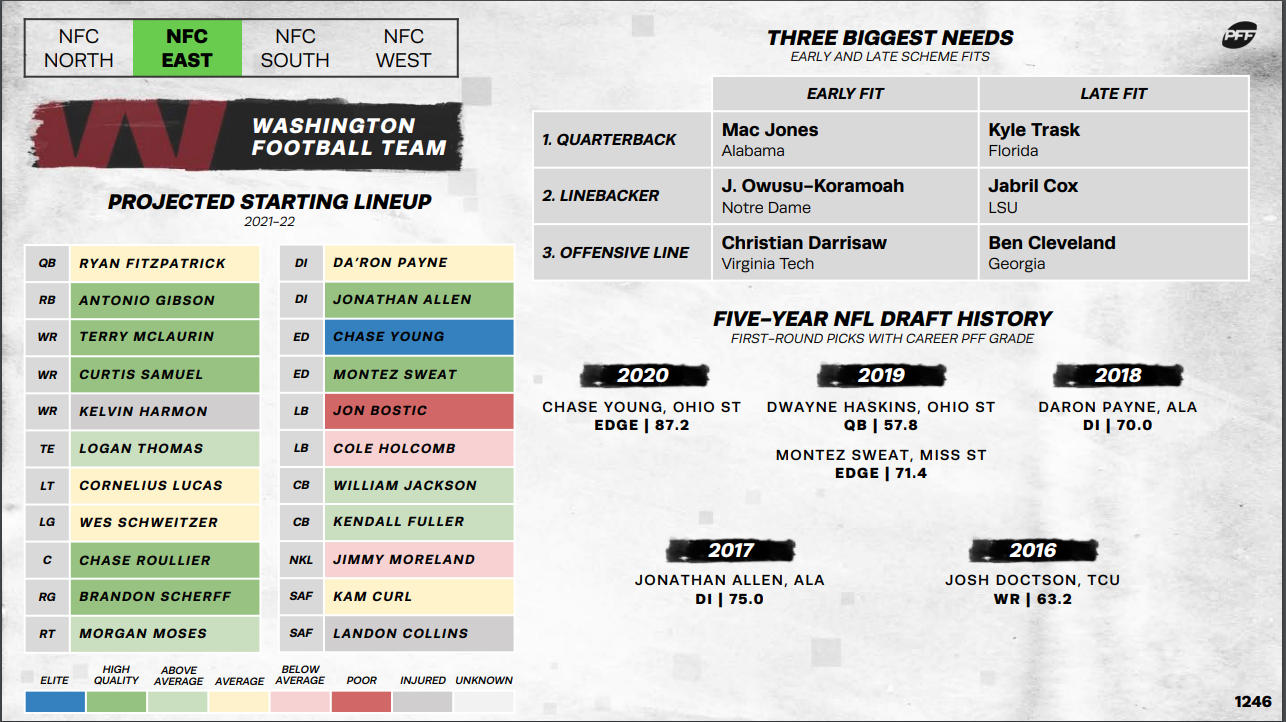 JOK classmate Liam Eichenberg is the second pick here to solidify Washington's offensive line as one of the NFL's best. The team is solid on the right side, so bringing in left tackle Eichenberg helps to balance the line out. You might not like taking a tackle without elite physical traits this high, but he makes up for it with wonderful technique. He didn't allow a sack over his last two years of college action, which tells you everything you need to know about him. Notre Dame's offense was as pro-style as a college offense can be, and Eichenberg excelled in all phases of it.
Terry McLaurin and new addition Curtis Samuel form a top one-two punch in the NFL at receiver. The Football Team still need to round out that group, though, so they take Palmer here. McLaurin and Samuel give them something completely different from what Palmer does right now, so he'll complement that duo right out of the gate. Palmer is a vertical runner and can take the top off the defense while Mclaurin works the intermediate area and Samuel works underneath.
With a player like this, you're hoping his pass-rush moves eventually come along. For now, though, you are getting a plug-and-play run defender with some really nice speed and explosiveness. Odighizuwa is on the small side, which is why he's not at least a second-round pick, and that might scare off some teams. It feels like he's still learning what to do with his hands and how to have a counter move. If he figures that out, this is a steal in the late third round.
---
View PFF's 2021 NFL Draft position rankings: