The 2021 quarterback carousel continues.
Weeks after the Los Angeles Rams traded Jared Goff to the Detroit Lions, the quarterback who was taken one pick after Goff in the 2016 NFL Draft is now on his way to join the Indianapolis Colts.
According to ESPN's Adam Schefter and Chris Mortensen, the Philadelphia Eagles have agreed to trade quarterback Carson Wentz to Indianapolis in exchange for a 2021 third-round pick and a 2022 conditional second-round pick that could become a first-round selection.
Per a following report from NFL Network's Mike Garafolo, the conditional second-round pick becomes a first if Wentz plays 75% of the Colts offensive snaps in 2021 or if he plays 70% of the snaps and takes the team to the playoffs.
No matter which way you slice it, both Goff and Wentz struggled mightily in 2020. Goff finished the season with a 71.4 PFF grade that ranked 22nd among 42 qualifying passers, while Wentz struggled to a 34th-ranked mark of 65.0. And while some would probably argue Wentz had previously exhibited a higher ceiling while handling a harder workload, the disparity in compensation is still stark.
Goff's $22.2 million dead cap charge for 2021 once set an NFL record, but that record has now been shattered by the $33.8 million charge that Wentz will leave behind in Philly.
We may be experiencing a turning point in the NFL, as some teams are seemingly no longer constrained by sunk cost and salary-cap burdens. The Rams and Eagles were already known for taking more risks and being more aggressive in their approach to roster construction, so it's also possible they continue to be outliers compared to the rest of the league.
Goff and Wentz were both signed to early extensions after their third season in the league, and neither will end up playing a snap for their original team under the new deals. Back in 2018, Goff signed a four-year, $134 million extension with $110 million in total guarantees; Wentz followed suit with a four-year $128 million extension with $107.8 million in total guarantees.
Goff ($30 million) and Wentz ($29.6 million) would have received much less if the two teams had let the rookie deals and fifth-year options run their course. This can be the risk of the early extension, though there are of course huge potential benefits, as well.
It will be interesting to see if these trades influence the decisions this offseason for the Browns, Bills and Ravens. Each team's 2018 first-round quarterback — Baker Mayfield, Josh Allen and Lamar Jackson, respectively — have had stretches of elite play, but have also struggled at various times in their first three seasons.
The Colts are trading for Carson Wentz on the proviso that the 2020 version of him is not the real one. The No. 2 overall pick of the 2016 NFL Draft was terrible this past season, bad enough that he played his way to the bench, and he led the league in turnover-worthy plays (24) despite only playing in 12 games. His 65.0 overall PFF grade finished just above Denver's Drew Lock and Chicago's Mitchell Trubisky, but it was Wentz who recorded the highest rate of negatively graded plays in the league.
Still, Wentz isn't long removed from being a top draft prospect, and there will no doubt be a renewed sense of optimism around his prospects as an NFL passer now that he's been reunited with Frank Reich in Indianapolis. Reich has served as the Colts' head coach for the last three seasons, but he held the position of offensive coordinator for the Eagles during their Super Bowl-winning season when Wentz was having an MVP-caliber season before injury shut him down late and handed an opportunity to Nick Foles for the playoffs.
Carson Wentz: PFF grades and rank since 2016 (regular season only)
| | | | |
| --- | --- | --- | --- |
| Season | No. of dropbacks | PFF grade | Rank |
| 2016 | 662 | 69.9 | 22 of 39 |
| 2017 | 502 | 84.9 | 6 of 42 |
| 2018 | 448 | 79.4 | 14 of 39 |
| 2019 | 679 | 76.5 | 14 of 39 |
| 2020 | 509 | 65.0 | 34 of 42 |
In an earlier piece of analysis for PFF, data scientist Kevin Cole used the same Bayesian updating methodology that has powered our MVP projections to project Wentz's level of play going forward.
The core of the methodology builds off our expectations (the prior) and updates those expectations with the evidence quarterbacks reveal to us in the NFL through their play, specifically through their PFF passing grades. Using historical career ranges across the league and the variance of grades on a play-by-play basis, we can accurately predict a range of outcomes for quarterbacks before and after each pass. Those ranges of outcomes are widest at career beginnings then narrow as we become more confident in who a quarterback actually is based on how he's played.
Carson Wentz has five years of NFL play under his belt, and if we break his spot range of outcome prediction into pre-NFL and after each of his five seasons, we can compare each range for those points in his career.
The percentiles in the plot are based on quarterbacks with 2,000-plus dropbacks from 2006-2020, whom I'm using as a proxy for franchise quarterbacks. For reference, quarterbacks near the 50th percentile are Alex Smith and Andy Dalton. The 65th percentile is roughly the outcome for Cam Newton and Kirk Cousins. The 80th percentile lands by truly elite careers like those of Ben Roethlisberger and Philip Rivers.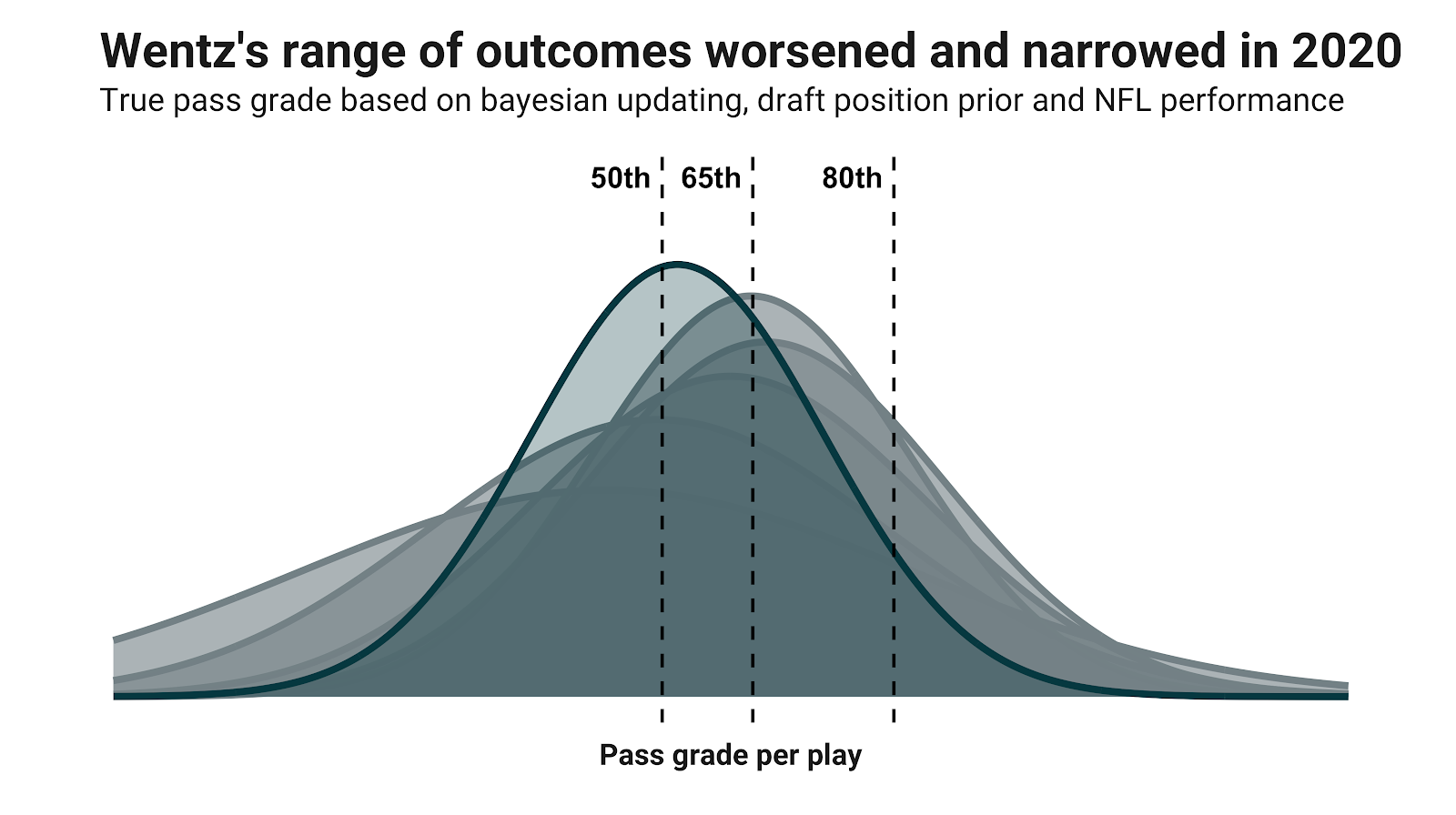 You can see that the gray ranges (2016-2019) for Wentz have narrowed and risen over time, each move marking a transition from one year to the next, with the green range marking his possible outcome distributions as of right now. Distributions for Wentz's passing grade moved largely in one direction from before his rookie season in 2016 through 2019.
Each season revealed a likely above-average franchise passer until the distribution shifted this past season back down to the 50th percentile. Not only did the midpoint of Wentz's distribution fall, the tail for his distribution that lies above the 80th percentile shrunk dramatically, giving us less hope that Wentz is truly an elite passer.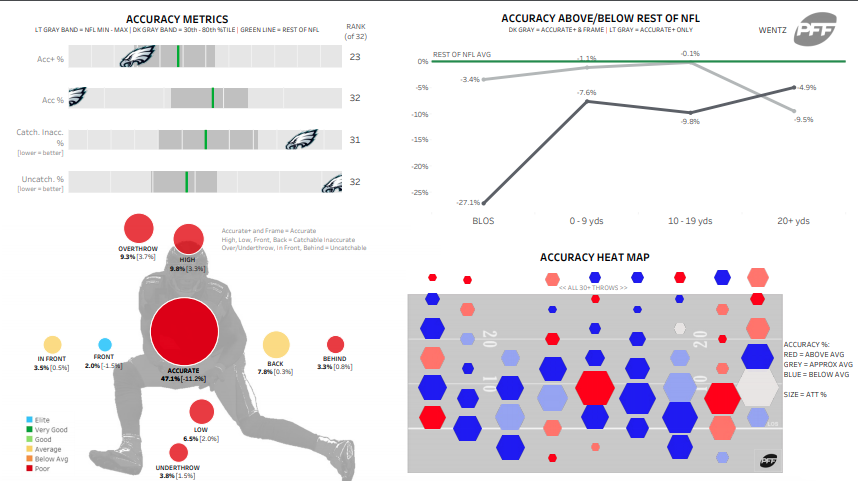 While the fall in the range of outcomes for Wentz is discouraging, it's not as severe as the impression we'd get from talk of him being a broken quarterback. Yes, Wentz isn't on the same career trajectory as before this season, but we don't want to write off what he displayed across 2,300 dropbacks from 2016 to 2019 and see the last 500 from 2020 as all that matters.
| | | | |
| --- | --- | --- | --- |
| Season | 80th | 65th | 50th |
| Pre-rookie | 17.5% | 31.7% | 42.7% |
| 2016 | 15.0% | 33.7% | 49.1% |
| 2017 | 20.3% | 45.4% | 63.3% |
| 2018 | 23.4% | 52.6% | 71.7% |
| 2019 | 17.8% | 49.4% | 71.2% |
| 2020 | 7.0% | 30.6% | 54.2% |
The likelihood of an elite, 80th-percentile career for Wentz fell slightly after a difficult rookie season then rose over the next two years before a slight step back in 2019. The fall in 2020 was precipitous, from 17.8% to only 7%. That fall mirrors the decline in 65th and 50th percentile outcomes to 30.6% and 54.2%, respectively.
While a most likely outcome of average, Alex Smith-like quarterback play isn't thrilling, it is a winning formula with the right supporting cast and a positive step for a Colts team that just lost a declining Philip Rivers to retirement.
Philadelphia went into these trade negotiations with the knowledge that NFL personnel take forever to come off their priors on a player and often have incredible faith in their abilities to "fix" whatever has broken a player. Frank Reich appears to be no different, given this move, and will look to lift Wentz back up to the heights of his 2017 season where he earned an overall PFF grade of 84.9 — 20 grading points higher than his 2020 grade — and ranked just behind New Orleans Saints quarterback Drew Brees.