The Kansas City Chiefs continue to be the class of the AFC West, while the rest of the division will be getting ready to knock them off their perch. And surprisingly, the Denver Broncos, Las Vegas Raiders and Los Angeles Chargers are not that far away, especially if any of them can put together a complete draft.
In the lead-up to the 2021 NFL Draft, PFF will be putting together mock drafts for every division in the NFL. After starting with the AFC East, we now turn to the AFC West, where Andy Reid, Patrick Mahomes & Co. will be planning to continue their reign of dominance.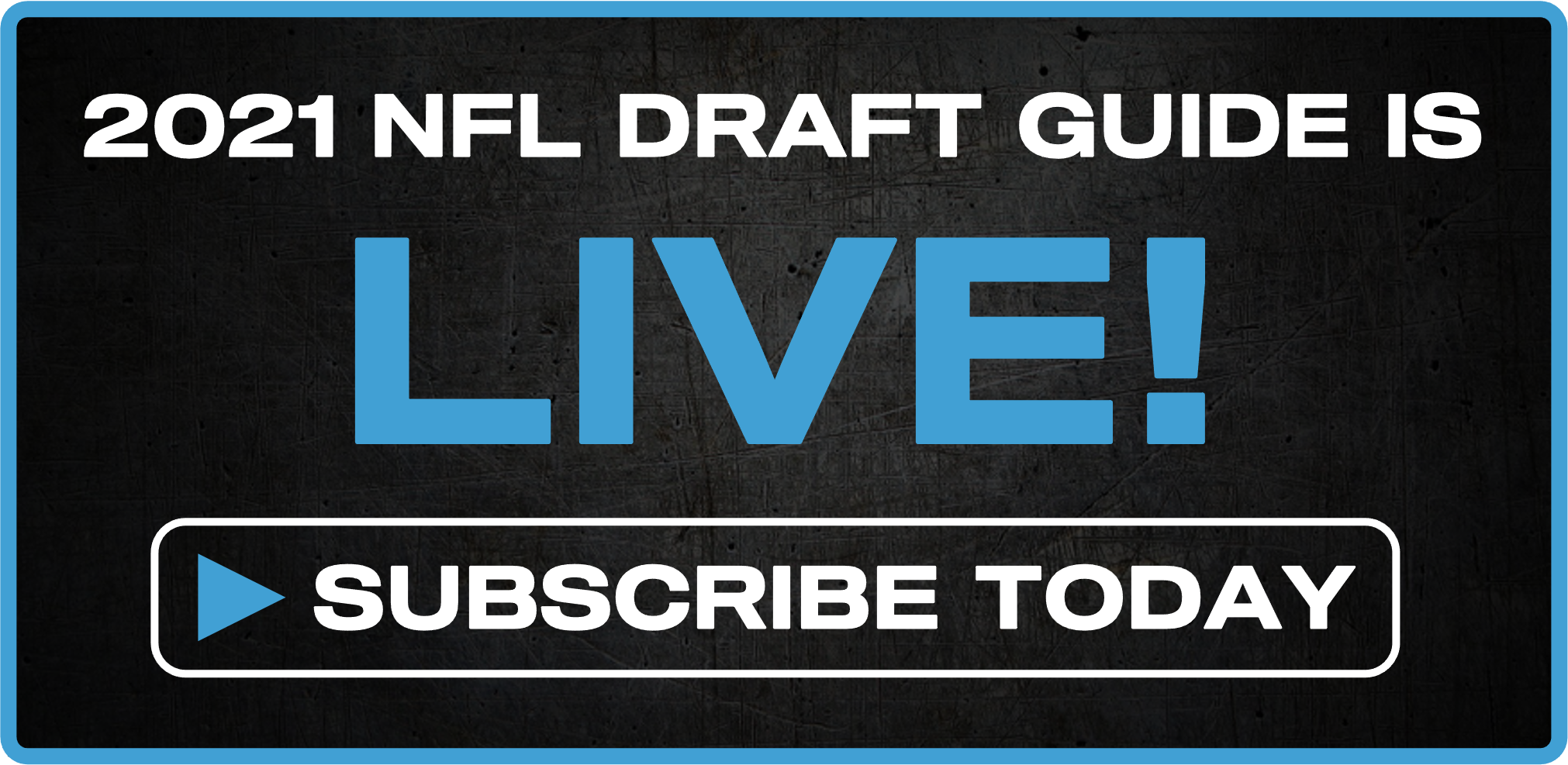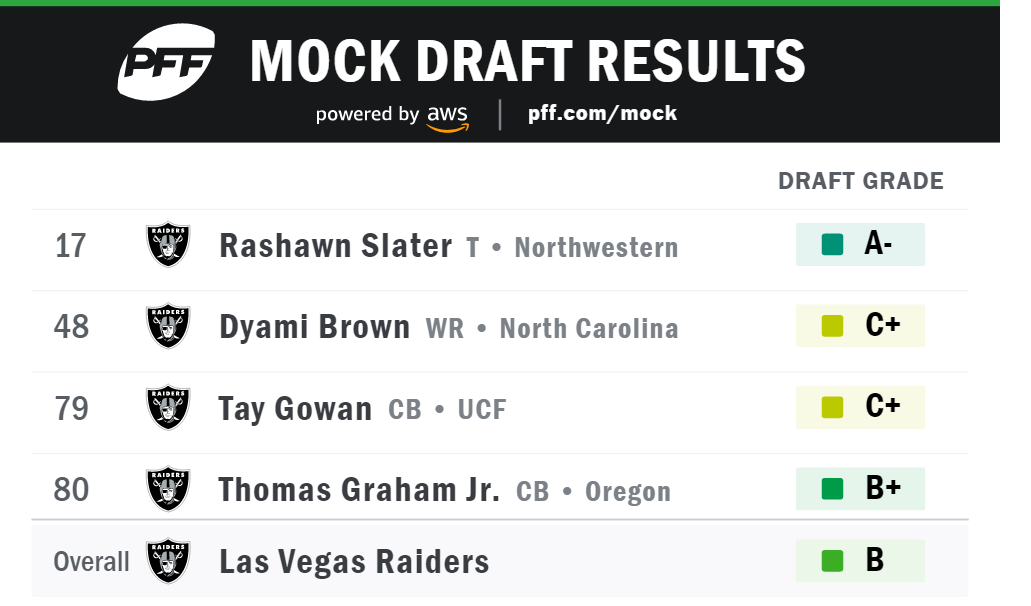 It is incredible how much difference one offseason can make. Take the Raiders, for example, who will go into the NFL draft with far more holes on their roster than they had a couple of months ago. And all of a sudden, the Las Vegas offense needs an injection of first-round talent.
Northwestern tackle Rashawn Slater falls to them at Pick 17 in this particular mock, and there's a good chance that Christian Darrisaw will be there for them at this pick if Slater is not. Alternatively, Mike Mayock could opt to go in the direction of receiver to fill the hole left by Nelson Agholor's departure.
Slater has been starting for Northwestern ever since he stepped on campus in 2017. He was one of the highest-graded true freshmen in the country at right tackle that season, posting a 75.0 overall mark. He finally switched to left tackle as a junior in 2019 and allowed just five total pressures — and no sacks — across 355 pass-blocking snaps.
The worst-case scenario for the Raiders in this spot is that Penei Sewell, Slater and Darrisaw, as well as the "big four" receivers in Ja'Marr Chase, DeVonta Smith, Jaylen Waddle and Rashod Bateman, are off the board when they pick. As unlikely as that scenario is at this moment, it would spell big trouble in Las Vegas.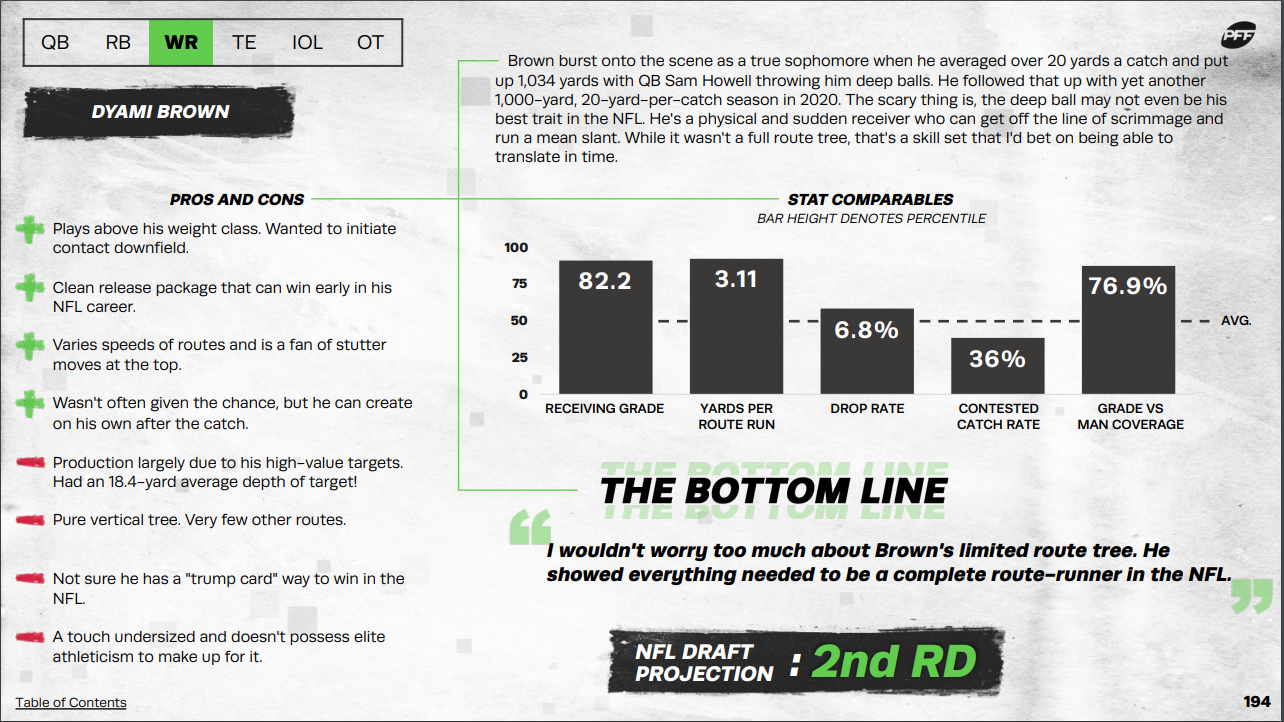 It's pretty simple for Las Vegas: take a tackle early and then take a receiver, or take a receiver early and then take a tackle. After picking Slater in the first round, they go for a receiver in Round 2 to fill the need at the recently vacated X position.
Dyami Brown and LSU's Terrace Marshall Jr. were on the board at this pick. While both players can play outside, Brown played almost exclusively in that X role, while Marshall saw snaps both as a Z receiver and in the slot during his college career.
The issue with Brown is that he has almost no experience in the slot. He played just 51 slot snaps over his three-year career, and he is going to have to move around outside of just "left wide receiver" in the NFL. However, he has an excellent get-off against press to pair with translateable route-running ability. He averaged 3.11 yards per route run last season, 14th among 68 qualifying draft-eligible wide receivers.
I went with back-to-back cornerbacks here with the idea that at least one of these draft prospects will pan out.
Gowan is a tremendous athlete and allowed a 54.9 passer rating on throws into his coverage back in 2019, but he's still a small-school corner who seldom had to face top-tier competition. We still don't know what his ceiling is: he may never figure it out at the NFL level, or he could emerge as a steal with the right coaching.
With Graham, it's the opposite. He's played 1,786 more snaps, and while he may not be the athlete Gowan is, he is a great technical cornerback who we believe can also play in the slot.
These are two completely different players from a production and athletic standpoint, and considering the weapons the Chiefs have at their disposal at receiver, they might need both to pan out right away.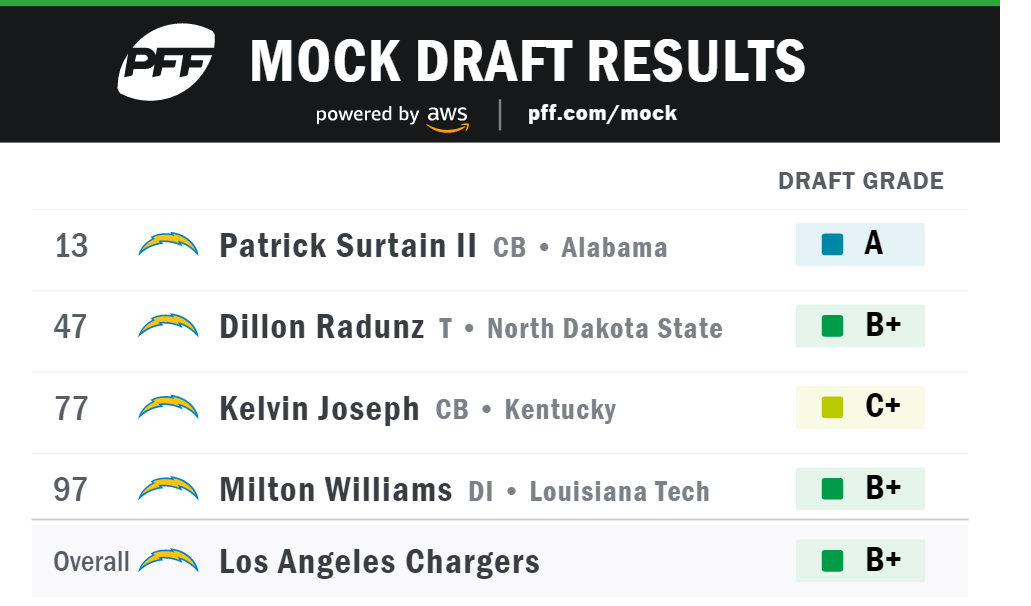 It was tough to pass Surtain up, even with some exciting offensive tackles on the board. With Brandon Staley at the helm, though, I think the Chargers will want to build from the rear of their defense.
Surtain would give them another piece to move around. Chris Harris Jr. mainly played in the slot last year, and they released veteran cornerback Casey Hayward Jr. this offseason, so there is an opportunity for Surtain to come in and play right away on the outside with some inside snaps mixed in. Surtain can lock down almost everyone he goes up against in press coverage on the outside, which would allow Staley to get creative with his two-high coverages inside.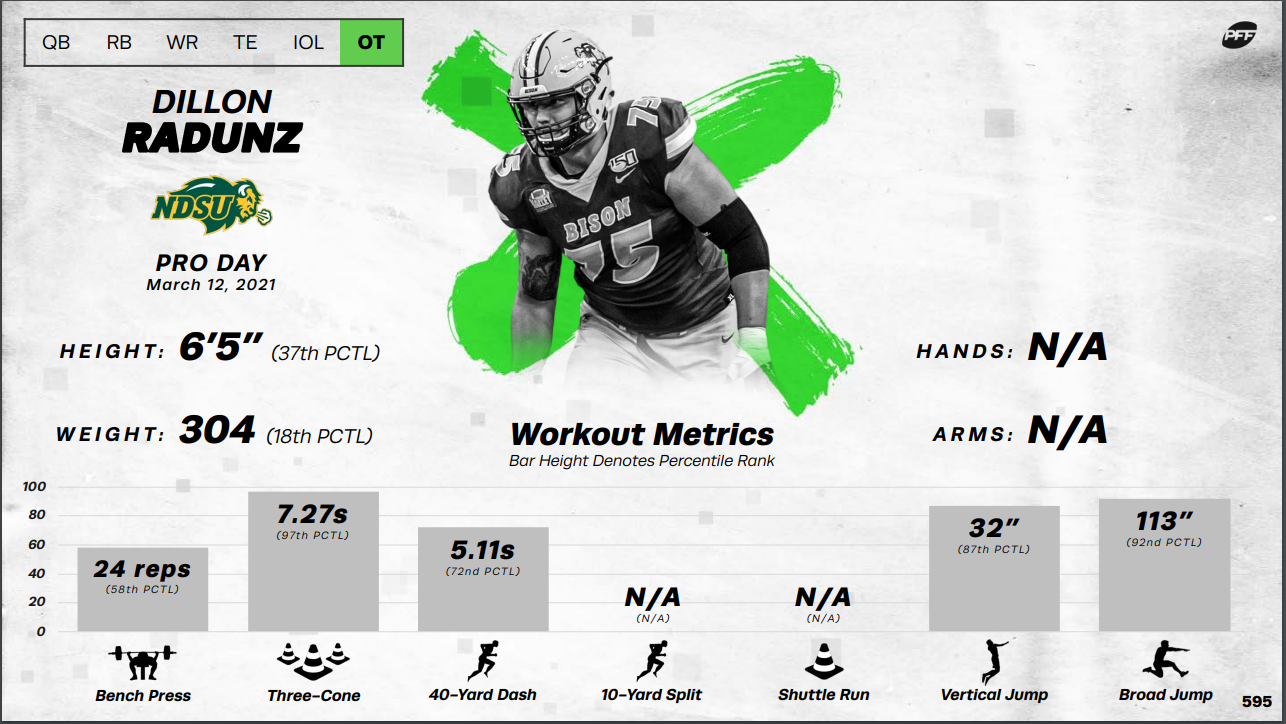 The Chargers could go tackle in the first round, but they're in a weird position where Slater and Sewell will be off the board, so it will be up to their evaluation of someone like Christian Darrisaw to see if they want to take him that early.
In this scenario, having just taken Surtain at Pick 13, they need to go tackle at Pick 47 to help protect quarterback Justin Herbert.
Radunz is a fun player because of his athletic profile, although he does need to refine his technique. His detractors will point to his lack of true pass sets playing in the Bison system, but we all remember the same criticisms about now-Jets tackle Mekhi Becton coming out of Louisville last year — and we all saw how that turned out.
Radunz has shown the explosiveness and agility to be a starting-caliber NFL tackle, and at Pick 47, it would be a high-value selection for L.A.
The Chargers take another cornerback with the selection of Kelvin Joseph just because of the abundance of receiving talent in the division.
Joseph is a player with high upside. His evaluation would have been a little easier had he stayed with the man-coverage-heavy LSU Tigers, but he played admirably within the three-high safety looks Kentucky rolled with last season. He had an up-and-down year overall but showed out against Alabama, allowing zero catches on three targets and coming away with a pick.
Williams is an undersized but hyper-athletic interior defender with good run-stopping and potentially elite pass-rushing ability from the inside. We could see the Chargers line up in a 3-4 next season, so finding interior players to gum up the interior but still get off against the pass is important. He would start right away in a rotation and can potentially play a few different roles inside.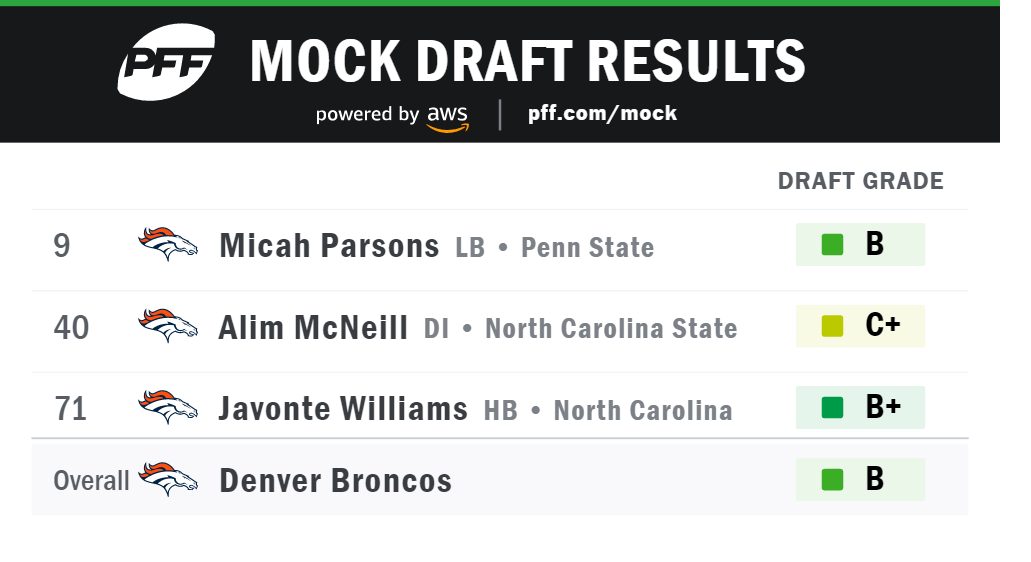 The Broncos' pick at No. 9 is at the crossroads of the whole draft. In this scenario, where they are trying to eliminate the Chiefs from their western perch, they are not going to trade up to take a quarterback. Nor are they going to pick a quarterback at No. 9 should they stay there. In this universe, the Broncos believe in Drew Lock because they can't afford to reset with a new quarterback.
Parsons, who I believe will probably drop a bit in real life, is the pick because the Broncos could use an upgrade at inside linebacker, not that Alexander Johnson and Josey Jewell are bad, but because Parsons can be special. He earned the second-highest run-defense grade we've ever given in 2019 (94.8) while also finishing with the third-highest tackling grade in the country (90.0).
McNeill becomes a Broncos fan favorite the minute he puts on the jersey. He can be a complete and selfless run defender from a few different spots along the defensive line, though mostly from a nose alignment. He is the modern NFL nose tackle, and with teams slowly heading back into a 3-4 world, he fits perfectly in that position. He's missing some juice as a pass-rusher in terms of hand usage, but you can get pretty far with a devastating first step — which he has.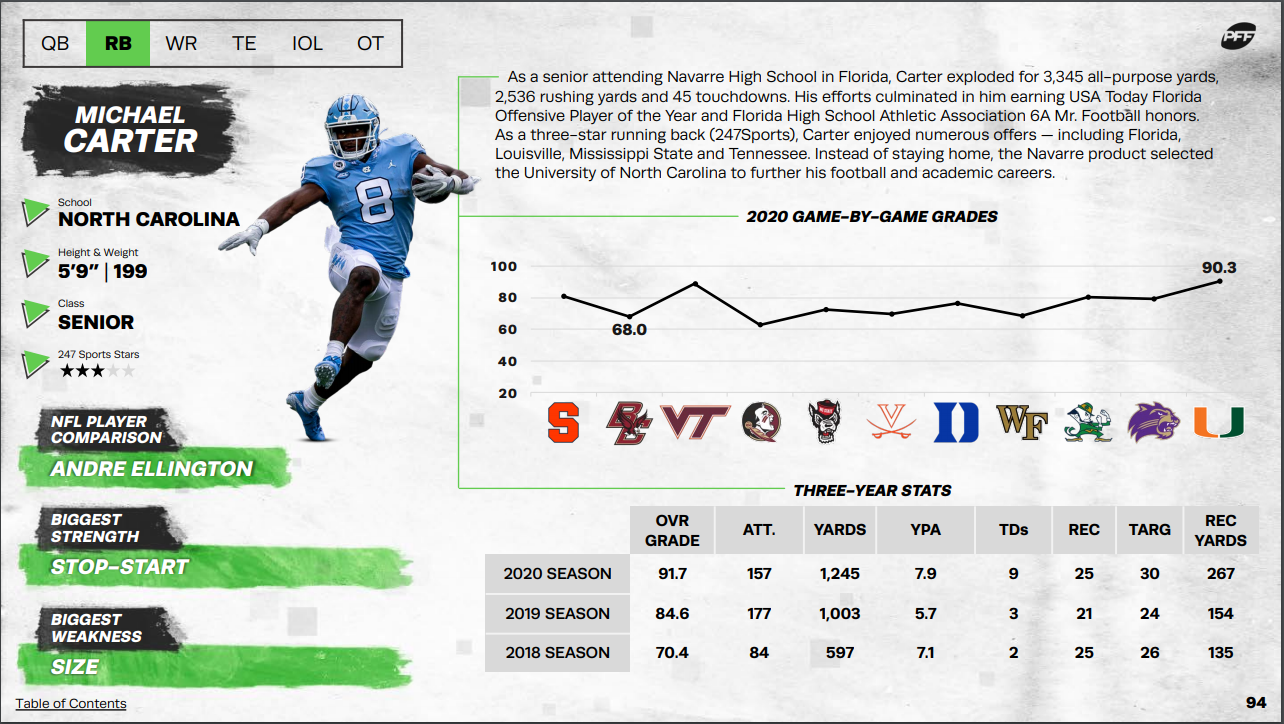 The Broncos recently released running back Phillip Lindsay, so they won't have anyone to turn to if Melvin Gordon III's play takes a downturn. That's a situation they can ill afford.
Finding a solid running back in the third round is great, but finding the top running back in the class in the third round is even better. That's who Javonte Williams is. He broke the PFF record for broken tackles per attempt (0.48) last season, and his 75 broken tackles led the country. His 95.9 rushing grade was also far and away the highest we've seen in a single season.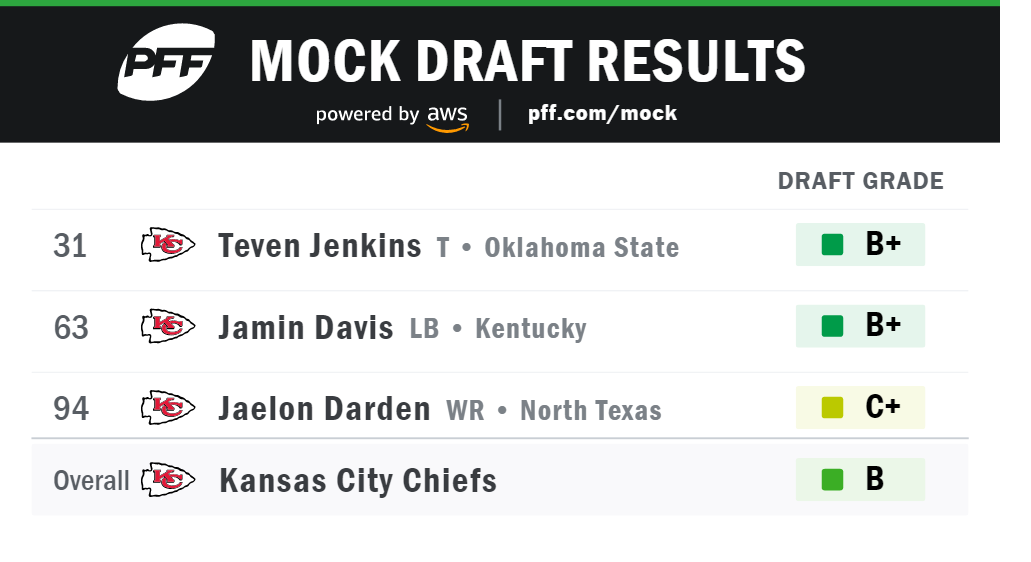 For a team that has played in the last two Super Bowls, it feels odd to think that they must hit on some good players in the upcoming draft. But with how shaky their current offensive line situation is, that's where we are.
There should be quite a few tackles the Chiefs can take when they come to the podium. We went with Jenkins, who is a bully with nimble feet. He has improved every year in college to become the dominant player we saw earn a 92.0 PFF grade in 2020. He's allowed two sacks in the last three years.
The Chiefs have some needs on defense, but I think they'll try to find the kind of linebacker who can play by himself in the dime defense packages defensive coordinator Steve Spagnuolo loves so much. Davis has not played a ton of snaps in his career, but when you project him to the NFL, he is that type of linebacker — he is fast, skilled and finds the ball carrier with ease.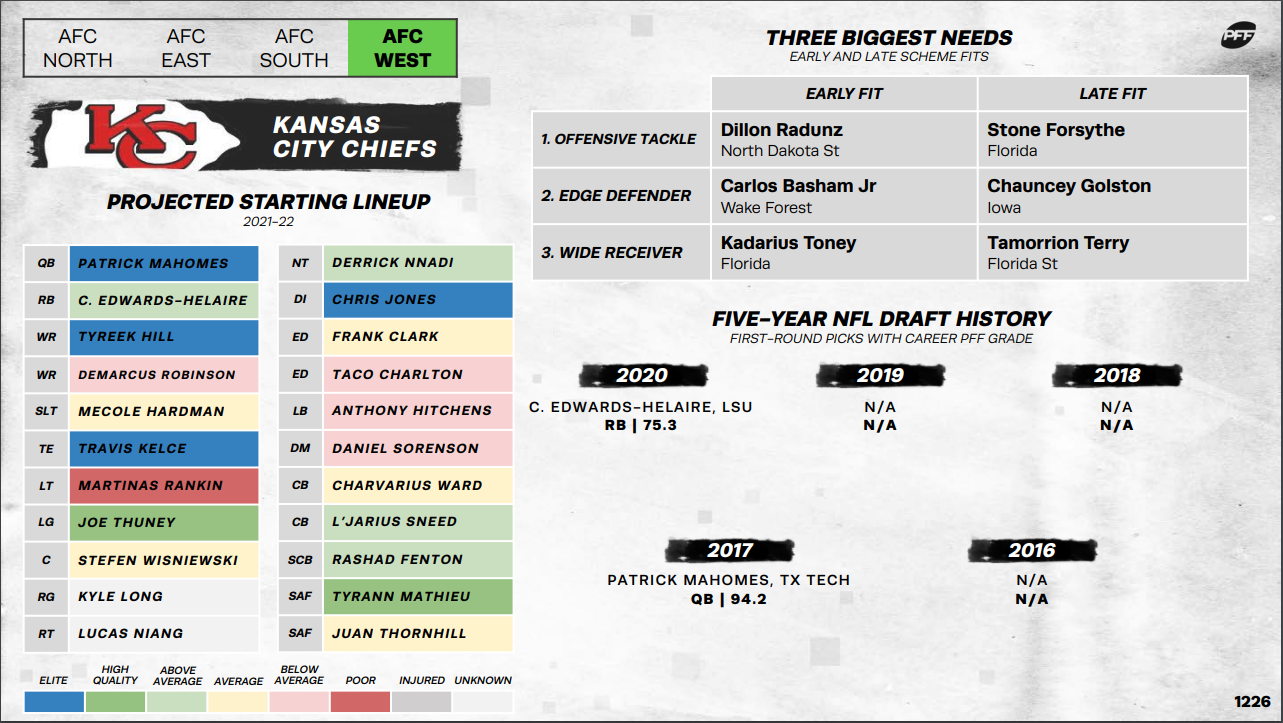 If I was Kansas City — and for this exercise, I am — I would continually throw darts at receivers in an effort to find that third receiver on a cheap contract. It doesn't seem to have worked with Mecole Hardman, so now they take Darden out of North Texas.
Darden is a burner without much of a route tree, but that may work for the Chiefs. He's also probably better than Hardman with the ball in his hands, so the Chiefs can create some screens for him to get his beak wet early.
---
View PFF's 2021 NFL Draft position rankings: