The Steelers won the AFC North in 2020 in precarious fashion, with their regular season ending in a disastrous run of poor form. The Browns and Ravens were right on their tail by the end of the campaign, while the Bengals will hope for a Joe Burrow explosion in 2021 to catch them.
We've put together a three-round mock draft that will certainly satisfy each team's hopes and dreams to win the AFC North in 2021 or, for the Steelers, to continue to hang on by a thread at the top of the division.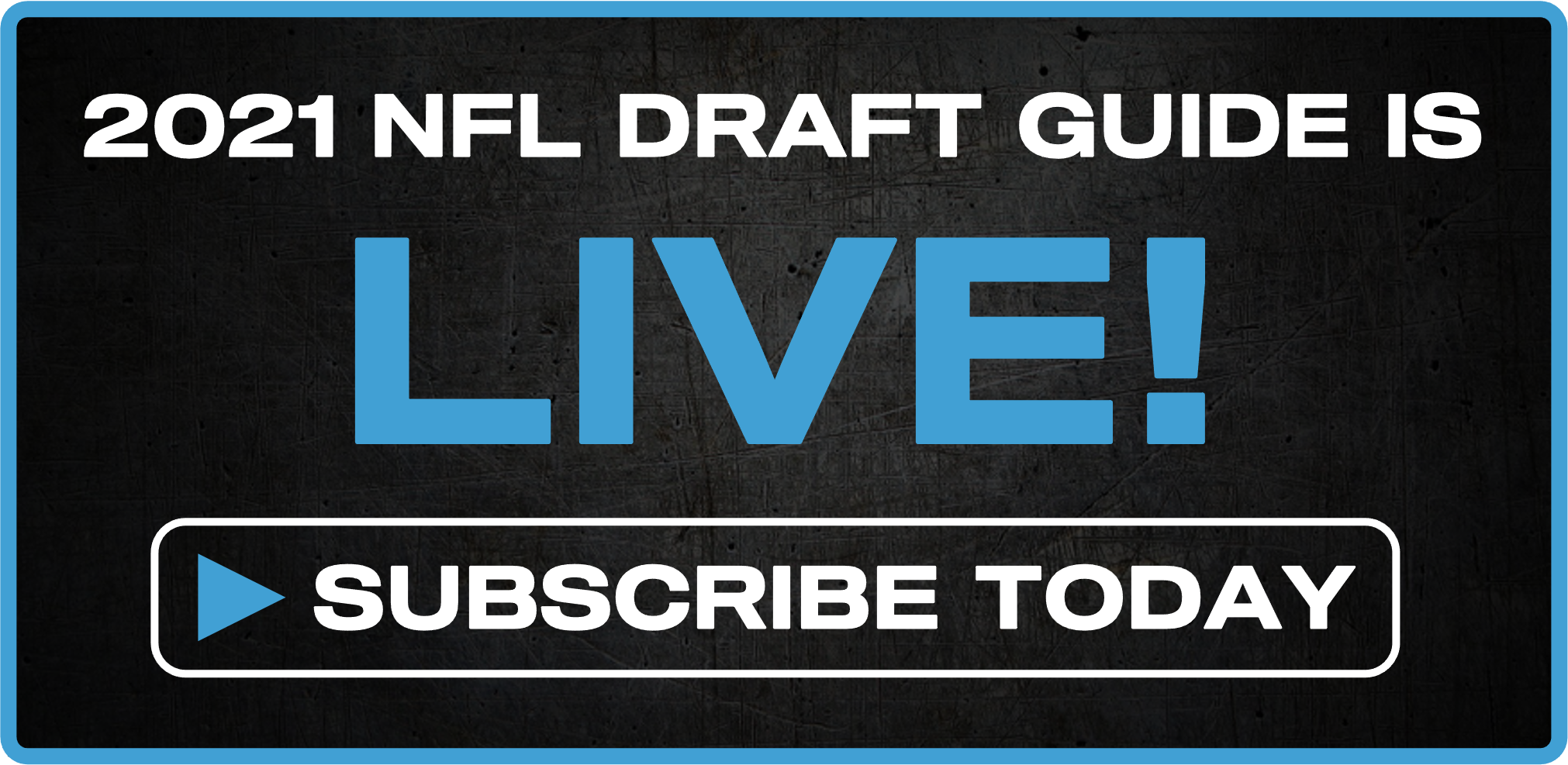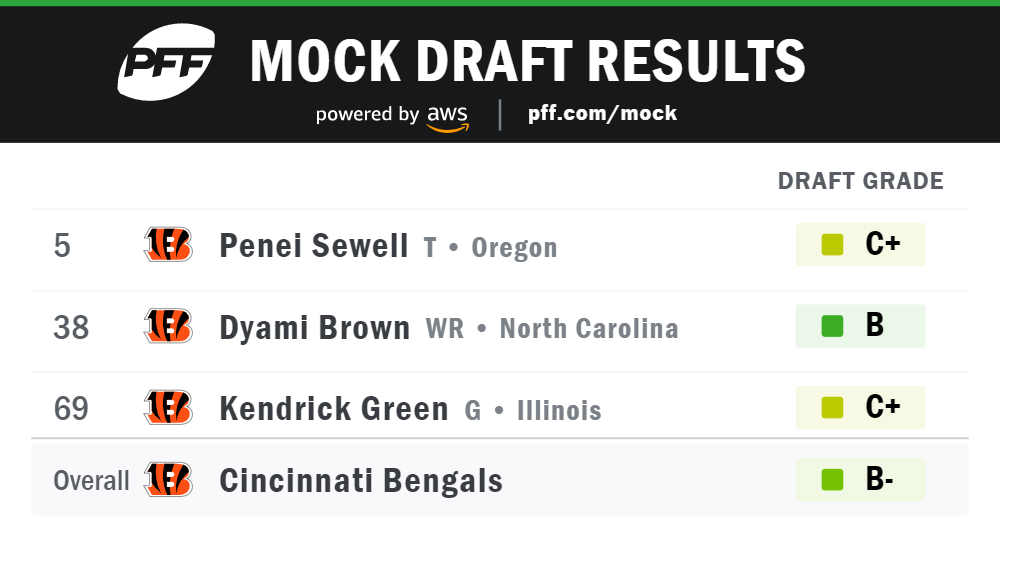 Yes, Ja'Marr Chase is probably the top receiver in the 2021 NFL Draft, but is there that much of a difference between him and the other top guys? If the Bengals want a wideout, they should just trade down, snag an extra pick and take the guy that falls to them.
If they plan on staying at No. 5, then I would take Sewell, who makes defensive ends look like they are running in quicksand. We also have to look at the optics vis-à-vis Joe Burrow's injury that came from being hit by a pass rusher. The Bengals need to show they are going to protect their prized asset.
Now we get our outside receiver to pair with slot guy Tyler Boyd and wideout Tee Higgins. Brown lined up at an outside alignment on over 98% of the Tar Heels' snaps last year, specifically on the left. Former Bengals receiver A.J. Green played 83% of his snaps last season on the outside and also mostly on the left, but he departed in free agency.
It's a perfect "scheme fit," and you're hoping Burrow can actually find a connection with Brown in the way he couldn't with Green last season. There's going to be a glut of good receivers available to the Bengals at Pick 38, so I think they should go for a tackle and then a receiver.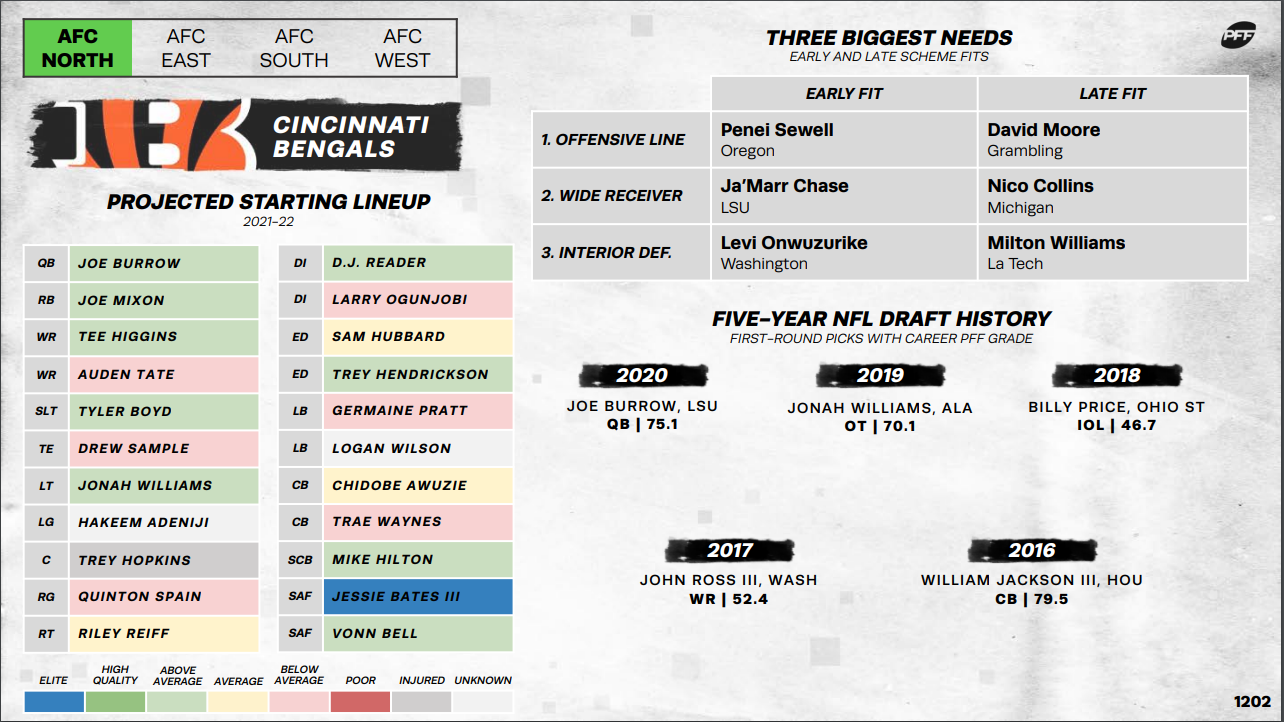 The Bengals could probably go in a few different directions here, but one thing we're not talking about enough is that their interior offensive line doesn't look great on paper. Hakeem Adeniji played like a rookie last season, posting a 51.6 grade on only 233 snaps coming off an injury. Cincinnati signed Quinton Spain, who has been slightly below average over the past three seasons with his 59.9 grade. Kendrick Green is a superb athlete who can move and reach players in the run game. While he has some learning to do in pass protection, there is a lot of upward mobility for him in that facet.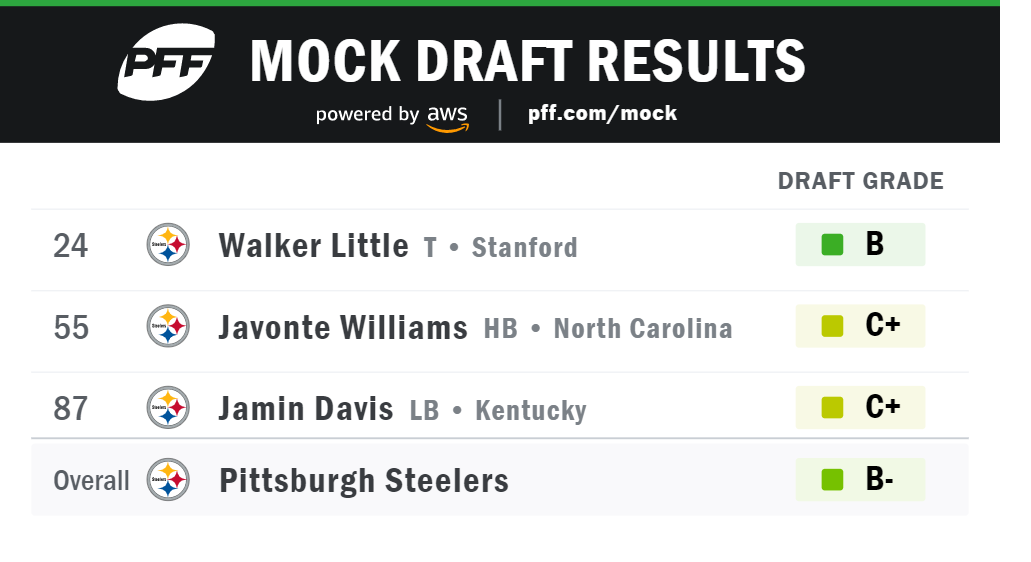 If the Steelers aren't going to take a quarterback — and Pick 24 would be a weird spot to do that — then let's protect Big Ben. He refused to hold on to the ball for any length of time in 2020, presumably because he didn't want his injury-riddled body to take any hits. Pittsburgh is losing mainstay Alejandro Villanueva and his 77.1 pass-blocking grade at left tackle, so the team must replace him immediately or Ben will continue to throw the ball short and quick, leaving the offense devoid of big plays. Insert Walker Little, Dillon Radunz, Christian Darrisaw or any other large human being. Little hasn't played in a few years, but he has all the tools to be an elite tackle in the NFL.
If the passing offense continues to be lackluster and short, the Steelers are will need a home-run hitting running back so that they can at least create explosive plays on the ground. Pittsburgh finished 31st in explosive run play percentage in the regular season. Javonte Williams' 4.59 yards after contact in 2020 is over a yard better than the Steelers' overall yards per carry mark last season. The Steelers will try to run him into the ground, and he will keep on breaking tackles and gaining extra yards. Clemson's Travis Etienne could work here, as well.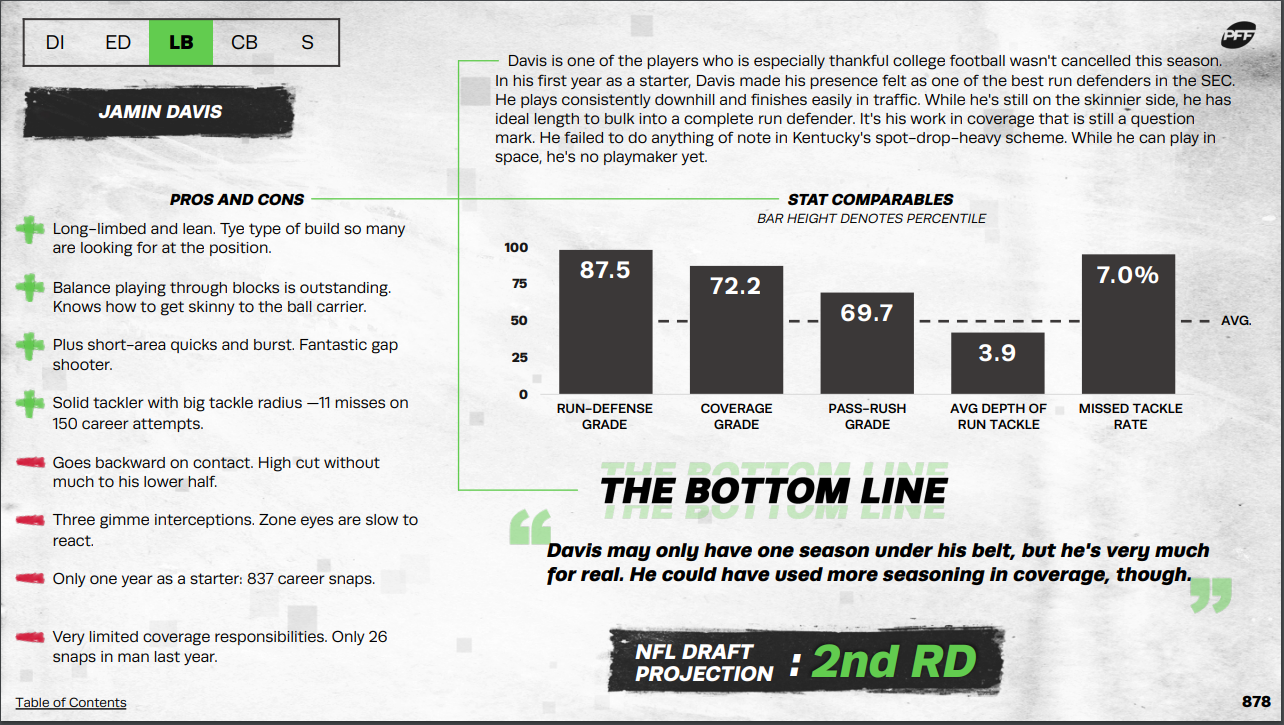 Pittsburgh also needs someone to play next to Devin Bush. Davis has been rocketing up draft boards the past couple of weeks because he is a freakish athlete who, while he needs to play a little better within himself, possesses great potential. His length is exciting for NFL teams, particularly with his ability to close open windows in the passing game and to match up body-wise with the new breed of NFL tight ends. He comes out of the box as a run stopper and has the traits to become a great coverage linebacker.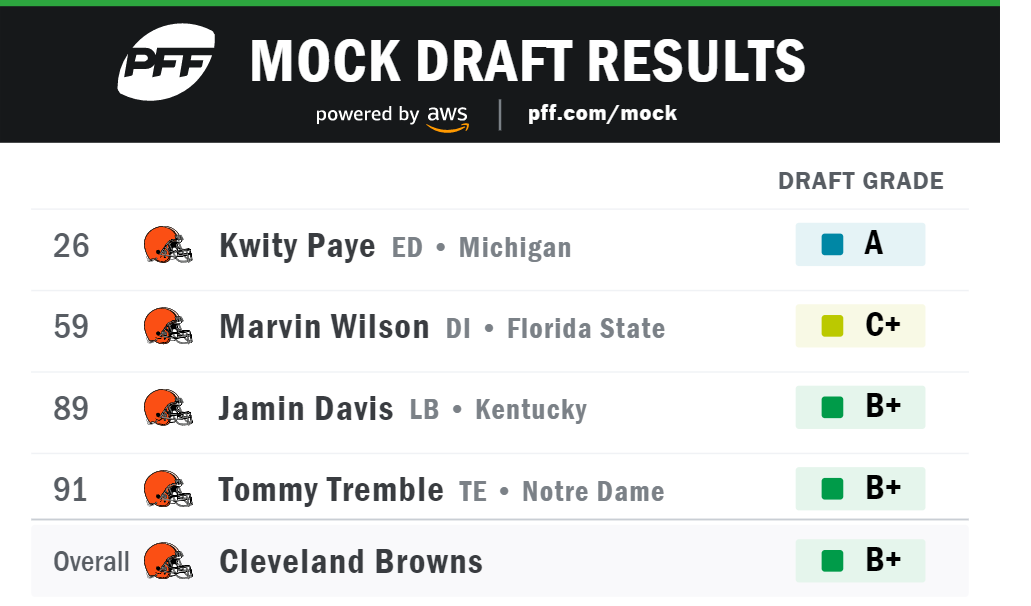 The Browns are in such a good spot after free agency. They went out and improved their secondary with two really good players in Troy Hill and John Johnson III. It felt like almost a guarantee that they would take a safety pre-free agency, but now with Johnson on board, they can look for an edge rusher to pair opposite of Myles Garrett.
With Paye, you are getting a super freak who didn't really put it all together at Michigan, but considering he'll come in as the No. 2 pass-rusher, that's OK. A pass-rush-needy team might not like him as much, but for the Browns, it's a luxury they can afford as he develops his game.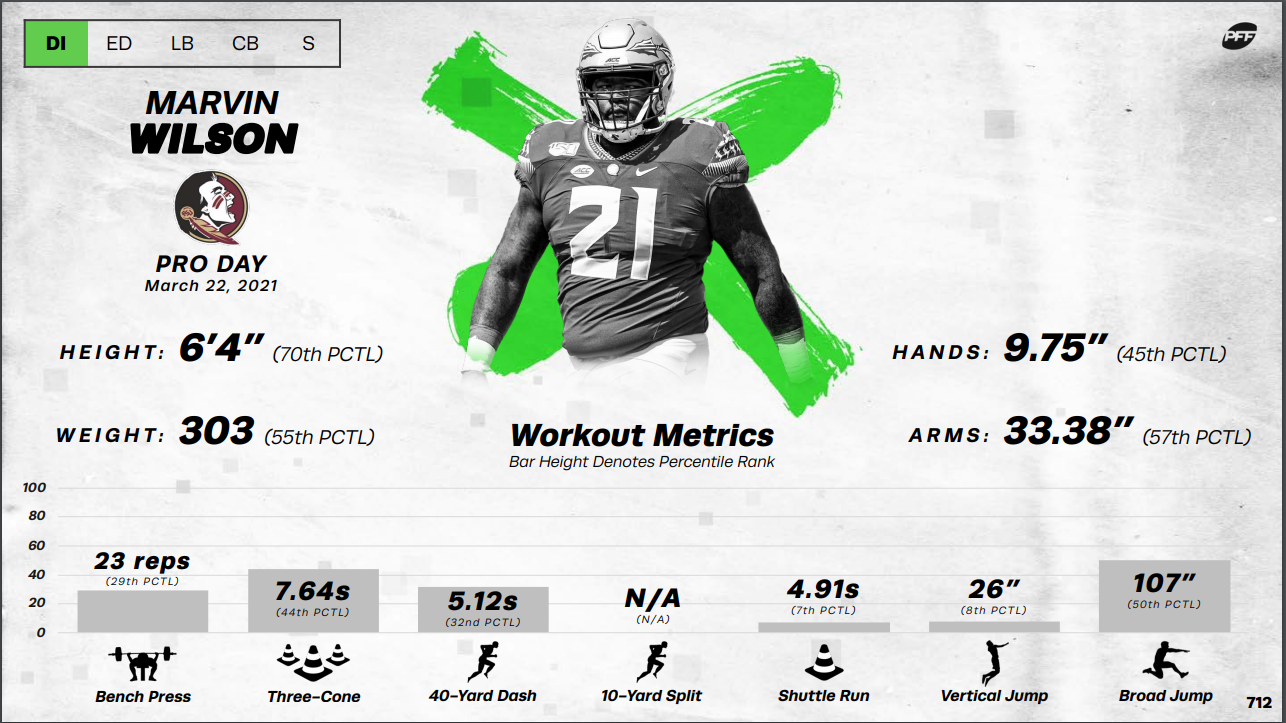 Marvin Wilson fell off a bit of a cliff in 2020 as the entire FSU defense hit a wall. Just looking at his 2019 tape, we see a player who can dominate from the interior and play either nose or 3-technique. You're banking on the 2019 version of Wilson coming to fruition in the NFL because he can get to the quarterback and also stop the run. He also didn't test very well at his Pro Day, so this is a bit of a reach — one the Browns can afford.
It would be hard to pass up Davis in the third round for all that was mentioned above. Malcolm Smith and Anthony Walker, the Browns' two projected starting linebackers, aren't bad but they also won't blow you away. Davis could prove to be an upgrade over either of them. Regardless, he would provide solid depth.
I think Browns head coach Kevin Stefanski would use the versatile Tremble in the same way San Francisco 49ers head coach Kyle Shanahan uses Kyle Juszczyk. Andy Janovich is a fine player, but he certainly isn't as versatile as Juszczyk, so maybe the Browns can find that in Tremble. The former Notre Dame tight end is a mauler in the run game, taking pride in blocking people off the field. He has the body and athleticism to be an interesting player in the passing game from the backfield, too.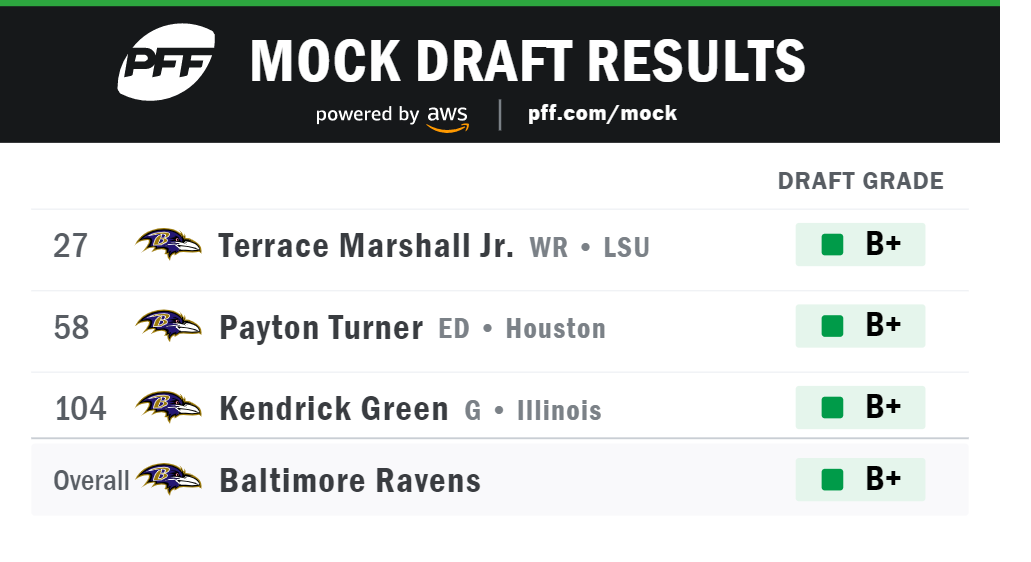 The Ravens added Sammy Watkins in the offseason but could still pick up another receiver. It seems like one of the no-brainer picks in this year's first round. The Ravens have to take a receiver. There will be plenty of solid options still available late in the first round. I picked Marshall here because the Ravens might like a guy with his height to pair with the shorter Marquise Brown. Marshall brings versatility, playing outside in 2019 and then in the slot for a lot of 2020. He has a nose for the endzone and would be a welcome addition to the Ravens' passing attack.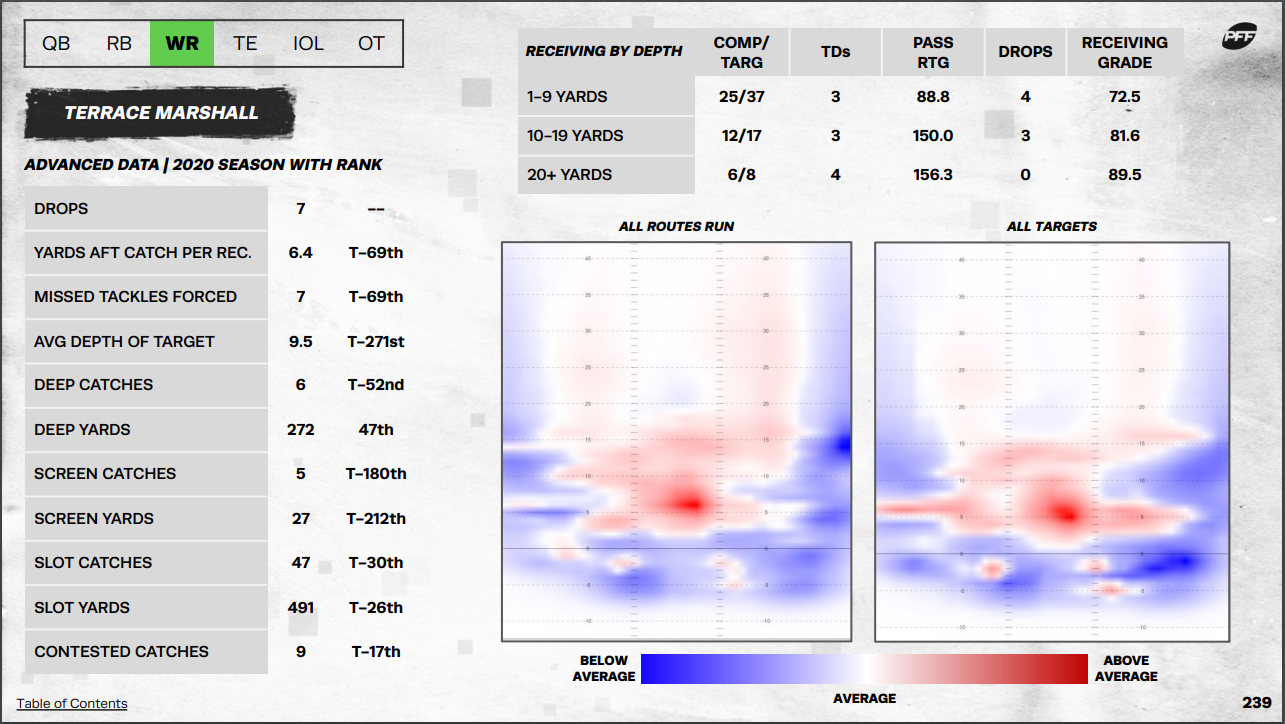 The Ravens have always been excellent at scheming up pressure on opposing quarterbacks, but their pass-rush unit is sorely lacking entering 2021, especially after losing Matthew Judon in free agency. Turner improved every year in college before recording an 87.7 grade this past season, albeit on limited snaps in Houston's shortened season. Turner has a great motor that the Ravens' brass will certainly like, and they can slowly develop him until his pass-rush plan improves.
Green is going to be a sought-after middle-round guard because of his athleticism and experience in a zone offense. The Ravens will have to develop him a bit to play in their scheme. Green is a worker, so he should be able to adapt when and if the time comes.
---
View PFF's 2021 NFL Draft position rankings: