We are now essentially in a post-free agency period after player cuts, trades and signings over the past couple of weeks. That means teams' needs in the 2021 NFL Draft have changed, too. Some franchises overhauled their rosters, while others that were pushed up against a lowered salary cap had to cut almost entire position groups.
In this new landscape, here are the five most interesting new draft fits that I like based on scheme.
When the Raiders lost Nelson Agholor to the New England Patriots in free agency, they also lost his 511 outside receiver snaps in 2020. Agholor led the team, by far, in snaps at that position, and Las Vegas is probably unsure if anyone on the roster can fill that void.
Henry Ruggs III played 352 snaps outside, which amounted to 60% of his total snap count for the year, but his effectiveness there remains to be seen. While Ruggs did play outside receiver, he was not often the isolated receiver, and his skill set doesn't quite match that of a true "X" type of wideout.
Rashod Bateman can replace Agholor's snaps outside and play as an iso receiver. Bateman is a prototype at that position with his quick feet, and he possesses more than enough power to get going against press coverage. Isolated receivers are going to get pressed, and it's a pleasure to watch Bateman use his exquisite technique to beat it. He's very different in that sense from LSU's Ja'Marr Chase, who uses pure power and strength to release himself from jams.
Bateman relies on almost robotic technique. We can see the difference in receiving grade when Bateman has lined up in the slot versus out wide over the past two seasons. He put up a decent 74.8 grade from the slot but a 90.5 grade from out wide. Bateman and Chase both fit a need for the Raiders post-free agency, but the Minnesota product figures to still be on the board at the time the Raiders make their selection. He would be a tremendous pick for them.
The Jets' linebackers were among the worst in the league last season, with their cumulative grade coming in at a measly 39.3, the lowest in the NFL. New York went out and signed Jarrad Davis, who could revitalize his career in a new setting, but a lifetime 45.8 PFF grade tells you that is an uphill battle.
Robert Saleh will be looking for his NFC East version of Mike linebacker Fred Warner, and with Bolton's pro day numbers coming in not so hot, he could fall enough in the draft to a team such as the Jets. Bolton is not the athlete that Warner is, but there's a way to protect him — especially in pass coverage — with the way Saleh likes his defense to play.
Warner was not caught carrying vertical routes all over the field often, as Saleh preferred to sit him in the hook zone and pass off routes before reacting to the ball being thrown. Warner did have to chase down bubble screens because he was often aligned inside the No. 3 receiver, and his athleticism showed out there.
Bolton posted a nice 40-yard dash time (4.59 seconds), but his overall athleticism is not quite at Warner's level. What Bolton does bring are tremendous instincts that made him one of the country's top college linebackers over the past few years. He processed quickly to make up for whatever else he's lacking. You don't make as many defensive stops as he did — 98 in 2019 and 2020 combined — without having an excellent understanding of the game of football. Bolton is a fun pick for a team looking for a true Mike linebacker later in the draft.
The Saints lost over one-third of their interior defensive snaps from last year after Sheldon Rankins departed in free agency and Malcom Brown was traded, not to mention edge defender Trey Hendrickson joining the Bengals.
New Orleans probably likes Malcolm Roach and Shy Tuttle in the middle of its defensive line as young players, plus the team still has David Onyemata, who is coming off a big season. But finding a later-round player to fit in the middle of their defense should be a priority in the 2021 NFL Draft.
Milton Williams had a big Pro Day, showing off how much of an athlete he is. He also made plays all over the defensive line for Louisana Tech en route to tremendous grades in two-high coverages, something the Saints call at a very high rate.
We've written about how interior players are becoming more valuable because of the increase in two-high defenses. With fewer box players, a defensive interior lineman has to deal with thicker double teams and fewer one-on-ones. Teams can mitigate this with more stunting. And with Williams' athletic profile (4.62-second 40-yard dash), he will have no problem with that type of game.
The Falcons lost Keanu Neal and Ricardo Allen this offseason — a combined 71% of snaps for the Falcons' safety group last season. All of a sudden, safety becomes a priority for the team. A team will select Moehrig likely somewhere between the Falcons' pick at No. 4 overall and No. 35 overall, so Atlanta may have to leap up to take him. However, with the Browns filling their need at safety by signing John Johnson III, that is at least one less team in front of the Falcons' second-round pick with a  need at the position.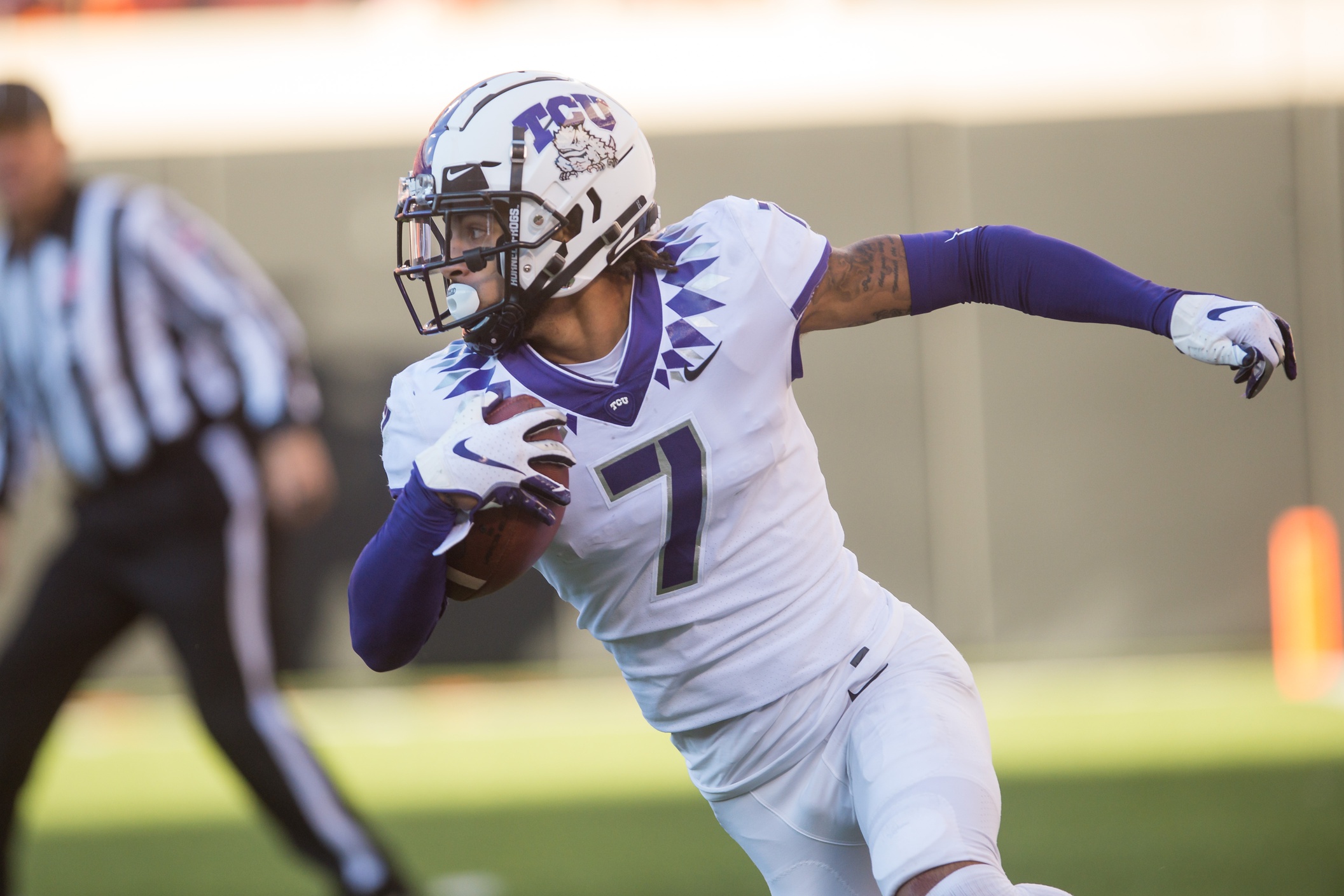 Moehrig checks all the boxes you want in a new-age safety, with scheme versatility and speed to match. This is the type of player the Falcons desperately need as they move away from the one-high structure of Dan Quinn and Raheem Morris into a more diverse coverage world. Moehrig can play in the half field or in center field and cover man to man on the inside.
The football world cannot stop talking about how badly the Ravens need a solid "X" receiver in the draft to take some pressure off Lamar Jackson and keep defenses honest.
Unfortunately, they are in a weird position picking 27th. There is certainly a shot that Rashod Bateman falls to them, which would solve their needs in a hurry, but most of the receivers projected after the "big three" plus Bateman fit more of a slot receiver mold.
If Baltimore could get its hands on Tylan Wallace, it could pay off big. All Wallace did at Oklahoma State was play out wide a whopping 86% of the time, procuring an 89.1 receiving grade there. The Ravens' first-round draft slot puts them in a sort of no-man's land, but getting Wallace in the second round would provide Jackson a nice contested-catch type of receiver on the outside.
---
Courtesy of PFF's 2021 NFL Draft Guide, find PFF's top draft prospect, biggest riser and wild card to watch at each position here: