The following 2021 NFL mock draft is meant to signal what I believe will happen, not what I hope will occur. As always: It's a great day to be great.
Check out PFF's 2021 NFL Draft Big Board and Draft Guide for more information on every available prospect.
More of PFF's 2021 NFL Draft tools here: 
2021 NFL Draft Big Board | 2021 NFL Draft Guide | 2021 NFL Draft Stats Export | NFL Mock Drafts | NFL Mock Draft Simulator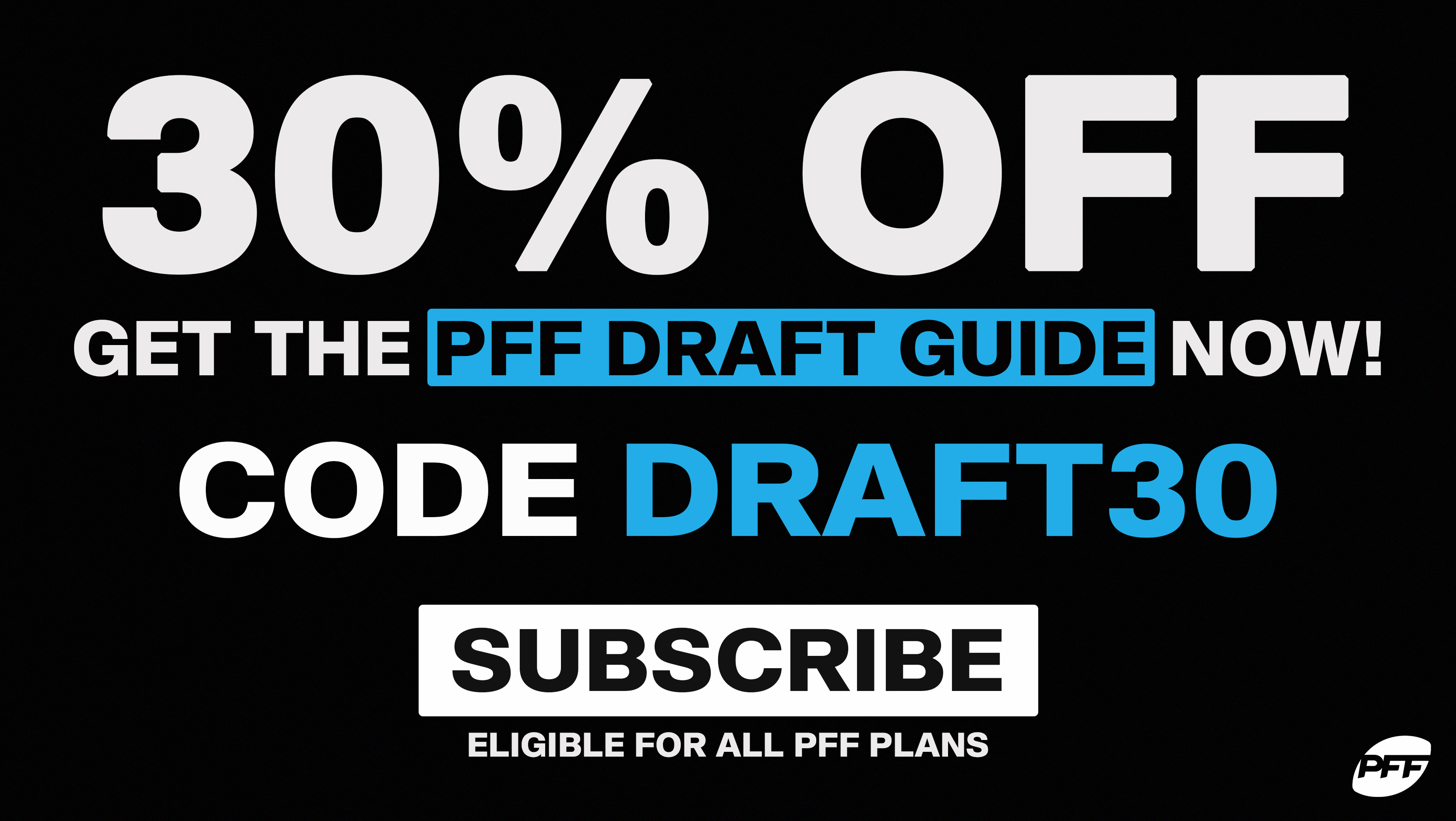 At least one pick has been a certainty throughout the entire draft process. Look for Lawrence to start from Day 1 and help elevate the entire offense; he's my QB13 in best-ball land at the moment.
I'd take Justin Fields here if I were running the Jets, but alas, I'm just a fantasy football writer mostly known for truly enjoying candles. Anyway, Wilson might just be the second coming of Superman if his 2020 film holds up against significantly tougher competition; here's to hoping the organization adds another piece or two to the offense in an effort to best smooth out their young QB's transition to the next level.
Look, I hate this pick as much as you, but Jones is currently -400 at DraftKings Sportsbook to go third overall and I'm trying to make a perfect mock draft here. It's tough to see Jones immediately unseating a healthy Jimmy Garoppolo (if he's still on the team/alive by Sunday), although the similarities between McCorkle and most of Kyle Shanahan's past QBs are tough to ignore.
This could also be a QB or WR. Ultimately, I'm buying the idea that Pitts is this draft's best non-QB available. The draft's only true five-tool receiver, Pitts is the exception to the rule in fantasy land that you shouldn't believe in rookie tight ends. I'd only project Travis Kelce, George Kittle, Darren Waller, T.J. Hockenson and Mark Andrews to out-produce Pitts with the Falcons in terms of total fantasy points.
Flip a coin between Chase and the best offensive lineman on the board. Obviously priority No. 1 is keeping Joe Burrow upright; in the Bengals' defense, they've already spent two of their last three first-round picks on the group. It's tough to pass on Chase if he's as good of a prospect as most think. He'd see A.J. Green's departed 104 targets and probably more while reunited with his college QB.
I wouldn't say trading away Ereck Flowers constitutes as the primary driver of this move; it's more of a best-player available ploy that also happens to fill a need for PFF's reigning 21st- and 30th-highest-graded offensive line in pass- and run-blocking. Elevating Tua Tagovailoa is a priority, and that would be the case after adding Sewell — the owner of PFF's highest single-season grade ever given to an offensive tackle.
Adding a high-end offensive lineman or blue-chip QB to the squad would certainly make plenty of sense, but does that really send the message of a team ready to bite the living hell out of its opponent's kneecaps? There's a non-zero chance that Chris Spielman (special assistant to the Lions owner and CEO) is fond enough of the draft's best linebacker in Parsons to push heavily for the pick.
Credit to the Panthers for not accepting mediocrity with Teddy Bridgewater under center. Of course, we've also seen close to zero evidence that Sam Darnold is capable of functioning as a high-end NFL QB. Enter: Fields, the draft's most-debated signal-caller for whatever reason. Nobody graded higher than Fields when targeting someone after his first read, while the athletic intangibles are borderline erotic.
Justin Fields could be picked top-10 and still be the steal of the NFL Draft pic.twitter.com/VcTVJgeq3x

— PFF Draft (@PFF_College) April 26, 2021
There's too much overall upside from Lance for him to drop out of the top-10. It's not a guarantee that Lance would overtake Drew Lock immediately, although it's inarguably the league's softest spot to win a QB competition outside of the top two picks. Lance offers the sort of dual-threat ability that could make him a Year 1 fantasy darling with the Broncos' sneaky-loaded group of receivers at his disposal.
The Cowboys have lost starting CBs Byron Jones and Chidobe Awuzie in consecutive offseasons. Last year's second-round pick, Trevon Diggs, improved as his rookie season went along, but this CB room is still in dire need of help. Enter: Surtain, who played next to Diggs at Bama and is the draft's near-consensus No. 1 CB. 
I don't see the Giants needing to add a first-round WR considering 1) they just agreed to give Kenny Golladay $72 million over the next four seasons, 2) Sterling Shepard is a perfectly viable No. 2 option, and 3) Darius Slayton can more than function as the passing game's third fiddle. Further protecting Daniel Jones should be a priority; Slater would instantly upgrade PFF's single-worst-graded pass-blocking offensive line from 2020.
The man who people can't stop comparing to Tyreek Hill goes before his Heisman-winning teammate. Either receiver would be a solid addition to an Eagles passing game that simply didn't have many answers for the majority of 2020. Getting Jalen Hurts someone who can threaten defenses both horizontally and vertically like Waddle could instantly elevate everyone involved.
Replacing Casey Hayward will likely be a priority. Horn has continued to climb up draft boards throughout the process and is seemingly locked in as the No. 2 CB. This defense will be scary in 2021 *if* Joey Bosa and Derwin James can stay healthy (knocks on wood).
We should never put it past Mike Zimmer to go with a first-round corner, although juicing up the pass rush should be a priority considering Danielle Hunter's 1) health status, and 2) dissatisfaction with his contract. Paye is the sort of twitchy edge who could be selected far higher than most thought possible. 
Receiver would also make sense here, as the Patriots are expected to get back a solid chunk of front-seven contributors that opted out of last season. Still, Bill Belichick doesn't strike me as the sort of coach willing to take many chances when it comes to the caliber of his run defense; Barmore would give New England the sort of explosive interior presence they lacked for most of 2020.
Right meow the Cardinals are expected to start Malcolm Butler and Robert Alford as their outside corners. Sheesh. Farley is a value at this point in the first round; his recent back surgery is the only reason why he's not being mocked higher across the industry.
The least the Raiders could do for Derek Carr is to give him some offensive line help after strangely declining to invest many offseason resources in the group. The Raiders have been a top-five team in dollars spent on the offensive line in each of the past six seasons; at the moment they rank 21st.
I'm not discounting Smith's ability to ball out due to his size, but it's tough to expect the same sort of mindset from old-school NFL decision-makers. In this scenario, the Dolphins get the sort of high-end receiver many hope for at No. 6, while Smith would be set up well in Miami with 1) his former college QB, and 2) a cozy starting position in the slot. It's tough to be anything other than incredibly impressed from Smith's film; the age and size concerns simply lead me to believe the NFL might not value him as highly as draft Twitter does.
DeVonta Smith is fast enough to win a vertical route tree/get off press and attacks the ball well in open & contested situations.

Concerns with his size (6-1, 172), athleticism and age (22) are valid, however.

He'll be an outlier if he blows up in the NFL, but maybe he is one. pic.twitter.com/J9IEs8g5Rc

— Austin Gayle (@PFF_AustinGayle) January 16, 2021
Left tackle remains the largest hole on the "Football Team." Darrisaw didn't allow a single sack or hit in 2020. Madness.
Anthony Miller has fallen out of favor with the Bears; Moore provides them with a slot-ready talent that could help boost the team's underneath passing game in a hurry. There might be better overall receivers still on the board, but Moore's fit between Allen Robinson and Darnell Mooney is too perfect to pass up for a coach and GM on the hottest of hot seats.
Moehrig could turn out to be the sort of ball-hawking safety the Colts thought they were getting with Malik Hooker. This defense is already full of playmakers, but getting a true lynchpin to help shore up the back-end of the secondary could take them from great to terrifyingly awesome.
There might not be a better offense for a rookie WR to enter than the Titans. Copious targets are available after the organization declined to bring back Corey Davis and Adam Humphries; Marshall would likely immediately slot in next to A.J. Brown in two-WR sets. Yes, the Titans want to be a run-first offense. Also yes, the league's reigning fourth-ranked scoring offense doesn't exactly have a high enough caliber defense to consistently dictate game flow.
Defense would work here as well; I'm just more concerned with not getting Zach Wilson killed. Only Daniel Jones and Sam Darnold faced a pressure rate of at least 40% last season; resources need to be added up front in an effort to protect the franchise's shiny No. 2 overall pick.
I don't think the gap between Harris, Travis Etienne and Javonte Williams is as wide as many think, so it wouldn't be shocking to see either of the latter RBs go here instead. Don't be surprised if whoever winds up in Pittsburgh immediately shoots up into fantasy's top-15 backs; only the Jets, Cardinals and Falcons arguably offer a better Year 1 environment in terms of projected opportunity.
I love James Robinson, you love James Robinson: we don't know if Urban Meyer loves James Robinson. Pairing Etienne with Trevor Lawrence would seemingly provide some comfort to the organization's new franchise QB. The Jaguars were reportedly in the running for Giovani Bernard; Etienne would give them that sort of high-end receiving ability on top of a true three-down skill-set.
The Browns have one of the most complete offenses in the league on paper, while the decision to add Jadeveon Clowney to the defensive line makes it more feasible they address the secondary first. Obviously Denzel Ward is a stud, but Greedy Williams has struggled to stay healthy. Further depth is needed; you can never have enough good corners in today's NFL. 
I doubt that Bateman would get a consistent dose of targets in a WR room that includes Marquise Brown, Sammy Watkins, Devin Duvernay and Miles Boykin. Either way, it's a necessary investment in Lamar Jackson's development as a passer. The Ravens have been a bottom-three spender on offense in each of the past two seasons and are on pace to do so again in 2021. Save the "RB playing QB" jokes.
Lamar Jackson throwing the football pic.twitter.com/OAN73s2ZhE

— Ian Hartitz (@Ihartitz) April 21, 2021
This is conveniently my most fantasy-friendly mock selection for the Saints as well. My reasoning:
"We've heard that some teams might view Moore as more of a Darren Sproles-esque gadget than full-time WR; what better spot for him to land than the very offense that enabled Sproles to his greatest heights? Obviously Michael Thomas and Alvin Kamara are the top two options in this passing game, but Moore could rather seamlessly slide into the slot and provide a new horizontal dimension to this offense. Perhaps the Saints are truly in on Tre'Quan Smith as their No. 2 WR of the future; either way adding another speedy weapon to help Jameis Winston and/or Taysom Hill seems like a good idea."
The Packers' atrocious run defense has been a borderline kryptonite in each of their past two failed playoff runs. Owusu-Koramoah is a rare second-level player that might actually be better against the pass than the run, but that's probably a net positive in the year 2021. I'd love for the Packers to add a receiver here instead; just realize they've quite literally never drafted a first-round WR, RB or TE since selecting Aaron Rodgers back in 2005.
The Bills haven't found a legit upgrade for departed No. 2 CB Josh Norman, who has been a shell of his former self in recent years anyway. Adding Samuel could help this defense start to make the turn from good to great. The reality that Tre'Davious White is on the other side of the field should help Samuel provide more Year 1 impact than a typical rookie corner.
The Ravens have been one of the league's most blitz-happy teams in recent years. We likely won't see Calais Campbell for much longer, while the team never quite found a viable replacement for Za'Darius Smith. Adding Phillips to the defense would make life easier for everyone involved.
Arguably the NFL's most-complete team, Tampa Bay can go a number of directions here. Continuing to invest in the defensive front is never a bad idea, particularly with Jason Pierre-Paul and Ndamukong Suh set to enter free agency after 2021. Credit to Shaquil Barrett for proving his 2019 breakout wasn't a fluke, but attempting to get the group a bit younger as a whole makes sense.