Football has evolved a bit over the years, yet the infatuation with finding the biggest and fastest player routinely leads to workout warriors rising up the ranks during the part of the calendar year when football isn't actually being played. Of course, on-field performance and athletic testing are just two pieces of the puzzle. There's competition level. Also off-the-field issues. Can't forget about projection to an NFL-style scheme: The path an athlete takes from college football to the professional level is riddled with landmines at every turn that ultimately prevents everyone except the most elite from reaching it to the top.
And yet, every once in a while we get a "can't-miss" prospect. It's tough to objectively define exactly what makes a prospect a "freak" or "generational," but the "can't-miss" prospect is meant to simply describe a player that literally checks every box there is to check. This category of prospect is overused just like the latter adjectives, but it's at least mostly measurable and does a better job of forcing us to check ourselves before we wreck ourselves (in a prospect evaluation sense).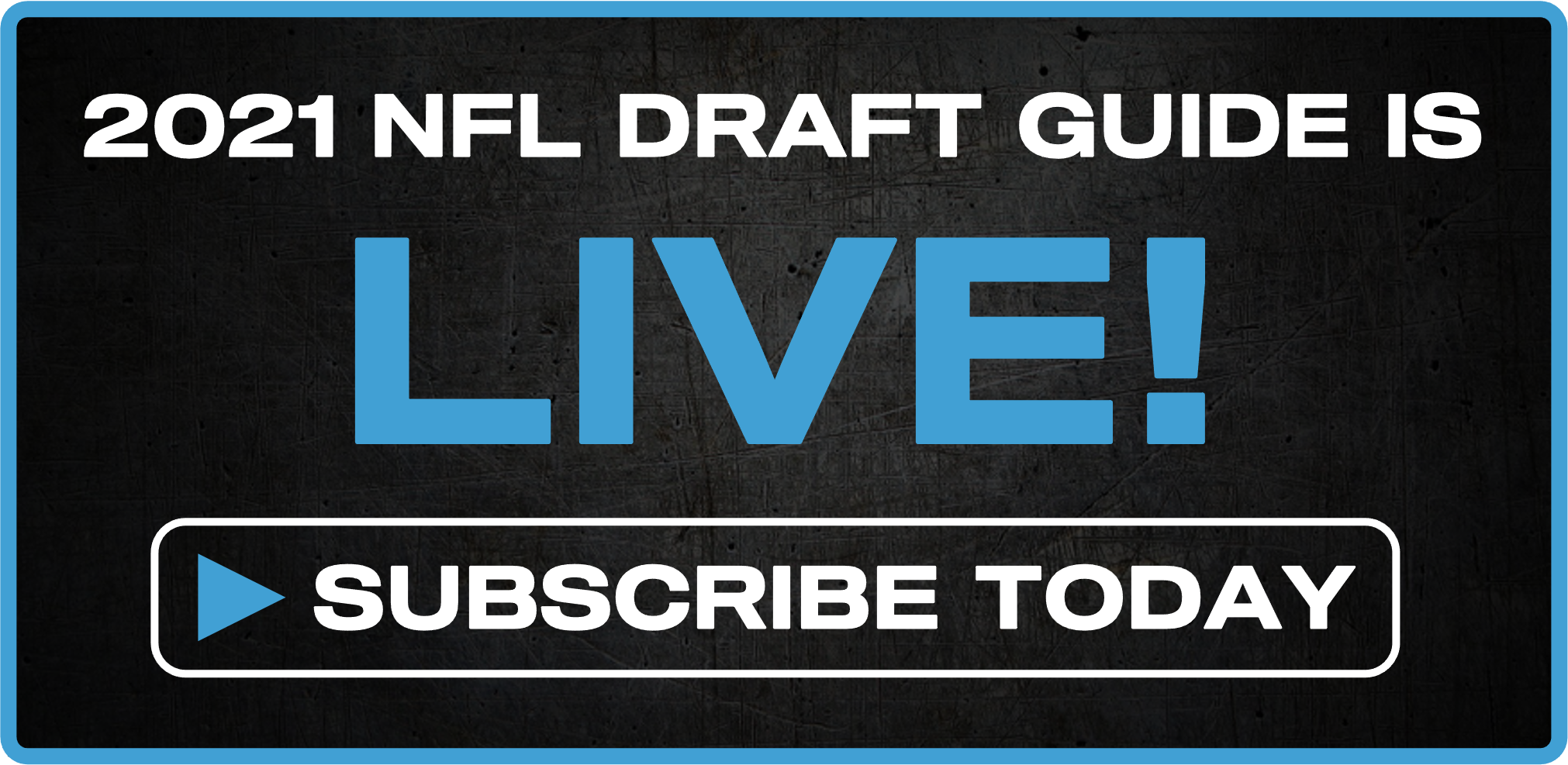 All of this leads me to say: Florida TE Kyle Pitts is a can't-miss prospect. I'm far from the only one out there that holds this belief. PFF_Sam said Pitts is the best receiving prospect in the draft, regardless of position. PFF_Mike notes that Pitts, "combines the best parts of a tight end (the reliable hands and massive catch radius) with the best parts of a wide receiver (speed to get vertical and suddenness to separate in his breaks)."
A quick look at the film gives immediate credence to these gaudy proclamations. Pitts destroyed cornerbacks, linebackers and safeties alike while lining up all over the field, displaying an unnerving combination of high-end contested-catch and route-running ability along the way.
you're not high enough on kyle pitts pic.twitter.com/4vwTBzzesd

— Austin Gayle (@PFF_AustinGayle) January 17, 2021
Pitts' gaudy pro day simply provided quantitative data for what we already knew: The man is a monster. He's 6-foot-5 and 245 pounds with 4.44 speed and the longest wingspan (83.38 inch) among any WR or TE in the NFL during the last 20 years to boot. Oh, and by the way: Pitts doesn't even turn 21 until October.
PFF has never given a college pass-catcher a higher single-season grade than 2020 Pitts (96.2). The man truly didn't miss all season and didn't drop a single pass:
vs. Mississippi: 8 receptions-170 yards-4 TD, 95.7 PFF Grade

vs. South Carolina: 4-57-2, 89.5

vs. Texas A&M: 5-47-1, 84.9

vs. Missouri: 5-81-0, 80.1

vs. Georgia: 2-59-1, 85

vs. Kentucky: 5-99-3, 87.9

vs. Tennessee: 7-128-0, 82

vs. Alabama: 7-129-1, 85.8
Attempting to check Pitts with a mere mortal routinely ended poorly for defenders of all shapes and sizes. Overall, Pitts averaged 4.91 yards per route run against man coverage in 2020, which was the third-highest mark in the NCAA and just about two yards higher than any other player at the position.
Seriously, humans with Pitts' dimensions shouldn't be able to run this well of a pivot route.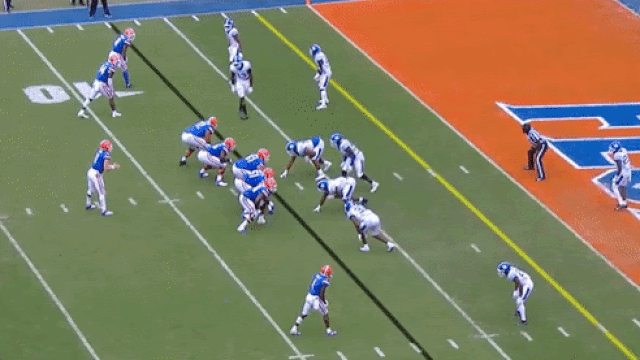 The biggest knock on Pitts would probably be his ability at the point of attack: His 63.7 run-block grade ranked 128th among 366 qualified tight ends last season. Still, this is a part of his game that *should* inevitably improve with age and time in an NFL weight room, plus we've seen more than enough evidence by now that Pitts is special when it comes to receiving ability.
This last point is what separates Pitts from past busts at the position: He looks like a walking, talking No. 1 pass-game option. Who cares if people would rather call him a tight end or wide receiver? This might lead some to call Pitts "soft," as some clowns have called Travis Kelce over the years. In reality, saying a tight end is closer to a wide receiver is a mean way of simply calling the player in question underpaid. If someone is good at consistently gaining yards by way of the passing game, who cares what their positional designation is?
Pitts lined up in the slot or out wide on 42% of his snaps during his three-year career at Florida. As Florida HC Dan Mullens said: "He's an elite wide receiver and an elite tight end." Pitts himself has stated that "no teams have mentioned" him playing wide receiver, although they've brought up using him all over the formation.
Wherever Pitts lines up, he's a playmaker: too big for corners, too quick for linebackers and simply too damn good for just about anybody to handle.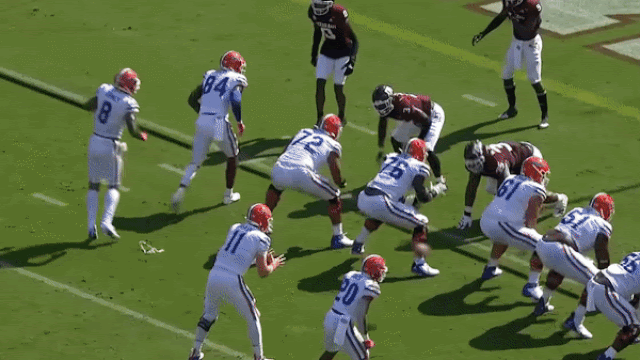 Since 2010, only Rob Gronkowski and Evan Engram have finished as top-12 fantasy football PPR scorers at tight end as rookies. The former is on the short list of the very best to ever play the position, while the latter benefited mightily from both Odell Beckham (played 4 games) and Sterling Shepard (11) missing plenty of time during his rookie season. This all makes sense: Rookie tight ends usually have to both 1) block, and 2) receive at a high level immediately in order to land a starting spot. Throw in the reality that offenses usually only have one TE on the field per play, and it's easy to see why rookies at the position are usually auto-fades in fantasy land.
Pitts might just be the exception to this rule thanks to the reality that he's closer to a modern-day receiver than yesterday's tight end. Today's brand of football has embraced the passing game and hybrid players more than ever before; any coach that doesn't think they can find a way to get high-end production out of Pitts because he doesn't fit into their "system" should be publicly chastised to no end. It seems incredibly likely that Pitts hears his name called within the first 10 picks of the draft; don't be surprised if his rookie year numbers more closely resemble the sort of receivers he's being drafted next to as opposed to past first-year tight ends.
With that said: This is hardly a value situation in fantasy land. Pitts is already going as the PPR TE6, and I certainly wouldn't blame anyone for not chasing this pre-draft valuation. He's certainly capable of reaching this rank as early as 2021; just realize it's far closer to his ceiling than floor and seemingly impacted by optimistic public sentiment at the moment.
Of course, Pitts deserves to be treated as a top-12 player at the position from Day 1 and needs to be prioritized in any dynasty or TE-premium format; he's the PPR TE12 in my best ball 150 and could flirt with the top-five borderline depending on the landing spot. Specifically, I'd roll with Pitts as a top-10 option if he lands on the Falcons (No. 6), Bengals (No. 5), Dolphins (No. 7), Panthers (No. 7) or Cowboys (No. 5) among the team's he's been regularly mocked to inside of the top-10. We've seen can't miss prospects miss before; that doesn't mean you shouldn't be all-in on Pitts becoming the NFL's next great receiver that we happen to call a tight end.