The 2021 NFL Draft has officially come to a close. From April 29 to May 1, 259 players were selected to join the NFL. Let's wrap up the weekend's action by identifying the steals of the draft.
Here, we use the information available in PFF's advanced database, big board and 1,283-page 2021 NFL Draft Guide to identify the NFL teams that got the best bang for their buck in all seven rounds of the 2021 draft. You can get into a full recap of the entire draft by clicking here.
View PFF's 2021 NFL Draft position rankings:
QB | RB | WR | TE | T | iOL | DI | EDGE | LB | CB | S
ROUND 1
It wasn't a dream, Chicago. The Bears actually made a power play and traded up from No. 20 to No. 11 to draft Ohio State quarterback Justin Fields, PFF's third-ranked prospect in the class and the fifth-best prospect PFF has ever evaluated.
Fields should have been the San Francisco 49ers' pick at No. 3, but then he was inexplicably passed over by many other quarterback-needy teams. Bears general manager Ryan Pace took advantage of the mistakes of others and finally got the Windy City the franchise quarterback it has been longing for.
According to PFF's wins above average metric (WAA), Fields has been the most valuable quarterback in college football over the last two seasons. He made plays both through the air and on the ground, posting a PFF grade of 91.5 in 2019 and 93.5 in 2020, both of which were top-five marks among FBS quarterbacks. He holds onto the ball too long against blitzes and does take more sacks than one would like, but his arm talent, accuracy, athleticism, judgment and rushing ability are extraordinary.
Fields may already be the best quarterback this franchise has ever had, and we haven't even seen him play at Soldier Field yet. Cheers to you, Bears fans — the wait is finally over.
---
This one comes with an asterisk because it could end up as a major steal if Farley's medicals check out. If it weren't for the March back operation — which made his already brutal medical report even worse than it was — there is no question that Farley would have been a top-10 pick. As long as the Virginia Tech product stays healthy and this back issue doesn't keep flaring up, this is a steal. He's that talented.
Farley checks everything the NFL is looking for at the cornerback position minus press-man experience, but he has the physical tools that make that a non-issue. The 6-foot-2, 207-pound corner is capable of running a sub-4.3 40-yard dash and was one of the best cornerbacks of 2019, as his 90.5 coverage grade from that season can attest. He averaged 1.5 catches allowed and 1.5 plays made on the ball against eight Power Five teams in 2019, both ranking inside the top five at the position.
Again, this is dependent on Farley's medicals, but the Titans got themselves a top-10 talent — if he's as healthy as reported — at Pick 22.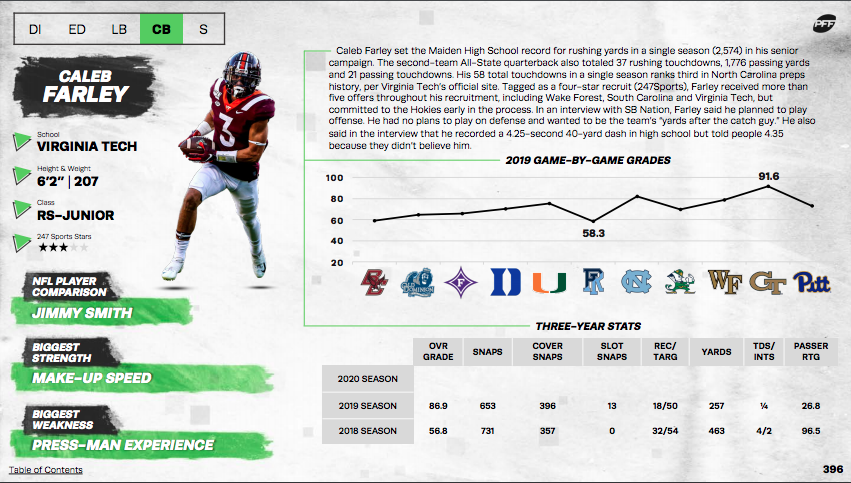 Outside of the Bears committing highway robbery, the Vikings were the biggest winners of the first round. They recouped more draft capital by trading back from No. 14 to No. 23 and still landed Christian Darrisaw, who would have been a worthy pick at Minnesota's original spot.
Darrisaw went up against some very talented defensive linemen during his time at Virginia Tech, but he proved to be a legitimately immovable force, a man among boys. When he landed his punch, he deadened the opposition.
His power and overall physicality are what NFL scouts and coaches dream of when evaluating offensive tackle prospects. It regularly showed up in both facets of play in 2020 when he generated more positively graded run blocks than any other Power Five tackle while also ranking second among that same group in PFF grade on true pass sets. Darrisaw finished with a 95.6 PFF grade in 2020, the second-best grade we have ever given to a Power Five tackle.
---
No team had a better free agency than the Cleveland Browns, and here they are showing up in the biggest Round 1 steals article. And that is because they have once again got themselves incredible value at one of the most crucial positions on the field. An analytically sound team doing intelligent things? Well, it warms our hearts over at PFF HQ.
We only saw Newsome play six games in 2020, but it was still pretty apparent that he was one of the best corners in all of college football. He allowed just 93 yards and five first downs on 223 coverage snaps for the Wildcats last year, all while making eight plays on the ball. Oh, and he did that despite seeing 34 targets over his first four games.
Newsome made plays from off-coverage and held up at the line of scrimmage on the few opportunities he had in press-man coverage. His feet are quite easily the best in the class. They are quick and balanced in his transitions, and his ability to change course swiftly is exceptional.
With the addition of Newsome to a secondary that already boasts Greedy Williams, John Johnson III, Troy Hill and Grant Delpit, Cleveland may challenge Denver for the title of best coverage unit in the NFL next year.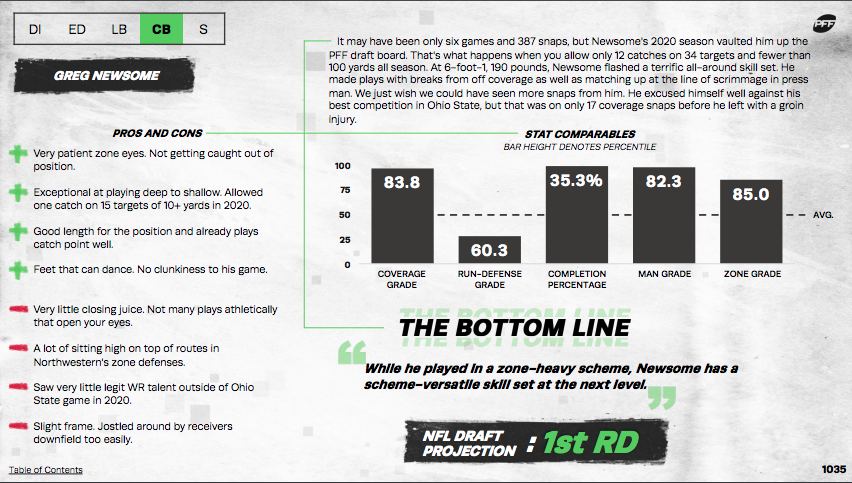 Lamar Jackson finally got his WR1 with Rashod Bateman, who really should have been the fourth wide receiver off the board. He should have been taken in the teens.
The new Ravens wideout may not be an all-around top-tier athlete, but he has route-running chops, release package and safe hands. He also offers a lot after the catch and has proven inside-outside versatility. Put simply, the Minnesota product has one of the highest floors in the entire class.
Bateman mainly worked on the outside in 2019 and generated 3.60 yards per route run on those reps, the fifth-most ever recorded by a Power Five wide receiver in our seven years of collecting college data. Bateman then transitioned to the slot for 2020. Despite catching COVID-19 and losing 10 pounds before the season, he was still uber-productive in his five games played, averaging 3.45 yards per route run and putting up an 81.9 PFF receiving grade.
---
Oweh is a risky prospect, but getting him here at No. 31 as the fifth edge defender off the board was great value for the Ravens. Oweh was the 25th-ranked prospect on our big board, the second-ranked edge defender in the class.
The Penn State product is one of the freakiest athletes you will ever see on a football field. He stands at 6-foot-5 and weighs 257 pounds and posted a 40-inch vertical, 134-inch broad jump, 4.39-second 40-yard dash, 4.15-second pro agility and 6.84-second three-cone at Penn State's pro day. Each of those marks ranks at or above the 95th percentile among edge defenders historically. It matches everything he showed on tape.
Oweh has all the physical tools to become an impact pass-rusher, but he is far from a finished product. His rushes die on contact, there's no violence in his hands and his pass-rush move arsenal is sorely lacking. He lit up Indiana's lowly tackles for a whopping 10 pressures in Penn State's season opener in 2020, but he generated just 10 total pressures over his next six games.
Still, we are talking about a guy who didn't play football until his junior year of high school, a guy who saw just over 400 career pass-rush snaps at the college level. Oweh is only scratching the surface of what he can become and is also a fantastic fit for Wink Martindale's defense. This blitz-heavy scheme is going to utilize Oweh's athleticism, and the Ravens will reap the rewards.
ROUNDS 2 & 3
Moore is a slot receiver, but so what? He still should have been a first-round pick. He was a true savage out on the field for Ole Miss, and the sheer number of times he put his body on the line and took a big shot while still holding onto the ball makes him every old-school coach's dream player.
Moore's 96.7% catch rate on passes thrown beyond the line of scrimmage led all FBS wide receivers this past season. He was also strong in contested scenarios despite his small stature, catching 11-of-15 contested targets. That toughness also showed after the catch, with 31 broken tackles on 153 receptions since 2019.
Over the last decade, there has only been one season in which the Jets didn't produce negative expected points added (EPA) per pass play and rank in the bottom half of the NFL in passing efficiency. With Moore joining forces with fellow rookies quarterback Zach Wilson and guard Alijah Vera-Tucker, that might change in 2021.
---
Barmore's fall was expected. Many were concerned about his hot-and-cold streak early on in 2020, and there were rumors that he neither respects nor seeks out coaching. The former could partly be explained by a preseason injury that forced him to miss the first game of the season, and the latter shouldn't be an issue under Bill Belichick. Still, his skill set and performance down the stretch should have been enough for NFL teams to select Barmore in the first round.
Barmore's build, flexibility, explosiveness and hand usage could make him a force to be reckoned with early on in the NFL. We saw it firsthand in the College Football Playoff against two of the nation's best offensive lines, Notre Dame and Ohio State. The Alabama product came away from those two contests with a 91.3 pass-rush grade, a 23.2% win rate and 12 pressures. That pass-rush grade is by far the best we have seen in the College Football Playoff.
---
The Bears made what was hands down the best pick of Round 1 after trading up for quarterback Justin Fields. They followed that up with another trade-up in Round 2 for tackle Teven Jenkins, a first-round talent on the PFF draft board.
Jenkins looked like a school bully on a playground at times for Oklahoma State. No one on the Pokes' schedule could match his upper-body strength, as the 36 reps of 225 pounds he threw up on his pro day (98th percentile among tackles historically) suggests. Jenkins also ranked first in the Power Five in negatively graded run block rate.
He has that nastiness traditional football guys drool over. He may not have supreme length, nor is he the most fleet of foot, but Jenkins is going to be a monstrous addition to his Chicago offensive line that had a clear hole at right tackle. He is going to put guys into the turf from Day 1 in the NFL ranks.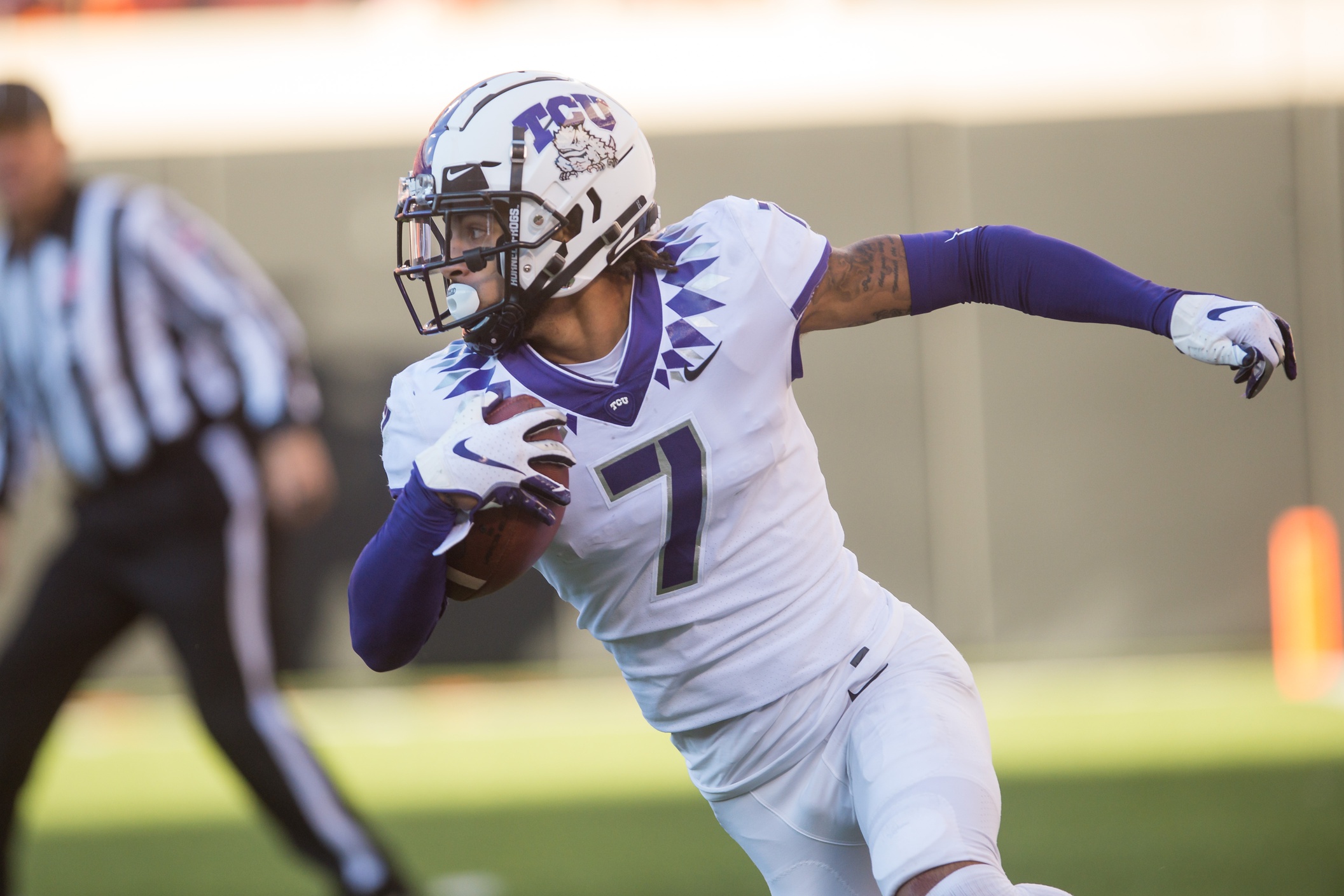 There were very few negatives to speak of in Moehrig's scouting report, so a slide of this magnitude is almost inexplicable. Sure, there were moments where he struggled with his balance and had some difficulty coming back from a false step, and he also had a back issue that flared up at his pro day, but neither of those things is earth-shattering when it comes to his evaluation.
He's now fully healthy and ready to rock in a Gus Bradley defense that will put him in a position to rack up the ball production. After all, Moehrig was a true ballhawk in the Horned Frogs defense over the last couple of years, making a total of 28 plays on the ball, five more than any other Power Five safety. 
---
PFF pegged Little as a first-round prospect, though it's not difficult to understand why the league might not feel the same way. There are some red flags.
Little has played just 72 snaps over the last two years, and he doesn't particularly have the cleanest medical report. Still, the 2017 five-star recruit has the physical tools of an NFL tackle and emerged as a potential top-15 draft selection in his final performances at the college level.
The 6-foot-7, 309-pound tackle notched a 93.3 pass-blocking grade over his last seven starts and allowed just one pressure across 269 pass-blocking snaps. And that pressure came on a stunt against a formidable Washington defensive front. This was a high-risk, high-reward pick by the Jaguars that I fully support.
---
This is going to go down as one of the best picks of the 2021 NFL Draft. How the NFL let Samuel slide to his perfect scheme fit in L.A. — a team that desperately needed cornerback help — is beyond me.
New head coach Brandon Staley needs athletic and instinctive corners to play in his unique defense, and that's precisely who Samuel is. He's a fit for an off-zone system that takes advantage of his inside-outside versatility and won't require him to play press-man coverage. It's a perfect marriage. Samuel makes up for his 5-foot-10, 180-pound frame and just over 30-inch arms with his read-and-react ability and quicks. Despite being undersized, he still ranked second in the Power Five in total forced incompletions (30) since 2018.
Moore's size, injury history, limited collegiate route tree and schemed production all explain why he fell to 49th. Teams obviously doubt that he can handle anything more than an underneath route tree at just 5-foot-7. For an offense like Arizona's, though, the latter point won't be a big issue, as they needed someone like Moore in their offense. And while we have never seen a Moore-sized receiver rack up top-tier production in the NFL, he has the tools to be an exception.
Back in his first year on campus in 2018, which ended up being his only fully healthy year, Moore put up one of the three most valuable seasons by a non-quarterback true freshman in the PFF College era. He broke 37 tackles after the catch, shattering the single-season Power Five record for a wideout. Moore has ridiculous explosiveness and strength that showed up after the catch and at his pro day, where he recorded a 4.29 40, 42.5-inch verical and 6.68 three-cone.
Kliff Kingsbury now doesn't have to force-feed DeAndre Hopkins underneath targets as he did in 2020. They now have a dynamic weapon alongside Hop in Moore.
---
Ojulari slid in the draft because of a knee issue on his medical report, but this slide was way too far, especially since well-renowned surgeon Dr. James Andrews checked out and okayed Ojulari's knee earlier in the pre-draft process.
He may not have plus size and strength, but Ojulari is the most advanced pass-rusher in this class. He's a speed rusher in its purest form, possessing arguably the best cornering ability in the class, and he is also the most technically advanced edge defender available this year. This is why he notched a 91.7 pass-rush grade in 2020, which both led the 2021 class and was the fourth-best mark we have seen from an SEC edge defender in the PFF College era.
---
There are two reasons why Owusu-Koramoah slid: the first is an undisclosed medical concern, and the second is that many teams would struggle to find a specific role for him within their defense. But after making one of the best picks of Round 1 with the selection of cornerback Greg Newsome II, the Browns did what smart teams do and traded up to secure a high-value player.
Owusu-Koramoah is the versatile weapon the NFL is trending toward at the linebacker position. Serving as the "rover" in Notre Dame's defense, Owusu-Koramoah was asked to cover the slot — and he was one of the best in all of college football at doing so.
Some may consider his size and lack of reps between the tackles as a concern, but he has the short-area quicks to hold up there. And he proved he can cover small and shifty slot receivers in college. Look beyond his lack of a true position and join the movement, as Cleveland did.
---
Is Bolton the most athletic linebacker? No. Does he have the modern-day NFL linebacker frame? No. But he is as instinctive a player as they come with top-notch coverage ability overall. That was why he landed as the third-best off-ball linebacker in the 2021 class n the PFF draft board. He racked up more plays on the ball (13) than any other player at the position in the FBS since 2019.
---
Murky medicals paired with a lack of polish caused Marshall to slide drastically, but luckily for Carolina, the Panthers got incredible value for the former five-star recruit at Pick 59. Marshall, who is just 20 years of age, has the physical profile that is alluring at the position. He could add some more meat to his frame, but the 6-foot-3 receiver pairs a massive catch radius with the kind of speed coaches crave at the NFL level. Marshall can snag off-target throws with his long limbs and impressed in contested scenarios throughout his time at LSU. He hauled in 20 of his 32 contested targets over the past two years.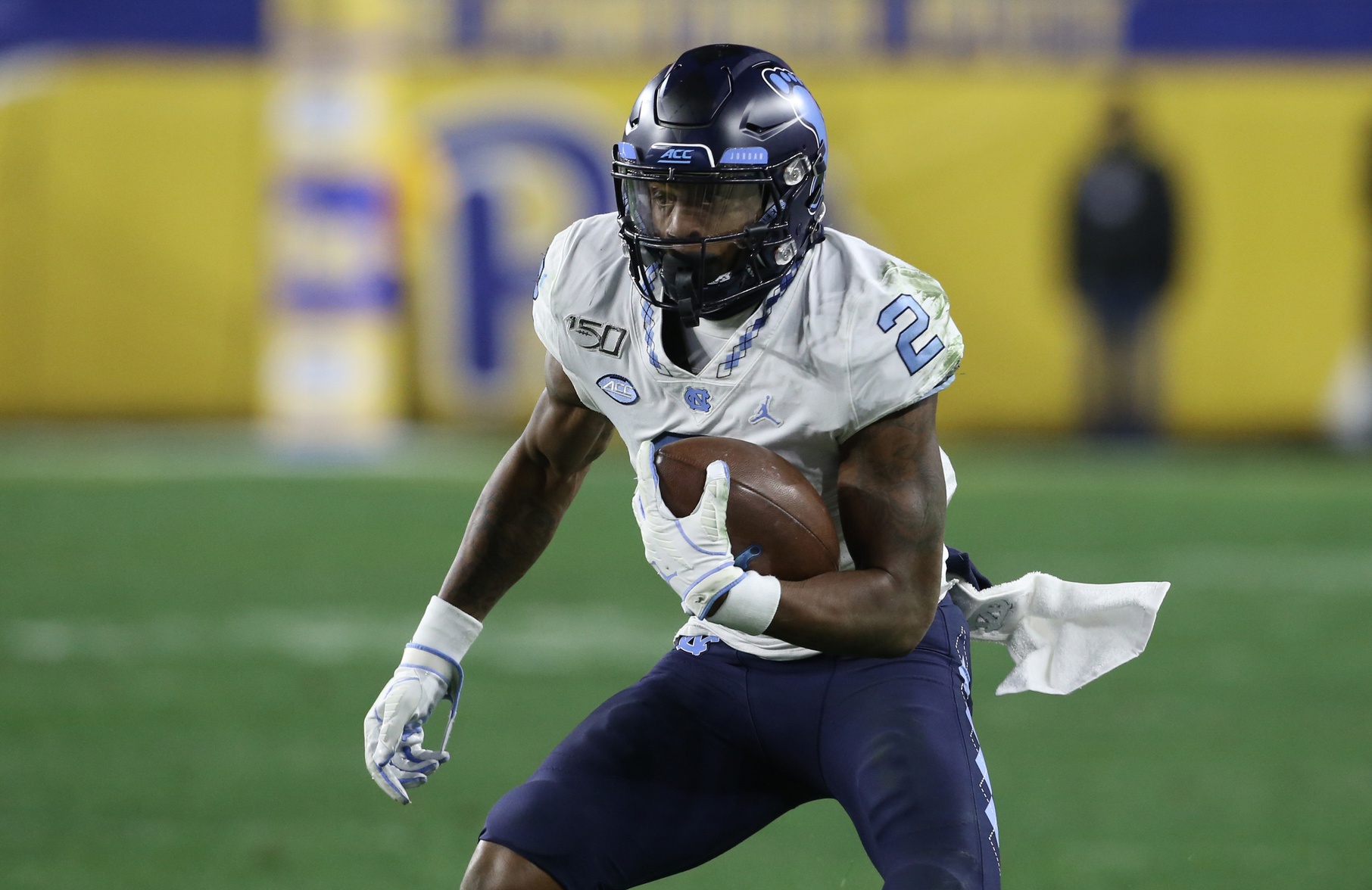 Roughly 38% of Brown's targets over the last couple of seasons have come via some variation of vertical route — over 10 percentage points higher than any other receiver on this list. The rest of Brown's targets consisted of 26% hitches and 11% slants; everything else was under 6%. The term "limited route tree" is an understatement, and that's something the league does not like to see. We, however, think Brown has shown that he has what it takes to take on a more diverse route tree in the NFL. Either way, he's going to a vertical threat at the minimum and has NFL-caliber play strength that'll help him along the way.
Brown was fed vertical routes in UNC's offense, and he won time and time again thanks to his release package and how good he was at handling contact along the route and at the catch point. He tallied 376 yards on contested vertical targets from 2019 to 2020, the second-most in the Power Five. In that span, Brown produced more vertical route touchdowns than any other wide receiver in the country with 16. His strength showed after the catch, too. On throws of nine yards or less downfield, Brown broke 12 tackles on 49 receptions.
---
Perkins checks the flexibility, explosiveness and overall athleticism boxes with flying colors. It's why he finished 2020 as the only edge defender in the FBS with 90.0-plus grades in run defense and as a pass-rusher. The only question is, will he be able to hold up against NFL tackles at 6-foot-3, 247 pounds?
---
The Division III product posted the second-highest win rate of any interior offensive lineman in attendance at the Senior Bowl. and he posted a 32-inch vertical, 111-inch broad jump, 4.86-second 40-yard dash, 4.47-second short shuttle and 7.33-second three-cone at his pro day, all of which surpass the 90th percentile among all interior offensive line prospects historically. Meinerz has all the traits to be the next standout non-FBS offensive linemen at the NFL level, and he really should have been taken much earlier in the 2021 NFL Draft.
---
This is one of the best picks of the 2021 NFL Draft so far. Elijah Molden is going to be solely a slot corner in the NFL, and teams knocked him for that. Tennessee will now reap the benefits of this, as they just got a late-first, early-second-round talent for pennies on the dollar. Slot corners are the most undervalued players in the entire game, and Molden has all the traits to be an excellent one for the Titans, just as he was in college for Washington.
Of the 75 Power Five defensive backs who have logged at least 500 snaps in the slot in the PFF College era (since 2014), no one has earned a higher slot coverage grade (91.2), forced more incompletions (21) or recorded more passing stops (36) than the Washington Huskies defensive back. Despite his 5-foot-10, 190-pound frame, Molden is one of the most physical tacklers in the class. He pairs that with short-area quickness and fantastic eyes in coverage.
There's no reason to think he won't be a quality slot corner at the next level, and just because that's all he is going to be doesn't mean he will be any less valuable than the man covering the outside next to him.
ROUNDS 4, 5, 6 & 7
While there are serious question marks still hovering over the Dallas cornerback room, there is no questioning this group of off-ball linebackers after the Cowboys drafted Micah Parsons in Round 1 and Jabril Cox here.
Let's start with why Cox fell. First off, the medicals did him no favors: He underwent a serious shoulder surgery a year ago, and he had to sit out the primary LSU pro day due to a hamstring strain.
Perhaps the biggest reason for this slide is his play strength. He's often deadened on any type of contract and likely won't make a significant impact against the run. Cox earned a 55.0 run-defense grade in 2020, and I don't believe that's going to get drastically better in the big leagues. Still, we'll take an off-ball linebacker with standout coverage ability over a stiff thumper who can't cover.
Cox is just so smooth on the move. It showed up time and time again in coverage, which is where he was at his best in college. Whether he was dropping into zone, manning up against tight ends or covering the slot, Cox made play after play and put the clamps on the opposition at both North Dakota State and LSU.
Cox recorded an 85.2 coverage grade with the Bison in 2018 and 2019. He then transferred to LSU for the 2020 season and went on to become the third-highest-graded Power Five off-ball linebacker in coverage. The coverage skills are certainly there for Cox to succeed at the NFL level.
---
Tampa Bay is the home of the most talented receiving unit in the NFL, and it just got even better with the addition of Darden. A dynamic slot weapon, the 5-foot-9, 174-pound wide receiver finished the 2020 season as the fourth-highest-graded wide receiver in the country.
Darden has long been thought of as one of the most elusive pass-catchers in the college game. He broke an FBS-high 23 tackles and averaged 7.7 yards after the catch per reception last season. And while he was clearly a threat on screens, his speed posed even more of a threat on vertical routes, where he earned the fourth-highest receiving grade in the country on the back of a nation-leading 11 vertical route touchdowns.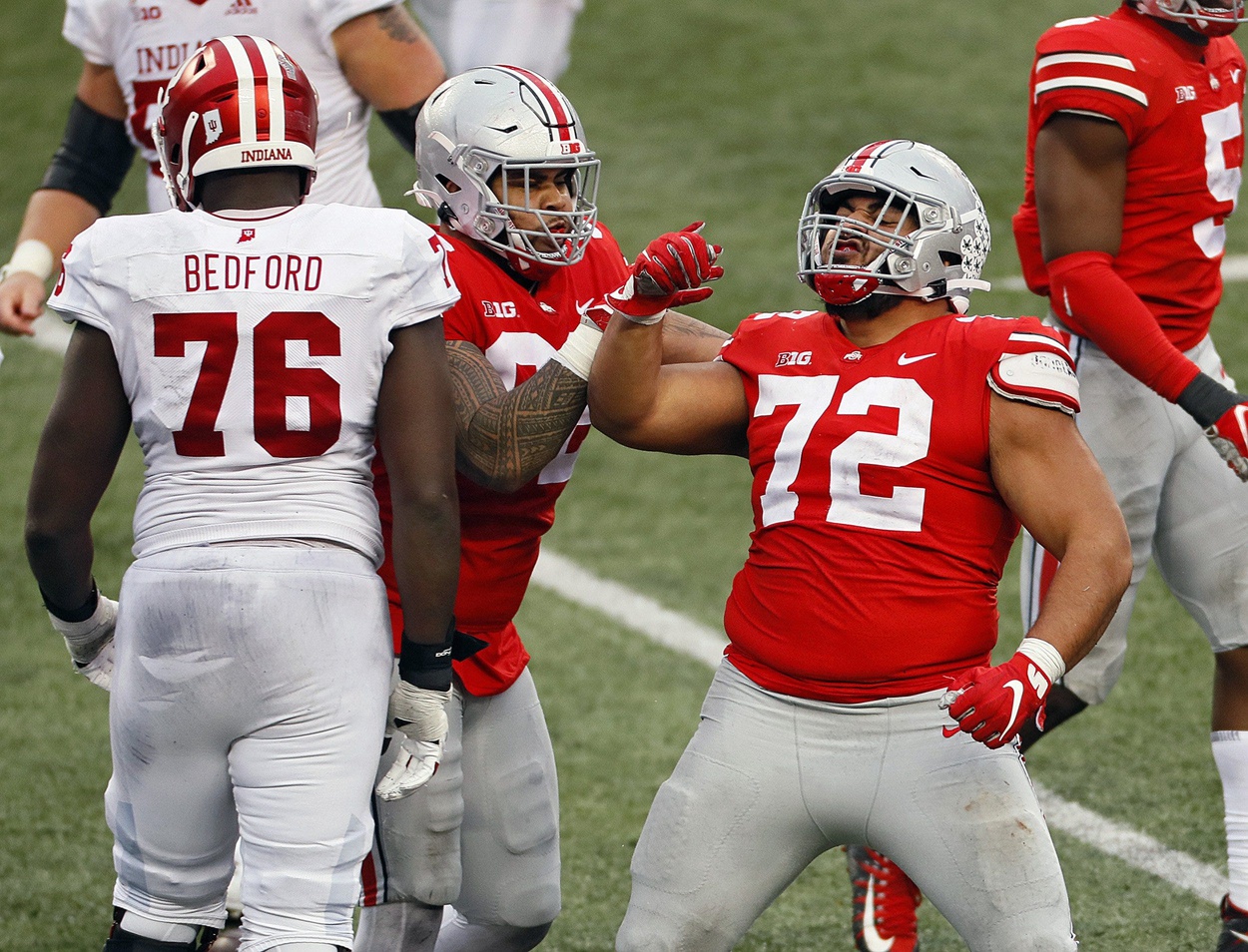 Yet another Cleveland Browns draft steal? Well, it shouldn't even be a surprise at this point.
Experience and a less-than-ideal frame did Togiai no favors in the draft process. He has just 659 career snaps to his name and is well below average when it comes to the prototypical 3-technique height and length — he stands at 6-foot-2 with 31.75-inch arms.
Still, that didn't stop him from being one of the more productive defensive tackles in college football, and it shouldn't hurt him as much as teams think in the NFL ranks.
Togiai was one of six Power Five interior defensive linemen to post a 75.0-plus grade as both a run defender and pass rusher in 2020. He finished fourth among that group in overall PFF grade at 87.5, behind only Christian Barmore, Alim McNeill and his former teammate Haskell Garrett. His bull rush is truly menacing, and he is also a promising all-around athlete. Togiai has all the tools to be a forceful defensive tackle in both facets of play in the NFL.
---
Weaver's slide is likely due to a combination of his lackluster athletic profile, a 2019 knee injury and age. But with his power, technical refinement and size, we still thought of him as a Day 2 prospect.
Weaver notched five or more pressures in seven of his nine starts coming off that knee injury, putting up a 90.0 pass-rush grade on the year. He has an incredibly high floor and is bound to be an impact player for the Titans, who are starving for pass-rush help.
Johnson sliding this far wasn't a complete shock, as we at PFF were a lot higher than most on the Indiana safety. Tackling issues and lack of experience were two of the biggest things scaring teams away, as he has missed 22.5% of his tackle attempts over his career and has played just shy of 800 snaps in that span. For reference, Trevon Moehrig, the top safety on PFF's draft board, played more than twice as many snaps in his TCU career.
Still, the coverage ability Johnson flashed in his smaller sample is too good to ignore. Johnson played all over the field for the Hoosiers and thrived in every role he played, displaying the nimble feet and the smooth hips that are required on the back end in the NFL. Johnson produced an 89.3 coverage grade in an Indiana career that featured seven interceptions and six forced incompletions. He's a perfect fit for this Vic Fangio defense and is a fantastic addition to an already stacked secondary.
---
Forsythe's 6-foot-8 frame certainly helps him from time to time, but it also hurts him. It's pretty easy for him to lose the leverage battle, and he has to overcompensate by overextending. But, as noted in the PFF 2021 NFL Draft Guide, he has uncoachable feet for a man of his size to go along with fantastic upper-body strength. Pair that with the ideal length, a punch that can be deadening and some sneaky good numbers in the Combine agility drills, and you have an intriguing profile.
The Florida tackle played the fourth-most true pass sets of any tackle in college football last season and still managed to rank third in the SEC in pass-block grade. He just might become the offensive linemen Russell Wilson dreamed of adding this offseason after the star quarterback voiced his frustration with the current group of pass protectors.
---
We here at PFF tend to advocate for not attacking the running back position until the end of Round 3 or early on in Round 4. Herbert, PFF's RB5, should have come off the board in that range, but Chicago got him in the sixth round instead.
Herbert is short but thick for a running back, measuring in at 5-foot-9 and 212 pounds. He's not easy to bring down with that low center of gravity. Among all backs with at least 100 carries in 2020, Herbert tied for first in yards after contact per attempt at 4.7. He has some decent wheels on him, too, and his 4.46-second 40-yard dash at his pro day verified what he showed on tape. Those traits helped him pick up a 10-plus-yard gain on 22% of his carries in 2020, the fourth-highest rate in the FBS.
He is a late-bloomer and doesn't have receiving experience, but this was a bit too far of a slide. Herbert can also offer value in the return game if given the opportunity.
---
After a couple of years at Miami (OH.) and playing only six snaps in 2016 and 2017, Gowan transferred to community college for the 2018 season before returning to the FBS ranks in 2019 to play for UCF. He was nothing short of exceptional that year, posting an 80.1 coverage grade, 12 total plays on the ball and just 13 first downs or touchdowns allowed across 12 starts. Gowan opted out of the 2020 season due to COVID-19 concerns.
The new Cardinals cornerback has the combination of size, length and speed desired for the position, but the lack of experience is scary and quite easily the biggest knock on him as a prospect. But all the way at Pick 223? That's way too far of a fall.
I wouldn't be surprised if we see him start at some point next year, given the current nature of the Cardinals' cornerback room.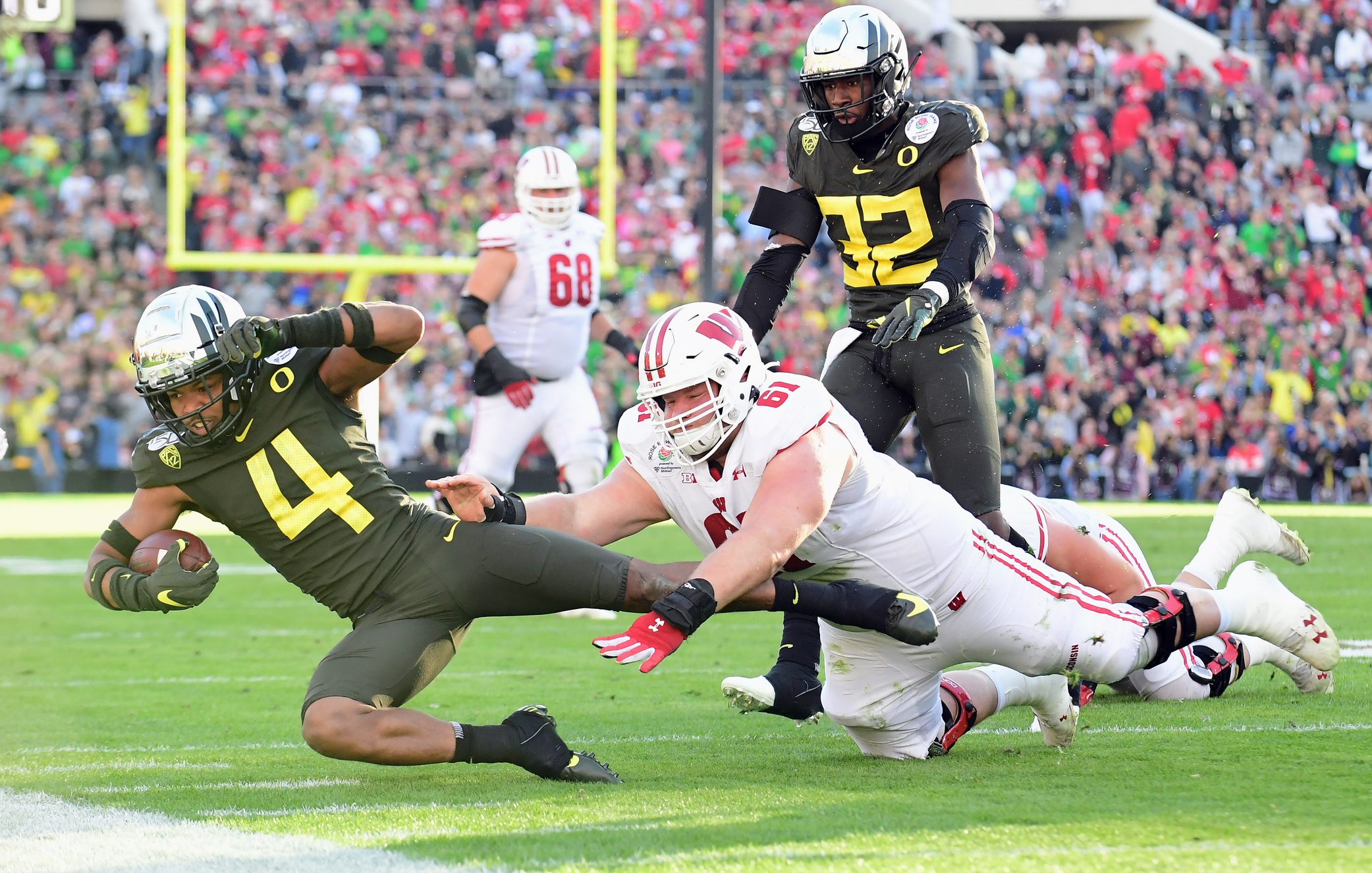 Graham is a small, relatively underwhelming athlete and was a 2020 opt-out, but we still viewed the former Oregon Duck as a third-round prospect. And yet, the Bears — who were already in the running for having the best draft of any of the 32 franchises — swooped in and got him with the final pick of the sixth round.
Graham was lights out in coverage over his final two seasons, earning a PFF coverage grade of 79.8 in 2018 and 82.9 in 2019. He ranked in the top 10 among FBS cornerbacks in both passing stops (23) and plays made on the ball (29) in those two years combined.
Graham is a patient corner with balanced and nimble feet who also attacks the catch point incredibly well. As noted in the PFF 2021 NFL Draft Guide, his flat-footed breaks are superb. He should be a fantastic fit in the Chicago defense that will be bursting with Vic Fangio's influence under new defensive coordinator Sean Dessai.
---
More of PFF's 2021 NFL Draft tools here: 
2021 NFL Draft Big Board | 2021 NFL Draft Guide | 2021 NFL Draft Stats Export | NFL Mock Drafts | NFL Mock Draft Simulator