The 2021 college football season kicks off in just over 100 days, and we at PFF are here to get you ready for it. We'll start by ranking the top 10 returning players at each position and naming one sleeper who could make some noise this season.
Below is a list of PFF's top 10 returning quarterbacks. The list is based on a bevy of factors, including PFF grade and other advanced metrics available to CFB Premium Stats+ subscribers. And remember, this has nothing to do with pro potential.
Find the rest of PFF's top returning college players series here:
QB | RB | WR | TE | OT | iOL | DI | EDGE | LB | CB | S
Rattler took over the OU starting job as a redshirt freshman last season, hoping to continue Oklahoma's run of dominance at the quarterback position under head coach Lincoln Riley.
The 6-foot-1, 205-pound signal-caller lived up to expectations, earning a 92.5 mark that not only ranked fourth in the FBS but was also the best grade PFF has ever given to a true or redshirt freshman quarterback.
Rattler has a little bit of Texas Tech Patrick Mahomes in him, both stylistically and situationally. He has an ultra-quick, effortless release to pair with jaw-dropping arm talent and elite playmaking ability outside of structure, but he is prone to abandoning clean pockets and inviting in pressure. And it is these moments of undiscipline that are shying people away from him as a 2022 NFL Draft prospect.
The Oklahoma quarterback produced a 91.3 passing grade and a 69.7% accurate-pass rate when creating off structure in 2020, both of which led all FBS passers. That passing grade beat out Joe Burrow for the best grade ever earned by a Power Five quarterback, and only eight FBS quarterbacks graded higher when operating inside structure last season.
Rattler joined Zach Wilson, Justin Fields and Mac Jones as the only quarterbacks to rank inside the top 10 in positively and negatively graded throw rate in 2020. He may have had some undisciplined play early on in his first year as the starter, but don't let those moments fool you — he's the real deal.
Rattler is undoubtedly the best player returning to college football and should be the favorite for the Heisman Trophy when the 2021 college football season kicks off on Aug. 28. I wouldn't rule out Oklahoma taking home the CFP crown as long as he is under center.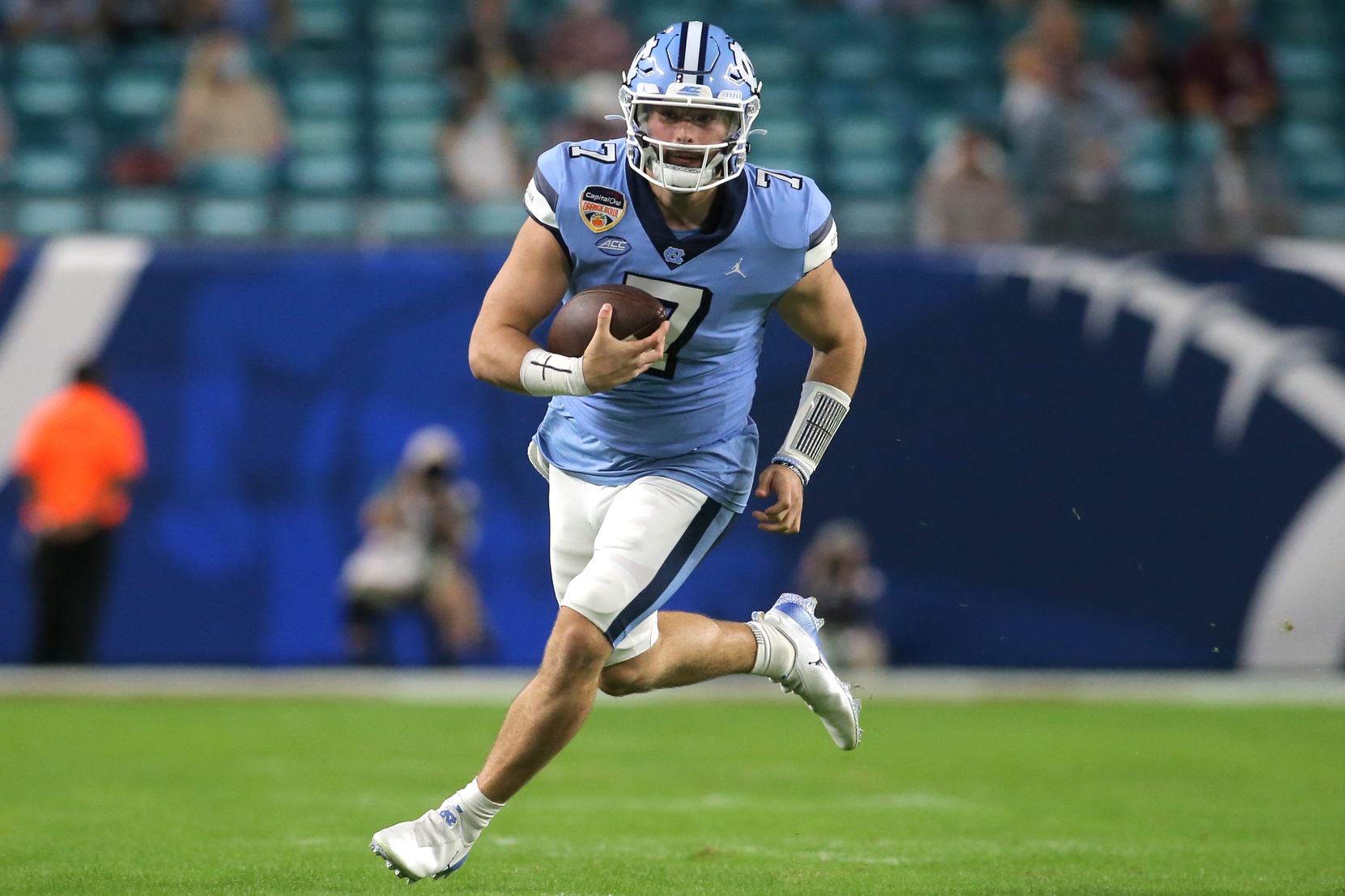 UNC's offense cooks when Howell is given the green light to launch it deep, as he arguably has the best deep ball in all of college football. Over the last two seasons, Howell ranks first in the Power Five in 20-plus-yard completions (66), passing yards (2,654), touchdowns (32) and big-time throws (59, 15 more than the next QB). A lot of this production stemmed from play-action shots, but it's impressive nonetheless.
The big area we wanted to see Howell improve on during his sophomore season was the true dropback game (dropbacks without play-action, rollouts, screens, RPOs, etc.), and he certainly did that. He raised his true dropback passing grade by nearly 10 grading points from 76.9 to 86.2. There was also a drastically lower rate of bad decisions when under pressure, though he still tends to take too many sacks.
Pressure was Howell's Achilles' heel as a true freshman in 2019, as he recorded a 38.2 passing grade when the opposing pass rush got home. In 2020, he improved that mark to 74.7 while maintaining a top-10 clean pocket passing grade. The North Carolina product finished the 2020 season as the sixth-highest-graded quarterback at 92.3.
The U was hoping for an elite dual-threat quarterback in 2020 — and, boy, did King deliver. He made tons of plays both through the air and on the ground in his first season with the Hurricanes, resulting in a 90.6 PFF grade for the season that ranked 10th in the FBS. And now they get him for another year.
where has this D'Eriq King been all my life pic.twitter.com/9YD6IamzFE

— Anthony Treash (@PFF_Anthony) November 7, 2020
On 111 runs — 85 designed and 26 scrambles — King totaled 26 rushes of 10 or more yards. He produced more than 10 yards after contact on 13 of those rushes, the most at the position.
The 5-foot-11, 202-pound quarterback also rarely put the ball in harm's way. He consistently made the right decision and came in at No. 3 in the FBS in turnover-worthy play rate (1.7%).
Miami will be a dangerous team in 2021, assuming King fully recovers from the torn ACL he suffered in the Cheez-It Bowl and is ready to rock Week 1.
The backbone of Gabriel's success in the collegiate ranks has been his downfield touch in a UCF offense chock full of go balls. He ranked second in the FBS in deep passing yards this past year with 1,338. Gabriel ranked fourth in the metric the previous year with 1,316 as a true freshman.
Gabriel was a top-notch decision-maker in 2019 and lived up to that standard again in 2020, finishing at No. 9 in the FBS in turnover-worthy play rate. He took a big step forward in Year 2, raising his PFF grade from 81.4 to 90.9.
It will be interesting to see how he fares after Josh Heupel's departure, as the former UCF head coach's offense was full of simplistic reads, giving Gabriel a hefty dosage of one-on-one vertical shots down the sideline, screens, RPOs and play-action.
Despite playing behind one of the worst offensive lines in college football in 2020, Penix managed to post an 82.9 PFF grade in six starts before tearing his ACL in Week 13. Only four other FBS quarterbacks spent a higher rate of their dropbacks under pressure than Penix at 41%, yet the Hoosier overcame that to put together quality play. He remained calm in collapsing pockets, converting pressure to sacks at an astronomically low rate of 7.4%, the best mark in the FBS.
Most passing yards under pressure in a single game in the @PFF_College era

1. Michael Penix Jr. (2020 Week 12 vs Ohio State) – 305
2. Patrick Mahomes (2016 Week 8 vs Oklahoma) – 278
3. Patrick Mahomes (2016 Week 6 vs KState) – 273 pic.twitter.com/KD0hM5CLLK

— Anthony Treash (@PFF_Anthony) November 22, 2020
None of this is surprising after what we saw from Penix back in 2019 when he posted an 84.0 PFF grade in six starts. And while his accuracy wasn't quite as consistent as it was in 2019, he still managed to produce plus results in that area in 2020, ranking 19th in the FBS in the percentage of accurate passes thrown 10-plus yards downfield.
Penix ended up leading all Power Five quarterbacks in big-time throw rate this past season and established himself as one of the top passers in the country before the injury. As long as he can stay healthy, the Hoosiers can be a top-10 team again in 2021.
Corral gets to orchestrate a favorable offense with Lane Kiffin leading the charge, but he led that offense to near perfection last season. His Week 7 performance against Arkansas was the only blip, as he racked up six interceptions and earned a 30.8 passing grade in that nightmare start. Despite that, Corral still earned a 90.5 PFF grade for the season. He was that good the rest of the year.
Corral piled up the fifth-most deep passing yards (1,265) in 2020. On throws of 10-plus yards downfield, the Ole Miss quarterback ranked fifth in percentage of accurate passes thrown. Even with that six-interception performance, he still managed to rank in the top 20 in the FBS when it came to negatively graded throw rate. He paired that with the 11th-best positively graded throw rate, making him one of six Power Five quarterbacks to rank in the top 20 in both categories.
Not all of Corral's production is courtesy of the ecosystem in which he operates. There were several instances of him getting creative and manipulating defenders with his eyes and shoulders. Take these plays against Mississippi State as an example, courtesy of PFF's Seth Galina:
Since we all are in agreement that Matt Corral (PFF's 15th highest graded QB this year) is going to win the Heisman next year, I thought I'd get the hype train going with a breakdown of this beautiful deep throw where he manipulates the defense with his eyes and shoulders: pic.twitter.com/zS6nnGHSob

— seth galina (@pff_seth) December 2, 2020
Coastal Carolina was college football's Cinderella story this past season, and Grayson McCall was the key reason why. He certainly did damage on the ground, but unlike most triple-option QBs, he also showed the ability to carve defenses up through the air with pinpoint accuracy.
McCall finished the season with the seventh-best big-time throw rate and fifth-lowest uncatchable-pass rate on throws beyond the line of scrimmage. That led to a 92.5 passing grade on the year, trailing only Zach Wilson for the best by a non-Power Five quarterback in the PFF College era.
This deadly option attack isn't going away in 2021 with McCall at the helm.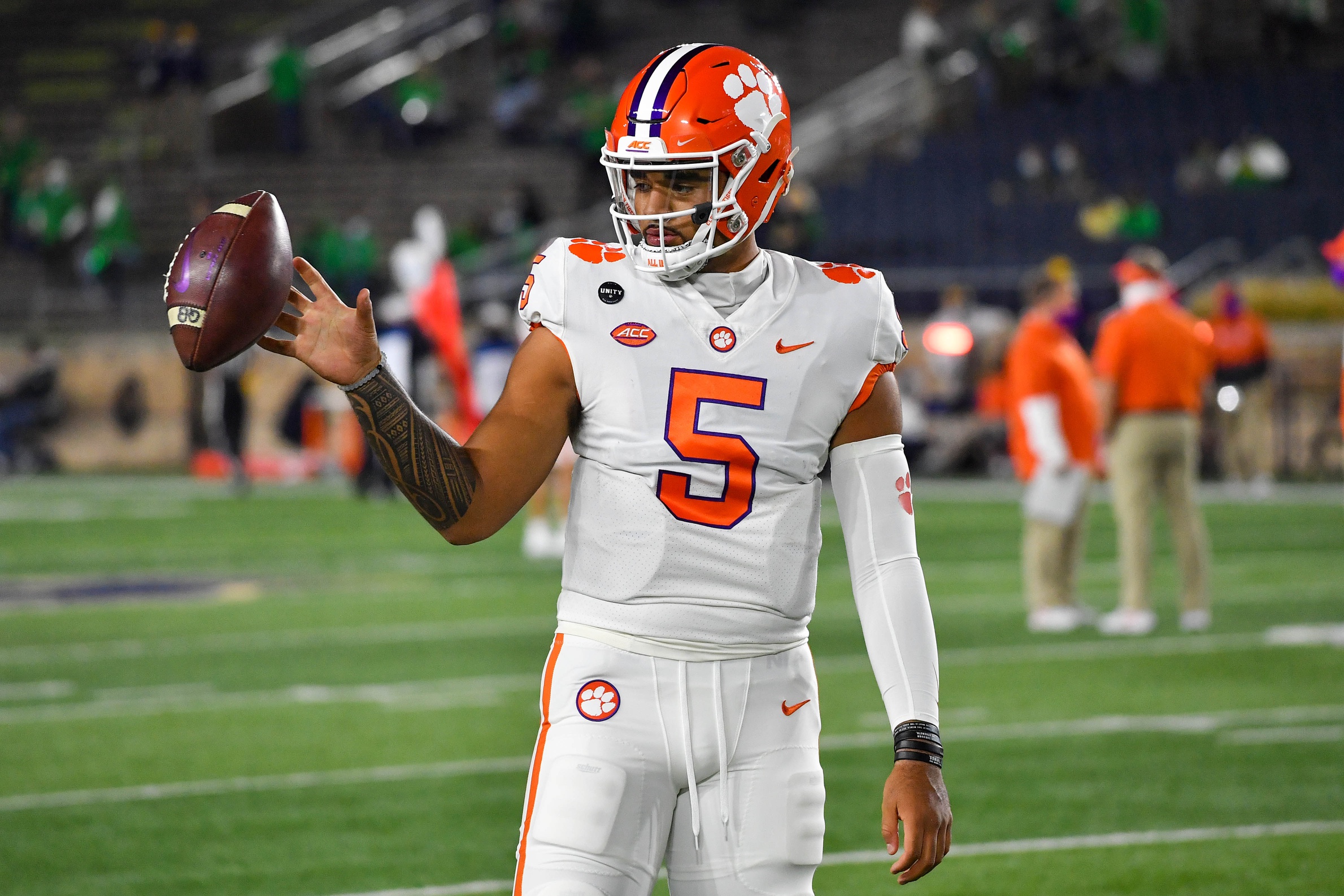 Uiagalelei was one of Dabo Swinney's prized recruits of the 2020 class — a five-star who ranked 10th nationally, according to 247Sports.
When Trevor Lawrence was out with COVID-19, Uiagalelei impressed in spot starts as a true freshman. He earned an 83.6 passing grade with five big-time throws and zero turnover-worthy plays in those two games against Boston College and Notre Dame. And Uiagalelei showed that he has an absolute rocket-launcher for an arm:
DJ Uiagalelei FROZEN ROPE????

— PFF Draft (@PFF_College) November 8, 2020
We saw a few inaccurate throws that stemmed from mechanical issues, but that is nothing major to worry about. Uiagalelei displayed all the requisite tools to be an elite college quarterback and didn't look like a true freshman out there being protected by easy throws.
Brennan far exceeded expectations in his three starts before going down with a season-ending injury. He took a combined 145 dropbacks against Mississippi State, Vandy and Mizzou and came away with an 88.3 passing grade, 10 big-time throws and just one turnover-worthy play. The downfield passing was nothing short of exceptional in those three games. He trailed only Mac Jones in the SEC for the highest passing grade on throws of 10 or more yards downfield over that span and jumped to first on deep passes alone.
The LSU quarterback displayed a quality arm and showed a lot of growth with the way he handled pressure. He was fearless under pressure in his last game against Mizzou, going 11-of-16 for 248 yards and a couple of scores on such plays. With Brennan back and healthy, LSU ought to rebound after a disappointing 2020.
Slovis is skating on thin ice here but just holds onto the No. 10 spot. He shattered expectations as a true freshman in 2019, earning an 80.8 passing grade and displaying precise accuracy. Still, Slovis often looked like a first-year player, with one or two head-scratching forced throws per game. He also struggled to hold onto the ball in collapsing pockets.
Instead of taking that next step forward, Slovis was the same player in 2020. He earned an 80.1 passing grade in six starts, which featured 13 turnover-worthy plays but top-notch accuracy underneath.
He isn't in the elite tier yet, but he has the skill set to make the jump to elite status in 2021.
I could have gone in a few different directions here. I could have easily picked Carson Strong of Nevada, who can hit a 50-yard throw with ease, or I could have gone with Alabama's Bryce Young or Georgia's J.T. Daniels, but I'm dedicating this section to the dual-threat Florida Gator, Emory Jones.
Jones was a four-star recruit of the 2018 class who chose Florida over Alabama, Ohio State, Clemson and many others. He has yet to start a game in his three years on campus, but we have gotten a taste of what he has to offer in mop-up duty at times, and the returns were impressive in both facets.
An elite overall athlete for a quarterback, Jones has also flashed some real-deal arm talent, producing an 80.6 passing grade across 87 career attempts. There were some fumbling issues as a runner, but he has posted an 81.7 rushing grade on 76 carriers over the last couple of years. For perspective, Justin Fields was the only FBS quarterback who posted a grade north of 80.0 in the 2020 season.
He may have a more notable recruiting profile and background, but I wouldn't be surprised if Jones ended up as the Joe Burrow or Zach Wilson of the 2021 college football season. What's most alluring about his situation at Florida is that this will also be head coach Dan Mullen's first true dual-threat quarterback since Dak Prescott. I'm not a betting analyst, but it is worth noting that he is +6600 to win the Heisman Trophy over at DraftKings Sportsbook — pretty good risk-reward there.