The 2021 college football season kicks off in just over 100 days, and we at PFF are here to get you ready for it. We'll start by ranking the top 10 returning players at each position and naming one sleeper who could make some noise this season.
Below is a list of PFF's top 10 returning safeties. The list is based on a bevy of factors, including PFF grade and other advanced metrics available to CFB Premium Stats+ subscribers. And remember, this has nothing to do with pro potential.
Subscribe to
Find the rest of PFF's top returning college players series here:
QB | RB | WR | TE | OT | iOL | DI | EDGE | LB | CB | S
Smith, a three-star recruit of the 2019 class, has recorded the third-best slot coverage grade in the FBS over his true freshman and sophomore seasons while serving as the "spear" in West Virginia's defense. Now, he'll be taking his talents to the Georgia Bulldogs, where he will anchor a secondary that was gutted this past offseason.
Smith's 2020 campaign was a sight to behold. He was targeted 38 times in coverage across 10 games and allowed just 110 yards for the season. He did not give up a single explosive pass play of 15 or more yards while making five plays on the ball and forcing 10 passing stops. At 5-foot-10, 198 pounds, Smith is a physical player who shed receiver blocks and blew up screens like clockwork in 2020. He has great eyes in coverage and was never caught off guard. Keep an eye on Smith next season — he's the real deal.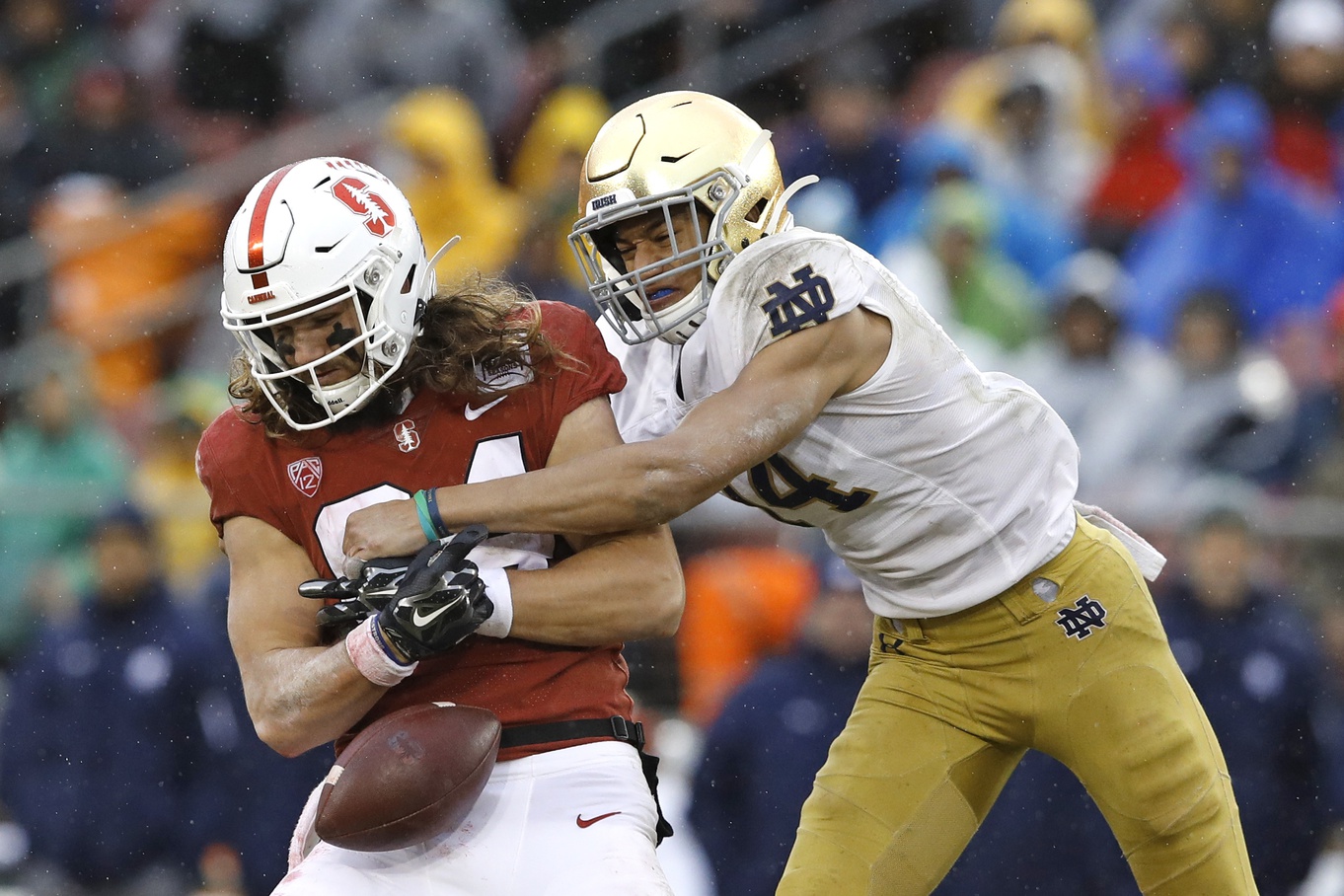 Hamilton stands at 6-foot-4, 221 pounds, and he is one of the most explosive safeties in the game. His 42-inch vertical may have helped land him on Bruce Feldman's 2020 Freaks List, but he also pairs his physical skill set with great eyes in coverage, making him a certified playmaker.
Hamilton has compiled 16 combined pass breakups and interceptions and 15 passing stops as a true freshman and sophomore. Better yet, he was responsible for only three explosive pass plays of 15-plus yards over that span. The Notre Dame safety has generated the third-most WAA among players at his position over the last two years.
Joseph played only 13 snaps in his first season on campus in 2019 before taking a redshirt, but he exploded in 2020 and established himself as one of the game's top cover safeties. He intercepted six passes while being responsible for only one explosive pass play of 15-plus yards.
It didn't matter if he was playing single- or two-high deep safety or if he was down in the box or manning the slot, Joseph's coverage ability was on full display all season, and it ended in a top-three coverage grade among FBS safeties (88.5).
Expect interception regression from Joseph in 2021, but don't let that change your opinion on the Northwestern safety.
Moore was thrown into the fire and asked to serve in a starting role as a true freshman in 2020. There were some bumps early on, but after that shootout against Ole Miss, Moore turned a corner and was performing at a special level for a first-year player covering the slot in the SEC.
From Week 7 on, Moore put up the highest slot coverage grade in the FBS, and no FBS safety made more plays on the ball (10). And that's even including a rough outing in the SEC championship against Florida, where he played through an injury and allowed five catches for 123 yards and a score.
Outside of Tykee Smith, there's no one better covering the slot in college football.
After two years of stellar play at Lackawanna Community College, Brisker chose Penn State over Alabama and others in 2019. He has been one of the top safeties in the country ever since.
The 6-foot-1, 203-pound safety has earned PFF grades of 82.0 and 82.8 in his two years as a Nittany Lion, forming one of the five best two-year marks in the FBS. Brisker also owns 85.0-plus grades against the run and in coverage over the last couple of years, something no other Power Five safety has managed.
He's rocked up and explosive and certified himself as one of the best tacklers at the position a year ago, missing just one tackle on 60 total attempts. That 1.7% missed tackle rate led all FBS safeties on the year and was the second-lowest rate we have ever seen in the PFF College era.
Sterling first took on a starting job in the 2019 season and immediately made his name known as one of the top cover safeties in the country. Since then, he ranks fourth among all FBS safeties in coverage grade and has racked up 14 combined pass breakups and interceptions over that span, seventh at the position in the FBS.
Sterling is an instinctual player who puts his tape study into action. A prime example of this was his pick-six against Texas Tech last season: The Red Raiders had run their smash concept a few times earlier in the game, and Sterling reportedly picked up on this and declared, "If they run that route concept again, I'm stepping underneath it and running it for a touchdown."
Sure enough, they ran it one more time. And he housed it.
Battle showed the kind of growth in his true sophomore campaign that many down in Tuscaloosa were hoping to see. After posting a 66.8 PFF grade as a key reserve in Year 1, Battle bolstered that mark to 80.9 in Year 2 that ranked sixth among all Power Five safeties. The slot/deep versatility is there with Battle, as he was the only Power Five safety with 150 snaps and a grade north of 75.0 in both the slot and at free safety.
Led by one of the rising defensive minds in college football — defensive coordinator Patrick Toney — Louisiana had one of the best secondaries in the Group of 5 in 2020, and Trahan was the leader of that group. His 89.4 coverage grade was the second-best among FBS safeties.
Trahan trusts what he sees out there and was a true playmaker on the back end, with 11 combined pass breakups and interceptions, which also led all FBS safeties.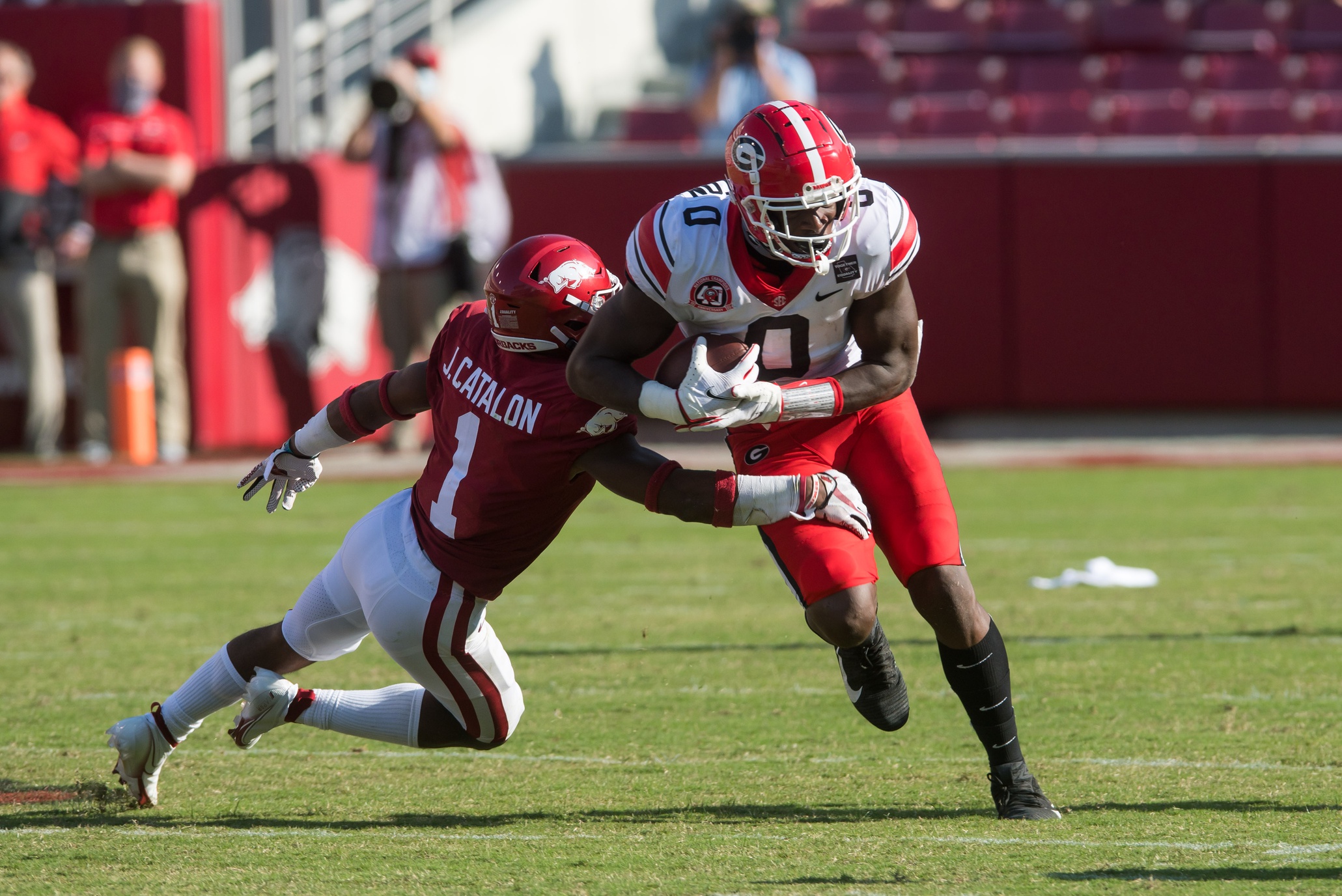 Catalon notched a 79.0 run-defense grade and 80.7 coverage grade in Year 1, paving the way to a top-10 PFF grade among all Power Five safeties. The Arkansas product displayed fantastic vision and was seemingly always around the ball, racking up eight combined pass breakups and interceptions.
Gallmon ended his 2019 sophomore campaign with a 76.8 PFF grade and then took his play to new heights in 2020, raising that grade over 10 grading points to 86.9. And It was his performance at free safety that anchored that strong grade; when lined up deep, Gallmon posted the highest PFF grade in the FBS by over five grading points.
The South Alabama product paired his 88.4 run-defense grade with an 84.7 coverage grade and missed only seven of his 92 tackle attempts in 2020.
New head coach and defensive mastermind Kane Wommack — formerly the Indiana DC — ought to enjoy Gallmon leading his secondary.
Harvell-Peel was one of the biggest breakout safeties of the 2019 season, as he recorded an 89.5 coverage grade that ranked seven in the FBS. However, he looked like a vastly different player in 2020, as that coverage grade tanked 30 points down to 59.5.
He saw an uptick in coverage snaps in the slot, which is where he faltered the most, though he still looked a ballhawk roaming around at deep safety. His 10 plays on the ball at free safety since 2019 are the most in the FBS.
The decline may be scary, and he may not be the best tackler, but Harvell-Peel possesses top-notch coverage ability. If he can reclaim his old form, Oklahoma State will be vying for the honor of top secondary in the Big 12.