We are just over 100 days away until the kickoff of the 2021 college football season, and we at PFF are here to get you ready for it. This week, we start with our top 10 players by position and name a sleeper who could also make some noise.
Here are PFF's top 10 interior offensive linemen returning to college in 2021. The list is based on a bevy of factors, including PFF grade and other advanced metrics available to CFB Premium Stats+ subscribers. And remember, this has nothing to do with pro potential.
Subscribe to
Find the rest of PFF's top returning college players series here:
QB | RB | WR | TE | OT | iOL | DI | EDGE | LB | CB | S
Linderbaum went from a defensive tackle to the best offensive lineman in college football in just two years. He played both sides of the ball in high school and was recruited to play on the interior defensive line, where he logged 18 snaps in his first season. He then flipped to center for the 2019 campaign, where he started and recorded the fifth-best grade in the FBS at the position (81.7). And this past year, Linderbaum claimed the No. 1 spot with an astounding 91.5 PFF grade, featuring just three pressures allowed on 280 pass-blocking snaps.
The Iowa center checks the athleticism box with flying colors. There's not an interior offensive lineman in the country with similar movement skills. His return to school instead of declaring for the 2021 NFL Draft is a huge win for a Hawkeyes offensive line that has two marquee members — Alaric Jackson and Cole Banwart — departing. The key thing to watch with Linderbaum in 2021 is if he can put on a little bit more mass and sustain that same elite-level athleticism.
Madden is set to return for his sixth season this fall and is easily the best all-around non-Power Five offensive lineman. He has started at right guard for the Thundering Herd for three years now, providing great pass protection each year with grades in that facet of 84.6, 79.0 and 82.0.
In 2020, he allowed just six total pressures, none of which were sacks or hits, on over 270 pass-blocking snaps. As for his run blocking, it wasn't until this past year that we saw Madden perform at an extremely high level. He finished the season leading all FBS guards in negatively graded run-block rate en route to a 93.0 run-blocking grade.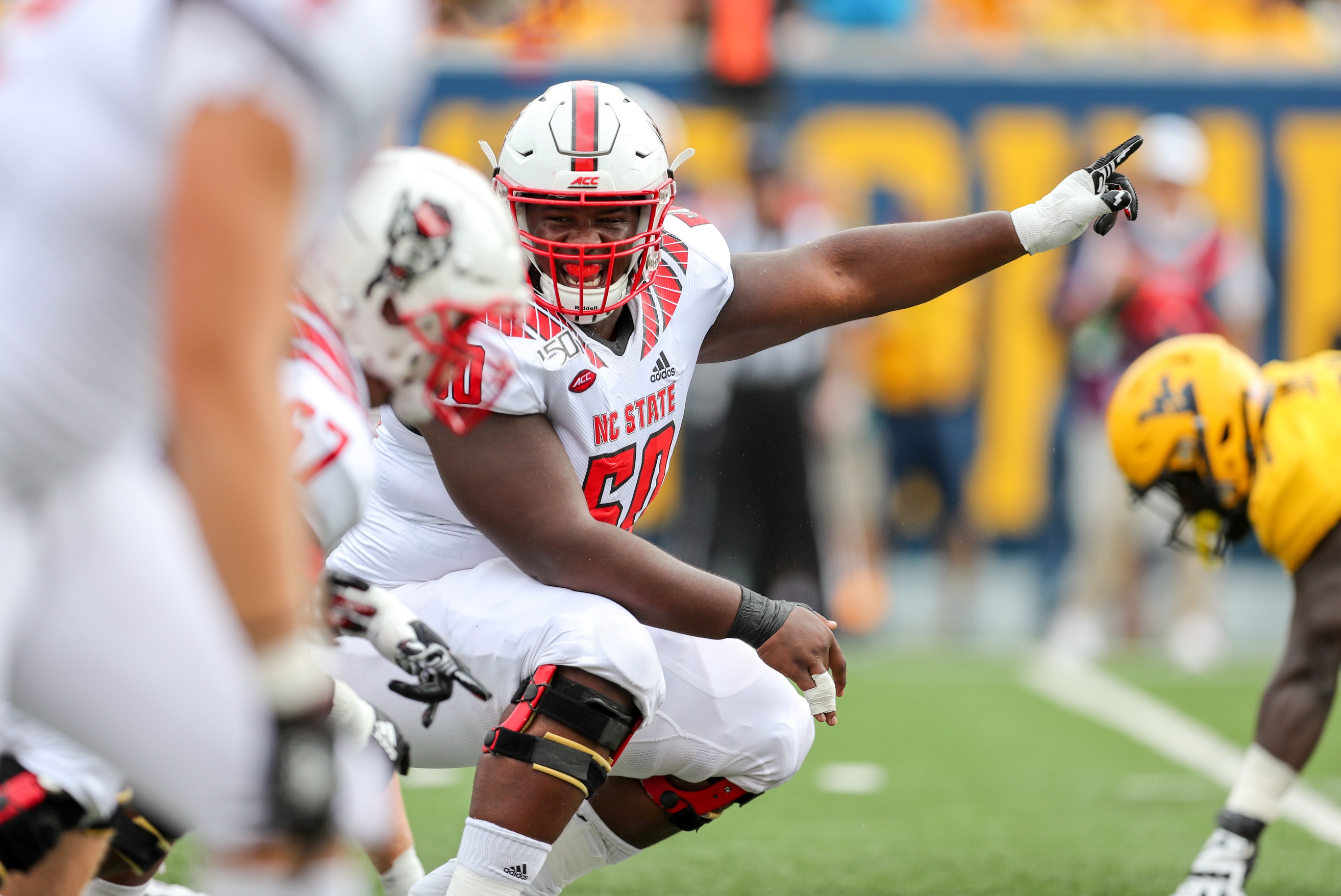 Gibson is an athletic defensive tackle-to-center convert like Tyler Linderbaum. He flipped to the offensive side of the ball in the middle of the 2018 season, his second one with NC State. Gibson was named the starting center for 2019, performed quite well and then broke out in 2020 in his second year holding the job. He posted a grade above 80.0 as both a run- and pass-blocker, something only five other Power Five centers accomplished in the past five years. Four of those five are now in the NFL, with the other being Linderbaum from last season.
Notre Dame saw four of its five starters from last year's unit depart for the NFL. The good news is that the team's lone returner, Jarrett Patterson, is one of the best interior offensive linemen in college football — that is, if he doesn't kick out to tackle for 2021, which is a real possibility. But we still have no idea, so we're riding with him on the interior list.
Patterson made his debut as the starting center in 2019 and performed exceptionally well. He ranked 11th among Power Five centers in PFF grade and didn't allow multiple pressures in any of his 13 starts. He was even better in 2020, ranking sixth among Power Five centers in PFF grade. Patterson's improvement primarily came in the run game, where he ranked eighth in positively graded block rate among. He's also one of two returning Power Five interior offensive linemen to log at least 650 pass-block snaps without surrendering a sack in their college career.
Regardless of where Patterson plays in 2021, he's going to anchor the Irish's line.
Shaffer finally earned a starting spot in 2020 after three years of limited game action. While he was rather inconsistent, his high-end play earns him a spot on this list. He was the fourth-highest-graded Power Five guard in 2020. Shaffer finished with the seventh-best positively graded run-block rate in the Power Five last season, performing well on true pass sets for a first-time starter in the SEC. He ranked eighth in the Power Five and second in the SEC in true pass set blocking grade.
Alec Lindstrom, the younger brother of former Boston College offensive lineman and current Atlanta Falcon Chris Lindstrom, had rather low expectations coming into college, as he was just a two-star recruit. But like his older brother, he proved to be an underrated talent and a standout pass protector since taking over the starting center job in 2019.
Lindstrom finished 12th among Power Five centers in pass-block grade that year and then recorded the second-best mark among that group of qualifiers in 2020, with an 85.1 mark. Pittsburgh's and Clemson's ferocious defensive fronts did rattle Lindstrom a bit, but he was sharp in every other outing. He also played the fifth-most true pass sets among Power Five centers, further solidifying his impressive grade.
Kramer endured an unfortunate 2020 campaign, seeing just one start before having to quarantine for a couple of weeks due to COVID-19 protocol. He came back and was extremely rusty in his next two games against Rutgers and Nebraska. And when he finally started to find his footing, he suffered an ankle injury and missed the Illini's last performance. In the two years prior to that, though, Kramer showed enough to prove he is one of the top centers in the game.
In 2018 and 2019 combined, he had the third-best true pass set blocking grade among Power Five centers. His performance in the run game was shaky in 2018 — his second year starting — but he showed immense growth in that facet in 2019. Kramer maintained his blocks exceptionally well on the move, putting defenders on the ground like clockwork. His 14 big-time run-blocks were the most we have ever recorded by a Power Five center in the PFF College era.
If he can reclaim his old form, Kramer will jump a few spots on this list.
Schott, who walked on for Iowa in 2017, was only a couple of games into his 2020 season before suffering an injury that knocked him out of a few games. He returned to the guard rotation as a non-starter for Iowa's final three games. Still, Schott was a top-notch pass protector. He posted an 87.4 pass-blocking grade and allowed just one pressure, which was a quarterback hit by Purdue edge defender George Karlaftis on a stunt.
Schott's pass-blocking grade and pressure rate allowed were both top-three best marks by a Power Five guard. And while he saw minimal snaps last season, it was a continuation of success from 2019, when he ranked 16th among Power Five guards in PFF grade.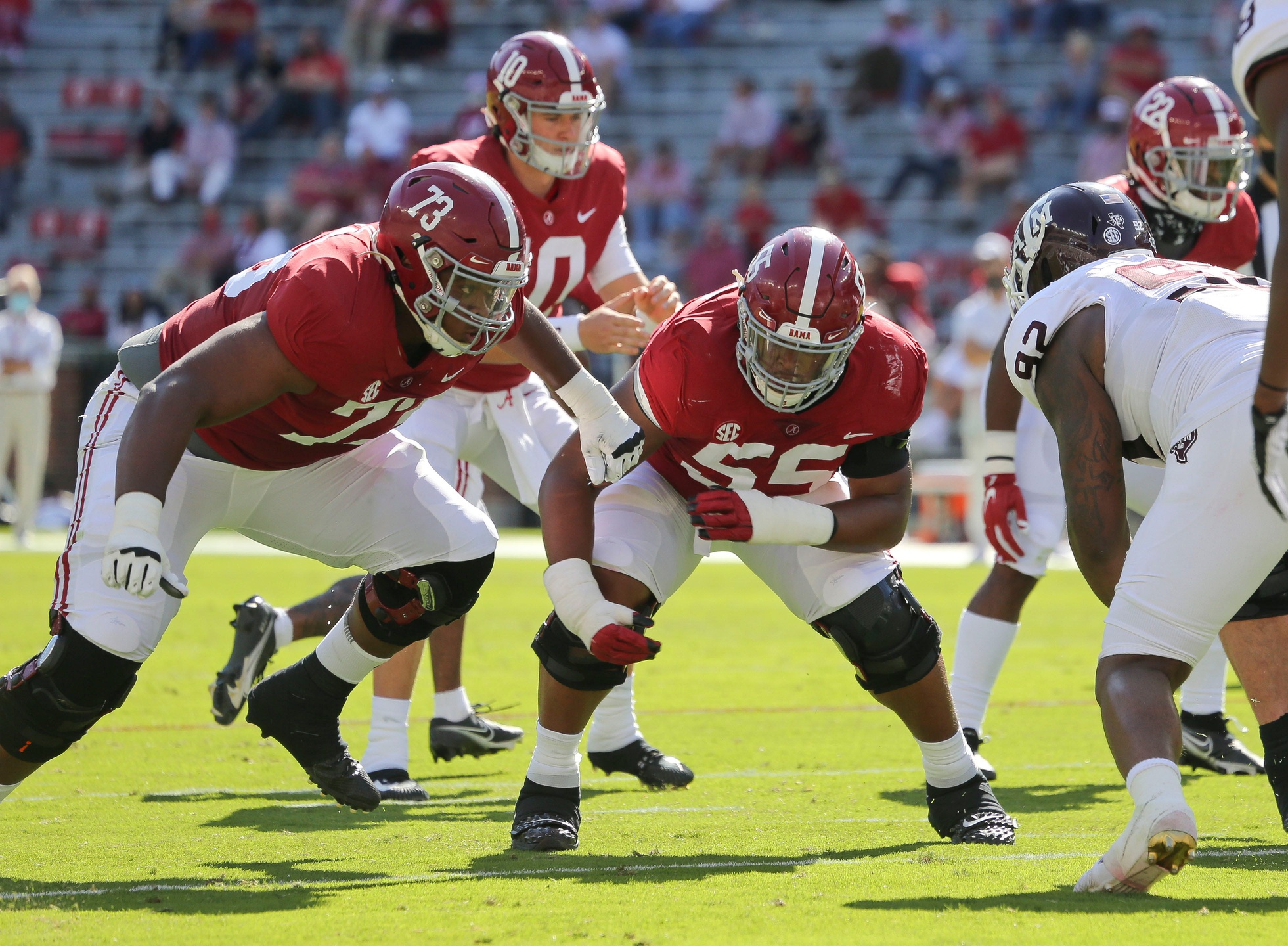 Ekiyor oozes power and will clear blocks on man runs with ease. He posted the fourth-highest positively graded run-block rate among Power Five guards on such runs in his first year starting in 2020. At the same time, though, his quicks aren't great, which we saw firsthand in the postseason. In the regular season, Ekiyor was the sixth-highest-graded guard in the Power Five, with the five players ahead of him having since departed for the NFL. His play dipped a bit against Florida, Notre Dame and Ohio State, but considering it was his first action as a starter, there was a lot to like about what Ekiyor displayed.
Torrence was thrown into the fire as a three-star true freshman after an injury to the previous starter during Louisiana's season-opener. He had a bumpy start, allowing a couple of hurries, but was crisp from there on out in 2019. The 6-foot-5, 332-pound guard — who was actually 420 pounds in the eighth grade — proceeded to be the highest-graded true freshmen interior offensive lineman in 2019.
That success carried into 2020, as he was nearly flawless in pass protection, posting an 89.0 grade in that facet — third-best among FBS guards. Torrence didn't allow a single sack or hit across 713 pass-block snaps at guard as an underclassman. That's the most snaps played without a sack or hit allowed among all FBS guards in that span.
Georgia reportedly made a late push to bring in Torrence as a member of the team's 2019 class, but he opted to join the Ragin' Cajuns. He got his opportunity to shine early and is currently seizing it.
Maietti just might be the most underappreciated interior lineman in college football. He was stuck playing for a lowly Rutgers program from 2016 through 2019 but was one of the better pass-protecting centers in college football after redshirting his first year on campus.
Maietti ranked sixth among Power Five centers in pass-block grade from 2017 through 2019. He then transferred to Missouri to play under Eli Drinkwitz for the 2020 season and maintained his stout pass protection while showing notable improvement in the run game. Maietti turned in a 76.5 run-block grade, over 13 grading points higher than his previous single-season best.
He also boasts the longest streak of career pass-block snaps played without a sack allowed by a Power Five center in the PFF College era (1,329). Creed Humphrey, who was drafted in Round 2 of the 2021 NFL Draft by the Chiefs, is in second place (1,230).