The 2021 college football season kicks off in just over 100 days, and we at PFF are here to get you ready for it. We'll start by ranking the top 10 returning players at each position and naming one sleeper who could make some noise this season.
Below is a list of PFF's top 10 returning edge defenders. The list is based on a bevy of factors, including PFF grade and other advanced metrics available to CFB Premium Stats+ subscribers. And remember, this has nothing to do with pro potential.
Subscribe to
Find the rest of PFF's top returning college players series here:
QB | RB | WR | TE | OT | iOL | DI | EDGE | LB | CB | S
Bonitto might be the most underrated player in all of college football. The rush-end led all FBS edge defenders in pass-rush grade (93.6), pass-rush win rate (28%) and pressure rate generated (25.7%) in 2020. Among all Power Five edge defenders since we began grading college seven years ago, Bonitto ranks in the top five in all three metrics.
Bonitto's explosiveness and athleticism caused headaches for every offensive tackle he faced, and no lineman succeeded in shutting him down in 2020. His lowest win rate in a single game this past year sat at 17.6% — a pretty solid day for most FBS edge rushers.
As a five-star recruit who ranked second overall in the 2019 class, according to 247Sports, Thibodeaux brought plenty of hype with him to Oregon. He lived up to that as a true freshman in 2019, notching a 79.9 pass-rush grade — second-best in the Pac-12 and over 10 grading points higher than any other first-year edge rusher in the Power Five.
His 2020 campaign started slowly, but he turned on the jets down the stretch and looked like an elite edge defender over his final four games (out of seven on the year). Thibodeaux was one of the highest-graded players at his position over that span, boasting an 87.2 PFF grade that included a 12-pressure performance against USC and Alijah Vera-Tucker — a first-round pick in 2021 — in the Pac-12 Championship game.
Kayvon Thibodeaux was shot out of a cannon! Explosive burst at the snap, nice rip to free himself from Vera-Tucker.

KT is easily 2022's top edge defender. pic.twitter.com/X0nf0lYkcR

— Damian Parson ???? (@DP_NFL) December 19, 2020
If you were to build a perfect college pass rusher among those playing next year, Thibodeaux's get-off and bend would be precisely what you'd want. He is an elite talent who is bound for a monstrous 2021. Be sure to circle the calendar for Week 2 when he goes up against the best tackle duo in college football — Thayer Munford and Nicholas Petit-Frere — as the Ducks take on the Buckeyes in Columbus, Ohio.
Leal has a lot of power with his 6-foot-4, 290-pound frame, and it showed routinely this past season. He notched an 80.0-plus grade as both a run defender and a pass rusher in 2020, something only four other Power Five edge defenders accomplished this past year. Leal displayed improved hand usage and a deadly push-pull. He flashed exactly that in his performance against Florida, earning a career-high PFF grade.
Texas A&M's DeMarvin Leal is going to light it up in 2021 and beyond.

The former 5⭐️ was 1 of 5 Power Five edge defenders with a grade above 80.0 vs the run and as a pass-rusher in 2020. A lot of power, twitchy for a man his size and good hand usage with a deadly push-pull. pic.twitter.com/k6qvaL5qlT

— Anthony Treash (@PFF_Anthony) February 16, 2021
Leal was a consistent performer in 2020 with a single-game PFF grade north of 70.0 in nine of his 10 outings, which led to an 88.3 PFF grade for the season. He may be 290 pounds, but he sure doesn't play like it with his athleticism and twitch. Needless to say, Leal is clearly living up to his five-star recruiting status.
Hutchinson played only three games in 2020 before suffering a season-ending injury, but the Wolverine seemed to be on his way to taking that next step forward on his mere 149 snaps (82.5 PFF grade). With a clean bill of health, he is quite easily one of the best all-around defensive linemen in college football.
The 6-foot-6, 269-pounder is versatile, has incredible power behind his hands and is one of the more polished players at the position. For proof, look at his 2019 outing against Iowa when he became one of the few to post wins against 2020 Super Bowl champion Tristan Wirfs.
Aidan Hutchinson vs. Tristan Wirfspic.twitter.com/DzsNJOnEPj

— NFL Scout BR ???????? (@NFLScoutBR) August 27, 2020
Hutchinson produced an 83.6 run-defense grade and 27 run stops along with a 76.0 pass-rush grade and 46 total pressures in 2019. Still, he never really put together a dominant performance from start to finish in 2019 like others on this list. Still, Hutchinson was consistently good throughout the year. We need to see more elite outings in 2021, and he easily has the potential to make that happen.
Sanders broke out as a true sophomore in 2019 with an 82.8 pass-rushing grade before taking his play to elite status in Year 3. The 6-foot-5, 258-pound speed rusher posted a 90.1 pass-rushing grade in 2020 that featured four or more pressures in all but one of his games played (he had three in his worst pass-rush outing of the year).
He'll see quite a few tackles with middling athleticism in the AAC, and most of those guys simply cannot handle his short-area quicks. Sanders also possesses the length desired on the edge, which helped him get his mitts on five batted passes in 2020. Cincinnati will boast a monstrous defense again in 2021, with Sanders among the many reasons why.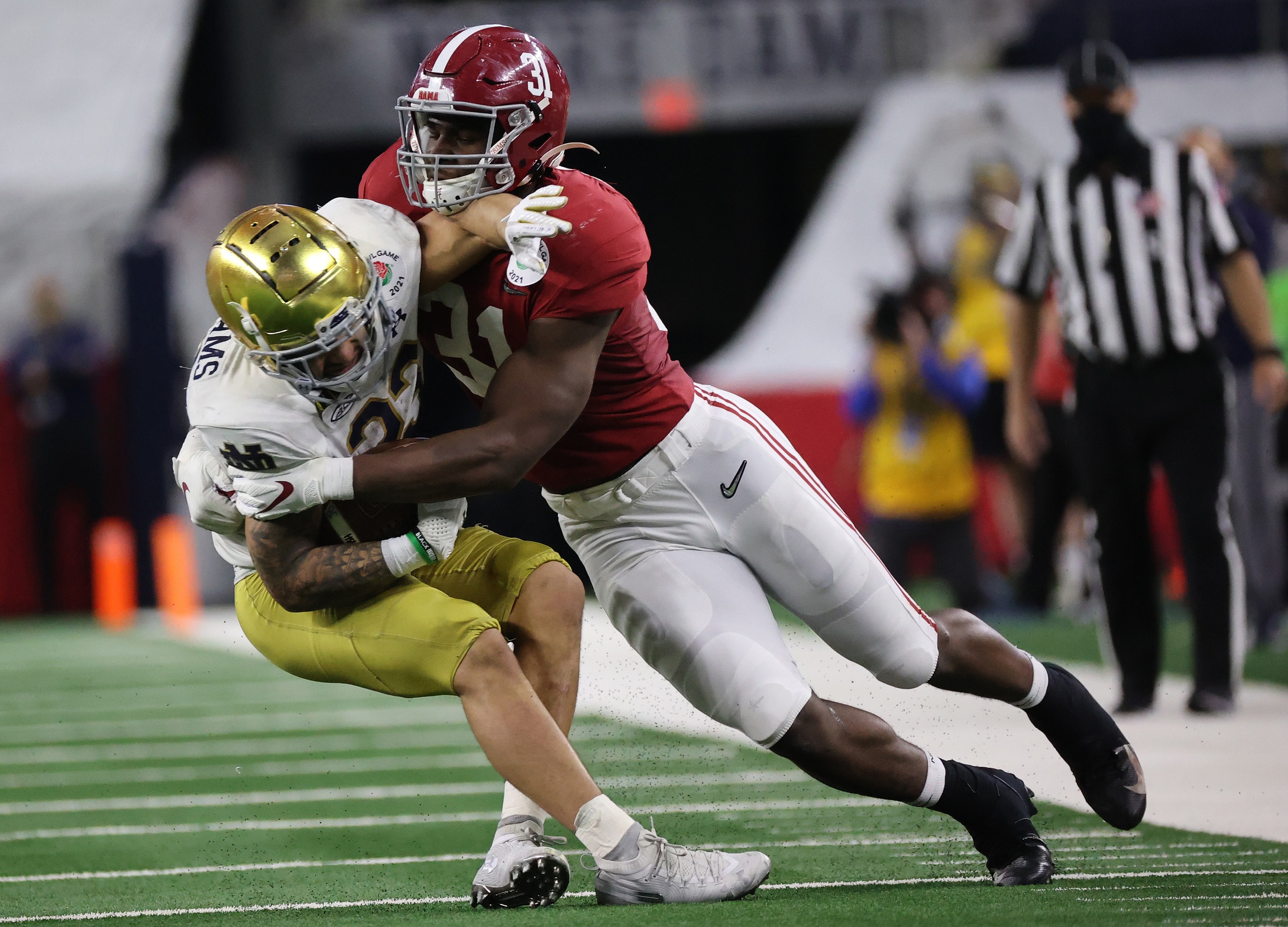 Anderson came to Alabama as a five-star recruit who ranked in the top 20 of the 2020 class, according to 247Sports, and he finished his first season with a whopping 60 pressures. Not only was his total more than double that of any other true freshman, but it was also the most in the entire FBS. Sure, the 13 total games he played helped, but Anderson's 17.4% pressure rate still ranked eighth in the FBS, and his 19.5% win rate ranked 24th.
Anderson has the requisite flexibility and bend for an edge rusher. He also blew up several run plays en route to an 81.1 run-defense grade. Very few true freshmen come close to sniffing those kinds of numbers.
The sky's the limit for Anderson in 2021. He put up crazy numbers for someone of his age and still has room to grow with his technique. I'd bet on him producing at an elite level for the Crimson Tide this fall.
Tupuola-Fetui managed to play in only four games this past season due to COVID-19's impact on Washington's season, but what he accomplished on his 222 snaps across those outings easily earned him a spot on this list. He was simply dominant, generating an elite 91.8 pass-rushing grade and 20 pressures, three of which were strip-sacks.
Tupuola-Fetui is the perfect representation of a power player and has a menacing bull rush. He's going to be one of the most interesting players to keep an eye on early in the 2021 season.
Taylor is among the group of players making use of their "super senior" season, as he'll return to App State for a fifth and final campaign. That is clearly a very good thing for the Mountaineers. Taylor was among the few players to earn a 90.0-plus pass-rushing grade in 2020, and he came away with an impressive 20.6% pass-rush win rate (15th in the FBS). The 6-foot-1, 295-pound defensive end is one of few players capable of catching Sanders for No. 1 Group of Five pass rusher for the 2021 season.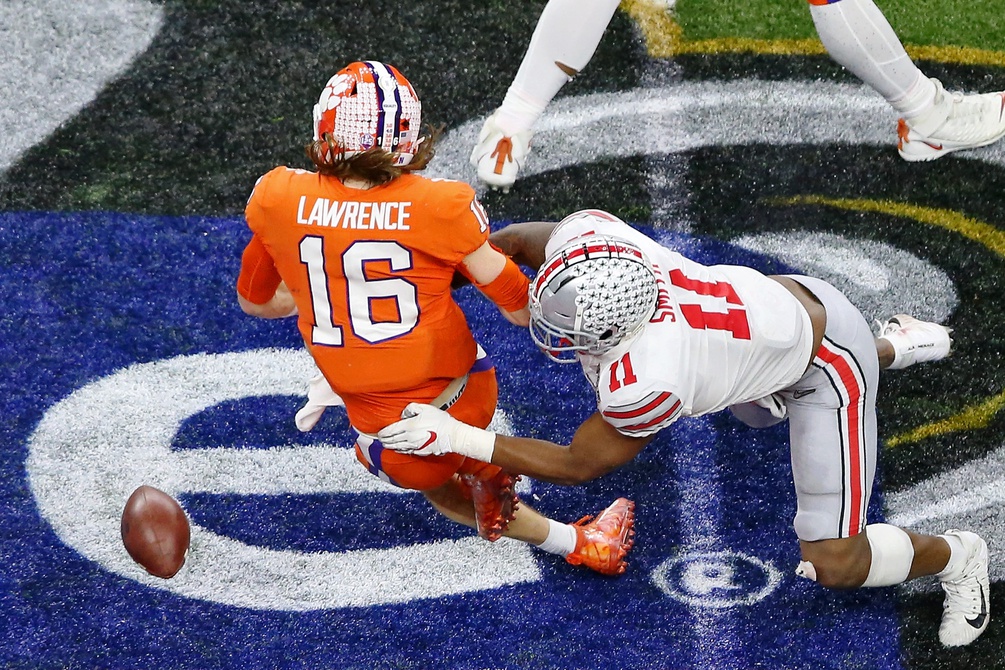 Smith was a top-35 recruit in the 2018 class, according to 247Sports, but didn't see the field on a consistent basis until the 2020 season. The 6-foot-4, 267-pound edge rusher looked as good as many had hoped, posting an 85.1 pass-rushing grade, a 25.3% pass-rushing win rate (fourth in the FBS) and a 22.3% pressure rate generated (second in the FBS).
Smith has routinely shown the ability to attack with quickness and win with power. He essentially played only half a season in 2020 (seven games) and was in the midst of a big-time breakout. Expect that to continue in 2021 and for Smith to end up in the elite tier of pass rushers by the campaign's conclusion.
Cox was originally a Georgia Bulldog but transferred to the Gators after his 2018 true freshman campaign and had to sit out in 2019 due to transfer rules. He was a highly sought-after five-star recruit and certainly looked the part in Year 1 with Georgia as a key reserve, though he didn't do significant damage as a pass-rusher.
That changed in his first season with Florida. The outside linebacker posted an 80.8 pass-rush grade, 18% pass-rush win rate and 48 total pressures. He never single-handedly took over a game but was a consistently impactful player week-in and week-out going up against the toughest competition in the SEC. Cox is bound to be a handful again in his second year in a starting job in 2021.
Jackson was a highly coveted top-100 recruit in the 2019 class who earned a starting job right away for the Trojans as a true freshman. He fared well in 2019 given that it was his first season, earning a 69.6 PFF grade. But instead of taking a big leap in 2020, we saw a baby step. Jackson raised his PFF grade to 71.0, ranking eighth in the Pac-12.
While Jackson is the top player on the defensive side of the ball for the Trojans, we need to pump the brakes on any talk of him being one of the best defensive linemen in the country… yet. Jackson no doubt has all the traits to get there: The guy has inordinate power in his frame and is capable of moving large linemen with one hand like it's nothing. He pairs that with absurd explosiveness, agility and flexibility. The ghost move he pulled out against Arizona State this past season was one of the filthiest moves I saw all year. 
USC edge Drake Jackson has a ways to from a technique perspective, but his physical traits are off the charts. Very powerful, explosive and flexible.

This ghost rush vs ASU was one of his savvier plays. Just filthy (#99 vs RT) pic.twitter.com/o5P5CoagT7

— Anthony Treash (@PFF_Anthony) May 3, 2021
That being said, there's virtually nothing inside his pass-rush move arsenal. He often won because of his explosiveness and physical traits. We never saw Jackson just completely overtake a game as a pass-rusher — in 17 career starts, he has yet to produce a pass-rush grade above 75.0. The potential is there for Jackson to be a dominant player, but he's not quite there yet.