We are just over 100 days away until the kickoff of the 2021 college football season, and we at PFF are here to get you ready for it. This week, we start with our top 10 players by position and name a sleeper who could also make some noise.
Here are PFF's top 10 offensive tackles returning to college in 2021. The list is based on a bevy of factors, including PFF grade and other advanced metrics available to CFB Premium Stats+ subscribers. And remember, this has nothing to do with pro potential.
Subscribe to
Find the rest of PFF's top returning college players series here:
QB | RB | WR | TE | OT | iOL | DI | EDGE | LB | CB | S
Munford is taking advantage of his "super senior" year and returning to school for the 2021 season, which is a big positive for the Buckeyes. He was a decent starter at left tackle for Ohio State in 2018 and 2019, but he took he improved his play even further in 2020. Munford posted a 91.8 PFF grade this past season, the fourth-best mark in the FBS and the highest mark among returning tackles.
His pass protection was nearly flawless in 2020. Munford stood strong against quality pass-rush units, such as Michigan, Clemson and Alabama, and displayed tremendous processing speed against stunts and blitzes all year long. Over the course of 264 pass-blocking snaps, he allowed just three pressures — none of which were sacks or hits on quarterback Justin Fields. In turn, his pressure rate allowed was half a percentage point lower than any other Power Five left tackle.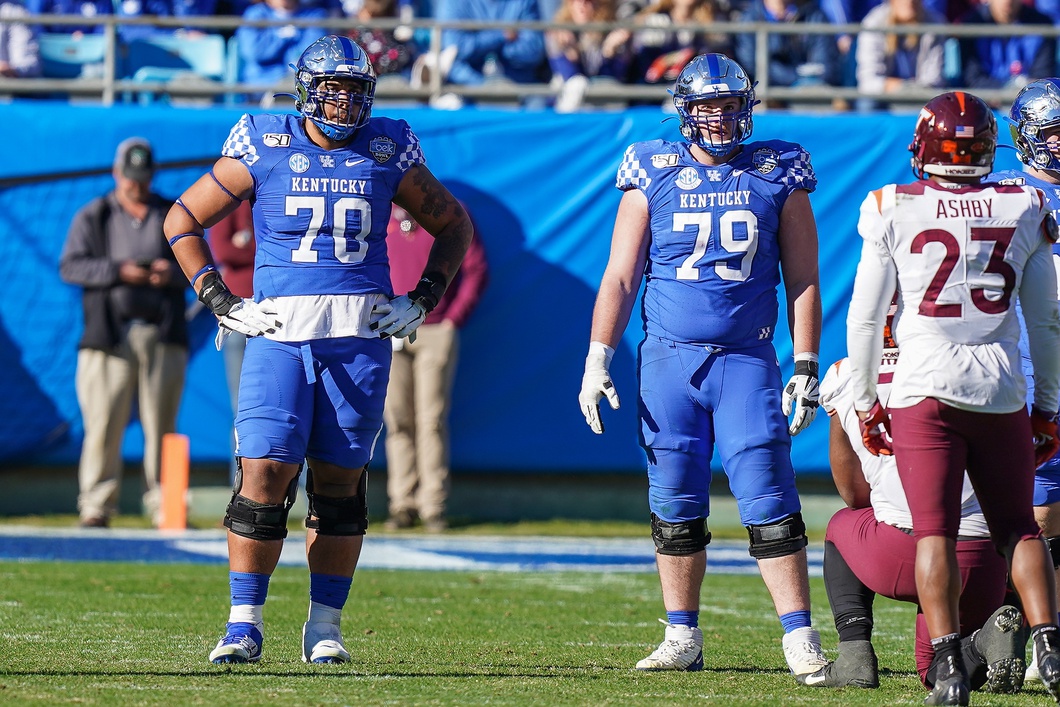 While Kinnard's pass protection is good, he ranks third here largely because of his impact in the run game. The 6-foot-5, 345-pound right tackle has consistently paved holes for ball carriers over the past two years, notching run-blocking grades of 89.1 in 2019 and 91.9 in 2020. Both marks ended up being among the 10 highest in college football.
Kentucky employed heavy doses of inside zone in that span, and zone concepts just happen to be Kinnard's bread and butter. No tackle has managed a higher zone run-blocking grade since 2019 than him. We shall see whether that continues next season with a new offensive play caller in town, but regardless, the Wildcats will have a quality right tackle at their disposal in Kinnard.
Neal is an absolute unit at 6-foot-7 and 360 pounds, and he is living up every bit to his recruiting status. In the 2019 class, Neal was a consensus five-star recruit who ranked No. 7 nationally, according to 247Sports. He started from Day 1 in 2019 at left guard and performed fairly well with a 71.2 PFF grade. Then, he moved to right tackle for the 2020 season and really elevated his play to top-tier status.
With the help of his brute strength, length and decent athleticism given his size, Neal recorded an 83.7 PFF grade in 2020, ranking fourth in the Power Five. He laid down a whopping 12 big-time blocks in the run game, which was the second-most in a single season by a right tackle in the seven years since PFF began grading college football.
Salyer had "breakout" written all over him in 2020 after shining on limited reps all across the offensive line in previous seasons. The 2018 four-star — who ranked 10th nationally, according to 247Sports — excelled in his first full season in a starting role, posting an 81.2 PFF grade. Salyer earned grades above 77.0 as both a pass blocker and a run blocker, something only 10 Power Five tackles accomplished this past season.
He showed growth as the season progressed and closed out his year with an impressive hot streak, ranking No. 2 among all Power Five offensive linemen in pass-blocking grade over his last four games (90.6). Salyer is capable of playing anywhere on the line at an extremely high level. He proved that in 2018 and 2019 before cementing it in Georgia's bowl game against Cincinnati when he played at left guard and didn't give up a single pressure on over 40 pass-blocking snaps.
Northwestern suffered a crushing blow prior to the 2020 season when star left tackle Rashawn Slater opted out for the year due to COVID-19 and declared for the 2021 NFL Draft. That thrust true freshman Peter Skoronski into his starting job, and the former four-star recruit surpassed expectations.
He recorded an 81.4 PFF grade that led all true freshman offensive linemen by over six grading points. The ferocious Ohio State defensive line did make him look like a first-year starter, though, as he posted a 21.1 pass-blocking grade and allowed eight pressures. But in the rest of his outings, Skoronski looked advanced for his age. Excluding that Big Ten Championship game, he earned an 87.4 PFF grade. He's a prime "breakout to elite" candidate for 2021.
McFadden dazzled as a rotational tackle in 2019 with an 88.3 PFF grade across 335 snaps and maintained that stellar play in 2020 as a full-time starter. His 83.5 PFF grade ranked 11th among all Power Five tackles. That led him to the fifth-highest PFF Wins Above Average (WAA) total among returning FBS tackles.
However, McFadden faltered a bit against premier edge rushers — such as Miami's and Pittsburgh's — en route to sub-60.0 pass-blocking grade in both outings. Whether McFadden rises up this list or even holds a spot in the top 10 moving forward hinges on how he fares against physical top-tier competition in 2021.
Snyder has been a mainstay on San Jose State's offensive line for the past four years and is set to return for his sixth year in 2021 thanks to extra eligibility due to COVID-19. He showed steady growth in his first few seasons, taking his PFF grade from 64.7 in 2017 to 71.2 in 2018 to 77.0 in 2019. Then, he took a massive step forward in every facet in 2020.
Snyder earned a grade above 88.0 as both a pass blocker and a run blocker en route to a 90.9 PFF grade for the season. His play strength markedly improved, which led to far cleaner true pass sets and more impactful run blocking. If he can continue to show signs of growth in 2021, Snyder just might claim that top ranking among Group of Five linemen.
Parham was a decent left guard for Memphis in 2018 and 2019, recording a PFF grade above 70.0 in both seasons. He then kicked over to right tackle for the 2020 campaign and really elevated his play. Parham finished his first season at that position with an astounding 90.6 PFF grade, which ranked fourth among all FBS right tackles.
The level of competition week after week wasn't all that impressive, but when the time came to face a great pass rush — such as Cincinnati's — Parham still performed at a high level. His consistency was quite impressive; he earned a PFF grade above 70.0 in all 11 of his games.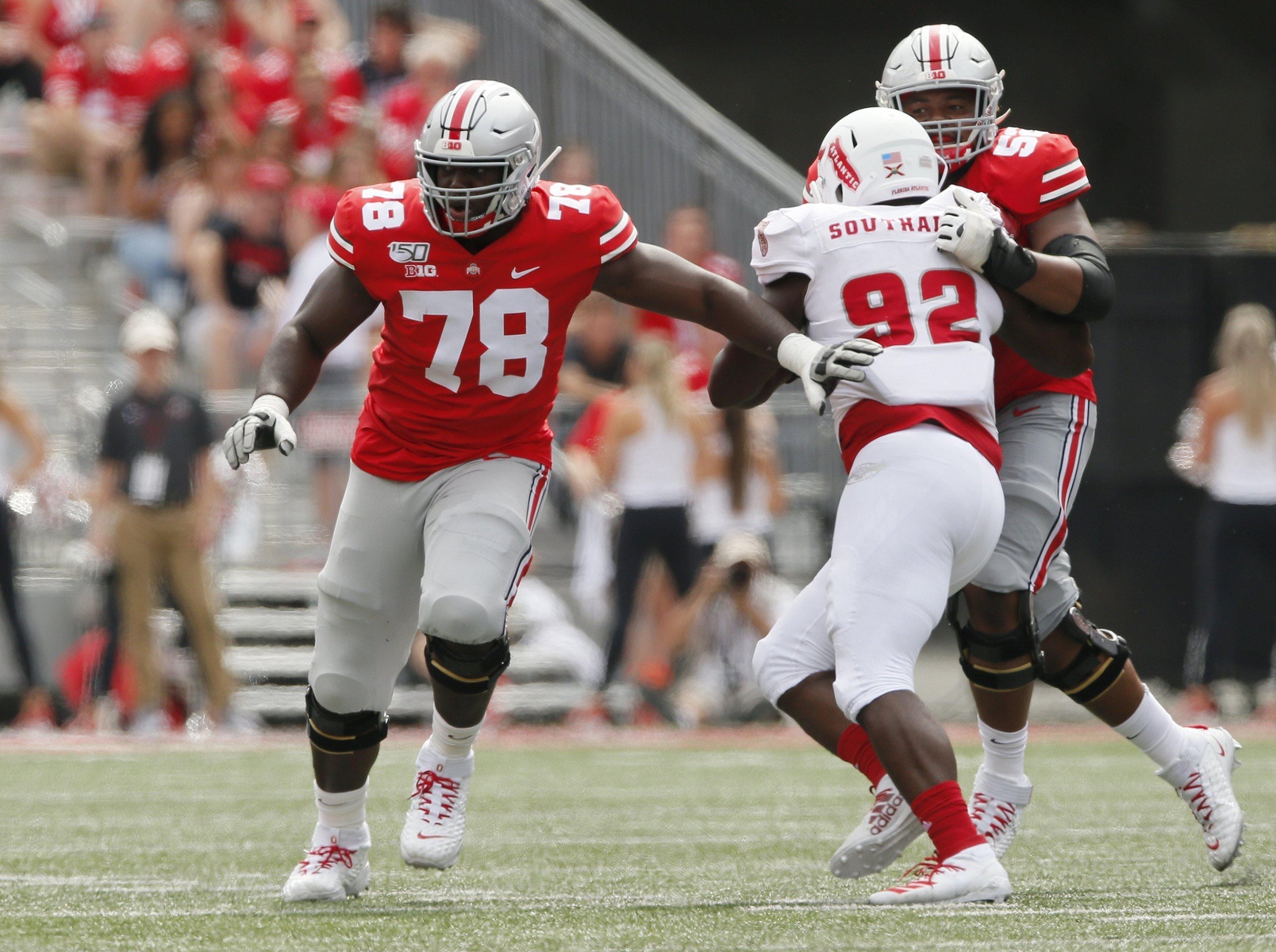 Petit-Frere was the Buckeyes' top recruit in the 2018 class, ranking seventh nationally as a five-star background. He saw just over 300 snaps in his first two years on campus, with most coming in a rotational role. But all of them left much to be desired, especially his lone start in 2019 against Northwestern when he posted a 14.5 pass-blocking grade and allowed three pressures. In 2020, though, Petit-Frere looked like a new player. He was easily the most improved offensive lineman in college football this season in both facets. 
Petit-Frere posted an 83.9 pass-blocking grade in 2020 and allowed just four total pressures across seven starts — three of which came against Alabama. On true pass sets, he joined teammate Thayer Munford with a top-10 pass-block grade ranking. With those two manning the end spots on the offensive line, Ohio State will boast the best tackle tandem in college football next season.
Primarily playing left tackle for the Wolfpack in his two years on campus, dabbling at guard for a few games to start 2020, Ekwonu owns a 61.9 career pass-block grade with 15 combined sacks and hits allowed. That's not particularly impressive, but he's one of the best run blockers in the country. Ekwonu's 92.1 run-block grade as an underclassman was the fourth-best mark among FBS tackles. And two of the three ahead of him are now in the NFL.
North Carolina State deploys a zone rushing attack, with over three-fourths of the team's runs being such since 2019, and that's where Ekownu is a true mauler. He is tied with Kentucky's Darian Kinnard for the most big-time blocks — PFF's highest-graded plays for linemen — on zone runs over the past two seasons.
Diesch was a four-star recruit and a fringe top-100 player in the 2016 class who spent the first four seasons of his college career at Texas A&M. Diesch didn't make a single start in that span, playing just over 130 snaps overall. He then transferred to Arizona State for the 2020 season, starting only four games at left tackle due to the impact of COVID-19.
But the early signs were promising. Diesch posted an 81.3 PFF grade, trailing only first-round draft pick Alijah Vera-Tucker for the best among Pac-12 tackles. Keep an eye out for a big breakout from Diesch as he takes on a full-time starting job for the first time in his college football career.