The 2021 college football season kicks off in just over 100 days, and we at PFF are here to get you ready for it. We'll start by ranking the top 10 returning players at each position and naming one sleeper who could make some noise this season.
Below is a list of PFF's top 10 returning tight ends. The list is based on a bevy of factors, including PFF grade and other advanced metrics available to CFB Premium Stats+ subscribers. And remember, this has nothing to do with pro potential.
Subscribe to
Find the rest of PFF's top returning college players series here:
QB | RB | WR | TE | OT | iOL | DI | EDGE | LB | CB | S
Brock Purdy doesn't have many trustworthy wideouts in his receiving arsenal, but he does have the best tight end in college football.
There's no question that Kolar's work as an in-line blocker has been the weak link in his game so far, but I'd rather have a top-tier receiving tight end than college football's best blocker at the position. And Kolar has made short work of working up the receiving ranks over the last two seasons, as his PFF receiving grade over that span ranks second to only Kyle Pitts among FBS tight ends. Over those two years, Kolar's receiving grade in the slot or out wide actually surpasses Pitts' for the best in the FBS.
Kolar has lined up as a receiver on almost half of his snaps over the past two years, and the Cyclones coaching staff put a greater emphasis on giving him reps out wide down the back end of 2020.
He's not going to provide much value after the catch, but he has the ball skills you want at the position. The 6-foot-6, 257-pound tight end should be the focal point of this offense once again in 2021.
After starting his career at LSU last season, Gilbert was set to enroll at Florida ahead of 2021. He has since de-committed, and various reports over the last several weeks have indicated that a return to LSU is a real possibility.
Regardless of where he plays, Gilbert is still one of the best tight ends in the game. The No. 5 overall recruit from the class of 2020 lived up to the hype as a true freshman last season, producing an impressive 73.0 receiving grade that ranked first among first-year tight ends. And Gilbert did that while running over 55% of his routes from the slot or out wide. He has all the requisite tools to eventually become the No. 1 tight end in college football.
The 6-foot-5, 249-pounder has a massive catch radius and some craftiness in how he moves both as a route-runner and after the catch. He hauled in seven of his 13 contested targets and broke nine tackles on 35 receptions in 2020.
He isn't much of an in-line blocker, but his overall athleticism and receiving ability are in that elite tier for the position. He is not that far away from where Kyle Pitts was as an underclassman.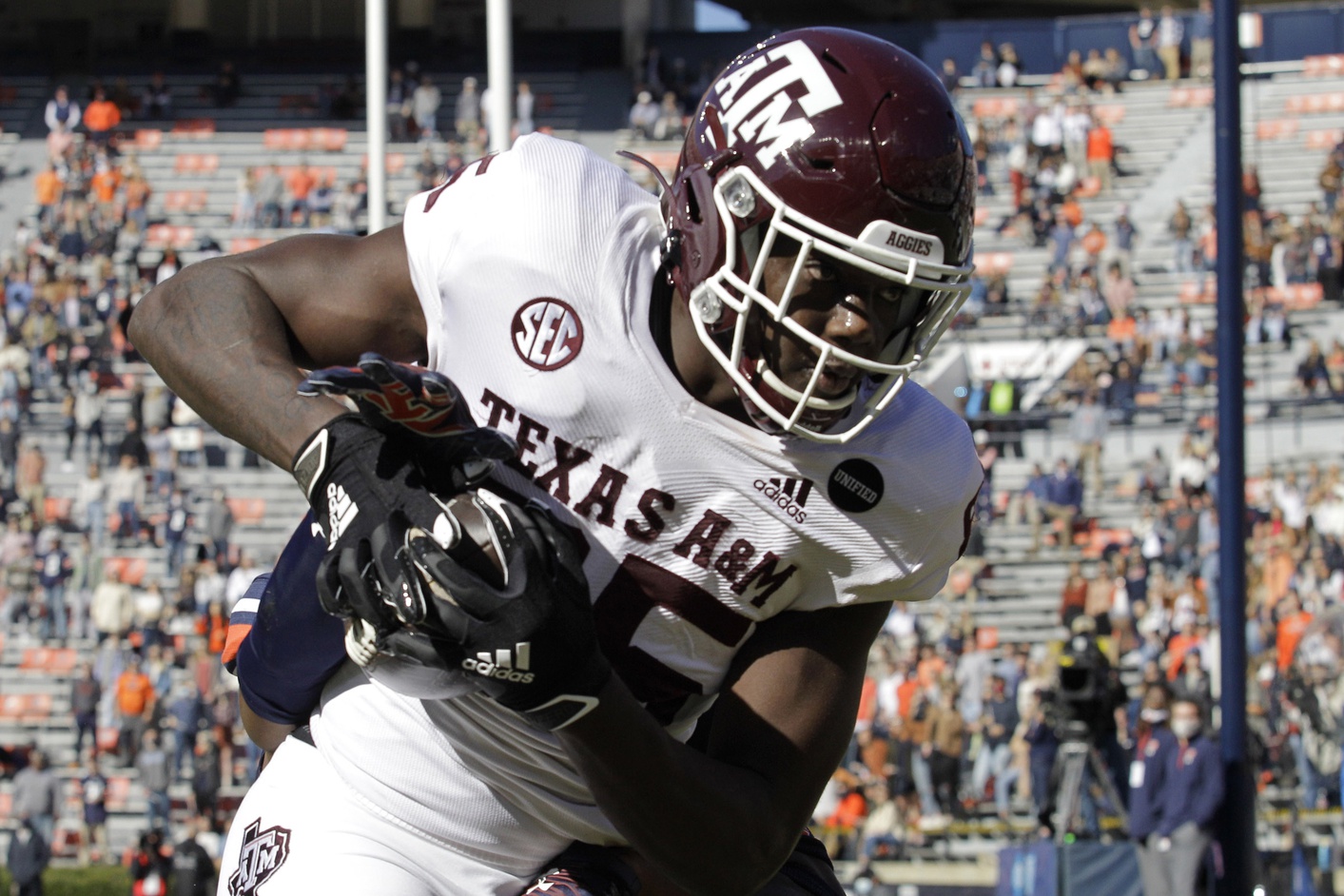 Wydermyer has lived up to the hype as the Aggies' clear-cut top receiver since he joined the program in 2019. His two-year 88.3 receiving grade trails only Charlie Kolar for the best among Power Five tight ends.
He's good at playing through contact and took a massive step forward in 2020. He went from running 80% of his routes from in-line as a true freshman to running only 54% of his routes from in-line a true sophomore, and he saw his yards per route run average from receiver alignments go from 0.98 to 1.77. Wydermyer's grade on those plays also spiked to the third-highest in college football, behind only Kyle Pitts and Charlie Kolar.
The Chanticleers may have popped up on everyone's radar in 2020, but Likely has sneakily been one of the better tight ends in the game ever since he took on a major role in 2019. The former two-star wide receiver recruit who received only one FBS offer now has the third-best receiving grade in the FBS since 2019.
Likely posted a 95.0 receiving grade over his last five games of 2020, the highest among FBS tight ends in that span. He hauled in 11-of-14 contested-catch opportunities over that same five-game stretch, and he did that while playing through a lower-body injury that required post-season surgery.
This top-five ranking is well warranted because he's the real deal. I wouldn't be shocked if we see him challenge for that top spot by season's end.
Kuithe has some competition when it comes to the title of best tight end in the Pac-12, but for now, he's the clear leader in that race. Size-wise, he's not your prototypical tight end at 6-foot-2 and 230 pounds, and he isn't anything special when it comes to in-line blocking. However, the receiving ability is what makes him one of the best tight ends in college football.
Over the last two years, the Utah product has broken 16 tackles on 59 receptions while averaging 7.3 yards after the catch per reception and generating an 86.7 receiving grade. That broken tackle total ranks first among Power Five tight ends in that span.
His ball skills have left little to be desired so far, as he is a body-catcher by nature and isn't one to impress in contested scenarios. Still, it hasn't hindered his success so far. Kuithe is capable of taking home the Mackey Award in 2021.
McBride is one of the top all-around tight ends in college football when it comes to combining blocking prowess and receiving ability. The 6-foot-4, 260-pound tight end emerged with an 83.6 PFF grade in his 2019 sophomore campaign and looked like he was taking his play to new heights in 2020.
The Colorado State tight end was limited to only four games this past year, but he was the focal point of the offense whenever he was on the field. He saw a total of 34 targets and put up a 90.8 receiving grade while averaging 2.60 yards per route run. If anybody is going to take Isaiah Likely's title of best non-Power Five tight end, it's going to be McBride.
Dulcich went from being a walk-on in 2018 to being considered one of the conference's best receiving threats ahead of the 2021 season. Not only did he lead all Pac-12 tight ends in receiving grade in 2020, but he also finished as one of the FBS' 10 highest-graded receivers at the position.
Despite adding more than 30 pounds since his arrival at UCLA, he still possesses the kind of speed that can pull defenses apart down the seams. He hauled in nine of his 18 vertical route targets for 321 yards and four touchdowns in 2020 — the only other Power Five tight end who posted more yards on vertical routes in 2020 was Kyle Pitts.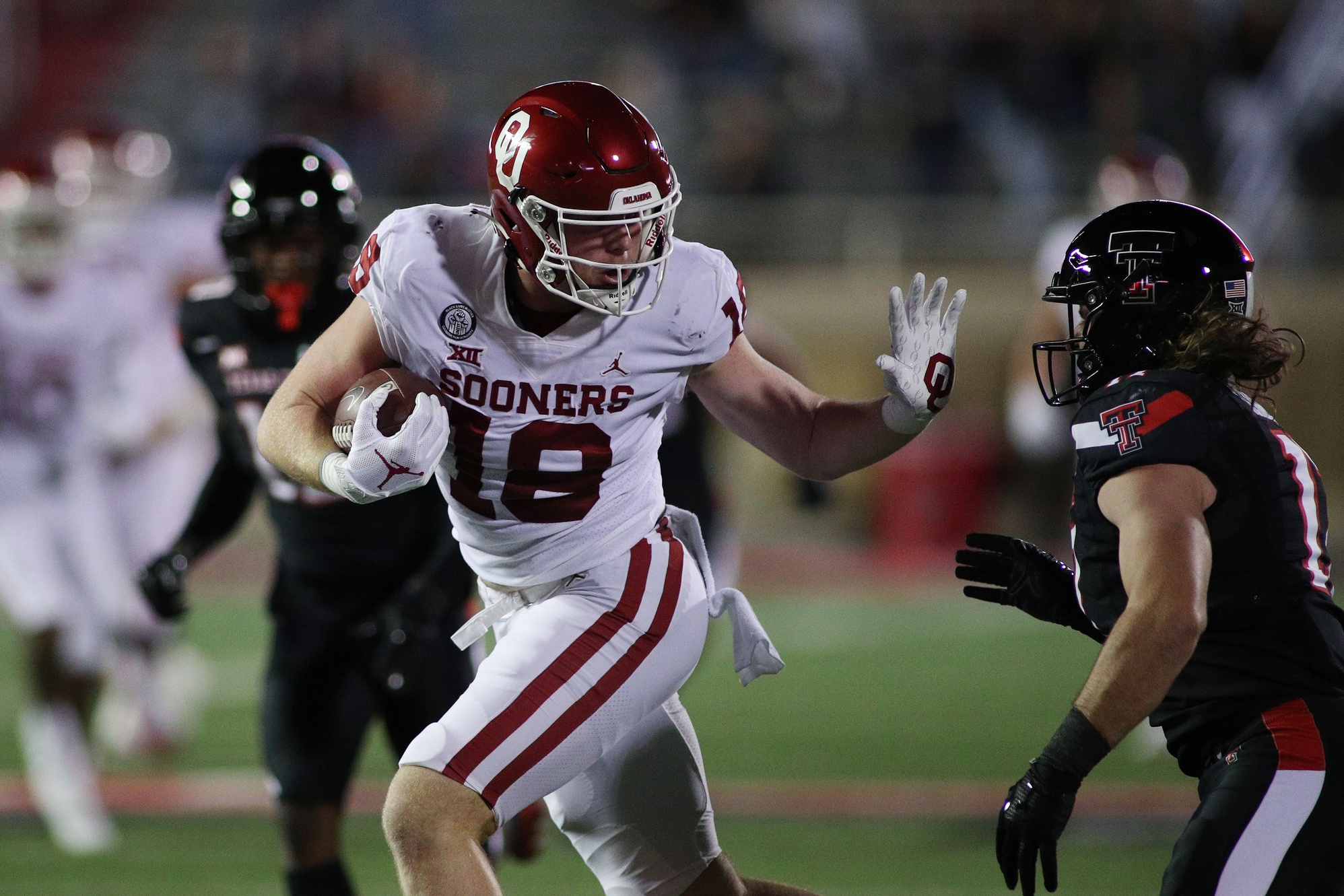 Stogner was in the middle of a breakout sophomore season in 2020 before he suffered an injury in Week 10. All signs indicate that he's ready to return now, though, and he ought to be a valuable player in Lincoln Riley's offense in 2021 — just as he was in 2020.
Stogner earned an 87.3 receiving grade in 2020 while averaging 2.72 yards per route run and recording a 15-plus-yard gain on 32% of his targets. All three of those metrics ranked inside the top five among all FBS tight ends.
Mitchell has run rather hot and cold over his last two years, but that big-play ability is what lands him inside the top 10. Since 2019, he has turned over 31% of his targets into a gain of 15-plus yards, the second-highest rate among Power Five tight ends. Mitchell has also churned out 10.7 yards after the catch per reception in that span, over a yard and a half higher than anyone else at the position in the FBS.
Mitchell's production became more consistent in 2020, as he wasn't asked to win at receiver nearly as much. His rate of in-line passing snaps went from 31.5% to 49.5%, and his receiving grade (69.8 to 83.8) and yards per route run average (1.59 to 2.86) spiked with it.
While Ferguson never did take that step forward to elite status after putting up an 81.4 receiving grade as a redshirt freshman in 2018, he has been a steadily solid tight end throughout his time at Wisconsin.
The Badgers went from using him primarily as a slot receiver in 2018 to lining him up more as a traditional in-line tight end, which likely has something to do with his stunted development.
Ferguson's rate of in-line passing snaps went from 33% in 2018 to 71% in 2019 and 2020, a curious trend given that Ferguson put up the highest receiving grade in college football when lined up at receiver. Still, he has been the sixth-most-valuable tight end according to PFF's Wins Above Average (WAA) over the last three years.
Washington's Cade Otton, Iowa's Sam LaPorta, Notre Dame's Michael Mayer, Louisville's Marshon Ford and Indiana's Peyton Hendershot were all on the cusp of cracking this top-10 list and are more than capable of grabbing a spot at some point in 2021.
Hendershot is perhaps the most interesting. The 6-foot-4, 250-pound tight end looked like he was on the rise in 2019 and was inching closer to being deemed one of the top tight ends in college football, but then his play took a drastic turn for the worse in 2020.
Back in 2019, Hendershot was both a vertical threat and a weapon underneath. He tied for fourth among all FBS tight ends in vertical route receptions that year with 11, and he also led the entire FBS in yards after the catch (263) and broken tackles (11) on underneath concepts.
Hendershot was also among the 10 most productive Power Five tight ends that season at 1.81 yards per route run and looked like he was on the path to stardom. But then everything fell apart in 2020: His receiving grade dropped to 53.4, his yards per route run average was less than a third of what it was in 2019 (0.59) and he dropped 21% of his catchable targets.
It'd be a big boost to the Hoosiers if Hendershot can reclaim his 2019 form, and if he does, he has the potential to become one of the top players at the position.