We are just over 100 days away until the kickoff of the 2021 college football season, and we at PFF are here to get you ready for it. This week, we start with our top 10 players by position and name a sleeper who could also make some noise.
Here are PFF's top 10 interior defensive linemen returning to college in 2021. The list is based on a bevy of factors, including PFF grade and other advanced metrics available to CFB Premium Stats+ subscribers. And remember, this has nothing to do with pro potential.
Subscribe to
Find the rest of PFF's top returning college players series here:
QB | RB | WR | TE | OT | iOL | DI | EDGE | LB | CB | S
Garrett was a four-star prospect and a top-100 recruit in the 2017 class, but he didn't consistently see the field until the 2020 season after just over 400 snaps over his first three college campaigns. Yet, Garrett broke out in a big way in 2020, earning an astounding 88.9 pass-rush grade that trailed only Alabama's Christian Barmore — a first-round pick in the 2021 NFL Draft — for the best in the Power Five.
Garrett may have generated only 18 pressures in eight games, but he won on a consistent basis. In fact, his 17.9% win rate also trailed only Barmore for the best mark in the Power Five. He is a force of nature with heavy hands, bound to wreak havoc again in 2021.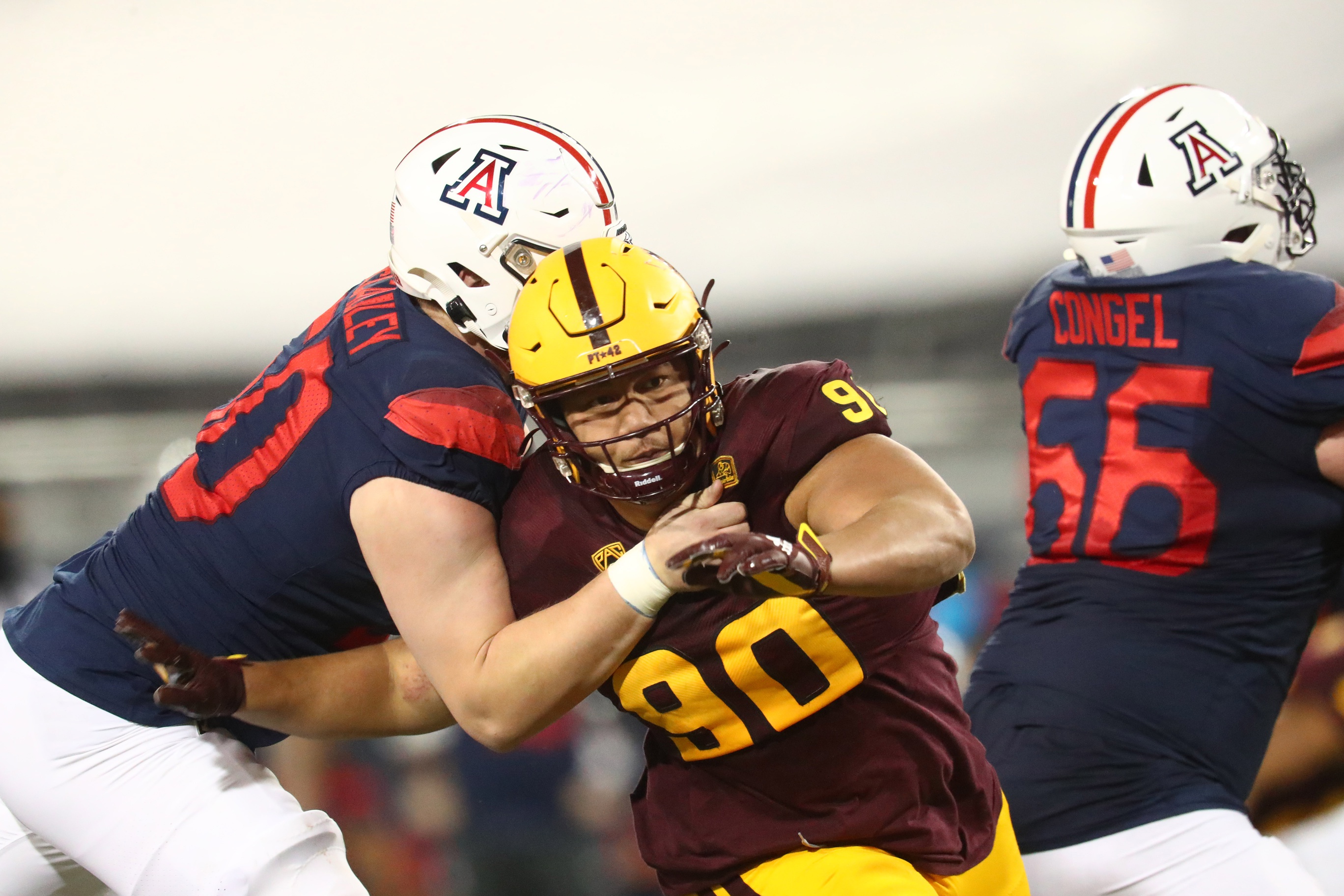 Arizona State's defense underwent a scheme tweak in 2020, which moved Lole from a versatile role that predominantly saw him on the edge to more of an every-down 3-technique. And that paid big dividends, as expected. He was one of the 10 highest-graded Power Five defensive linemen against the run when playing defensive tackle in 2019.
That remained the case in 2020, but he was even better against the run and looked far more polished as a pass-rusher. In fact, Lole was the third-highest-graded Power Five defensive linemen when playing 3-technique this past season. The fact that he played only four games in 2020 and still came away with 18 pressures and 17 defensive stops is quite impressive.
Stills emerged as a mauler in the run game last year and was undoubtedly the best interior defensive lineman in the Big 12. His 90.2 run-defense grade ranked second to Alim McNeill (formerly of NC State, now with the Detroit Lions) for the best in the Power Five. He came away with 15 tackles for loss or no gain — four more than anyone else in the Power Five. And he was one of three interior defensive linemen to finish with top-10 marks in negatively and positively graded play rate against the run. 
Redmond opted out of the 2020 season, but he is back in Norman for 2021. The 2018 four-star recruit enjoyed a breakout year in 2019, notching an 83.3 grade versus the run and a 76.3 grade as a pass-rusher. When isolating his pass-rush performance to just true pass rushes (i.e., removing the three-man rushes, play action, screens, etc.), his grade spiked to the 90th percentile among interior defensive linemen that year. Redmond had a 27% win rate on true pass rushes, which was the sixth-highest mark among Power Five interior defensive linemen.
With Redmond and Nik Bonnito leading the way, Oklahoma's defensive front is going to feast in the Big 12.
Bresee was the No. 1 recruit of the 2020 class, according to 247Sports, and he was as good as advertised when it came to rushing the quarterback. Bresee posted an 81.2 pass-rush grade and a 14.1% pass-rush win rate, both of which ranked sixth or better among Power Five interior defensive linemen. Once he gets to the side of a lineman, they are toast. Bresee's run defense was shaky, but he should have no problem improving there. Either way, you can count on the 6-foot-5, 300-pound interior defender getting after the quarterback in 2021.
Whiteside was among the players who PFF was excited to see in 2020, but an injury robbed us of that. He was healthy for contests against Alabama and Tennessee to start the season, and the nose tackle looked like the impact pass-rusher we were expecting. In those outings, he put up a 17% pass-rush win rate and a 76.4 pass-rush grade.
The year prior in 2019, Whiteside was versatile and productive, winning reps anywhere from heads-up nose to 5-technique. His dominance at nose tackle, though, really caught our eye. He finished the season with a 79.7 pass-rush grade and a 16% win rate when playing 0/1-technique, which are both the third-best marks from an SEC nose tackle in PFF's seven years of grading college football. The only players to surpass Whiteside in those metrics were Jeffery Simmons and Javon Kinlaw, both of whom were first-round picks.
Whiteside flashes an impressive get-off for a 310-pound man and pairs that with plenty of power. With a fully healthy year under his belt, I'd expect Whiteside to become a household name.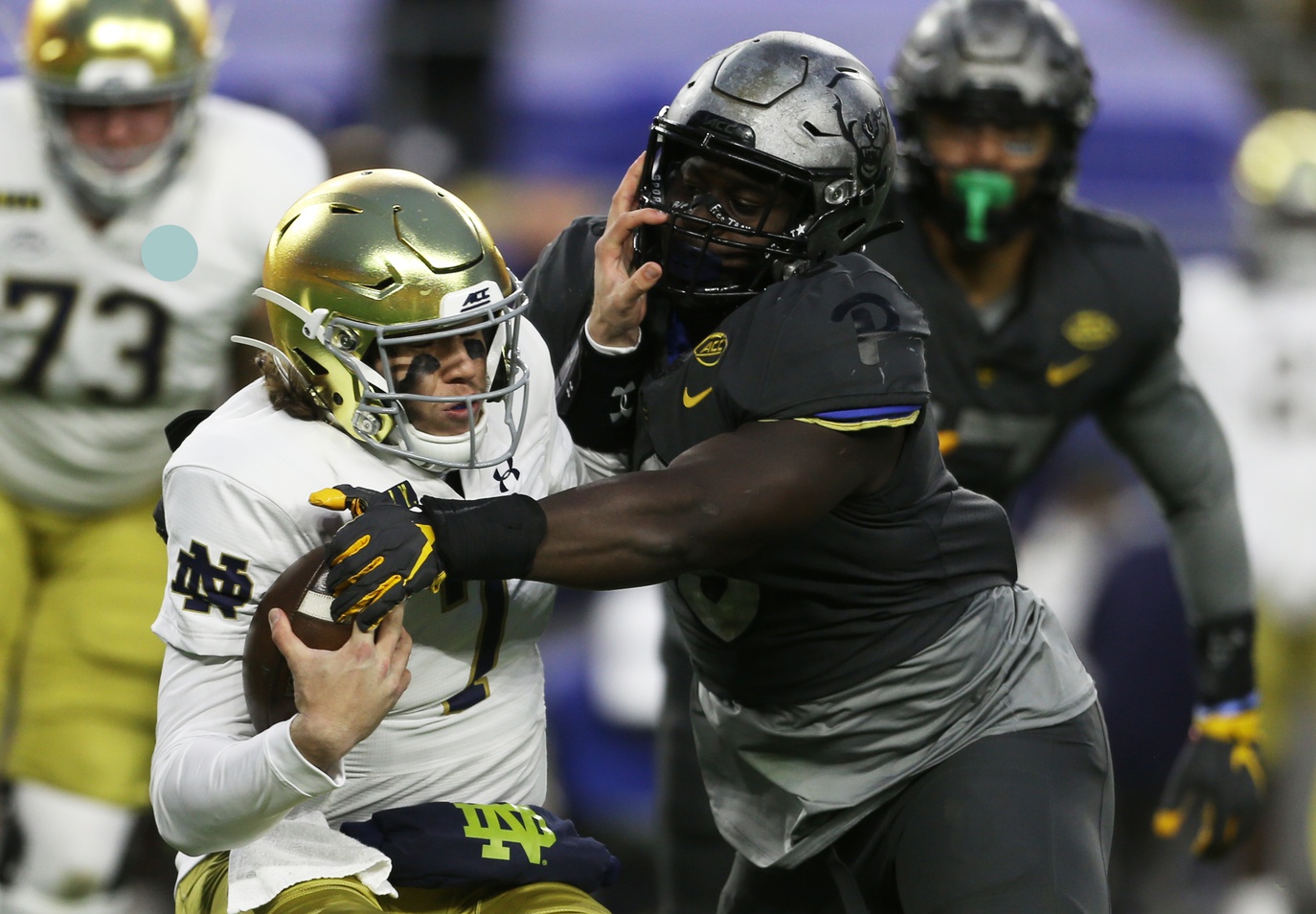 Only three Power Five interior defensive linemen ranked inside the top 10 in both run-defense and pass-rush grades in 2020. Two are in the NFL, and the other is Pittsburgh's Calijah Kancey, who at the time was a redshirt freshman with no previous snaps in college football to his name.
Kancey had no issue beating up on lesser offensive lines in his first year on the field, but he didn't have nearly the same kind of production against stout interior offensive linemen — including North Carolina State's Grant Gibson and Notre Dame's unit. We shall see if that changes in 2021, but regardless, Kancey is one to keep an eye on.
After playing defensive end for the entirety of his career, the 6-foot-5, 295- pound Stille kicked inside to defensive tackle in 2020 and had the best season of his career. He put up a 79.0 PFF grade, nearly nine grading points higher than his previous career-best. Stille was one of the more productive pass-rushing interior defensive linemen in the Power Five, recording an 81.5 grade in that facet, which ranked behind only Alabama's Christian Barmore and Ohio State's Haskell Garrett.
After a couple of years of strong run defense but little to no impact as a pass-rusher, Mathis turned a big corner in 2020. He raised his pass-rush grade over 24 grading points to 79.5 while maintaining a 70.0-plus run-defense grade for the third straight season. That led him to an 80.0 PFF grade on the year, which ranked 11th among Power Five interior defensive linemen.
Mathis is capable of tossing around opponents like rag dolls and has decent hand placement. I wouldn't expect him to rise to the levels of Christian Barmore or Quinnen Williams, but he's an all-around impactful player, which is something many programs wish they had.
UTEP was reportedly the only school to have interest in Stewart coming out of JUCO prior to last season. The joke is on everyone else; Stewart is a lot better than they thought. His first couple of outings weren't anything special, but once he moved from nose tackle in UTEP's third game, he was on fire.
Over the course of his last six games in 2020, Stewart produced a 92.7 PFF grade, ranking first in college football, and was anchored by a 94.4 run-defense grade. The sheer amount of plays he disrupted was astounding. His positively graded play rate against the run was the highest at the position over those last six games by a healthy margin. Obviously, the level of competition wasn't too strong, but that's solid production in any system, against any opponent.
Benton didn't quite hit elite status in 2020, but it would not be a surprise to see him do so this fall. The 6-foot-4, 315-pound nose tackle was an incredibly productive pass-rusher as a true freshman in 2019, recording a 77.5 grade in that facet across 129 snaps. He played nearly half of his reps at 0-technique and it was his first year on campus at a Power Five program, making it even more impressive. That mark fell nearly 10 grading points in 2020, though, and Benton played just 173 total snaps on the year. His ceiling is sky high, and it's only a matter of time before he reaches it.