We're three-quarters of the way through the 2019 NFL preseason, and with just days ago until the dreaded cutdown day, every snap and every strong performance meant something.
Josh Rosen and Case Keenum did wonders to their chances of starting at quarterback for their respective teams in Week 1, while Carl Lawson put forward the kind of performance that reminds us why we pegged him as an under-the-radar Comeback Player of the Year candidate earlier in the offseason. Here are our takeaways from the third week of preseason.
[Editor's Note: All of PFF's advanced stats and grades for every NFL player are made available in PFF's ELITE subscription. Subscribe today to gain access!]

Josh Allen is picking up steam
---
Josh Allen was a superstar at Kentucky last year, earning an overall grade of 92.2 and ranking first among 500-plus edge defenders. More impressively, Allen's pass-rushing grade of 94.4 last season was the highest pass-rush grade ever given to an edge defender in the PFF College era (since 2014).
The superstar potential that Allen showed in college has started to emerge over Allen's past two preseason games, as his overall grade of 89.7 over the past two weeks ranks eighth out of 147 edge defenders who have at least 30 snaps played in that time span.
With six pressures on 21 pass-rush snaps over the last two weeks, Allen ranks third in pressure percentage (28.6%) among all qualifying edge defenders. The Jacksonville Jaguars had the fifth-best team pass-rushing grade (77.6) last year, and adding a potential superstar like Josh Allen will only make "Sacksonville" even scarier in 2019.
Is Josh Doctson on the way out?
---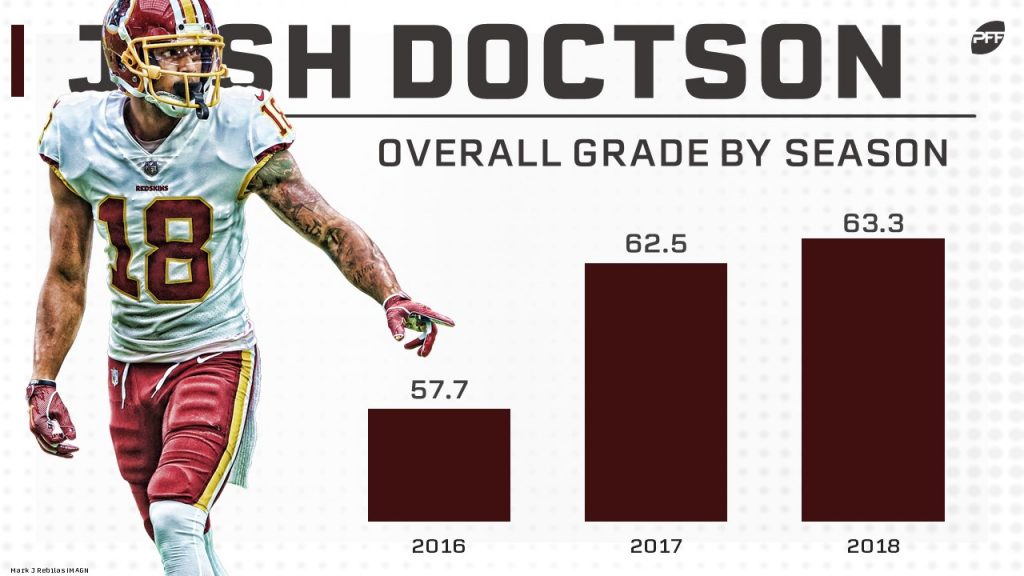 When it comes to the draft, there is no such thing as a "can't miss prospect." There is no greater reminder of this than preseason cuts when even those of the highest draft pedigree aren't safe. Poor performance, injuries and regime changes can lead to a parting of ways between a team and their first overall selection within just a few years. Such is the case with the Washington Redskins, who have reportedly soured on their former first-round pick, Josh Doctson, and will look to move on from the receiver after declining his fifth-year option.
Doctson has been plagued by a plethora of lower-body injuries, causing him to play just 31 snaps as a rookie in 2016. He managed to play 746 snaps in the following season, reeling in 35 catches for 502 yards and six touchdowns. Though Doctson managed to accumulate yardage and find pay dirt a half-dozen times, the receiver struggled in terms of efficiency, producing only 1.10 yards per route run which ranked 77th among 100 qualifying receivers.
In 2018, Doctson was able to stay on the field for 846 snaps, en route to a career-high 63.3 overall grade. Though he managed to stay relatively healthy, Doctson failed to take a step forward in his development, producing 532 yards and two touchdowns on 44 receptions. The former Horned Frog struggled again with efficiency, managing just 1.04 yards per route run (T-96th among 99 qualifiers).
Even when healthy in 2017 and 2018, the Redskins receiver ranked outside of the top-50 wide receivers in yards per route run, drop rate and receiving grade. He has also failed to grade above 80.0 in a game throughout his short career. Doctson hasn't flashed much this preseason, either, earning a 61.0 grade across 24 total snaps after catching one of his two targets for 16 yards.
Word is that Washington would like to trade Doctson, but they may struggle to find takers for a receiver who has had health issues and largely failed to live up to his first-round pedigree. Factor in that he has struggled when it comes to efficiency, and Doctson begins to look more like a borderline cut candidate than a potential trade piece.
Malik Reed has made his name heard
---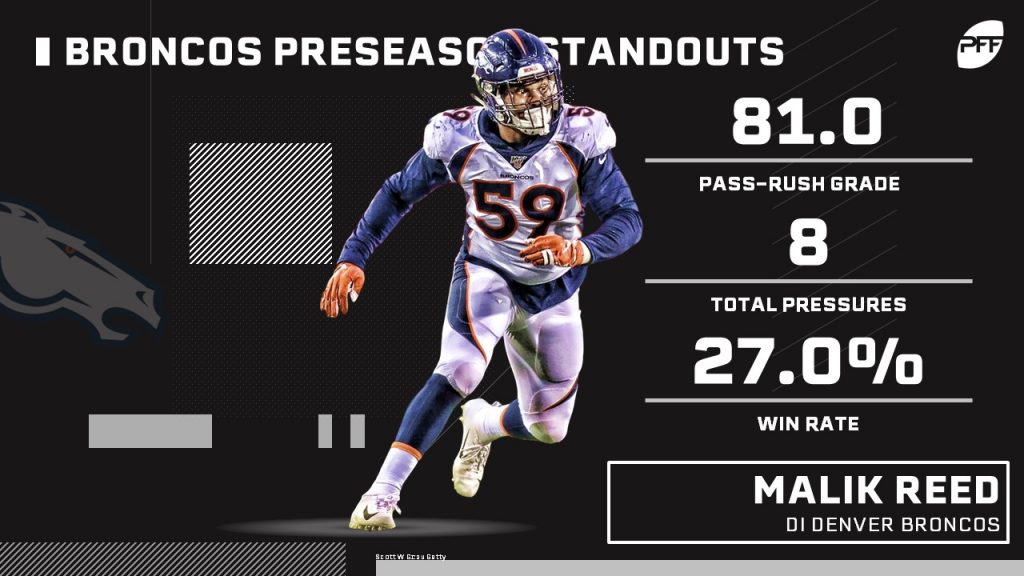 Malik Reed is yet another good pass-rushing prospect who has potentially played his way onto the Denver Broncos' roster. The undrafted free agent out of Nevada hasn't played the past two weeks due to injury, but he has done enough to impress coaches and fans in his two preseason games so far.
Among edge defenders who have at least 50 total snaps this preseason, Reed's overall grade of 84.3 ranks 11th out of 135 qualifiers. Reed is also one of the more balanced edge defenders so far, as he is one of only three qualifying edge defenders to have an 80.0-plus grade in run defense and as a pass-rusher. He has recorded eight total pressures (two sacks, six hurries) on just 40 pass-rush snaps, while also adding three run stops on 22 run-defense snaps.
Reed's performance thus far isn't exactly a surprise, as he was actually one of the highest-graded defenders in college football over the past two seasons. In 2018, Reed's elite overall grade of 90.4 ranked eighth out of 521 qualifying edge defenders, which came just one year after he ranked 12th with an overall grade of 89.9 in 2017.
After a great college career at Nevada, Reed has impressed in his two NFL preseason games and could find himself as another valuable weapon on a loaded Denver defense. Don't be surprised if Reed turns out to be another undrafted impact player for Denver alongside Chris Harris and Phillip Lindsay.
The loss of David Andrews is huge
---
PFF's Solomon Wilcots talks about the impact of the Patriots potentially losing center David Andrews.
Tom Brady has a new weapon
---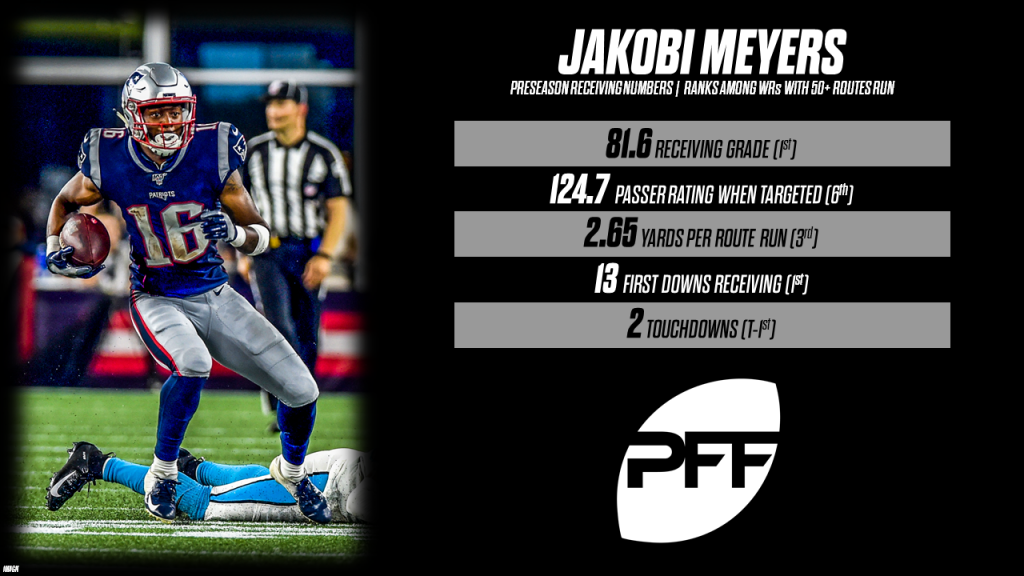 Following perennial All-Pro tight end Rob Gronkowski's retirement in March, the New England Patriots lacked reliable pass-catchers and were considered thin at the tight end and wide receiver positions. The former issue was not addressed in the offseason, which suggests the Patriots might make a schematic move and not rely on tight ends as much as they used to; however, the latter remained a concern even going into training camp. The return of formerly suspended Josh Gordon certainly helps, but what provided an unexpected boost to the unit was the emergence of undrafted rookie Jakobi Meyers. Read more…
Cowboys S Donovan Wilson is making an impact
---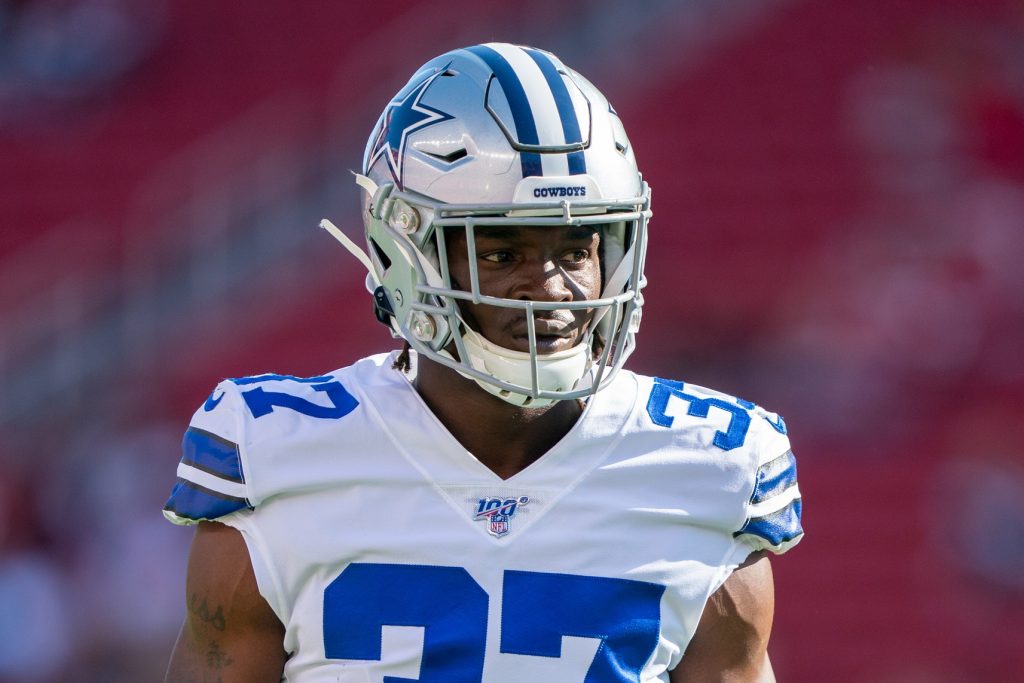 PFF has been higher than anyone on Cowboys' rookie safety Donovan Wilson, and it's time for the media to take notice. Wilson has been our highest-graded rookie through three preseason games (93.7).
His league-leading grade isn't the case of one great game or a meager snap count. He's merited two 90.0-plus game grades across 102 preseason snaps and snagged two interceptions in the process. On 63 coverage snaps, Wilson has been targeted just three times while surrendering one reception and five yards. His lockdown coverage has resulted in a 2.8 passer rating when targeted – first among targeted safeties this preseason.
The former Texas A&M Aggie and 2019 sixth-round pick has made a real impression on the Cowboys defense through three preseason games and would be a phenomenal addition to Rod Marinelli's Dallas defense should Wilson be able to translate his success to the NFL regular season.
Foles gets his first go in Jacksonville
---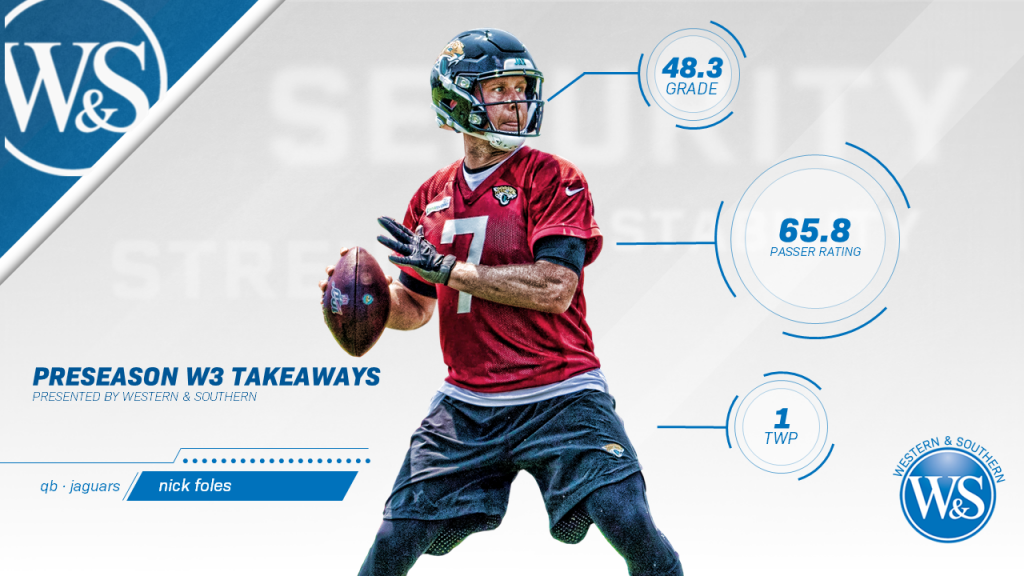 Despite the step back from 2017 to 2018, the Jacksonville brass likely thought that with the defensive pieces in place, the Jaguars were a competent quarterback away from becoming Super Bowl contenders once again.
Enter former Super Bowl MVP Nick Foles. Despite some uneven play throughout his career, Foles tends to come up biggest on the brightest stages. This perhaps explains his lackluster showing in his first preseason game as a Jaguar, where he posted a 48.3 overall grade.
In what started as a check-down laden performance, Foles didn't have much success working in the intermediate 10 to 20-yard range, once getting WR Dede Westbrook laid out in an attempt to split two Dolphin defenders, one being hard-hitting Minkah Fitzpatrick. He ended the day with a pretty touchdown and an ugly interception on his 10 dropbacks, appropriate for a QB who has at times looked like a world-beater and at times looked like a disaster.
Nonetheless, Foles does project as a sizeable upgrade over Blake Bortles (PFF's 32nd ranked QB in 2019) and has the ability to make plays and get more out of the Jaguars unimposing arsenal than the Jaguars' former starter.
Stidham shows his range
---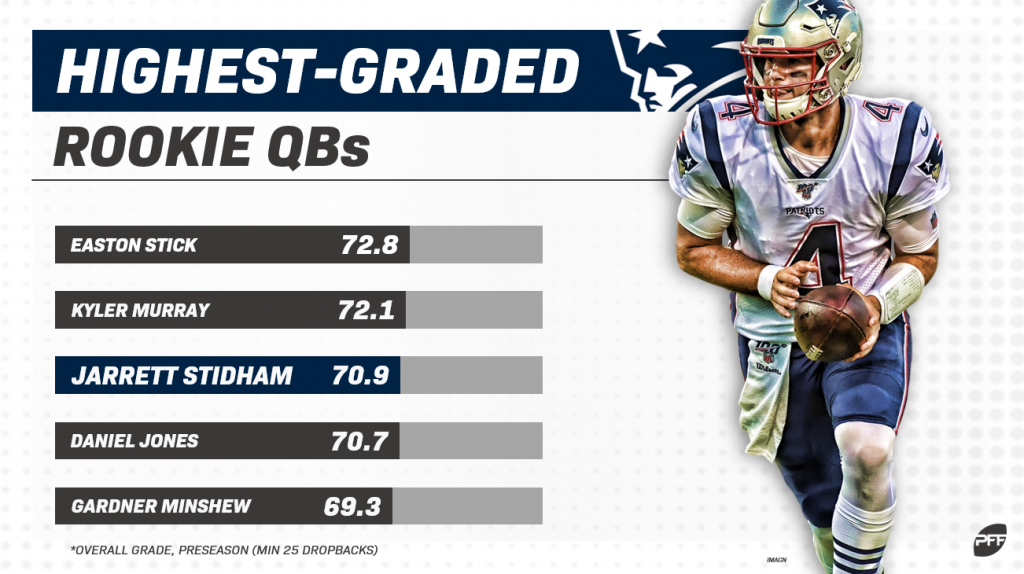 Jarrett Stidham arrived at Baylor as one of the top dual-threat quarterback recruits in the nation, and though he didn't start as a true freshman, he performed admirably in a back-up role to Seth Russell and in an eventual starting role following Russell's 2015 injury. In 328 offensive snaps his freshman campaign, Stidham recorded an 89.3 overall grade, and his 91.5 passing grade was behind only Mason Rudolph in the Big 12 among quarterbacks with 100 or more dropbacks. He had the pedigree and the early results that hinted at a potential future where his name would be called early in the NFL Draft. Read more…
Grading all 32 first-round picks
---
Through three weeks, here are how each of the 32 first-round rookies from the 2019 NFL Draft has graded this preseason. Read more…
The best pass-rushers through three weeks
---
As much as people like to complain about preseason football, especially with playing time for starters decreasing further, it's a good time of year to spot players who are emerging from further down the roster. Places on the team and depth chart are decided in August for a lot of players, ranging from undrafted free agents just trying to get their shot, to first-round draft picks aiming to shake the potential bust label. One area where we've seen a lot of standout performances through three games, four if you're the Denver Broncos or Atlanta Falcons, is pass-rushing. So here are our top-15 highest-graded pass-rushers in the NFL so far this preseason. Read more…
Andrew Luck calls it quits after seven NFL seasons
---
Austin Gayle and Steve Palazzolo discuss Andrew Luck's career following the news that Luck is retiring from the NFL.
Daniel Jones should be the Giants' Week 1 starter
---
Mike Renner shares why he feels Daniel Jones is ready to start right now, based on how Jones has performed this preseason.
Duke Johnson is capable of carrying the load in Houston
---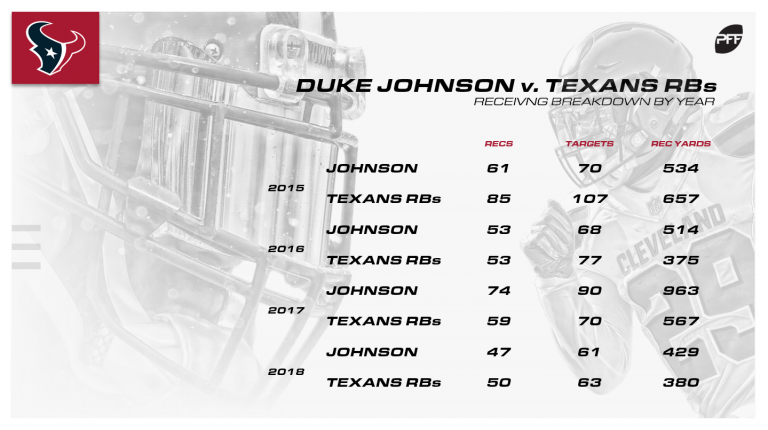 Veteran back Lamar Miller went down in the Houston Texans' Saturday night preseason bout with the Dallas Cowboys after suffering a gruesome hit to his lower left leg early in the contest. Per NFL's Ian Rapoport, Miller suffered a torn ACL, ending his 2019 season before it ever started. Read more…
Bad news for Reed and the Redskins
---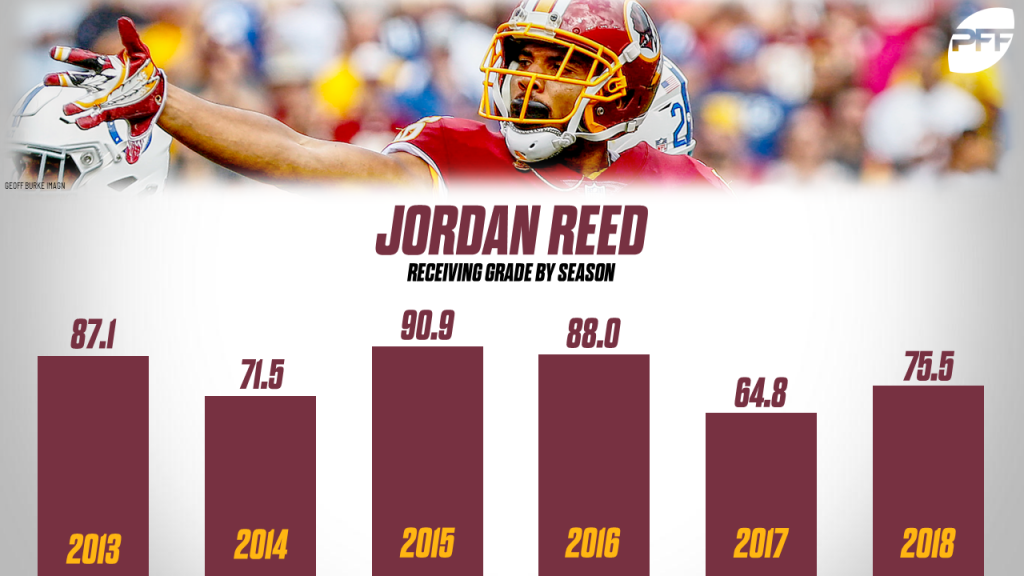 According to NFL Network's Ian Rapoport, Washington Redskins tight end Jordan Reed has been placed in the NFL's concussion protocol after he sustained a head injury during his side's Week 3 victory over the Atlanta Falcons.
It's yet another injury setback for the tight end, who now has seven documented concussions attached to his personal record, making him doubtful for his side's Week 1 bout against the Eagles.
Reed managed just nine snaps in 2019 before he suffered this latest setback, and he looked rusty while he was on the field, catching just one of his two catchable targets for 10 yards and ending the game with an overall grade of 60.4.
Reed took the league by storm as a third-round rookie in 2013 when he caught 45-of-60 targets for 499 yards, three touchdowns and 27 first downs. He generated a 102.0 passer rating throughout the season that ranked 23rd among the 46 tight ends with at least 30 targets, and he averaged a mightily impressive 2.17 yards per route run which didn't just rank third in the NFL — it was the second-best figure ever recorded by a rookie player at the position.
Earlier this offseason, we wrote about how it was imperative that he stayed healthy in a make-it-or-break-it year for Jay Gruden & Co. in the nations' capital. Now, at least, it looks like that year will start without their prized tight end on the field. Read more…
 Trace McSorley shows flashes
---
In his first taste of NFL action this preseason, rookie quarterback Trace McSorley has looked worthy of the Baltimore Ravens' selection in the sixth round of April's draft, and he could very well have locked up a roster spot after stretches of effective play over the past three weeks, especially Week 3 in Philadelphia.
After proficiently leading Penn State's offense for the past three seasons, including a 2017 season where he earned an 87.4 overall grade, McSorley has fit right in with the Ravens.
Always an underestimated prospect, likely due to his less-than-intimidating size and measurables, McSorley's playing style and athletic ability both appear to be a good fit on a team whose top two quarterbacks, Lamar Jackson and Robert Griffin III, are both known for their running ability.
Originally expected to fill a "Swiss Army Knife" role, with ability to contribute as a wildcat QB as well as on special teams and possibly even on defense, McSorley has confirmed his fit as a long-term quarterback prospect despite being offered to work out with the defensive backs at this year's Scouting Combine.
With RGIII sidelined with a thumb injury, McSorley has led the Ravens in passing yardage in all three preseason games and assumed the starting role in Week 3, boasting his most consistent outing to date while doing his part to extend Baltimore's unprecedented 16-game preseason win streak. His highlight of the night was this big-time throw to Michael Floyd for a second-quarter touchdown.
Throughout the preseason, he has done a fine job showing the vision and ability to spread the ball throughout the field with accurate passes. He's shown some arm talent with two big-time throws on his 63 attempts and has selectively used his feet to make plays on both designed and improvised runs, including a four-yard touchdown scramble against Philadelphia. 
Like most rookies, he must improve under pressure, which has forced him into some turnover-worthy passes (two INTs), an area in which he will need to develop further over time. Overall, based on his relatively extensive preseason play, McSorley looks to have solidified his roster spot and steps into Lamar Jackson's top backup role during Griffin III's absence.
PFF's NFL Team of the Week: 2019 NFL Preseason Week 3
---
PFF's NFL Team of the Week series features game grades and advanced statistics for the NFL's top players at every position in a given week. All of PFF's ELITE subscribers have access to game grades, advanced statistics, positional snap counts and more in Premium Stats. All of PFF's grades and advanced stats from this week and every other week this upcoming NFL season are made available to ELITE subscribers within 24 hours of the final whistle. Read more…
Kyle Lauletta is flying under the radar
---
Lost in the justified excitement over the performance of their first-round rookie Daniel Jones has been the impressive play of New York Giants quarterback Kyle Lauletta this August. He struggled in the preseason a year ago, producing a PFF grade of just 55.6, and he threw more interceptions (one) than completions from his five passing attempts in the regular season.
The 2019 version has been much improved so far though, and his 90.7 PFF grade through three games is the second-best among all quarterbacks in the NFL. Granted, he hasn't been spending time with or against starters, but he has still made some impressive throws, including going two-for-three for 67 yards and a touchdown on throws 20-plus yards downfield.
Lauletta looked like an intriguing prospect at Richmond and still managed to complete 64.6% of his passes in his final season in college despite dealing with 24 drops from his receivers. He has been pushed down the Giants' depth chart and is currently trying to beat out Alex Tanney for the team's number three quarterback spot. Should he find himself cut in the near future, his preseason performance warrants a look from other teams around the NFL.
Jamie Gillan is deservedly turning heads
---
His tackle on a punt this past weekend got all the attention, but it's what rookie punter Jamie Gillan has been doing with his leg that puts the Browns in a tricky position as we head towards roster cutdowns. The "Scottish Hammer" signed with the Browns as an undrafted free agent out of Arkansas-Pine Bluff and despite being fairly new to the sport, his booming punts attracted plenty of attention in the pre-draft process.
He has been impressive so far this August, with five of his 11 punts landing inside the opposing 20-yard line. One concern coming into the summer was that he'd never been the holder on field goals and extra points before, a job that is generally filled by the team's punter, but through three preseason games, there haven't been any mistakes on his four snaps in this role.
Gillan is our 17th-highest-graded punter this preseason, and if the Browns were hoping to sneak him onto the practice squad for a year of development, they now need to accept that he will likely garner some attention from teams around the NFL if that was to happen. The Browns could save $2.7million by releasing current starter Britton Colquitt, but he ranks 10th in PFF punting grade this preseason and comes with years of consistency. A decision is looming for the Browns, and the only thing we know is that the chances of them keeping both in Cleveland in 2019 grow slimmer with every solid performance by Gillan.
Carl Lawson dominates across limited work
---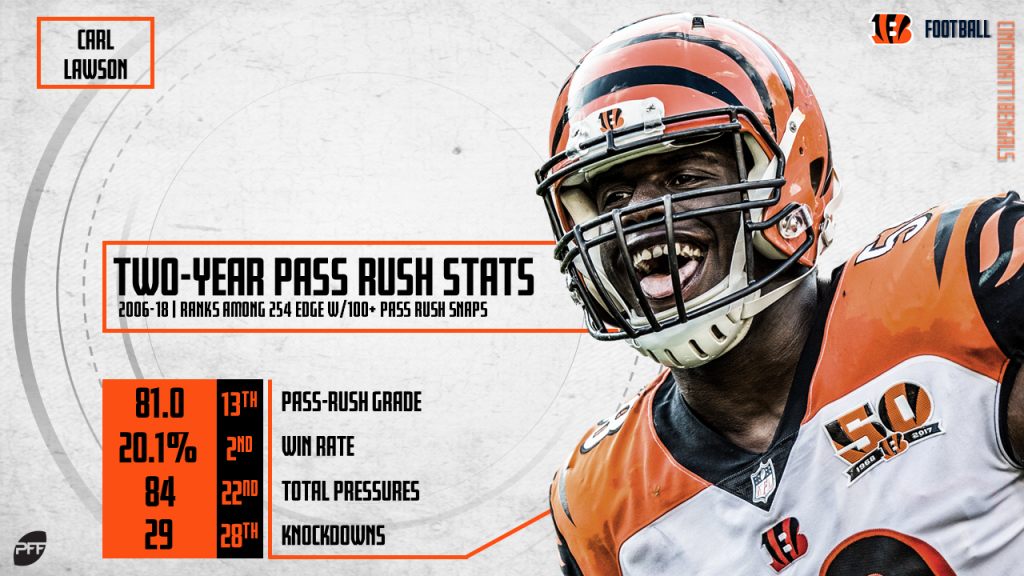 Carl Lawson only played 11 snaps in his team's Week 3 contest against the New York Giants, but he proved that he's more than ready for the 2019 season by dominating as a pass-rusher from start to finish.
Seven of Lawson's 11 snaps came as a pass-rusher, where he recorded a sack, a hurry and two additional pass-rush wins, giving Lawson a pass-rush win rate of 57.1% — the second-best mark among all defenders who rushed the passer at least five times on Thursday night.
Over the past two seasons, Lawson has been nothing short of lights out on the field. His two-year pass-rush grade of 81.0 ranks 13th among edge defenders of the PFF era with at least 100 snaps in their first two seasons, while his two-year win rate of 20.1% is second to only Joey Bosa among the same group of players.
While injuries have forced him to miss a considerable amount of time over his first two NFL seasons, Cincinnati Bengals edge defender Carl Lawson will enter the 2019 campaign with a new coaching staff, two years of experience and, finally, a clean bill of health — all ready to make a move as a part of a resurging Bengals side.
Arcega-Whiteside shines
---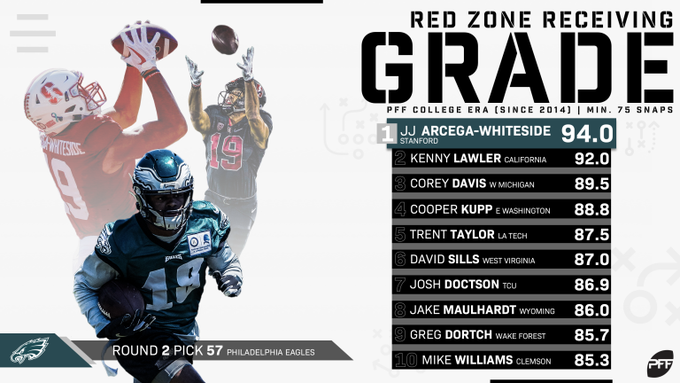 It had been a quiet first couple of weeks this preseason for second-round pick J.J. Arcega-Whiteside. The rookie — who slotted in at 23rd overall in our pre-draft big board — caught just four of ten targets over his first two preseason games for a total of 43 yards, and he also dropped a pass.
He was anything but quiet in Philadelphia's tilt this week vs. the Baltimore Ravens. Among 33 wide receivers who saw at least 15 passing-down snaps on Thursday night, the Stanford standout led them all with an 88.8 receiving grade.
Arcega-Whiteside hauled in eight catches on nine targets for 104 yards (50 of which came after the catch, with 19 of those coming after contact) and he picked up three first downs to go with his first trip to the end zone as a pro. He faced press coverage for much of the night (on 22 of his 29 receiving snaps), which allowed him to show why he finished last season ranked second among draft-eligible receivers (trailing only Andy Isabella) with a 91.7 receiving grade vs. press coverage.
Early adversity for Cam Newton
---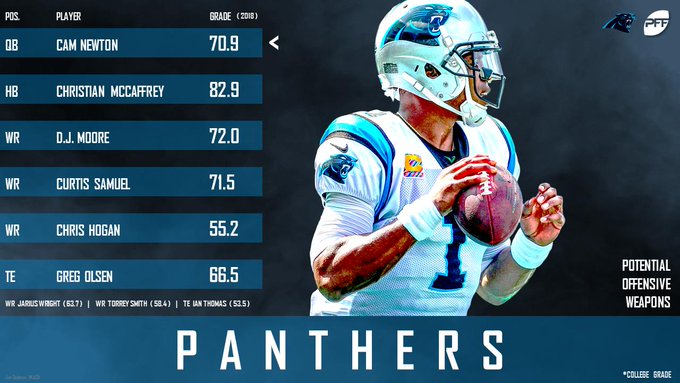 Per NFL Network's Ian Rapoport, Carolina Panthers quarterback Cam Newton suffered a mid-foot sprain in the team's preseason game with the New England Patriots. The team is "cautiously optimistic" that he'll be ready for the season opener, but another injury hanging over him heading into the season is cause for concern. Newton posted the 11th highest PFF passing grade in the first nine weeks of the 2018 season, but injuries took their toll as the season wore on.
He produced a PFF passing grade of 43.9 from Weeks 13-15, ranking 21st out of the 22 quarterbacks with 100 or more dropbacks in that span, and he saw his season end after that stretch. He was at his best back in 2015, producing an overall PFF grade of 86.5 in the regular season and playoffs as the Panthers came up just short against the Denver Broncos. A healthy Cam Newton is one of the toughest quarterbacks in the NFL to defend against, but if this injury lingers into the season we could see it slow him down again.
Should he not be able to go in Week 1, Kyle Allen would likely be the starter in his place. He started the team's final game of the 2018 season on the road against the Saints in New Orleans and posted a PFF passing grade of 67.9, going 16-for-27 for 228 yards and a pair of touchdowns, with a throwaway and two plays where he was hit as he threw counting for three of his 11 incompletions.
Rosen pulling ahead
---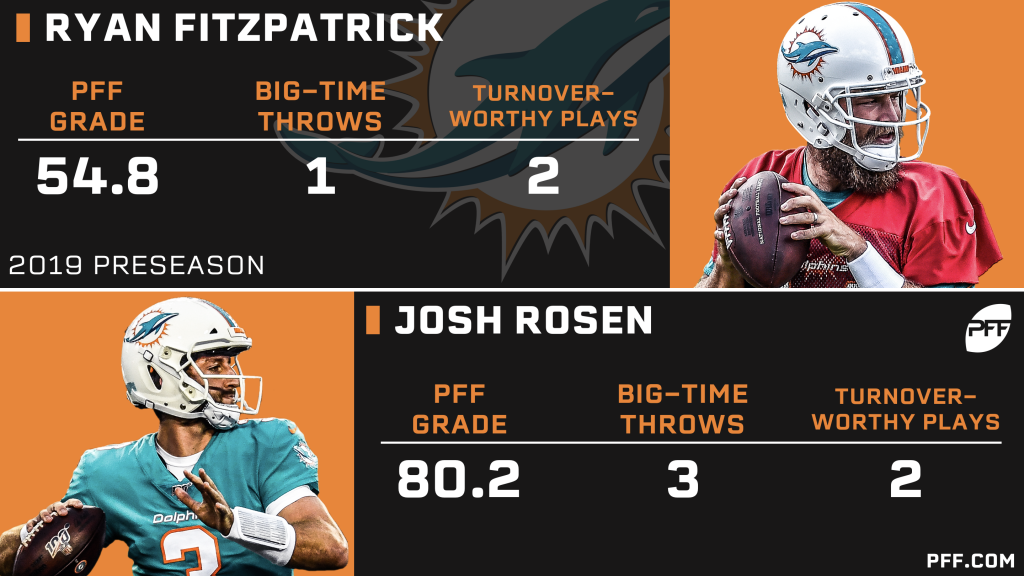 The new Miami quarterbacks have made it a tough enough choice for first-year head coach Brian Flores. But entering the Week 3 contest, it looked like the go-with-FitzMagic plan was in full effect, with the former Harvard man playing 38 snaps through two-and-a-bit quarters of action. It wasn't quite the performance he would have been hoping for, however, as he faced pressure on 36.8% of his dropbacks, missed far too many throws and left the game having earned an overall grade of 69.4 — his third single-game grade of less than 70.0.
Rosen steadied the ship upon entering the game, going 5-for-7 for 59 yards including a mightily impressive 39-yard completion on a scramble away from pressure. Rosen ended his Week 3 game with a 90.9 overall grade, his second overall grade above 70.0. Through three preseason games, Rosen tops the Magic Man in adjusted completion percentage (76.2% to 71.4%), passer rating under pressure (95.4 to 63.0), passing grade (76.3 to 53.7) and in negatively graded play rate (6.5% to 7.9%).
Carr filling in at slot cornerback
---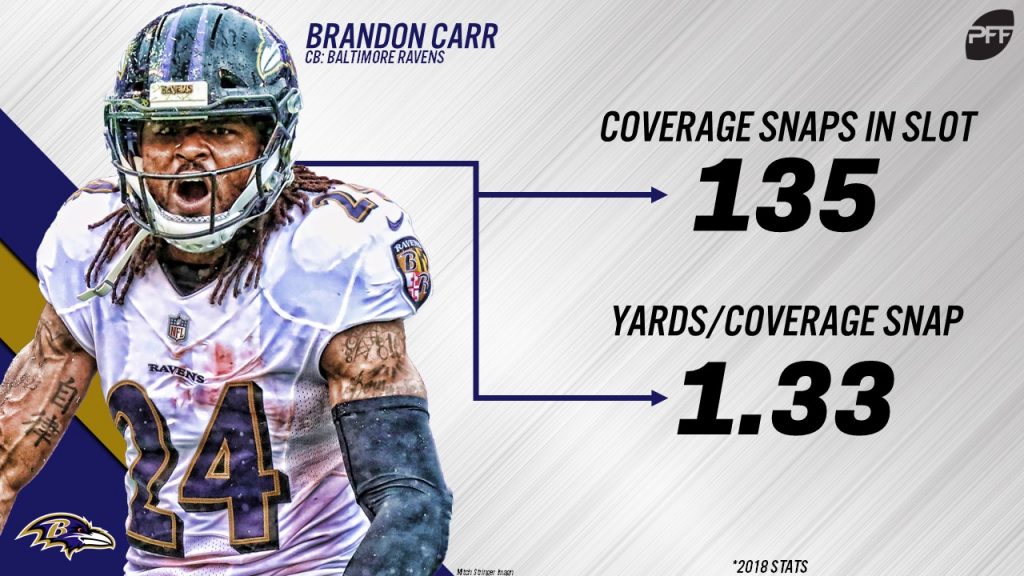 As the Baltimore Ravens look to fill the void left by slot cornerback Tavon Young's likely season-ending neck injury, Brandon Carr seems like the likely candidate to see time inside. In Thursday's preseason game against the Philadelphia Eagles, Carr lined up in the slot or in the box on nine of their first 12 plays over the opening two drives.
While Carr has been predominantly a boundary cornerback throughout his career, he did see a career-high 242 snaps in the slot including the playoffs in 2018. All told, 135 of those snaps came on passing plays, with Carr allowing just 13 receptions and 1.33 yards per coverage snap when lined up in the slot. Carr didn't allow a touchdown from 613 snaps in coverage for the Ravens in 2018, so the team will be hoping he can deliver in the slot in 2019 and help them keep their place as one of the top defensive backfields in the NFL.
The NFL's top Rookies so far
---
PFF's Mike Renner and Austin Gayle discuss which rookies have exceeded expectations and wowed their respective fan bases through two weeks of NFL Preseason action.
Checking in on some key preseason battles
---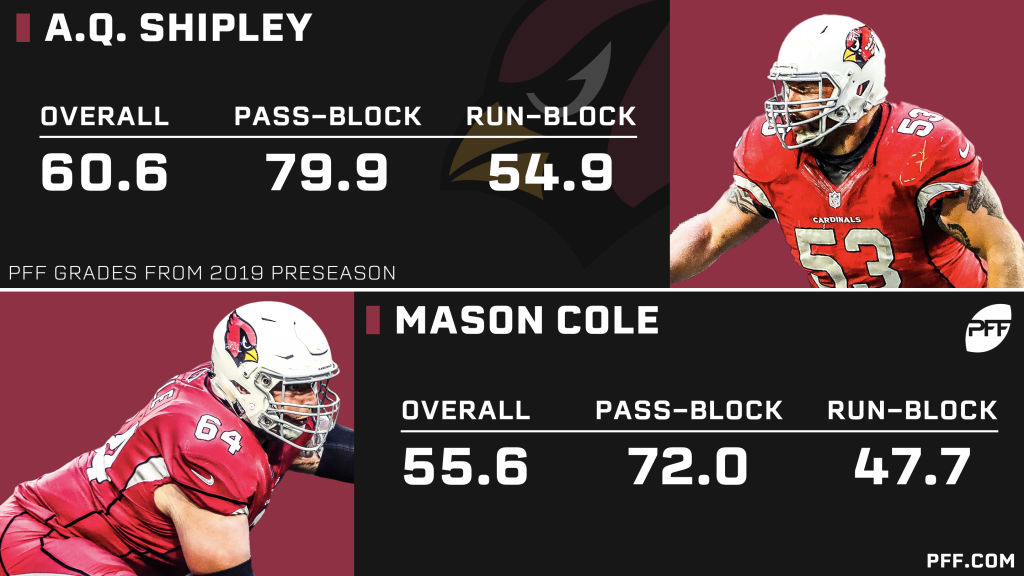 Just last month, we took a deep dive into the PFF database to give our thoughts on one prominent position battle for every team in the NFL. In the weeks since then, these battles have been fought hard both on and off the field of play, and for some players, it'll only be a matter of time before they're announced as the official victor.
Now that we're almost three weeks through the 2019 preseason slate, here is how some of those key battles have turned out. Read more…
PFF REFOCUSED, PRESEASON WEEK 3: ALL GAME RECAPS AND ANALYSIS
---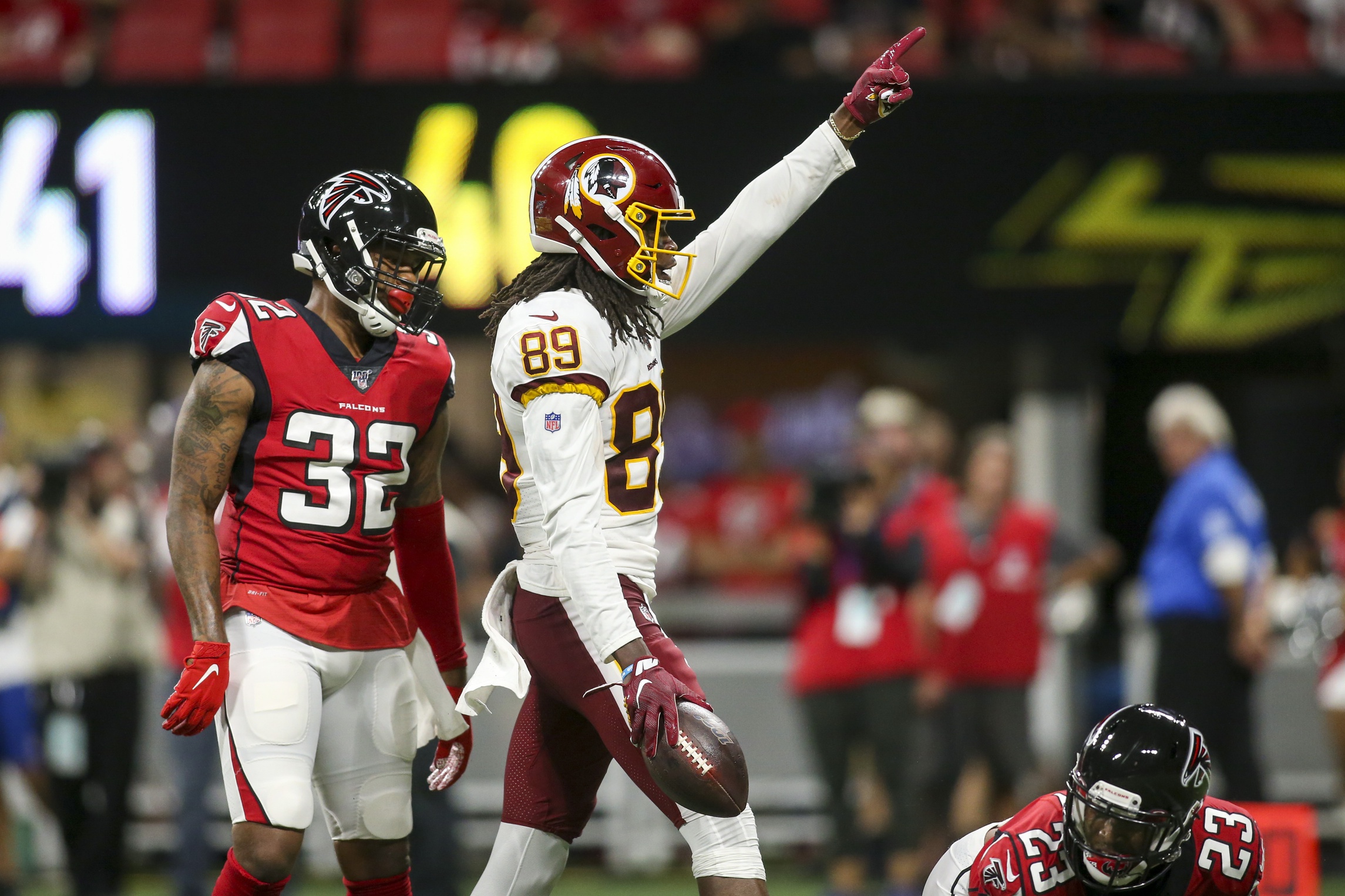 PFF's ReFocused series features immediate takeaways from the two analysts who graded the game live. The two offer a detailed breakdown of the game's most notable performances before the grades and advanced stats are reviewed and finalized by Senior Analysts. Read more…