The NFL season can be full of surprises. Every year, a handful of teams emerge from the depths of their divisions having been strengthened by a coaching change, a star draft pick, a big-name free agency signing or, if they're really lucky, all three. We saw this with the likes of the Chicago Bears and the Indianapolis Colts last year, so now we're going to look at four teams that could surprise us all in 2019, either as an unlikely playoff team or a team that could make a serious push for the Lombardi Trophy.

With a disappointing 4-12 season now behind them, the 49ers' faithful have every reason to be excited about the future, as the team has quietly been putting together an exceptionally talented group of offensive weapons for the returning Jimmy Garoppolo. Tight end George Kittle broke out in a major way last year despite the lackluster quarterback play, earning the highest overall grade (89.8) among tight ends, while right tackle Mike McGlinchey proved himself worthy of the ninth overall pick of the 2018 NFL Draft by posting a promising pass-blocking grade of 64.2 and the second-highest run-blocking grade (78.2) among all players at the position. Veteran stalwart Joe Staley is showing absolutely no signs of slowing down on the blind side, running back Matt Breida proved to be a force in the passing game (90.1 receiving grade, no drops) as well as in the running game (27 runs of 10-plus yards) and the addition of South Carolina's Deebo Samuel will give head coach Kyle Shanahan a YAC monster who will pair nicely with second-year wideout Dante Pettis to form one of the most dynamic receiving corps in the league. Factor in the return of pass-catching ace Jerick McKinnon, the signing of the multi-talented back Tevin Coleman and the return of Garopollo to lead his disciples — and you get an offensive unit that's capable of going toe-to-toe with even the most formidable defensive juggernaut.
Defensively speaking, they added the best player in the 2019 draft class by taking Nick Bosa second overall, and he'll play a significant role in a pass-rushing rotation that now also includes Dee Ford and DeForest Buckner, two players who combined for a rather scary 137 quarterback pressures a season ago. A young talented receiving corps, a young talented pass-rush, and a secondary that includes the perennially stingy Richard Sherman and the incredibly gifted (albeit injury-prone) Jason Verrett: This team has all the potential to make noise in the NFC.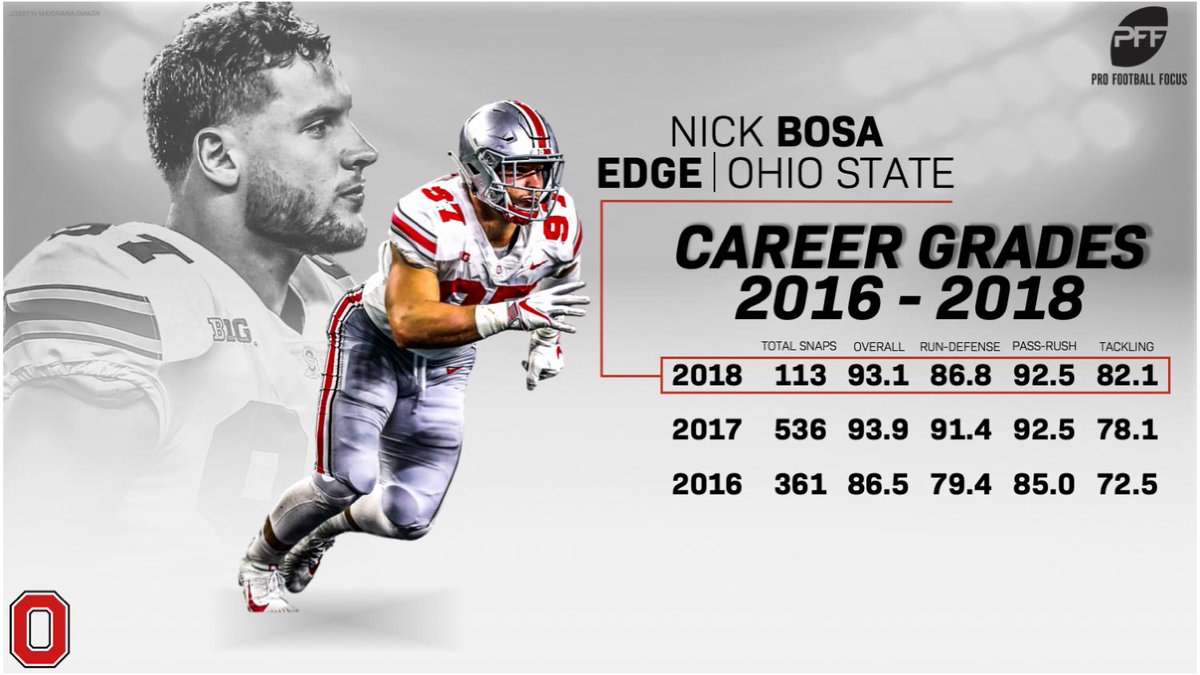 New head coach Bruce Arians said all along that it would take something special to coax him out of his "forever home," and lucky for him, special is just what he's got in Tampa. The man who spent time with both Peyton Manning and Ben Roethlisberger and took Carson Palmer from being a middle-of-the-road quarterback to a legitimate MVP candidate now has an incredibly talented nucleus of skill position players to work with, and that will start with quarterback Jameis Winston, a player who has underachieved at times but has also shown the propensity for making truly special throws. Four years after being drafted with the first overall pick, Jameis has yet to grade below 70.0 but is yet to grade above 75.0 — the same career arc as Carson Palmer was on prior to his arrival in Arizona — so if there's anyone out there who can get the best out of the embattled signal-caller, it's Arians.
Outside of the quarterback position, Arians has the dominant playmaking ability of wideout Mike Evans, who has earned an overall grade of 91.1 and a 50.6% contested-catch rate across his 435 targets over the last three years, which is to be backed up with tight end O.J. Howard (89.4 overall grade in 2018) and slot ace Chris Godwin (80.4). Defensively, they didn't just draft LSU linebacker Devin White, who is the perfect complement to Todd Bowles' defensive scheme, but they also managed to snag Central Michigan cornerback Sean Bunting and Iowa defensive end Anthony Nelson — two of our favorite sleepers in this year's draft.
While we all know what Bowles can orchestrate as a defensive coordinator, all eyes should be firmly fixed on this offense. No risk it, no biscuit + Jameis Winston + Mike Evans = fun in the NFC South.

After 16 seasons without a playoff win, the Cincinnati Bengals finally called the Marvin Lewis era to a close and hired Zac Taylor — the former quarterback coach of the Los Angeles Rams — to take his place in a move that could finally mark the end of the quotidian offensive mediocrity that had almost become a permanent fixture in Cincinnati. Taylor isn't short of players to work with as he begins the hunt for a playoff victory, and none are more important than quarterback Andy Dalton, who put forth the highest-graded season of his career in 2018. Together Dalton and Taylor possess a healthy A.J. Green, an ascending Tyler Boyd, a returning Tyler Eifert and the best offensive lineman from the 2019 draft class in Jonah Williams, so if they can piece the puzzle together, this offense has the potential to be one of the league's best in 2019.
Defensively, the holes at the linebacker position can be overlooked by a formidable defensive line and secondary. Third-year edge defender Carl Lawson won 23.4% of his pass-rushing snaps when he was on the field last year — the second-highest rate among edge defenders — and Carlos Dunlap has produced at least 45 total quarterback pressures in each of the previous eight seasons. William Jackson III is just one year removed from one of the greatest single-season performances that we've ever seen from a cornerback and safety Jessie Bates III exploded onto the scene as a rookie, earning an 80.9 coverage grade for his efforts. They will need players to step up, especially at linebacker, but they don't have to be world-beaters if the offense lives up to the hype, they just simply have to hold up in big moments (see Chiefs, Kansas City — 2018).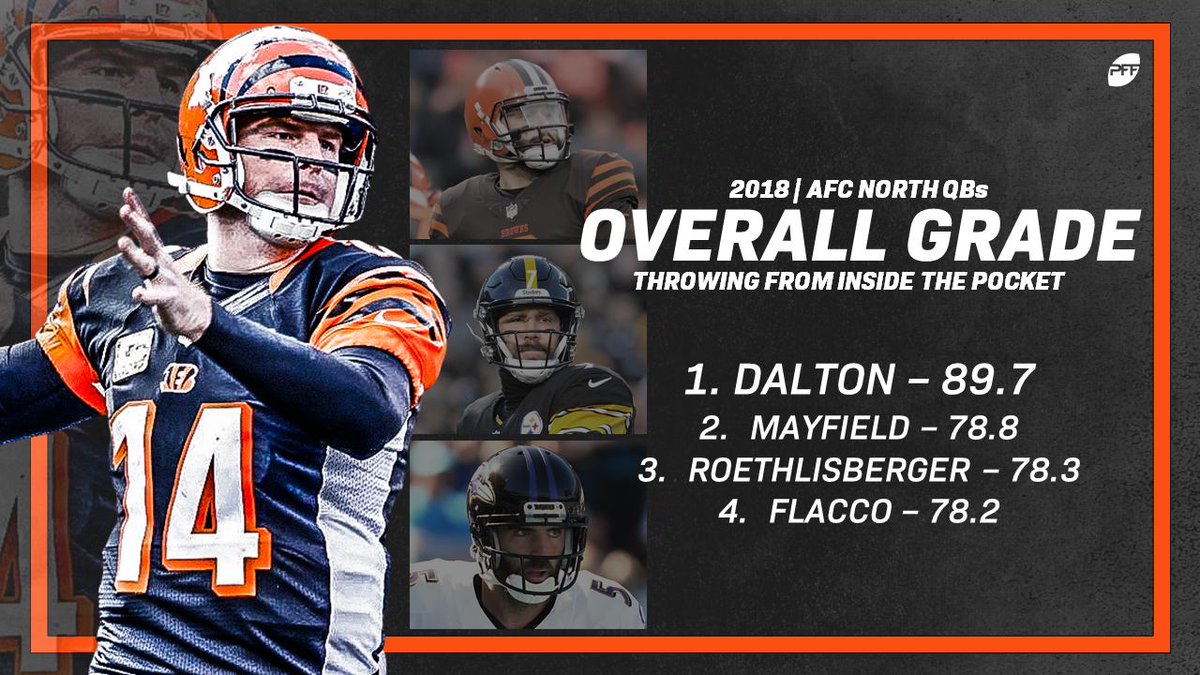 The front office may be a little, let's say, unsteady at the minute, but don't let that take away from the potential contender that the team has been building over the last couple of seasons. Now armed with a new, offensive-minded head coach in Adam Gase, the Jets can now start to build around the talent they have in the building. Franchise quarterback Sam Darnold was the highest-graded quarterback over the last month of the 2018 regular season and really looked to have found his feet by the close of the campaign. Wideout Robby Anderson has posted the 11th-most deep yards among receivers over the last two years, tight end Chris Herndon generated a near perfect 152.7 passer rating on his red-zone targets and, of course, running back Le'Veon Bell gives them the ultimate mismatch weapon as a pass-catcher, something that's evidenced by the fact that, even though he spent the 2018 season on the couch, Bell's 2,276 yards after the catch still rank first among running backs since 2014.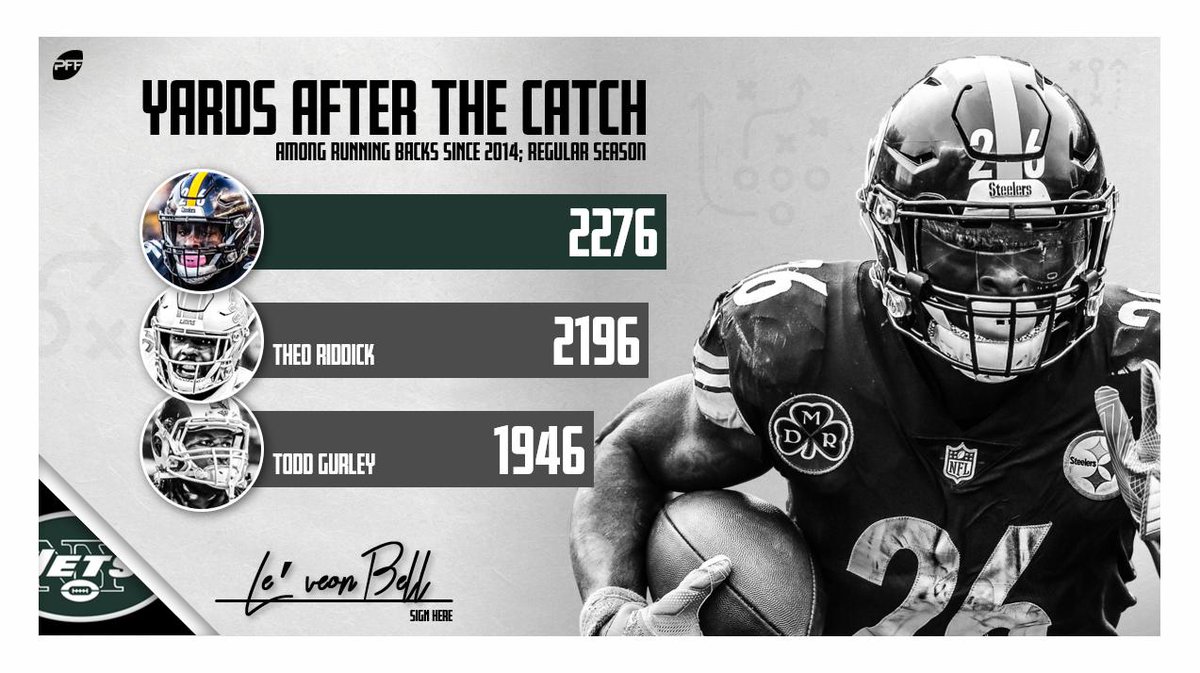 The Jets possess a treasure trove of talent on the other side of the ball. Third overall pick Quinnen Williams just earned the highest pass-rushing grade we've ever given to a college defensive interior player (92.5) in his lone season as a starter at Alabama, and he'll be an immediate upgrade to a line that also includes Leonard Williams, who has developed into one of the league's best run-stoppers. Pair that with the solid linebacker duo of Avery Williamson (74.3 overall grade in 2018) and new signing C.J. Mosley (73.6) and the arguably the league's best safety tandem of Jamal Adams (89.7) and Marcus Maye (81.7), and you get a promising roster that's just bursting to make it into January.