Following perennial All-Pro tight end Rob Gronkowski's retirement in March, the New England Patriots lacked reliable pass-catchers and were considered thin at the tight end and wide receiver positions. The former issue was not addressed in the offseason, which suggests the Patriots might make a schematic move and not rely on tight ends as much as they used to; however, the latter remained a concern even going into training camp. The return of formerly suspended Josh Gordon certainly helps, but what provided an unexpected boost to the unit was the emergence of undrafted rookie Jakobi Meyers.

Meyers finished the 2018 season with a receiving grade of 88.8, which ranked eighth among 601 FBS wide receivers with at least 100 snaps. However, despite his production, he was not selected in the 2019 NFL Draft and later signed with the New England Patriots. Early reports out of spring practices were already praising Meyers. Those voices only got louder in training camp as Meyers kept making plays in the absence of Gordon, Julian Edelman and Demaryius Thomas and did not play like an undrafted free agent. Even though these reports are usually encouraging, rookie receivers are not always able to translate strong practices into making plays in a game situation. However, that was not the case for the former NC State standout, as proven by his performance in the preseason.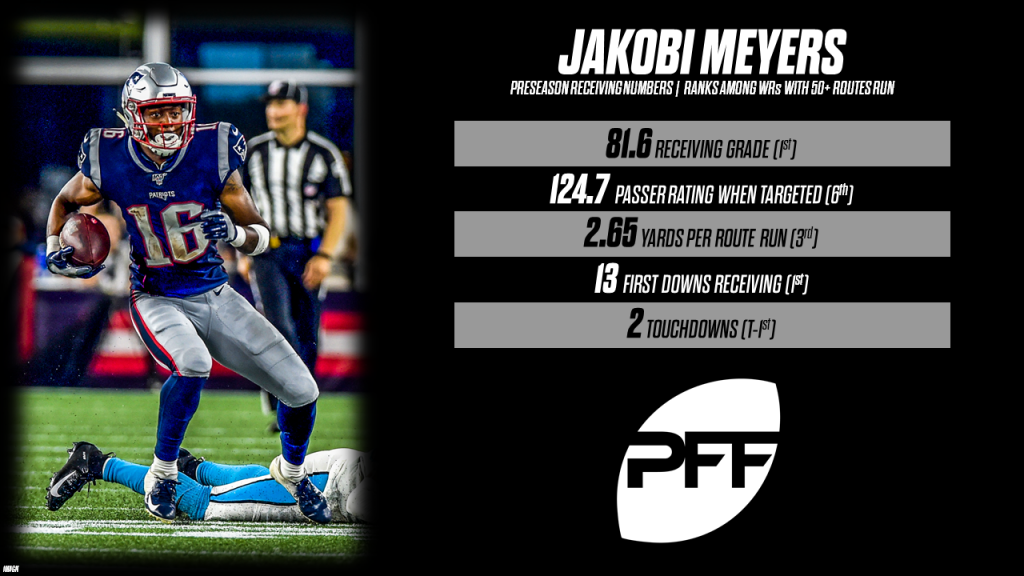 Meyers has caught 19 of his 26 targets for 225 receiving yards and two touchdowns so far, while he has also converted 13 of his receptions into first downs. Furthermore, his receiving grade of 81.6 ranks first among the 70 wide receivers who have played at least 50 snaps in the preseason. In addition, that grade ranks ninth in preseason performances in the last five seasons among the 505 receivers who have played at least 50 snaps.
Meyers' versatility gives him a chance to contribute in the regular season, as well. He played nearly the same amount of snaps in the slot (39) as he did lined up wide (46), and his receiving yards per route run is also very similar when he lines up in the middle of the field (2.78) compared to when he lines up wide (2.49). This versatility, which is similar to Edelman's, can allow offensive coordinator Josh McDaniels to remain flexible when it comes to formations, which has been one of the strengths of the Patriots' offense over the years.
Even though Meyers has been impressive throughout the preseason, it needs to be noted that he did not find a lot of success when he was on the field with Tom Brady against the Panthers. Brady had just four incompletions against the Carolina Panthers, but three of them came targeting Meyers, who failed to make a single reception while Brady was under center. The first incompletion came on a miscommunication where the rookie receiver did not expect Brady to target him, while his second target resulted in Meyers' first dropped pass this preseason. Finally, he failed to create enough separation on the third one, as Panthers cornerback James Bradberry broke up the pass before Meyers had a chance to haul it in.
While Meyers' time with Brady on the field did not go as planned, the veteran quarterback targeting him on 25 percent of his attempts is a sign that Brady has trust in the undrafted rookie. Furthermore, the fact that Meyers is the Patriots' highest-graded receiver in the preseason since 2014 is an encouraging sign that the former Wolfpack wideout could be primed to contribute early in his rookie season.