Jarrett Stidham arrived at Baylor as one of the top dual-threat quarterback recruits in the nation, and though he didn't start as a true freshman, he performed admirably in a back-up role to Seth Russell and in an eventual starting role following Russell's 2015 injury. In 328 offensive snaps his freshman campaign, Stidham recorded an 89.3 overall grade, and his 91.5 passing grade was behind only Mason Rudolph in the Big 12 among quarterbacks with 100 or more dropbacks. He had the pedigree and the early results that hinted at a potential future where his name would be called early in the NFL Draft.

Then Baylor came under fire for a sexual assault scandal surrounding the football team, head coach Art Briles was fired and Stidham transferred to Auburn. That production that he flashed in limited opportunities at Baylor as a freshman never quite returned in either of his two seasons at Auburn. It's not as if he put up bad numbers — 470-of-743, 5,951 passing yards, 36 touchdowns and 11 interceptions — but isolating for his contribution on a throw-for-throw basis, it's clear that his performance wasn't up to par with what he showed in his first taste of college action.
Stidham recorded a passing grade of 75.0 in 2017, and that grade fell to 61.0 in his final collegiate season last year. It's easy to look at that and say there wasn't much promise there for an NFL team to work with. There was a little over 300 snaps of elite play from Stidham in 2015, and since then, his play had only declined. Diving into the Auburn offense, it's hard to put the decline solely on Stidham, though.
Auburn runs one of the most non-traditional offenses in college football. Their screen pass rate of 28.3% across Stidham's two seasons at Auburn was first by any FBS team by over 2%. They were among the top ten FBS teams in rate of trick plays, plays with six or more offensive linemen and plays with unbalanced lines.
Often times at Auburn, Stidham wasn't asked to look more than a few yards downfield. In his freshman season at Baylor, he had an average depth of target of 11.9 yards and just 43.1% of his passes came short of the first down marker. In his time at Auburn, his average depth of target dropped to 8.6 yards, and 54.1% of his passes came short of the line to gain —the highest rate of the 14 SEC quarterbacks with 300 or more pass attempts across 2017 and 2018. He simply wasn't asked to consistently look downfield outside of orchestrated deep shots.
This is perhaps most glaring when looking at the percentage of his pass attempts that were between five and 15 yards downfield, a range that can generally be considered on the upper end of the "short" range and the lower end of the "intermediate" level. Just 27.9% of Stidham's passes came between 5 and 15 yards downfield. That is not a typo. 27.9%. When you take into account the 135 FBS quarterbacks with 300 or more attempts since 2017, that number ranked third lowest behind just Luke Falk and Marcus McMaryion. It's not a stretch to say that sort of unusual environment isn't ideal for a quarterback attempting to show that he can make NFL throws on a regular basis.
Auburn is heavy on screens, heavy on trick plays and utilizes a passing offense that didn't allow Stidham to highlight his full range of abilities as a passer, essentially ignoring the intermediate level in the passing game. Ultimately, it falls on Stidham that he didn't make the most of his opportunities there, which is why he came in as just the 10th quarterback on our pre-draft big board and was available for the New England Patriots at the tail end of the fourth round. The pass-game environment that Auburn put him in did Stidham no favors, though.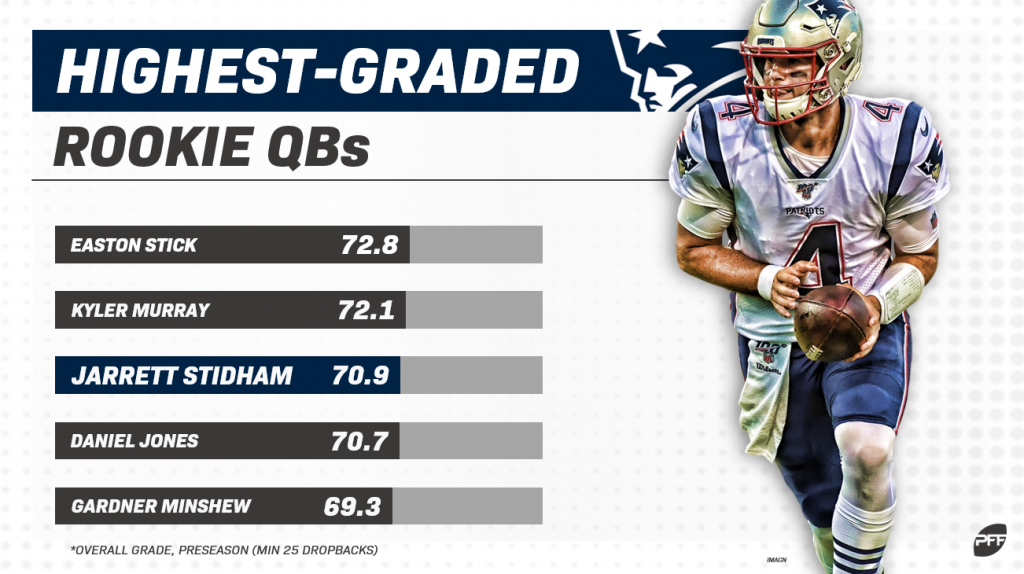 Which brings us to this preseason, where Stidham's 70.9 overall grade ranks third among 15 rookie quarterbacks with 50 or more attempts. As must be noted with all preseason takeaways, the sample size is small, but Stidham has shown flashes that he can develop into an NFL passer. His 61.8% accuracy rate — a number that takes into account accurate ball placement to the receiver — ranks second among 14 rookie quarterbacks with 25 or more attempts this preseason, and no quarterback has a lower uncatchable pass rate than Stidham's rate of 9.1%. The traditional numbers aren't too shabby either, as his 8.2 yards per attempt and 104.6 passer rating both rank second among qualifying rookie quarterbacks to Daniel Jones.
That's not to say that he has been perfect over those two games. Stidham has lucked out big-time in the turnover department. His five turnover-worthy throws rank second among all quarterbacks this preseason, and yet, he has not thrown a single interception. That propensity to put the ball in the path of the defender is why his grade sits at just 70.9 despite being very accurate for the most part, as his ball placement numbers show.
That cuts both ways, however, and Stidham's preseason can serve as the poster for why you can't simply judge a quarterback on stats alone. To pair with those turnover-worthy plays on the negative extreme, Stidham has notched three big-time throws which we regard as accurate passes with good placement deep downfield or into tight windows. All three of those passes came in their first preseason game against the Detroit Lions, all three were dropped and all could have gone for potential touchdowns had they been caught.
In all, Stidham has exceeded expectations in his first offseason with the Patriots. He has made several bad mistakes that need to be cleaned up. And he's lucky that they haven't yielded the expected consequences, but he has been accurate and shown that he can throw to all areas of the field. That's something he didn't get to showcase too often at Auburn, but it's something that the Patriots are surely glad to see at the NFL level.