Just last week, Washington Redskins head coach Jay Gruden took the podium after Day 5 of OTAs and gave a typically mordant reply to the voiced possibility of his team appearing on HBO's Hard Knocks in 2020.
"If we don't make the playoffs, I probably won't be here anyways," he said, per The Athletic's Tarik El-Bashir.
Of course, the remark got a laugh from the media room, partly because it's the kind of answer that they've come to expect from the ever-transparent head coach, but also because the statement was of complete truth. After all, Gruden has failed to lead his team to the postseason in each of the last three years; he is now 35-44-1 in the nation's capital and staring his own head coaching future in the face. And though no other head coach over recent years has had to deal with the same seemingly endless carousel of injured starters, Gruden needs his star players to step up to the plate in 2019 if he is to have any hope of returning in 2020.
The defense — barring the injury to linebacker Reuben Foster — is in relatively good shape. The team has quietly built one of the NFL's best front sevens and their secondary is one that shouldn't be underestimated. However, the offense —namely the receiving corps — is plastered with question marks. We're still waiting to see  Josh Doctson earn an overall grade higher than 65.0, tight end Vernon Davis is entering his age-35 season, Paul Richardson is still waiting to gain full clearance after playing all of 368 snaps in his first year with the side and Jamison Crowder — the team's long-time trusty slot option — flew the nest in free agency.
Simply put, this team needs someone to step up and help elevate the play of either rookie quarterback Dwayne Haskins or veteran Case Keenum. The team needs a healthy Jordan Reed.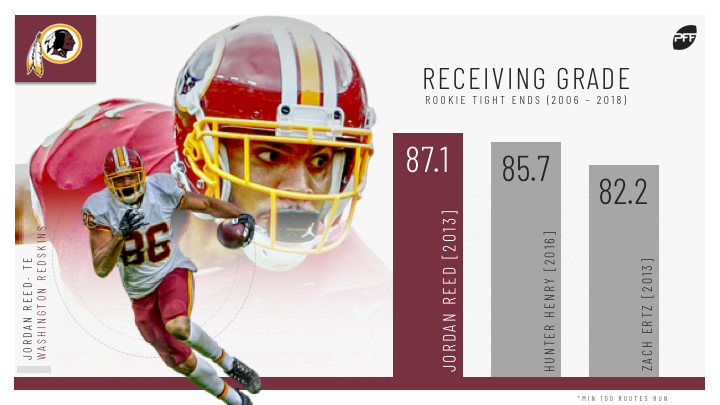 Reed took the league by storm as a third-round rookie in 2013 when he caught 45-of-60 targets for 499 yards, three touchdowns and 27 first downs. He generated a 102.0 passer rating throughout the season that ranked 23rd among the 46 tight ends with at least 30 targets, and he averaged a mightily impressive 2.17 yards per route run which didn't just rank third in the NFL — it was the second-best figure ever recorded by a rookie player at the position.
Rightly recognized as a star by Super Bowl-winning head coach Mike Shanahan, Reed put on several promising performances during his rookie campaign, but none were better than his incredible Week 7 clash against the Chicago Bears. Catching nine targets for 134 yards and generating a near-perfect passer rating of 155.8 from quarterback Robert Griffin III, the exceptional performance was the fifth-best single-game mark by any player in the league in 2013, and it deservedly landed on PFF's list of the top 100 best single-game grades of the PFF era.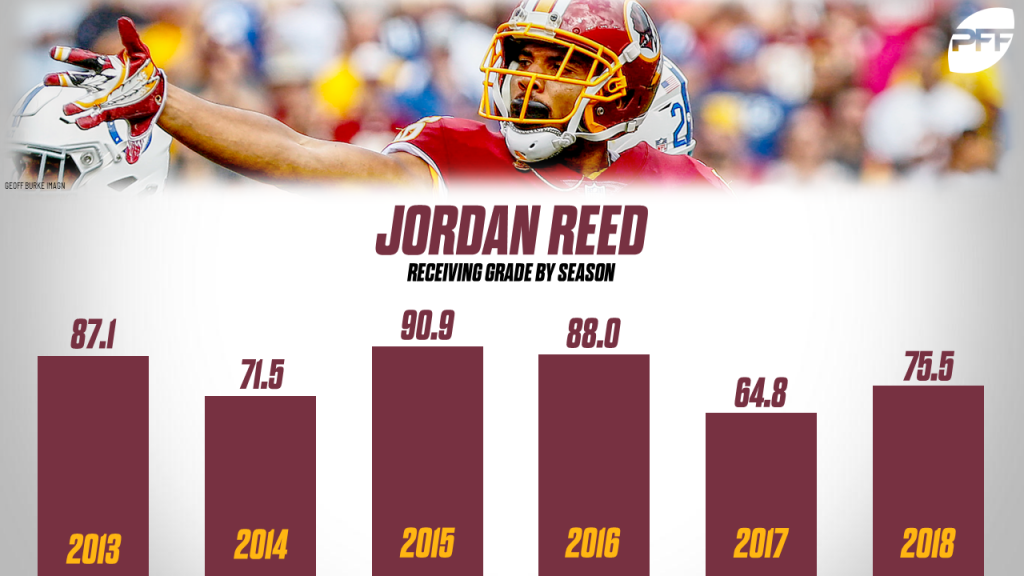 But it's very rarely — if ever — that simple in Washington. The side had evidently found the league's next premier mismatch weapon at the tight position, but unfortunately, recurring injuries were (and continue to be) a problem for the former Florida pass-catcher. After starting so well in his rookie year, he was forced to miss the final six games due to a head injury. Following on from that, Reed was limited to just 369 snaps in 11 games thanks to a hamstring injury in Year 2.
The 2015 season, Reed's third in the NFL, is still the most we've seen of the tight end over a year, and it still serves as a glowing reminder of what he's capable of at full health. Playing a career-high 764 snaps in a career-high 15 games, Reed dominated the 2015 season as a receiver to the tune of 96 catches for 1,072 yards and 12 scores. That year, he led the league's tight ends in yards per route run (2.45), and his 131.7 passer rating when targeted was good for fourth. Only Travis Kelce and Rob Gronkowski racked up more yards after the catch than Reed's 486 yards that season, while his 55 first down receptions and his 16 missed tackles forced both paced the league.
During his first four years in the NFL (2013-2016), Reed was not only among the league's elite players at the position — he was outperforming most of them. His elite four-year receiving grade of 91.1 tied with Carolina's Greg Olsen for the second-highest mark among tight ends in that span, while his average of 2.15 yards per route run over the same period ranked second to only Rob Gronkowski among the 68 tight ends with at least 400 snaps.
A true testament to his physical dominance over this time, Reed saw an average depth of target of just 6.7 yards downfield from 2013-2016 — a figure that ranked tied for 52nd among those tight ends — yet, he averaged over 10 yards per reception during that span thanks to his remarkable ability to make players miss and rack up yards after the catch. Over the said span, Reed's 42 missed tackles forced ranked fifth among tight ends, and his 5.0 yards after the catch per reception ranked 20th.
Of course, his imposing stature and his ability to run routes like a wide receiver made him a nightmare to defend in the slot. Among the 55 tight ends with at least 200 routes run from the slot from 2013 to 2016, Reed's 1.81 yards per route run ranked fifth, his catch rate of 73.2% ranked 11th; he averaged a whopping 2.92 yards per slot route run when facing safeties, and he averaged 2.93 yards per slot route run against linebackers.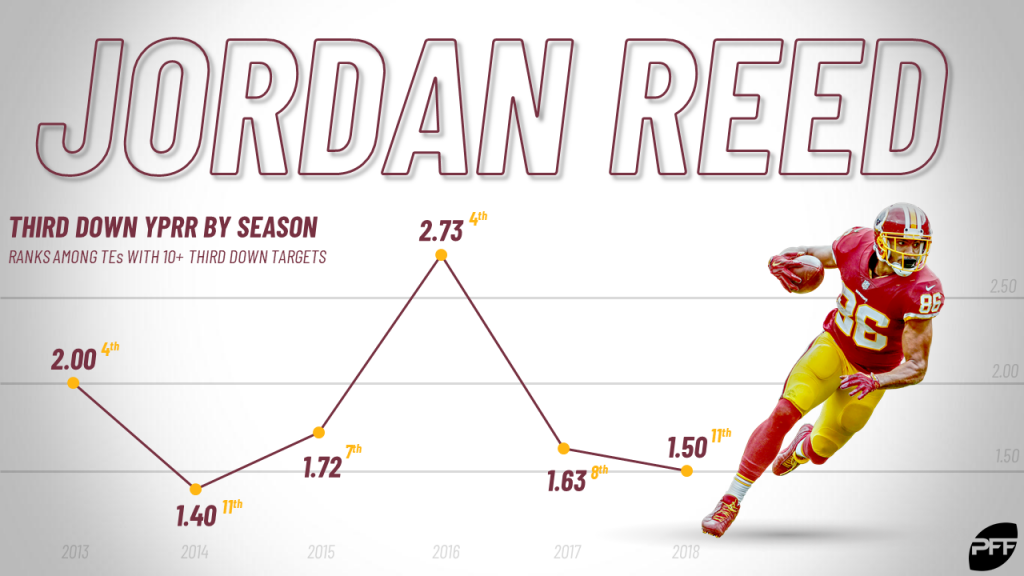 Unfortunately, the same injuries that slowed Reed's ascent during his early years have really taken a toll on his potential since those remarkable first four seasons. Since the start of the 2017 campaign, Reed has managed all of 746 offensive snaps (12 tight ends played more snaps than that in 2018 alone) in 19 games, and he's stumbled to single-season receiving grades of just 64.8 and 75.5 — a stark departure from his early-career numbers. Since 2017, Reed's averaged just 1.60 yards per route run, only 4.0 yards after the catch per reception, and he's forced just eight missed tackles on 80 receptions.
Washington needs the Reed it had back in 2015, the same player who flashed superstar levels of play. Just like the Kelces and the Kittles in the NFL, Reed, when healthy, is adept at making people miss and racking up the yards after the catch, and at his best, he can turn short passes into significant chunks — something that this offense badly needs.
Over the last few seasons, Jay Gruden has been handed the thankless task of pushing the boulder up the proverbial mountain; asked to trot out replacement-level players all over the field and expected to make it to January. Now, he'll likely get only one more chance. The quarterback position is set, as is the defense, and if Trent Williams remains with the team then the offensive line will remain as one of the best in the NFL. The only question surrounding this team is the receiving corps, but those questions will quickly disappear if, and likely only if, a healthy Jordan Reed returns to top form.