Just last month, we took a deep dive into the PFF database to give our thoughts on one prominent position battle for every team in the NFL. In the weeks since then, these battles have been fought hard both on and off the field of play, and for some players, it'll only be a matter of time before they're announced as the official victor.
Now that we're almost three weeks through the 2019 preseason slate, here is how some of those key battles have turned out.
[Editor's Note: All of PFF's player grades and advanced statistics are finalized and made available to ELITE subscribers before 5 pm ET on the Monday following each weekend's slate of games during the season. Sign up today to gain access!]

The Cardinals entered the preseason with "two starting centers," according to newly appointed head coach Kliff Kingsbury, with A.Q Shipley and sophomore Mason Cole set to battle it out for the starting gig. Though Cole has seen the lion's share of snaps through two preseason games, playing 80 compared to Shipley's 28, it's actually Shipley who comes out on top in PFF grade.
So far, the veteran Shipley has earned a 79.9 pass-blocking grade and a 54.9 run-blocking grade across his 28 total preseason snaps. He's yet to allow a quarterback pressure as a pass-blocker, and he's only been downgraded once as a run-blocker. Cole falls behind Shipley in both pass-blocking grade (72.0) and run-blocking grade (47.7) through two games; he's allowed three pressures from 55 pass-blocking snaps and has received seven downgrades on just 25 run-blocking snaps.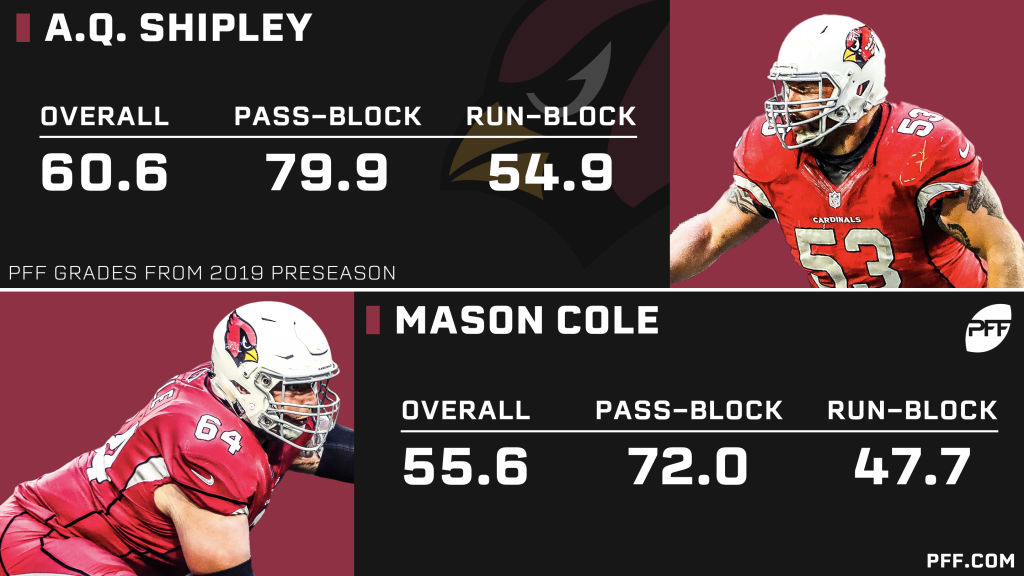 The six-time Super Bowl champs entered the preseason with so many question marks hovering over the receiving corps, but things seem to be in so much better shape now that Josh Gordon has been reinstated by the NFL. Heading into the regular season, Super Bowl LIII MVP Julian Edelman, special teams ace Matthew Slater, first-round pick N'Keal Harry and Gordon are locks for the final 53-man squad, leaving veteran Demaryius Thomas, Maurice Harris, Braxton Barrios, Jakobi Meyers and Phillip Dorsett to battle it out for the remaining spots.
Jakobi Meyers has been the standout so far this preseason. He's played 92 snaps in three games so far — 39 more than the next closest Pats receiver — and he's hauled in 19 of his 26 targets for 225 yards, two touchdowns and 11 additional first downs. Among the 138 receivers who have run at least 25 routes so far this preseason, Meyers ranks 13th in yards per route run (2.65), while Dorsett (2.00), Barrios (1.25) and Harris (0.90) rank 28th, 65th and tied for 87th, respectively. Now, three games in with one left to play, Meyers leads the aforementioned receivers, with an 81.6 receiving grade, and he is followed by Dorsett (69.7, 49 snaps), Berrios (62.7, 54 snaps) and Harris (56.0, 59 snaps).
A year removed from a season that saw the Raiders' edge defenders combine for a 31st-ranked team pass-rush grade and a league-low 73 total pressures (Khalil Mack tallied 68 all by himself in Chicago), the Raiders were in dire need of an edge defender (or two) to step up and make a name for himself this preseason, but unfortunately, no player at the position as really distanced himself from the pack.
Now three games in, Maxx Crosby leads the Raiders' edge corps with a 76.2 overall grade but has played just 13 snaps no thanks to a broken hand. Benson Mayowa follows closely behind with a 76.1 overall grade across 36 defensive snaps, and Arden Key falls into third with a mark of 73.4 from his 53 defensive snaps.
The early signs were good for Crosby in the pass-rush, as he won three of his six pass-rushing snaps before he was forced off the field. And while he only has one hurry to show from it, his pass-rush grade of 70.5 — the only Raider above 65.0 — is a good indicator of his early success. Things haven't been so promising for the rest of the team's edge-rushers. Mayowa (64.9 pass-rush grade) has tallied just two pressures from 18 snaps, while Key (65.2) has managed to produce six from 36. Neither Key nor Mayowa rank inside the top-25 edge defenders in terms of pass rush win rate: Key ranks 90th with a mark of 13.9%, while Mayowa ranks tied for 29th at 22.2%.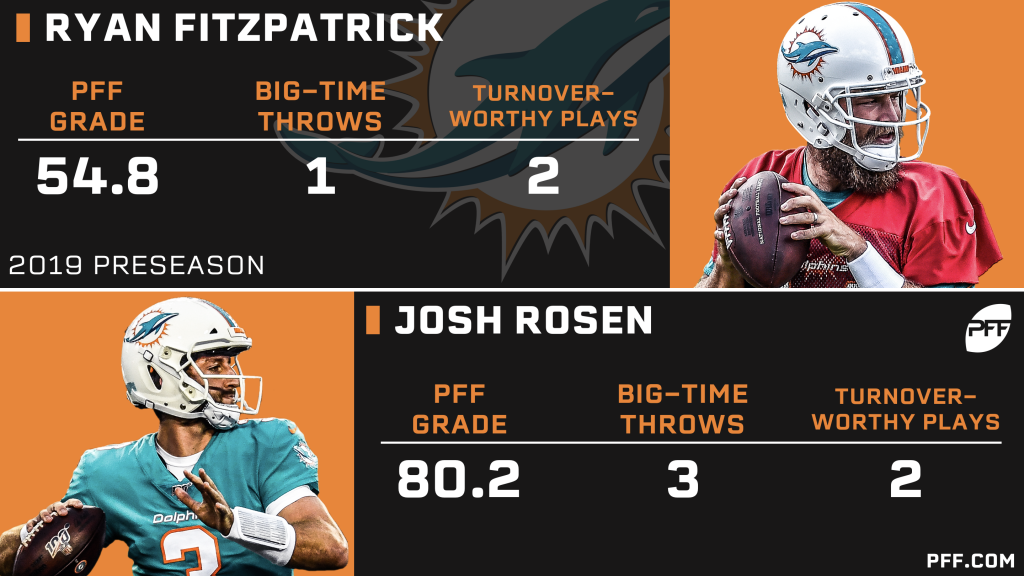 The new Miami quarterbacks have made it a tough enough choice for first-year head coach Brian Flores. But entering the Week 3 contest, it looked like the go-with-FitzMagic plan was in full effect, with the former Harvard man playing 38 snaps through two-and-a-bit quarters of action. It wasn't quite the performance he would have been hoping for, however, as he faced pressure on 36.8% of his dropbacks, missed far too many throws and left the game having earned an overall grade of 69.4 — his third single-game grade of less than 70.0.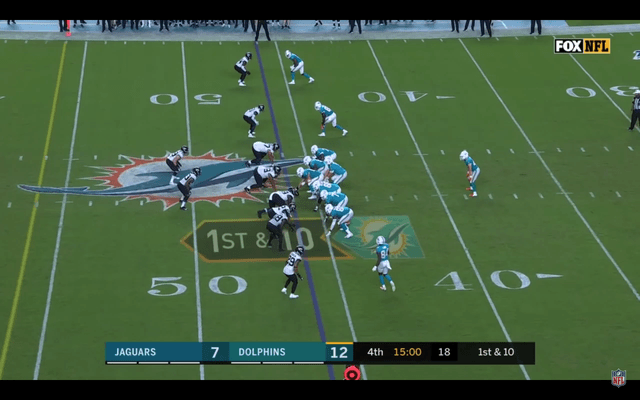 Rosen steadied the ship upon entering the game, going 5-for-7 for 59 yards including a mightily impressive 39-yard completion on a scramble away from pressure. Rosen ended his Week 3 game with a 90.9 overall grade, his second overall grade above 70.0. Through three preseason games, Rosen tops the Magic Man in adjusted completion percentage (76.2% to 71.4%), passer rating under pressure (95.4 to 63.0), passing grade (76.3 to 53.7) and in negatively graded play rate (6.5% to 7.9%).
With AB out of town, the Pittsburgh Steelers badly needed someone to show up in a big way this preseason to save JuJu Smith-Schuster from having to single-handedly carry this passing attack. And luckily, sophomore wideout James Washington has seemingly figured it all out just in the knick of time.
In games against the Bucs and the Chiefs, Washington has now caught eight of his 10 targets for 162 yards, one touchdown and six first downs, generating a passer rating of 152.1 that ranks first among the 37 wide receivers who've seen at least 10 targets so far this preseason. Among that same group of players, Washington also ranks first in yards per route run (4.91) and receiving grade (87.7), while he also leads the league with 105 receiving yards from deep passes (passes of 20 or more air yards downfield), reminding us of the player that led the nation in deep yards in his final season at OSU.
Diontae Johnson has performed well enough in his own right, catching 3-of-5 targets for 46 yards and a score himself, with two of his plays coming from deep passes — an impressive feat given that he's faced press coverage on 18 of his 23 routes. After two preseason games, Johnson has earned a respectable 78.7 receiving grade, but if James Washington can continue tho make those high-level plays downfield, this No. 2 role should be his to start the year.
We examined the Redskins' quarterback battle earlier this week, and nothing in the post-Week 3 landscape has made us change our minds.
With just one preseason game left to play, Keenum has a leg up on Haskins in passing grade (87.9 to 47.9), adjusted completion percentage (75.0% to 66.7%) and passer rating from a clean pocket (131.3 to 59.5), with the latter being the fifth-best mark among quarterbacks so far this preseason. But what'll really make the difference for Jay Gruden & Co., is Keenum's experience and the ability to avoid the mistakes that can be frequent within a rookie's game. Through three games, Keenum didn't record a single turnover-worthy play, while Haskins has already put two on tape.