Week 1 of the 2019 NFL preseason is now in the books, and with it came a number of standout performances. From the debuts of Kyler Murray, Dwayne Haskins and Daniel Jones to the multi-pick performance from potential star Mack Wilson, here are our takeaways from the first week of preseason.
[Editor's Note: All of PFF's advanced stats and grades for every NFL player are made available in PFF's ELITE subscription. Subscribe today to gain access!]
Grading the first-round quarterbacks
---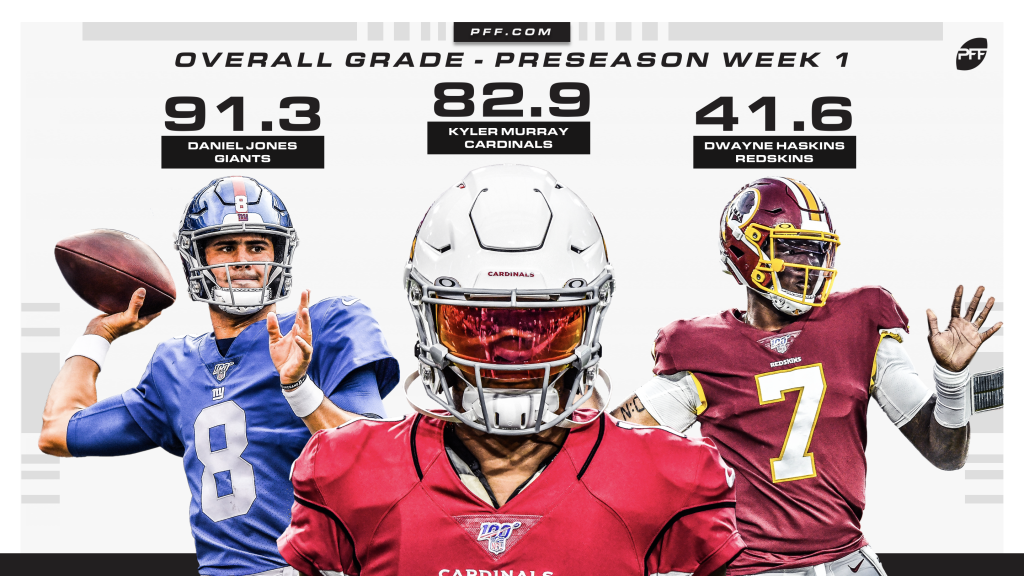 Three quarterbacks were selected in the first 15 picks of the 2019 NFL Draft, and all three were in action to varying degrees on Thursday night. They combined for just 51 snaps on the field total, with 32 of those coming from one player, so we're not going to read too much into their performances just yet. That being said, here are our observations from the first NFL games we've seen from these three hopeful franchise quarterbacks. Read more…
How 2018's first-round quarterbacks fared
---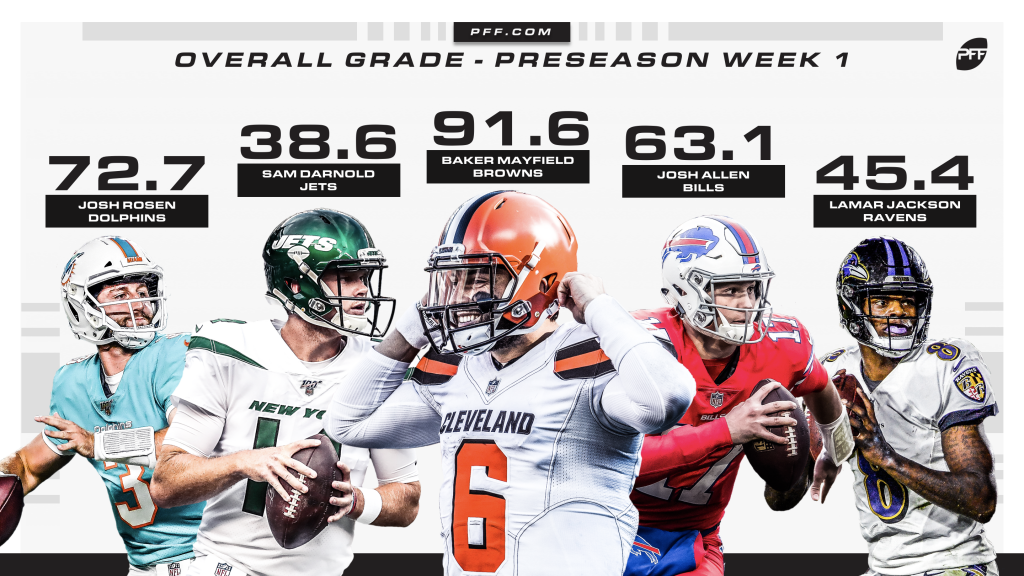 With Week 1 of the preseason in the books, we can now take a look back at some things that we found interesting from the opening week of action. After looking at the 2019 first-round draft picks on Friday, we're now going to cast our eye on the 2018 class. Five signal-callers heard their name called in the first round that year, with Baker Mayfield of the Cleveland Browns and Lamar Jackson of the Baltimore Ravens bookending the round. All five saw at least one series, so what did we see and learn? Read more…
PFF NFL Podcast: Preseason Week 1 Recap
---
PFF's own Steve Palazzolo and Sam Monson are back LIVE on this Monday morning to chat about all NFL news from this past weekend, especially after the first week of preseason games.
Marvell Tell III makes an impact at cornerback
---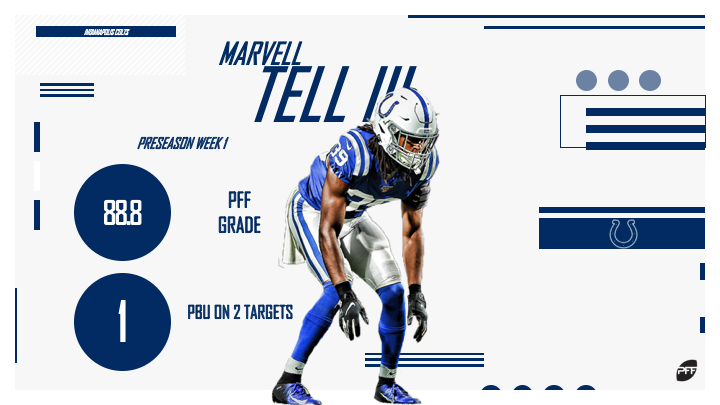 For rookie Marvell Tell III, it would've been easy to predict a slow start to his first NFL season with the Indianapolis Colts. Not only is the 2019 fifth-round pick out of USC transitioning to the pro level, but he's also switching positions to cornerback after lining up at safety throughout his collegiate career. Despite the odds stacked against him, Tell exceeded expectations in the Colts' preseason opener against the Buffalo Bills last week and found himself on PFF's NFL Team of the Week. Read more…
DeMarcus Walker looks primed for a breakout
---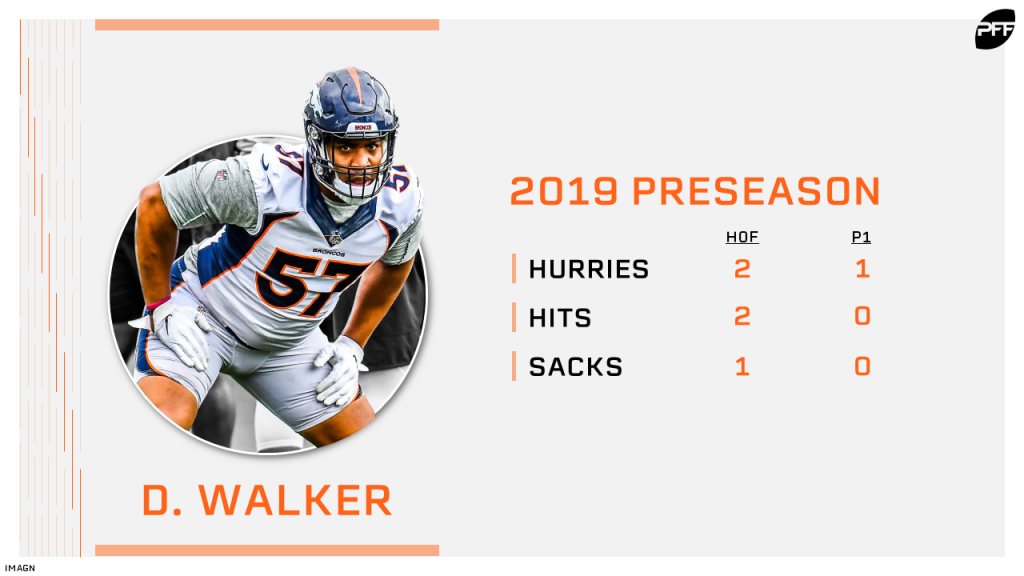 Over the past decade or so, the Denver Broncos have had a surplus of good pass-rushers. From guys like Elvis Dumervil to Von Miller, the Broncos have been churning out pass-rushers like a factory. Unsurprisingly, a new pass-rushing prospect has emerged in Denver this preseason, and he goes by the name of DeMarcus Walker. He has had limited opportunities so far, but the potential that Walker has shown since being drafted in the second round back in 2017 has been promising. Read more…
Andre Dillard looked like the real deal
---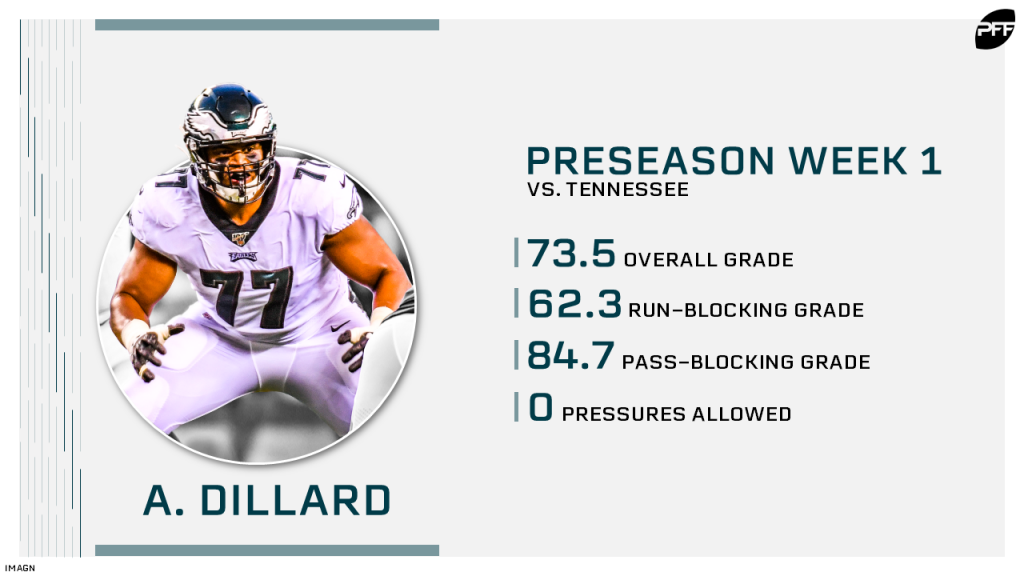 We were obviously big fans of the Philadelphia Eagles landing the 13th overall player on our final big board, Washington State offensive tackle Andre Dillard, with the 22nd overall pick in the 2019 NFL Draft. Trading up with the Baltimore Ravens, the Eagles landed the second highest-ranked offensive lineman on our board, setting themselves up well for the future. Read more…
Samuel & Hurd made a case for more playing time
---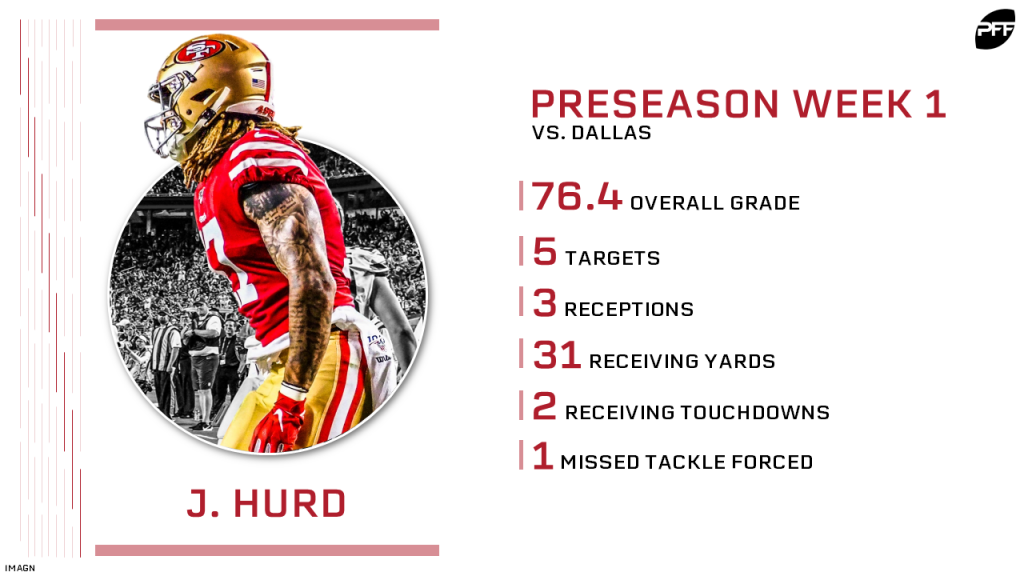 The San Francisco 49ers are trying to catch the Los Angeles Rams and Seattle Seahawks in a tough NFC West. To do that, they need quarterback Jimmy Garoppolo to stay on the field and some weapons to emerge. Last season, outside of tight end George Kittle, no skill position player on the roster finished the year with a PFF grade of 77.0 or higher and no receiver even reached 70.0. To their credit, they addressed that in the 2019 NFL Draft, using the 36th and 67th overall selections on South Carolina's Deebo Samuel, and Baylor's Jalen Hurd. So how did those two perform in their preseason debuts? Read more…
Devin Bush displayed dominant run defense
---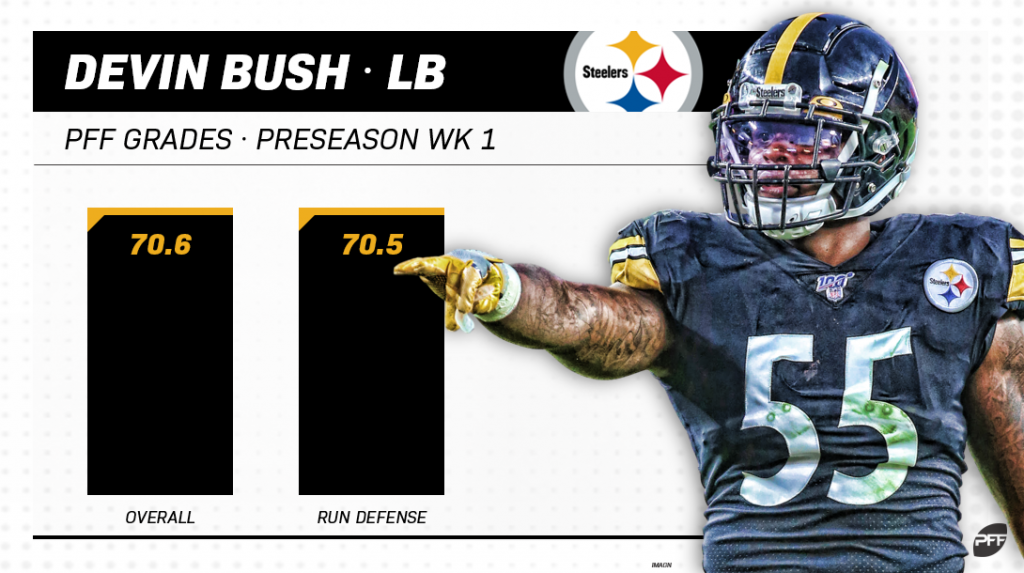 All that said, there's an evident lack of star power at the position in the division. And while it's easy to overreact to one week of preseason football, Steelers rookie Devin Bush certainly didn't hurt his prospects of rising to the top by delivering a standout performance, as he frequently flew across the field to disrupt the Tampa Bay Buccaneers' offense last Friday. Read more…
Jarrett Stidham turns heads
---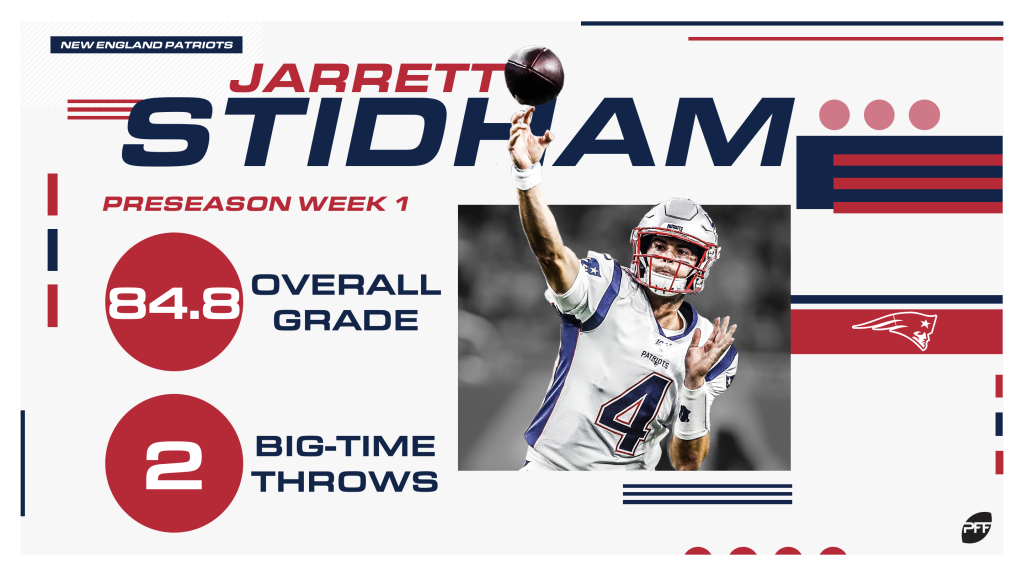 Stidham earned an overall grade of 84.8 against the Detroit Lions, which ranked first among rookie quarterbacks who played at least 25 snaps in the preseason opener. Furthermore, that grade ranked fourth among all rookie players and fourth among all quarterbacks with at least 25 snaps. Stidham completed just 14 of his 24 passes for 179 yards and a touchdown, however, as usual, the raw figures don't tell the entire story, and we have to look behind the numbers to really see how well Stidham played. Read more…
The Baltimore Ravens' pass-rush battle took shape
---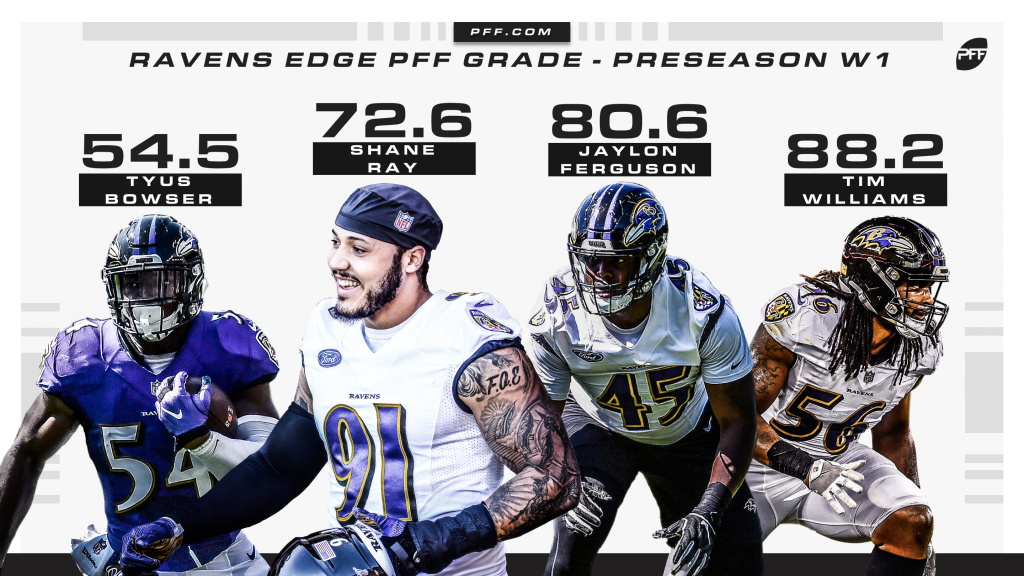 After the Baltimore Ravens lost Za'Darius Smith and Terrell Suggs in the offseason, the battle for snaps among the Ravens' edge defenders in is something that continues to develop over the summer. Suggs and Smith ranked first and second on the team, respectively, in terms of total snaps, and combined to rack up 114 total pressures, including 18 sacks and 24 hits in 2018. Read more…
Drue Tranquill makes his presence felt
---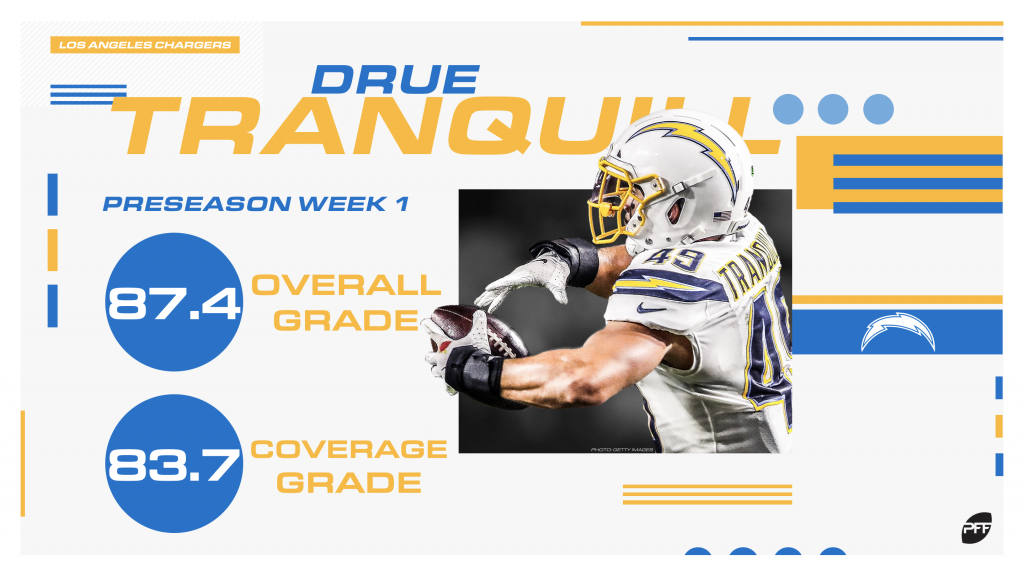 Rookies received the bulk of the workload in Week 1 of the NFL preseason, which remains an excellent opportunity to showcase their skillset. Los Angeles Chargers rookie linebacker Drue Tranquill accomplished that, shocking no one, as he left Notre Dame and with quite the lengthy resume. Read more…
Ulysees Gilbert puts in a strong showing
---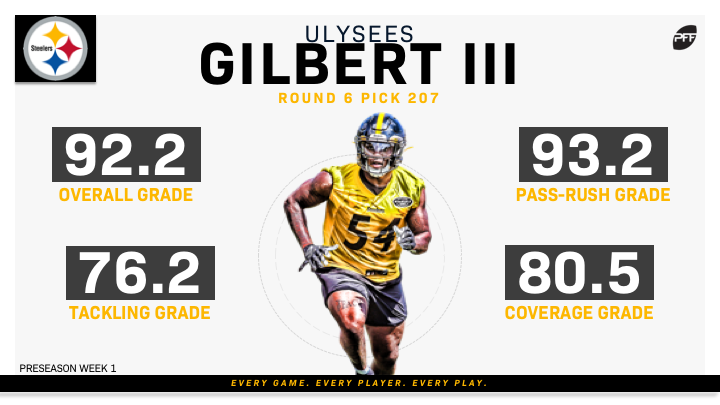 Heading into the draft, the Steelers knew that the position had to be addressed, and addressed it was, not only by trading up in the first round of the 2019 NFL Draft to select Michigan linebacker Devin Bush but by taking a flier on Akron product Ulysees Gilbert IIIdeep in the sixth round. And while Bush did have a very solid game in Pittsburgh's preseason opener against the Tampa Bay Buccaneers, it was Gilbert who made the biggest impact in the middle of the team's defense. Read more…
Mack Wilson makes a name for himself
---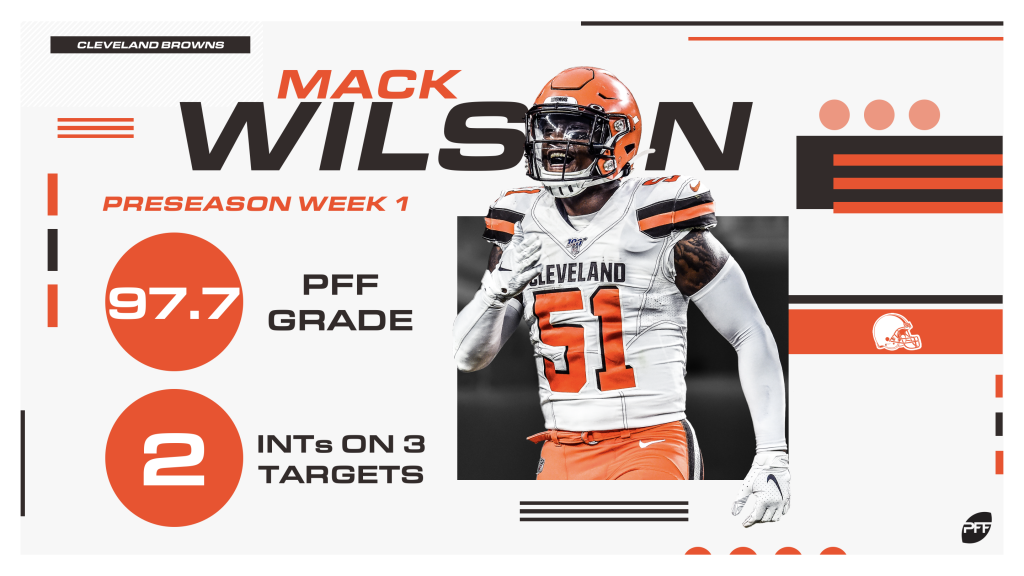 It was the type of performance that makes you question why he fell all the way to the fifth round of the 2019 NFL Draft, with former Alabama linebacker Mack Wilson producing arguably the top performance of any defensive player in the Cleveland Browns' preseason win over the Washington Redskins. Stealing the show with two interceptions, one that he ran back for a score, the 155th overall selection in the draft showed out with some athletic plays in coverage and didn't really put a foot wrong all game. Read more…
Preston Williams puts on a show for Dolphins
---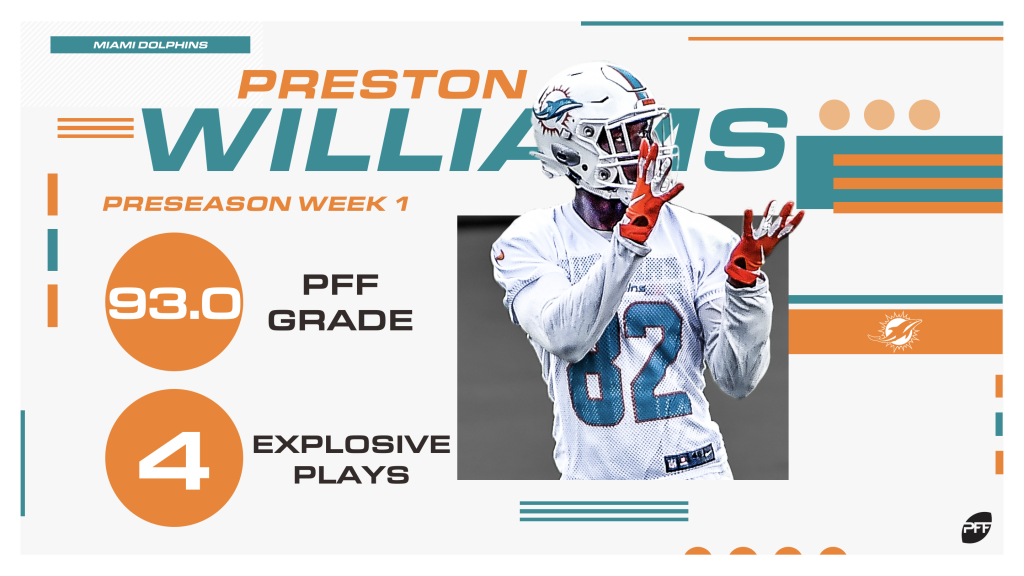 But now, as an undrafted free agent fighting to make the roster, Williams' on-field display during his side's preseason opener didn't just make a case for a roster spot, it's given him a legitimate chance to grab hold of a significant role in a Miami receiving corps that's set to enter the 2019 season without any significant firepower. Read more…
James Washington Stands out for Steelers
---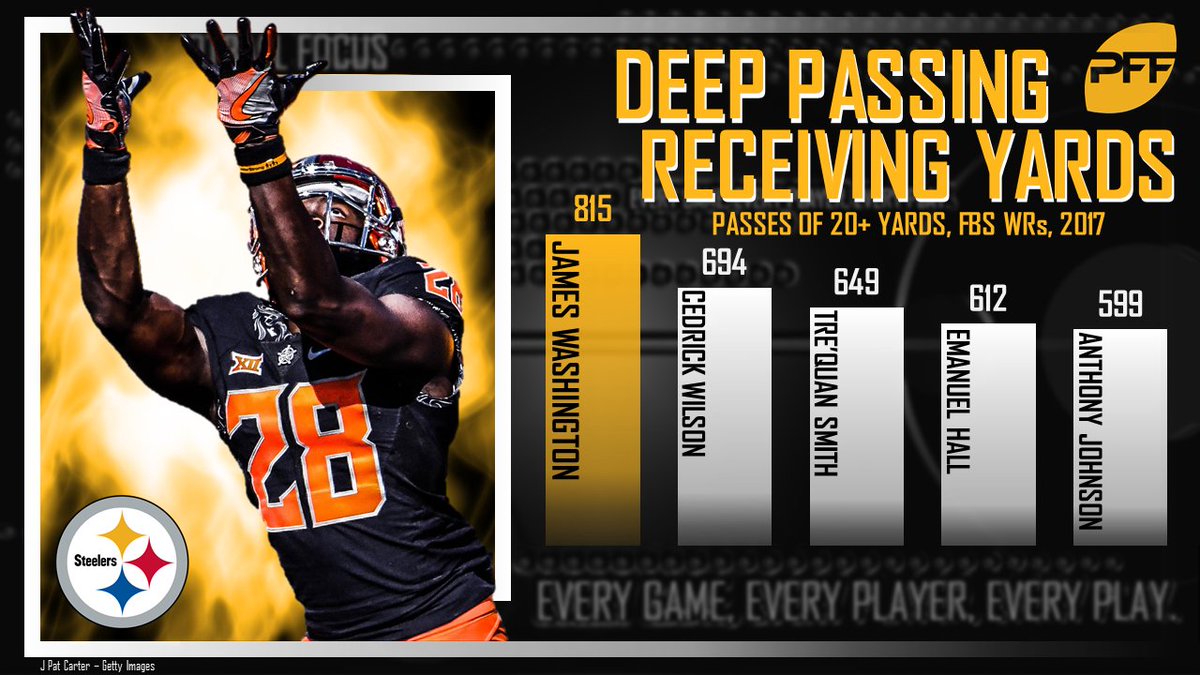 After a rookie campaign that saw him struggle, Pittsburgh Steelers wide receiver James Washington's performance on Friday night was the first step to silencing his critics and increasing the trust that the Steelers can place in having him on the field. Read more…
Rookie QB recap: Kyler Murray
---
PFF Senior Analyst Sam Monson discusses Kyler Murray's preseason debut and why we should be excited about the No. 1 overall pick in Kliff Kingsbury's offense this season.
Rookie QB recap: Dwayne Haskins
---
Senior Analyst Sam Monson discusses Dwayne Haskins' preseason debut and explains why we shouldn't be worried about the Washington Redskins' No.1 pick.
Rookie QB recap: Daniel Jones
---
Senior Analyst Sam Monson discusses Daniel Jones' impressive preseason debut and why there is reason for optimism moving forward in New York.
Dalton Risner makes an early impact
---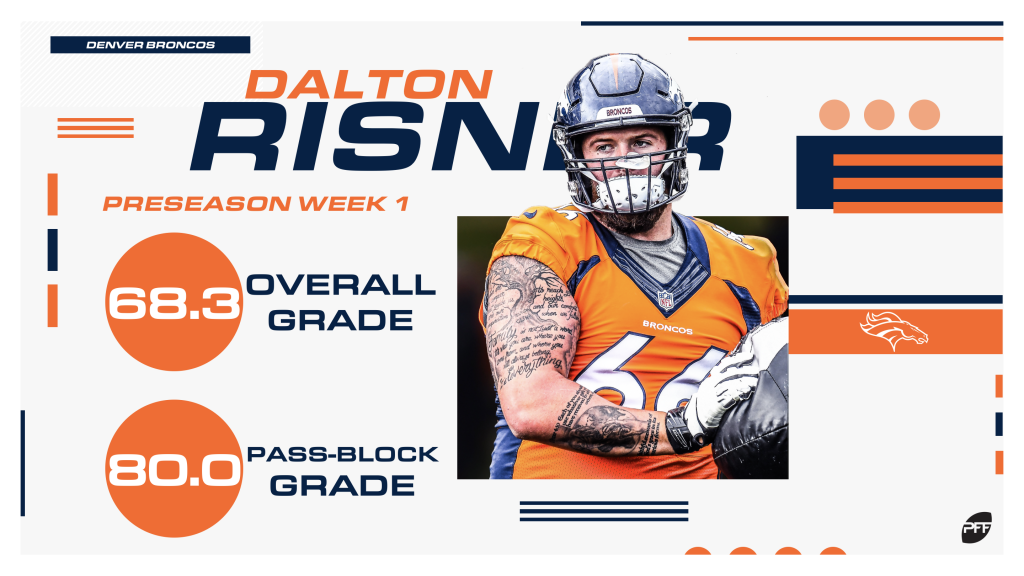 It's so far, so good for second-round pick Dalton Risner, as the former Kansas State left tackle has now earned pass-blocking grades of at least 75.0 in two straight preseason games. In contests against the Atlanta Falcons and the Seattle Seahawks, Risner logged 15 pass-blocking snaps and didn't allow a single pressure. He currently ranks sixth among qualifying guards with a pass-blocking grade of 83.2.
Browns to the big game?
---
PFF's own Austin Gayle and Sam Monson overreact to Cleveland's preseason Week 1 game against the Washington Redskins. Austin and Sam discuss the PFF stats to explain why there is so much hype heading into the 2019 regular season.
Rashard Higgins steps up
---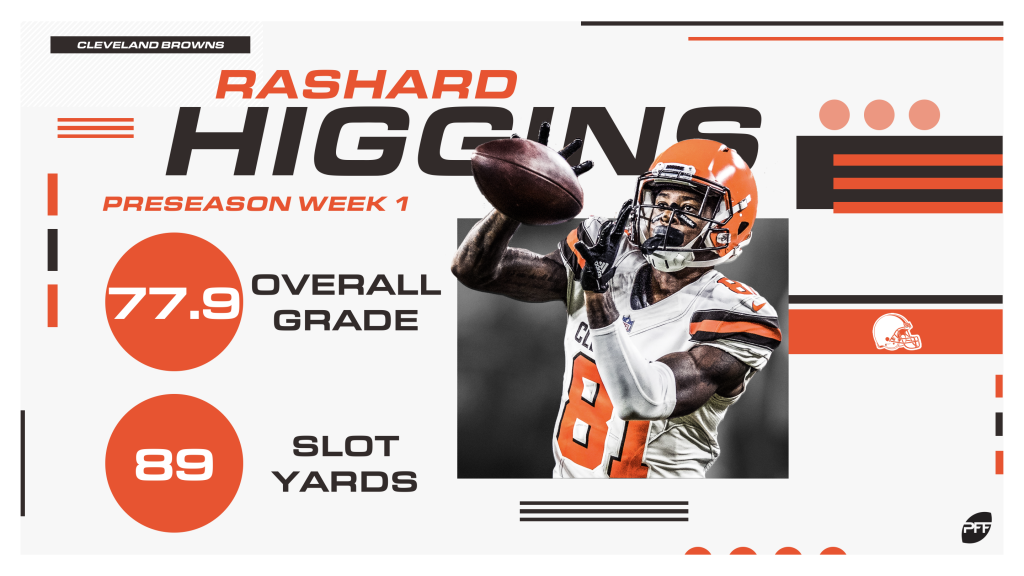 With Odell Beckham Jr. and Jarvis Landry sitting out of the Cleveland Browns' preseason opener last Thursday, it's no surprise that fourth-year wideout Rashard Higgins came through with a strong performance. We highlighted the potential of the talented young Browns' receiving corps this past offseason, and it appears Higgins has picked up right where he left off. Read more…
Hjalte Froholdt looks to have all the tools
---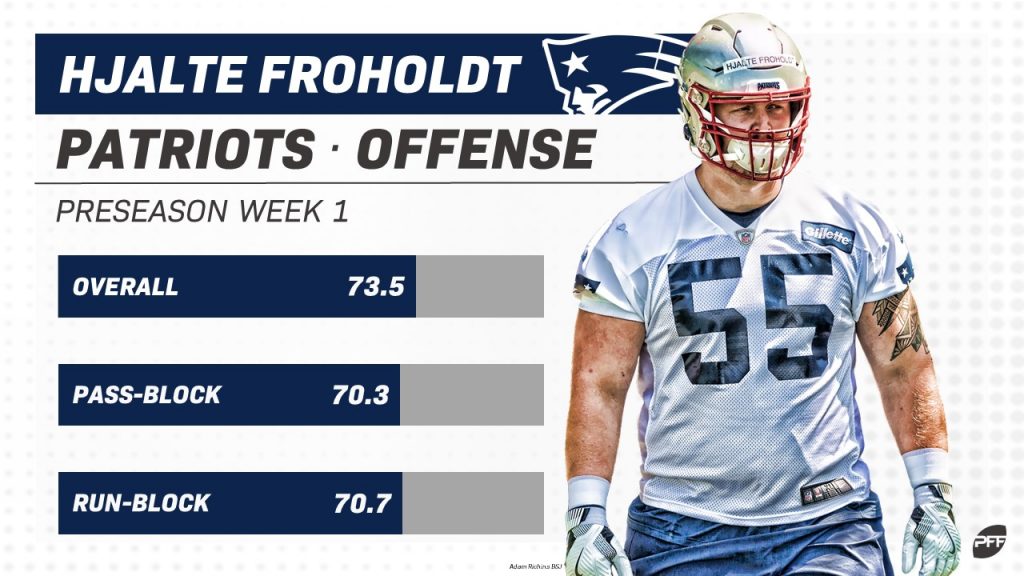 The New England Patriots entered training camp as one of few teams without concerns festering about their offensive line. And surprisingly after Thursday's blowout preseason win over the Detroit Lions, more answers than questions arose for the unit out of a debut game that typically inspires the latter. Read more…
The emphasis on Offensive holding
---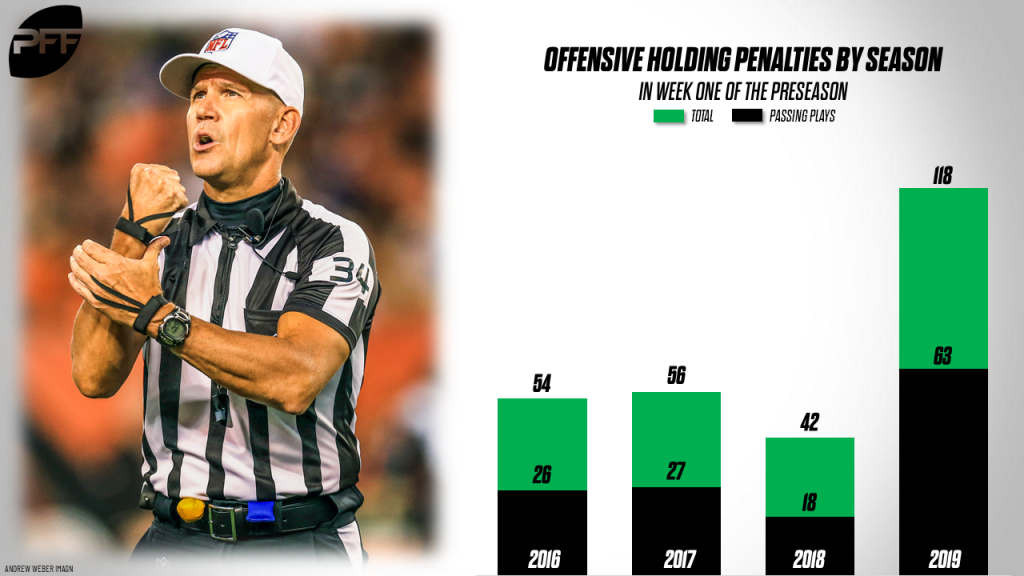 Back in July, ESPN's Kevin Seifert reported that offensive holding would be a significant point of emphasis for NFL officials in 2019, raising the possibility of a spike in penalties as players adjust to elevated rule enforcement. So far that has rung true. In Week 1, we saw 118 flags thrown for offensive holding, 76 more than in last year's preseason opener.
ReFocused, Preseason Week 1: All game recaps and analysis
---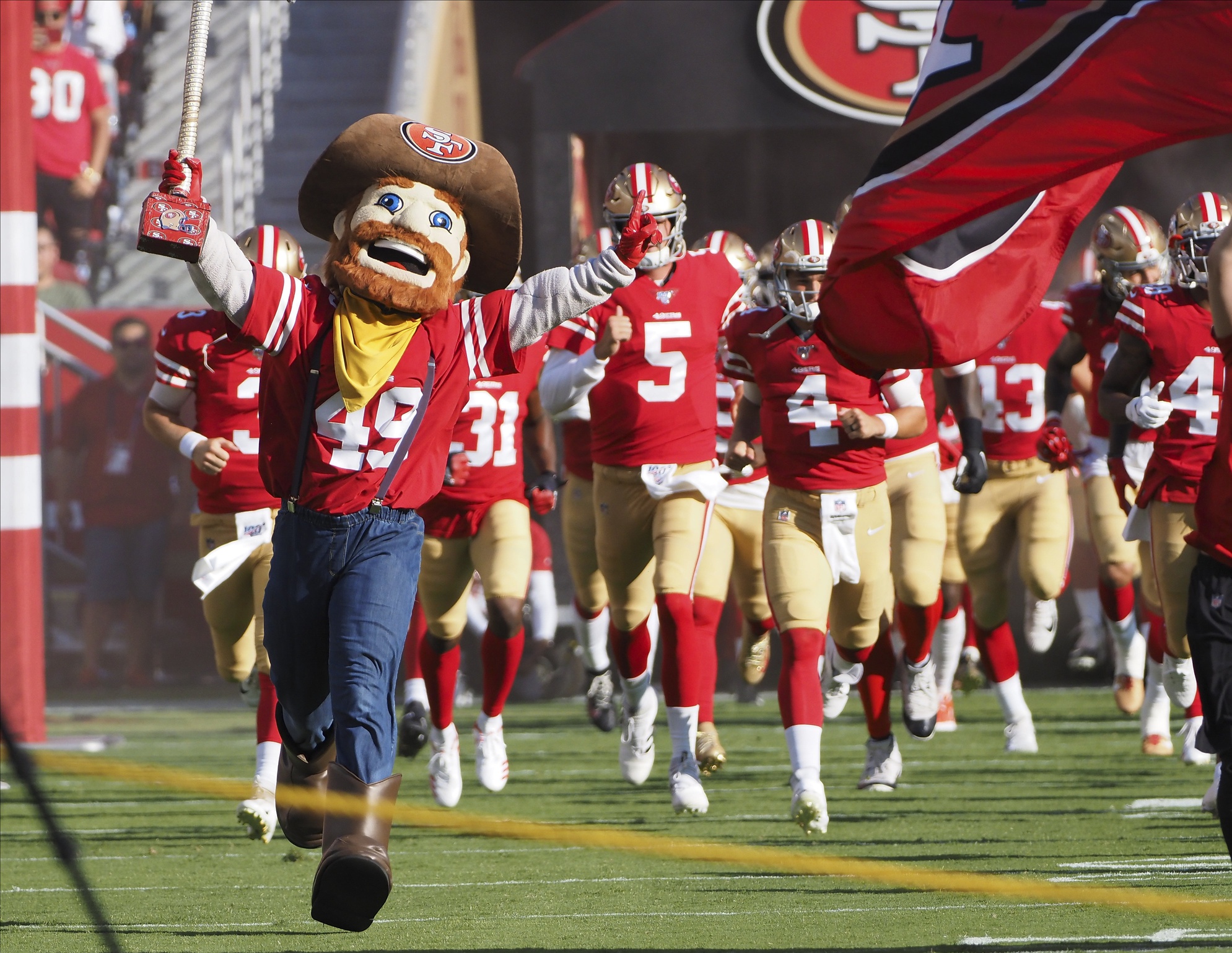 PFF's ReFocused series features immediate takeaways from the two analysts who graded the game live. The two offer a detailed breakdown of the game's most notable performances before the grades and advanced stats are reviewed and finalized by Senior Analysts. Read more…
Team Of The Week
---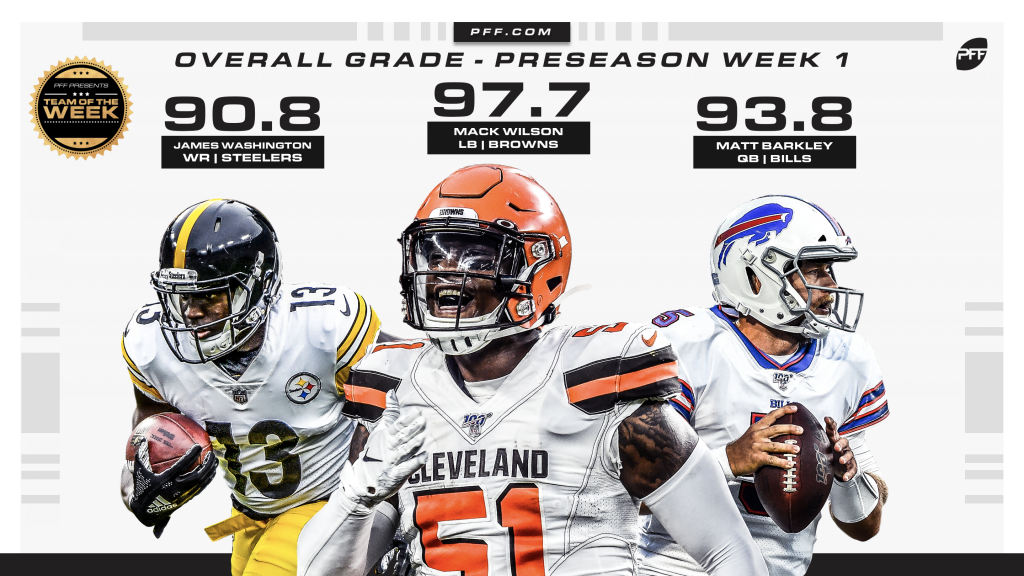 The first full week of the 2019 NFL preseason is the books, so we at PFF have put together our first NFL Team of the Week to highlight outstanding performances at every position across the league. Read more…