After a rookie campaign that saw him struggle, Pittsburgh Steelers wide receiver James Washington's performance on Friday night was the first step to silencing his critics and increasing the trust that the Steelers can place in having him on the field.
We at PFF were high on Washington heading into the 2018 NFL Draft, ranking him as the 24th overall player on our final big board. The NFL wasn't quite so high, though. The former Oklahoma State standout slipped to the second round before the Steelers grabbed him with the 60th overall selection.
[Editor's Note: All of PFF's ELITE subscribers have access to James Washington and the rest of the NFL's preseason grades and advanced statistics. Subscribe today to gain access!]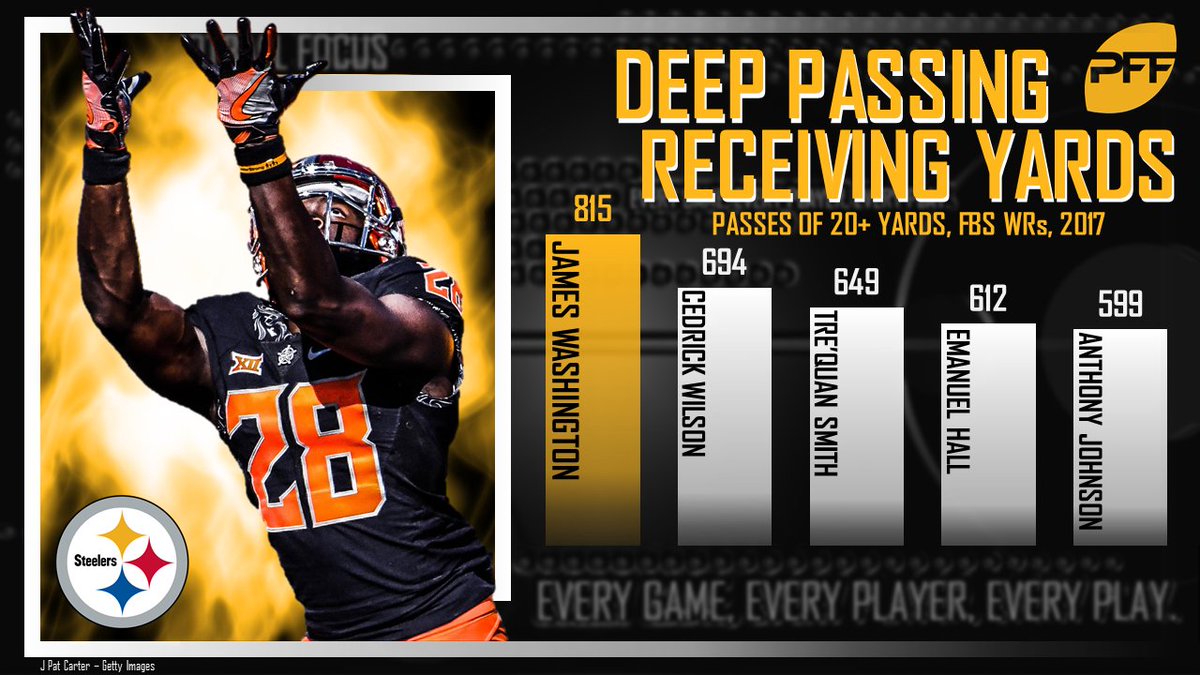 What made Washington's college career so impressive was how dominant he was downfield. The 5-foot-11, 213-pound wideout racked up a nation-high 815 yards on passes of 20-plus air yards in his final collegiate season (2017).
After an impressive preseason a year ago, where he had a five-catch, 114-yard and two-touchdown performance against the Green Bay Packers, Washington faded in the regular season. Despite seeing 36 targets as a rookie, he reeled in just 16 receptions and didn't pull in a reception of 15 yards or longer until the Steelers' Week 15 game against the New England Patriots. Over the final three weeks of the season, he pulled in grabs of 32 and 47 yards. And after the saga that saw Antonio Brown leave Pittsburgh, he is now trying to force his way into being a major part of their passing attack in 2019.
He was featured heavily for the Steelers' offense in the first half, starting the game and staying on the field for 23 of their 31 first-half snaps and making the type of impact we thought he was capable of coming out of Oklahoma State. It started on their second offensive snap of the game, with Washington beating Tampa Bay Buccaneers cornerback Vernon Hargreaves III downfield for a 44-yard gain, showing his athleticism in going up to win the ball.
Feels like everyone kinda forgot about James Washington this offseason. Had a couple of nice grabs late in the year last year, and is already making plays this preseason.

(via @NFL)pic.twitter.com/sO8xdkt5eQ

— Gordon McGuinness (@PFF_Gordon) August 10, 2019
Washington's next reception came on 3rd-and-21 with 11:55 left in the second quarter. Quarterback Josh Dobbs found him across the middle of the field for another big gain. He almost followed that up with another deep reception on 2nd-and-8 with 7:12 left in the half, but he couldn't quite keep his left foot in bounds on the right sideline in the end zone. 
Quarterback Mason Rudolph later hit him on a shallow cross on 2nd-and-6 with 4:25 remaining in the half, allowing Washington to pick up 12 yards after the catch and another first down. Four plays later, Rudolph again looked for Washington, this time on a back-shoulder throw on 3rd-and-7 with 2:00 left in the second quarter. Going after cornerback MJ Stewart in coverage, it was a familiar sight for the former Oklahoma State duo, with a nice grab from Washington resulting in a touchdown. 
By the time the first half was over, Washington had pulled in four receptions for 84 yards from five targets, with all four receptions resulting in a first down or touchdown. Two of those receptions were on throws 20-plus yards downfield, but he also picked up a first down after the catch on the underneath throw. It could have been an even better performance if he had managed to get both feet in bounds on the first end-zone target, but it was a really nice performance as he battles to make an impact for the Steelers in 2019. The key now is building upon that throughout the preseason and into the regular season.