Over the past decade or so, the Denver Broncos have had a surplus of good pass-rushers. From guys like Elvis Dumervil to Von Miller, the Broncos have been churning out pass-rushers like a factory. Unsurprisingly, a new pass-rushing prospect has emerged in Denver this preseason, and he goes by the name of DeMarcus Walker. He has had limited opportunities so far, but the potential that Walker has shown since being drafted in the second round back in 2017 has been promising.
Walker has a pass-rushing grade of 81.7 through two preseason games this year, ranking 10th among interior defenders, the position he has played the majority of his snaps from this preseason. To be exact, Walker has played 39 snaps at interior defender and 22 snaps at edge defender this year; that kind of versatility is expected due to him being a natural tweener (6-foot-4, 280 pounds). Going forward, he should continue to see snaps both inside and outside, as his size limits him from playing inside full time, while he isn't athletic enough to play primarily on the edge.
[Editor's Note: All of PFF's advanced stats and grades for every NFL player are made available in PFF's ELITE subscription. Subscribe today to gain access!]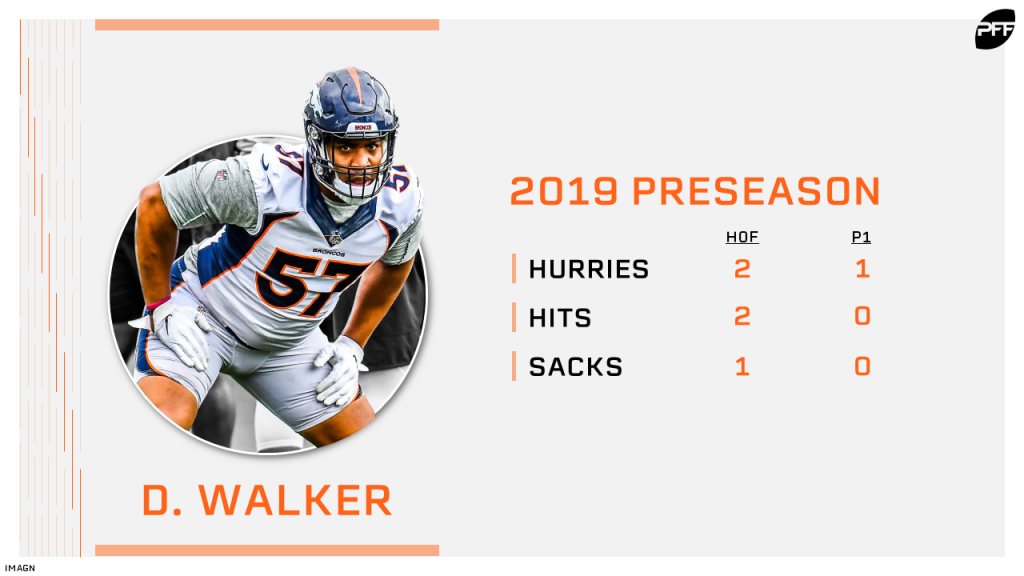 Walker has tallied six total pressures (one sack, two hits and three hurries) on 36 pass-rush snaps this preseason, which ranks fourth in one of our favorite premium stats: pass-rush productivity (PRP). Walker's PRP rating of 9.7 ranks fourth out of 64 interior defenders who have at least 15 pass-rush snaps this preseason. That's no fluke, either, as his PRP rating of 6.9 in last year's preseason ranked 14th out of 67 interior defenders who had at least 60 pass-rush snaps.
Taking it back even further, DeMarcus Walker was a pass-rushing beast at Florida State. In his final college season in 2016, his pass-rushing grade of 88.2 ranked 14th out of 397 qualifying edge defenders (his primary position in college). If we consider the fact that a player's pass-rushing grade in college is pretty good at predicting his pass-rushing grade in the NFL, then we shouldn't be surprised if Walker turns out to be a very good pass-rusher for the Broncos.
However, as solid as Walker has been this preseason, he'll still have to compete hard to find significant playing time on such a loaded defensive front. Of course, nobody is taking Von Miller's spot, and Bradley Chubb isn't going anywhere, either. On top of that, the interior of the Broncos' defensive line is loaded with guys like Shelby Harris (who earned an elite overall grade of 90.8 last year), Derek Wolfe and Adam Gotsis. But if Walker can continue to light up the preseason, he just may be able to find some meaningful snaps in the regular season, particularly as a third-down pass-rusher.
As a tweener, Walker's perfect position and role in the NFL right now could be an interior pass-rusher on passing downs. He's not quite athletic enough to be a full-time edge defender in Vic Fangio's 3-4, and he's not quite big enough to be a full-time interior defender, either. However, as an interior defender in a nickel defense on passing downs, Walker can wreak havoc and continue to show that he can get after the quarterback. As we said in our scouting report on him two years ago, he has impressive short-area agility, and his inside swim move is absolutely deadly.
Besides, the interior of the Broncos' defensive line could use some pass-rushing help, because as good as Denver's interior defenders were last season, they weren't exactly great against the pass. In fact, the highest pass-rush grade earned by a Broncos interior defender last season was 74.8 by Walker himself, albeit on only 16 pass-rush snaps (of which he had four pressures). This is where Walker can make his presence felt, as he has shown he can be an effective pass-rusher in his limited opportunities during his two-year career.
As a whole, the Broncos' pass-rushing unit is likely to be one of the league's best once again. Miller and Chubb should be able to make sure of such a thing, but a boost from a player like Walker could help bring Denver's defense back to what it once was just a few years ago. It's early and it's the preseason, and we should keep that in mind when evaluating players in August, but Walker's potential is something to keep an eye on. Early signs show that if he's given a chance, he should be able to make an impact on what should be a great defensive unit in 2019.