It almost seems as if the entire AFC North is retooling at linebacker; it's becoming increasingly difficult for the average football fan to name a starting inside linebacker on each of the four teams. 
The Baltimore Ravens have been without Ray Lewis for some time, and now C.J. Mosley is no longer in the picture; the Cleveland Browns are in the midst of developing a handful of young studs to compete with the quiet combination of Christian Kirksey and Joe Schobert; the controversial Vontaze Burfict is no longer patrolling the middle of the field for the Cincinnati Bengals; and unfortunately, Ryan Shazier's spine injury has prevented him from starring for the Pittsburgh Steelers.
All that said, there's an evident lack of star power at the position in the division. And while it's easy to overreact to one week of preseason football, Steelers rookie Devin Bush certainly didn't hurt his prospects of rising to the top by delivering a standout performance, as he frequently flew across the field to disrupt the Tampa Bay Buccaneers' offense last Friday.
[Editor's Note: All of PFF's advanced stats and grades for every NFL player are made available in PFF's ELITE subscription. Subscribe today to gain access!]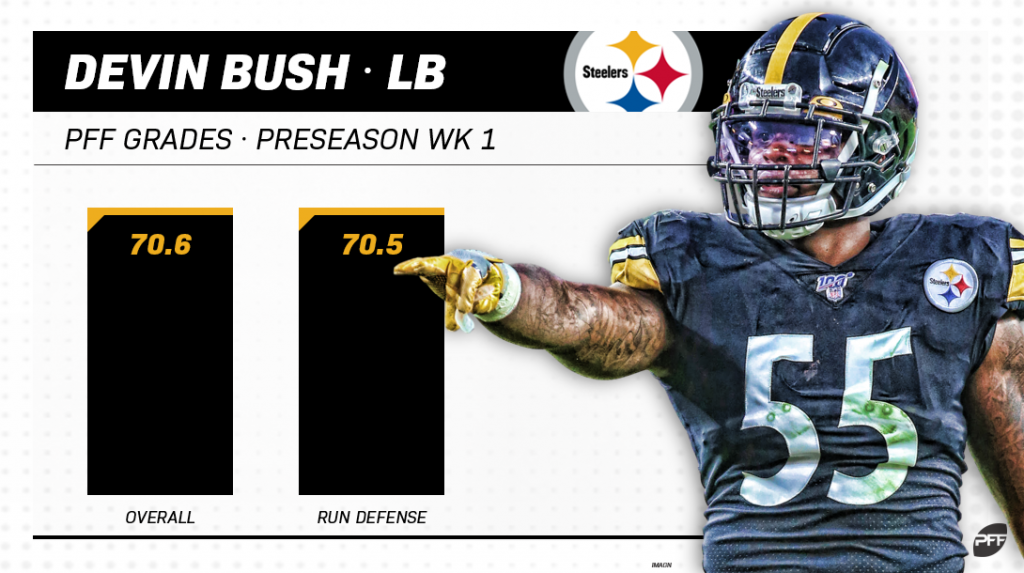 Most outsiders pointed to his nine tackles on limited snaps as proof of his emergence, but using PFF data, it's clear that there was a lot more at play in the rookie's debut. A whopping 139 linebackers played at least 15 snaps in Week 1 of the preseason, with Bush ranking 38th in overall grade (70.6) among that group.
He's got plenty of competition in that regard, but in other areas, he was unmatched — particularly, the run game. 
On just 12 run-defense snaps, he put up three stops and five tackles, ultimately earning a 25% run-stop percentage that ranked tied for second among linebackers who had 10-plus run snaps in Week 1. And those snaps weren't against no-name players, either.
Bush had matchups with projected starters Ryan Jensen, Earl Watford, Donovan Smith and Ali Marpet in the run game. The Bucs' offensive line isn't exactly a powerhouse unit, but any type of success for a rookie against starters is promising.
In total, he was the only defensive player to rack up five stops (run game and pass game) in Week 1. And Bush's tackling was obviously solid, too, with his grade standing at 82.6 in that facet.
His performance can't be completely viewed through rose-tinted glasses, though. Bush's overall grade suffered due to a rough day in coverage, as is often the case for the majority of linebackers. He gave up five receptions on five targets for 65 yards, tanking his coverage grade to 59.3. 
At Michigan, Bush allowed all of 154 yards in coverage over 12 games in 2018 en route to an impressive 87.7 coverage grade. In 2017, it was his run defense that shined, as he put up an 86.9 mark in that category. Essentially, he showed he could do it all in college. Pittsburgh will hope to see that well-rounded playstyle shine through as the preseason continues.
But again, one preseason game is not fully indicative of what a player can or can't do at an NFL level. There will be plenty more opportunities to see Bush's skillset in the middle of the Steelers defense — and maybe he can help restore greatness to the AFC North linebacker unit while he's at it.