The San Francisco 49ers are trying to catch the Los Angeles Rams and Seattle Seahawks in a tough NFC West. To do that, they need quarterback Jimmy Garoppolo to stay on the field and some weapons to emerge. Last season, outside of tight end George Kittle, no skill position player on the roster finished the year with a PFF grade of 77.0 or higher and no receiver even reached 70.0. To their credit, they addressed that in the 2019 NFL Draft, using the 36th and 67th overall selections on South Carolina's Deebo Samuel, and Baylor's Jalen Hurd. So how did those two perform in their preseason debuts?
Jalen Hurd
Hurd's college career didn't even begin at wide receiver as he manned the backfield for the Tennessee Volunteers, which seems odd given his 6-foot-4 frame. After transferring to Baylor, he saw just 71 of his 788 snaps lined up in the backfield, with 666 coming from the slot. Targeted 106 times over the course of the season, he pulled in 69 receptions for 946 yards and four touchdowns. His nine drops were somewhat of a concern, but the fact that he was able to force 12 missed tackles on those 69 receptions was encouraging. Still, it was a fairly bold move by the 49ers to draft him in the third round.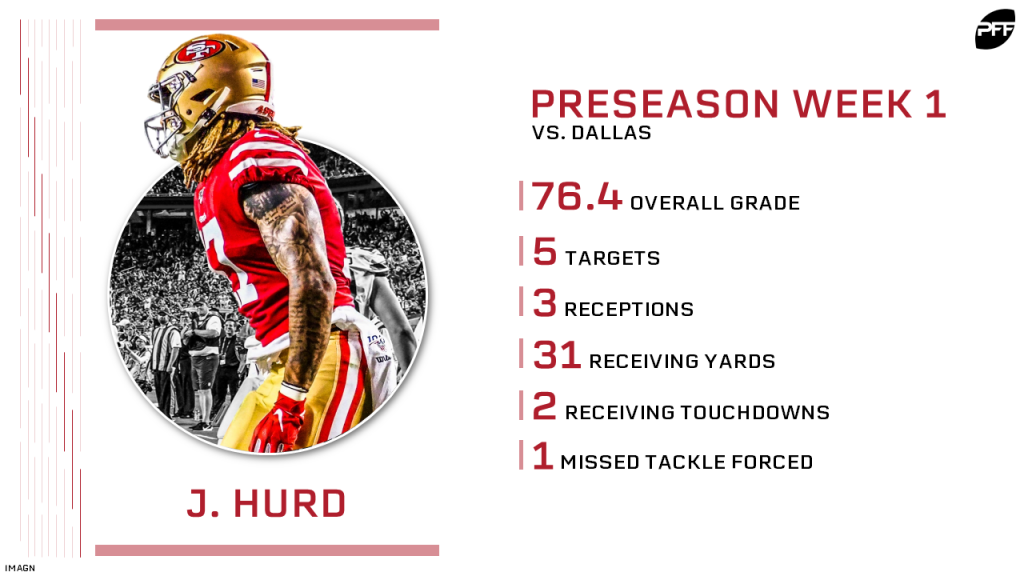 In his preseason debut for the 49ers, he lined up in the slot on 23 of his 32 offensive snaps and came away with two touchdowns on three receptions. The good news for the 49ers is that if they want to move him around the offense, one of his touchdowns came when lined up in the slot, and the other on a fade to the end zone when split wide. He might not be ready to be a consistent weapon for the 49ers' offense, but what we saw this week highlights the skills he can bring to the table if he continues to develop at the position.
TD for the rookie out of Baylor!

Jalen Hurd's score puts the @49ers ahead. @MrHurd_1

????: #DALvsSF on @nflnetwork
Watch on NFL app: https://t.co/Gg9h4OWZcO pic.twitter.com/QH00AXMJYd

— NFL (@NFL) August 11, 2019
Deebo Samuel
Samuel rebounded from a season-ending injury in 2017 to finish his college career on a high with 62 catches, 882 yards and 11 touchdowns for South Carolina in 2018. He showed a safe pair of hands throughout his college career, with just 11 drops from 159 catchable targets and was at his most dangerous in space. In 2018, he forced 21 missed tackles on 62 receptions — a big part of the reason why he averaged 9.5 yards after the catch per reception in his final season in college.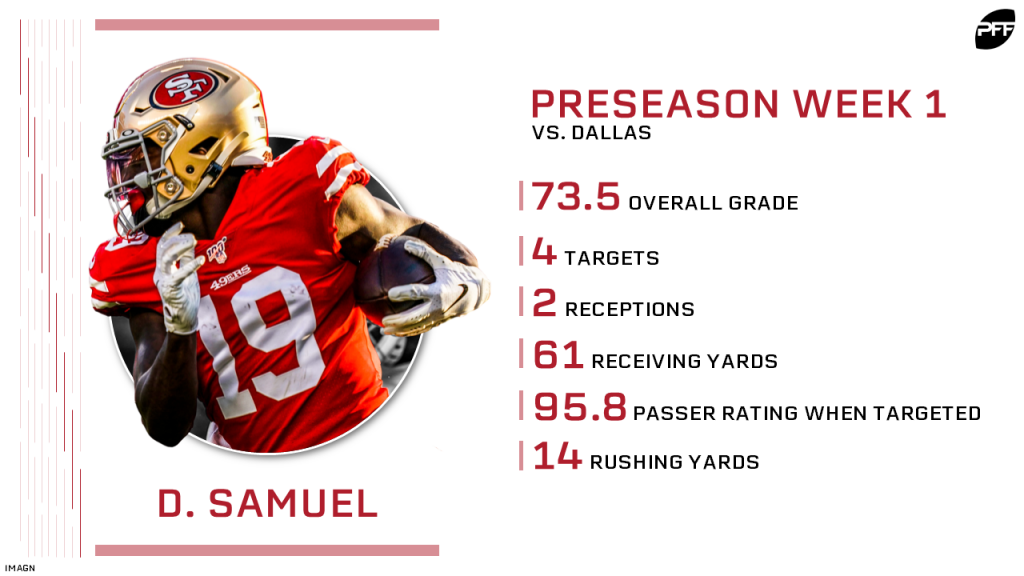 In his 49ers debut, Samuel was able to impress with two receptions, one on a crossing route across the middle on 1st-and-10 with 7:12 left in the third quarter and then deep down the field on a stop-and-go on 1st-and-10 with 1:39 left in the quarter, with the latter going for 45 yards. He also drew a defensive pass interference penalty on a go route and forced a missed tackle on an end-around that went for a first down. Not a bad first impression at all.
Go ????Deebo!

C.J. connects with the rookie for a 45-yard gain #DALvsSF pic.twitter.com/e1w0uGC22X

— San Francisco 49ers (@49ers) August 11, 2019
The 49ers need some of these playmakers to emerge as consistent threats throughout the 2019 season, and with Hurd and Samuel joining Dante Pettis as top-three round picks by the team over the past two seasons, expectations will be high for some big plays in the new season.