Way back in April, the Los Angeles Chargers' Super Bowl window looked to be as open as it had ever been. On a roster primed (again) for success, the Chargers were set to field a veteran quarterback coming off his highest-graded season in Philip Rivers; one of the league's best one-two punches at running back with Melvin Gordon III and Austin Ekeler; a dominant No. 1 receiver in the ever-excellent and criminally underrated Keenan Allen; one of the most promising, young pass-catching tight ends in the NFL in Hunter Henry, and a No. 2 receiver fresh off a breakout year in former Clemson standout Mike Williams.
On the defensive side of the ball, the Chargers possess the best edge tandem in the NFL in Melvin Ingram III and Joey Bosa; they took one of the best interior defensive linemen in the 2019 NFL Draft in Jerry Tillery; they have one of the best cornerbacks in the NFL in Casey Hayward Jr., and they have arguably the biggest weapon of all — PFF's Defensive Rookie of the Year, Derwin James.
But once again, that promising roster that once looked set to take on the world has taken a number of significant preseason hits, but no loss could be felt more heavily than that of Derwin James, who is set to miss significant time this season due to a stress fracture in his foot.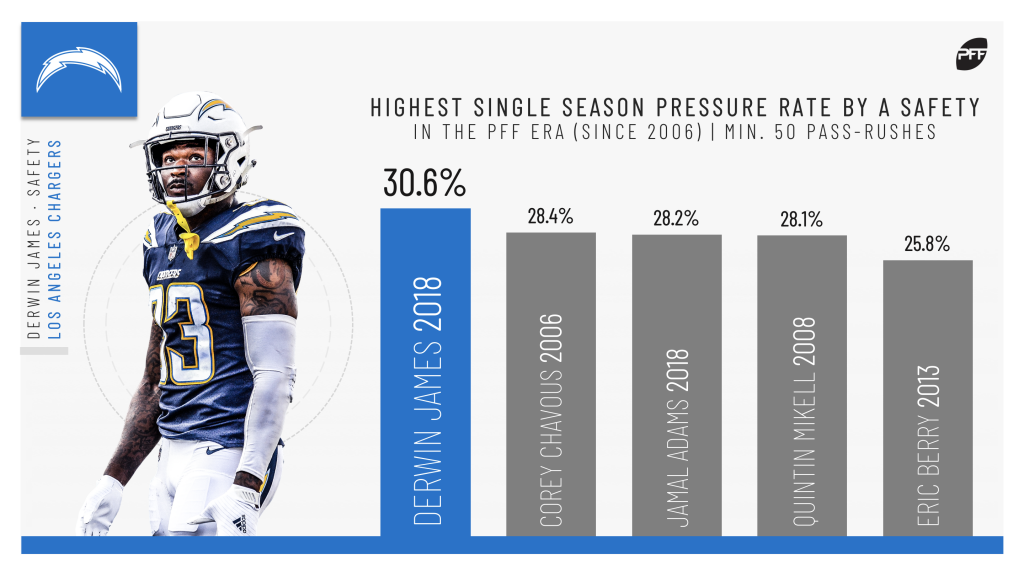 The do-it-all safety could do no wrong as a rookie, earning high grades against the run, in coverage and rushing the passer all from an array of pre-snap alignments. In his 16 games, James logged 205 on the defensive line, 418 in the box, 166 as a slot cornerback, 22 as a perimeter cornerback and 216 as a free safety. His 19 total quarterback pressures and 40 defensive stops both ranked first among first-year players at the position in 2018, while his 88.3 overall grade a year ago ranks third among all qualifying rookie safeties in the PFF era (2006-18) — making him a no-brainer decision for PFF Defensive Rookie of the Year honors in 2018.
He was a threat in coverage just as much as he was a threat when he rushed the passer, recording near-elite grades in both categories this season. James' 89.7 coverage grade finished third among his peers while his 86.0 pass-rush grade was the second-best among safeties who rushed the passer at least 30 times in 2018.
Matching up against everyone from lightning-quick wideouts to big-bodied tight ends to shifty, elusive slot receivers, James held his own against almost everyone he faced in coverage last year. All told, he recorded a forced incompletion percentage of 23.1% when facing wide receivers and a forced incompletion percentage of 25.0% when covering tight ends, ranking 11th and tied for fifth, respectively, among qualifying safeties last year.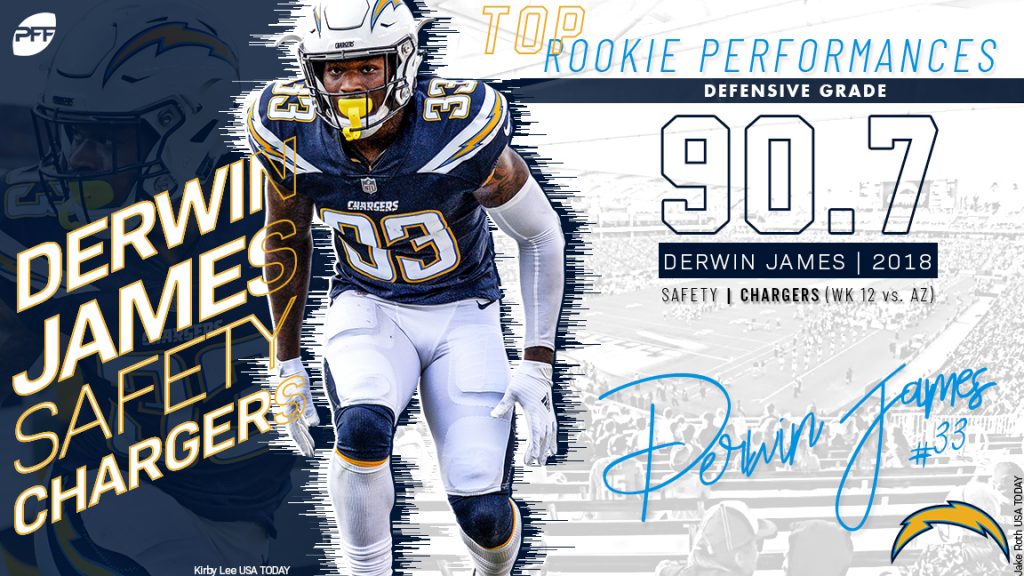 Proving that he had all the requisite talent to make an immediate impact at the NFL level, James also put forth one of the best rookie performances of the year last season when he bullied his way to an elite 90.7 overall grade in Week 7 against the Arizona Cardinals. The Florida State product recorded five defensive stops and allowed just three receptions for 24 yards on the day, while he also logged an interception and a pass breakup.
It's the same old story for the Bolts, who will now likely enter the regular season with James, one of their most valuable defensive players, on injured reserve. And with Keenan Allen out until September, Gordon still steadfast in his holdout and their best offensive lineman out indefinitely following a vascular issue, that once-promising roster will now need a number of young players to step into some enormous shoes.
[Editor's Note: All of PFF's advanced stats and grades for every NFL player are made available in PFF's ELITE subscription. Subscribe today to gain access!]