Prior to the 2018 season, Los Angeles Chargers tight end Hunter Henry was considered to be one of the league's most underrated players after he earned an 87.2 overall grade in 2017 that ranked second at his position. However, Henry's momentum stalled when he fell victim to an ACL injury in late May which caused him to miss the majority of the 2018 campaign. 
Now close to fully recovered, the momentum has returned for the Arkansas alumnus as he heads into the fourth and final year of his rookie deal with the Chargers. At 6'5", 250 lbs., Henry has the frame to be one of the best players at his position, and he is part of a supporting cast for a quarterback that can allow him to be so.
Philip Rivers, entering his 14th season, may be 37 years old, but he has thrived when targeting Henry throughout his career. Perhaps "thrived" is even an understatement, as the 143.7 passer rating that they've generated over the last three seasons ranks first among all quarterback-to-receiver duos with at least 100 attempts since 2006.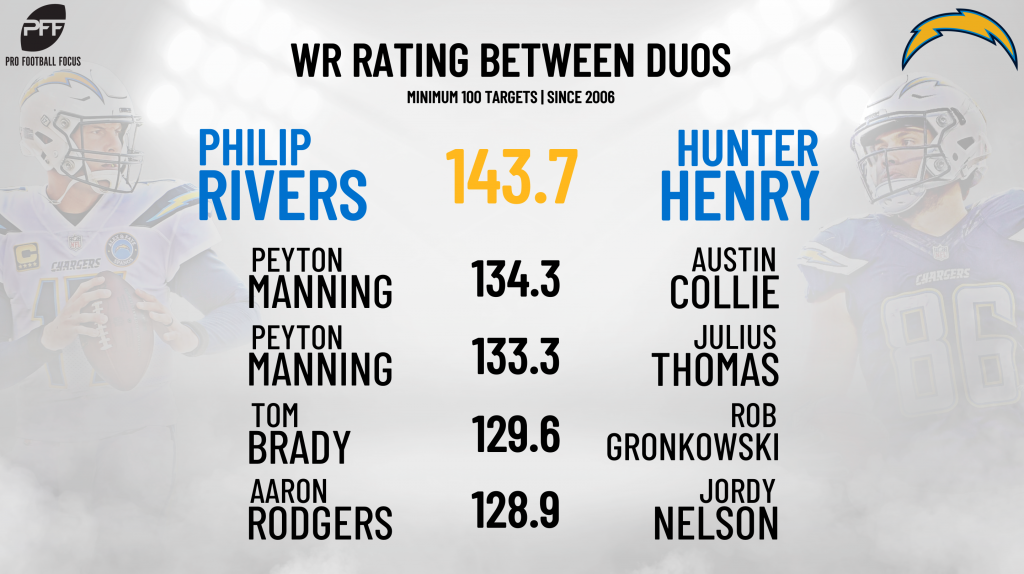 Patriots tight end Rob Gronkowski's recent retirement leaves the door open for the next great quarterback to tight end duo to emerge. The Tom Brady–to-Gronk relationship has been one of the soundest in football for the last decade, but the Chargers also possess something unique. Positive things seem to occur when Rivers targets Henry, as the tight end gained 2.05 yards per route run in his last healthy season (2017) which ranked second only to Gronkowski.
[Related Article: See you in Canton Rob Gronkowski, an all-time great]
The Chargers' Pro-Bowl quarterback has had some phenomenal players surround him over the last 13 years, but few have produced better results than Henry. The fourth-year tight end has earned a receiving grade of 90.0 when targeted by Rivers, which ranks sixth among all Chargers' receivers with 300-plus snaps since 2006; just a shade behind the Bolts' long-time target Antonio Gates (90.1). Including the playoffs, the Rivers-to-Henry connection has also produced a better passer rating (142.4) than any Chargers' receiver with at least 300 snaps in that same period.
If you look at the numbers, Rivers should look to target Henry even more in the upcoming season. Henry has just 107 targets from Rivers in his two healthy seasons; in comparison, wide receiver Keenan Allen has 272 targets in his last two healthy seasons. Throughout his career, Rivers has posted a completion percentage of 75.0% and has tallied 62 first downs on 81 receptions when targeting Henry.
Henry will reclaim the front seat in a Los Angeles tight end room that contains the likes of Virgil Green and Sean Culkin, and the Chargers should be thrilled to have a gifted player like Henry return to the fold. Henry's resume to date indicates that the future is bright for the young tight end.