For years now, the Los Angeles Chargers have had a glaring weakness on offense: the offensive line. 
Looking solely at pass protection, when comparing all 32 NFL offensive lines over the past three seasons, here is where the Chargers ranked in team pass-blocking grade: 74th (67.7) in 2016, 81st (65.8) in 2017 and 92nd (58.1) in 2018. Over that three-season stretch, the Chargers' offensive line has surrendered pressure on 34.9% of passing plays, the third-highest rate allowed by any unit over that span. 
When it comes to blocking for the run, results have been marginally better over the past three seasons relative to the rest of the league. When comparing the run-blocking grades for all 32 offensive lines from 2016-18, the Chargers ranked 59th (63.0) in 2016, 80th (55.7) in 2017 and 82nd (55.5) in 2018. 
This hasn't just been a sub-par unit; it's been a flat-out awful one.
With a line that's graded this poorly over the past few seasons, you'd think that performance across the board from tackle to tackle would have been bad, but that's not the case with the Chargers. In the 2017 offseason, the Chargers signed Russell Okung to a four-year, $53 million contract, and his performance over his first two seasons in Los Angeles has lived up to that deal.
There have been 39 players who have logged at least 500 snaps at left tackle over the past two seasons, and among that group, Okung ranks seventh over that stretch with an 81.0 overall grade — he's one of just 10 left tackles over that stretch who has posted a pass-blocking grade of at least 80.0 and a run-blocking grade of at least 69.0.
Over the past two seasons, Okung ranks ninth among those 39 left tackles by surrendering pressure on just 5.0% of his pass-blocking snaps, and since joining the Chargers, he's yet to surrender more than five pressures in a game (a number that was surpassed seven times just last season by other members of LAC's offensive line).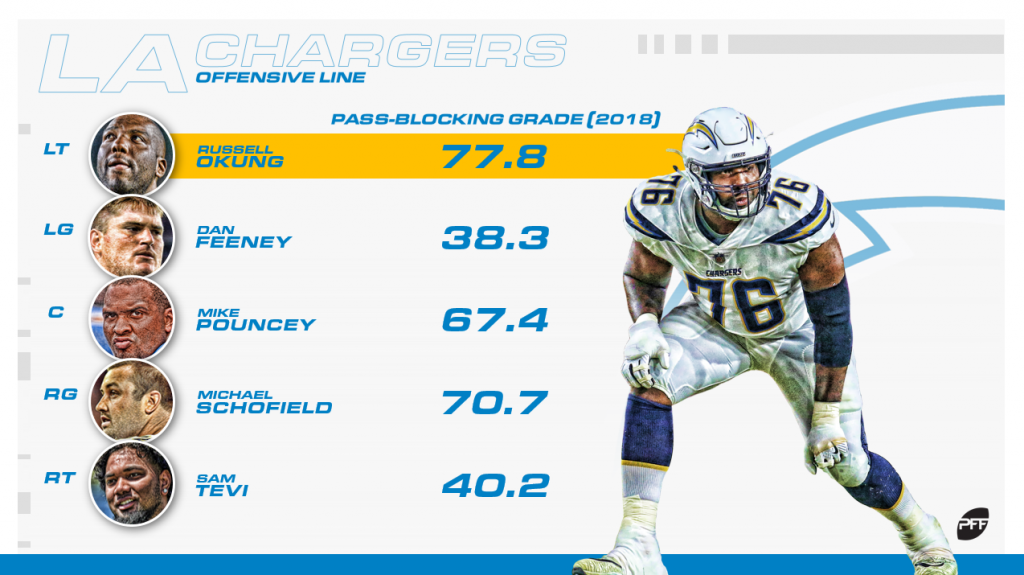 As a run-blocker, Okung has earned a positive grade on 9.8% of his run blocks over the past two seasons (tied for the 10th-best rate among qualified left tackles) to go with a 13.0% negatively graded run-block rate (11th-highest rate among qualified tackles), giving him a difference of -3.2% that ranks 23rd among qualifying left tackles over the past two seasons.
While that -3.2% difference certainly isn't great, compared to the rest of the Chargers offensive line, Okung has looked like Andrew Whitworth in his prime when run-blocking. There have been eight offensive linemen — including Okung — who have logged at least 200 run-blocking snaps for the Chargers over the past two seasons. Here is how they compare to each other when you take the difference between positively graded run-block rate and negatively graded run-block rate:
Russell Okung: -3.2
Michael Schofield: -4.7
Sam Tevi: -5.0
Dan Feeney: -6.3
Mike Pouncey: -7.6
Joe Barksdale: -8.8
Kenny Wiggins: -9.6
Spencer Pulley: -11.2
Barksdale, Wiggins and Pulley are no longer employed by the Chargers, but Schofield, Tevi, Feeney and Pouncey are all candidates to start along the offensive line this season. Which, based on the past two seasons, is the making for — at the very least — a lackluster group of run-blockers even with Okung in the lineup.
Okung has been a bright spot on this struggling unit for the past two seasons, but the Chargers will almost certainly be without him to start the season, given the recent news that there is currently no timetable for his return following a pulmonary embolism, and there is a strong likelihood that he starts the season on the non-football injury list, which would hold him out for at least the first six games of the season.
A left tackle of Okung's caliber would be extremely difficult for any team to replace, but it could have a crippling effect on the Chargers' offense unless the rest of that unit can take a big step forward from how they've played over the past few seasons.