The NFL is overflowing with top-end receiving talent. Julio Jones, DeAndre Hopkins, Odell Beckham Jr., Antonio Brown and Michael Thomas all have built strong cases for the top spot at the position in recent years, and others (like Davante Adams, Adam Thielen, Stefon Diggs, A.J. Green, Mike Evans) are biting at their heels.
Lost in the league's crowded race for top receiver honors is Los Angeles Chargers' Keenan Allen, who enters just his age-27 season riding back-to-back seasons with an 89.7 receiving grade and 1,300-plus receiving yards.
Allen's two-year receiving grade (91.2) ranks fourth among the 84 NFL wideouts with 100 or more targets since 2017. Only Michael Thomas, DeAndre Hopkins and Julio Jones rank ahead of the oft-overlooked Chargers phenom. He also ranks third in yards per route run (2.43) and tied for 10th in passer rating when targeted (111.6) among the same group of qualifiers.
In honor of landing at No. 34 on the PFF50 — our list of the 50 best NFL players entering the 2019 season — I take a deep dive into Allen's game-changing ability and all the reasons why he's truly one of the league's best.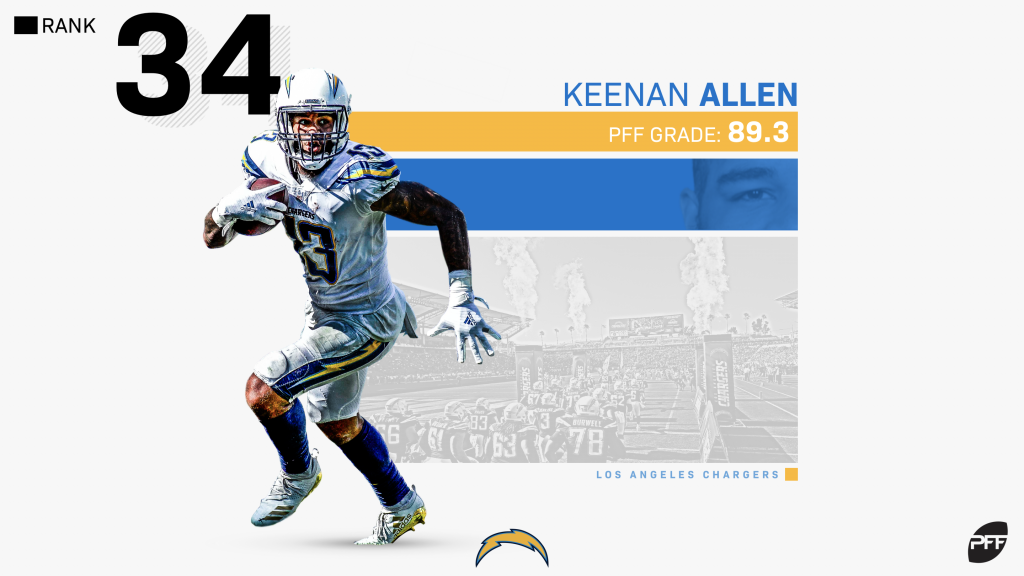 ELITE ROUTE-RUNNER
Separation is king in today's pass-happy NFL. Elite contested-catch types and those with freakish ability after the catch still have their place in the NFL, of course, but it's the separators, the elite route-runners that are taking the league by storm.
And Allen is exactly that.
Listed at 6-foot-2, 211-pounds, Allen is a sudden mover at and away from the line of scrimmage. He creates yards of separation on short and intermediate routes with his lightning quick releases and route breaks, making fools of his opponents in the process.
Allen makes up for what he lacks in deep speed with elite efficiency at the short and intermediate levels of the field. While he doesn't break the top-20 in two-year receiving grade on targets of 20-plus air yards, he does rank third behind Michael Thomas and DeAndre Hopkins in two-year receiving grade on passes of 19 or fewer air yards at 91.9. Catching 194-of-262 targets for 2,326 yards and 12 touchdowns on targets of such depths, Allen ranks third in yards per target (8.88) and fifth in percentage of targeted resulting in gains of 15-plus yards (24.43%).
Surprising no one at the office, PFF's Cam Mellor named Allen as the league's top route-runner in his receiver prototypes article released last week:
"Over the past two seasons, Allen actually has the highest receiving grade on out-breaking routes while possessing top-six receiving grades on in-breaking routes and slants. He's been able to maneuver his way open more often than not, and Philip Rivers has targeted him with a step or more of separation on 63.2% of his targets since 2017, the second-highest rate of open targets among receivers with at least 200 targets in that span. His 2,078 receiving yards and 107 combined first-down and touchdown receptions on targets with at least a step of separation are the most in the league over the past two years."
Allen's short-area quickness and deceptive, crafty route-running pay dividends when defenses make the mistake of leaving him in single coverage. He caught 95-of-150 targets for 1,257 yards (425 after the catch), 65 first downs and seven touchdowns en route to a 92.5 receiving grade running routes against single coverage in 2017 and 2018 combined.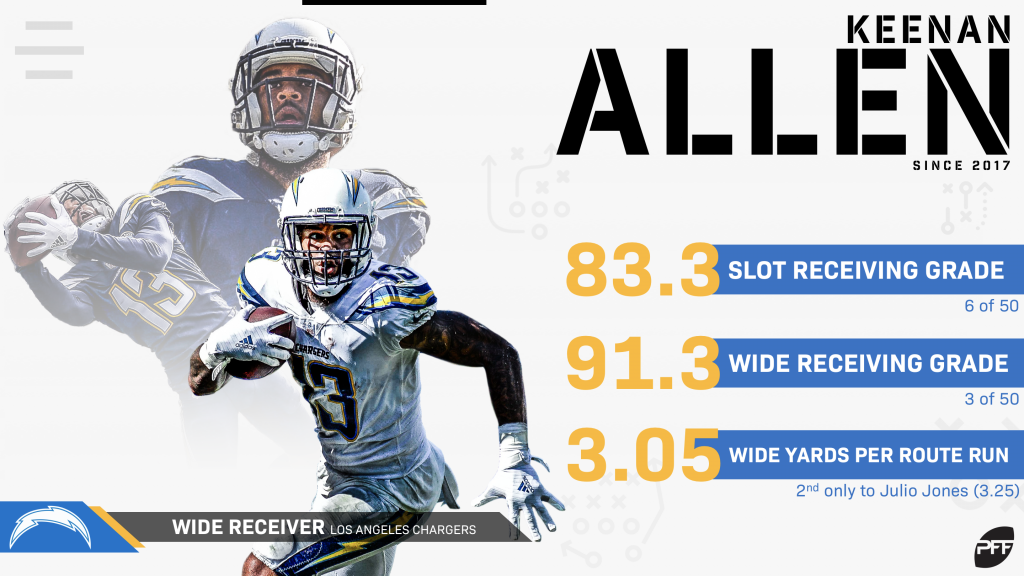 VERSATILE WITH DOMINANT PLAY IN KEY SITUATIONS
Running just over 50% of his routes from the slot over the past two seasons, Allen is a movable chess piece capable of winning outside and inside the hashes. His two-year receiving grade from the slot (83.3) ranks sixth among the 50 NFL receivers with 50 or more targets in the slot since 2017. And his two-year receiving grade at outside wide receiver (91.3) ranks third among receivers with 50 or more targets outside in the last two seasons. Only Julio Jones (3.25) has averaged more yards per route run at outside receiver than Allen (3.05) in the two-year span.
Allen's positional versatility makes it much harder for opposing defensive coordinators to keep tabs on him, often giving him mismatch advantages against linebackers and safeties in the slot or forcing primary outside cornerbacks to follow him inside the hashes. He caught 10-of-13 targets for 117 yards and two touchdowns in the three games he was shadowed in 2018.
Winning on critical downs comes easy for Allen largely because of his rare combination of route-running ability and positional versatility. His play on third and fourth downs, in addition to his play in the red zone, has been stellar over the past two seasons.
Among the 106 NFL wideouts with 25-plus targets on third or fourth down since 2017, Allen ranks first in receiving grade at 90.7. He's caught 63-of-97 targets for 988 yards, 49 first downs and three touchdowns on third and fourth downs over the two-year span. He's also been targeted on a whopping 28.5% of his receiving snaps on such downs, the highest percentage of any qualifying wideout.
In the red zone, Allen has caught 22-of-37 targets for 181 yards, five first downs and 10 touchdowns in the last two seasons. His two-year receiving grade in the red zone (74.1) ranks 10th among qualifiers, and his target rate (27.2%) and first down/touchdown rate (40.54%) rank seventh and 11th, respectively.
FINAL THOUGHTS
Put some respect on Allen's name. He may not be the unanimous decision for the NFL's best at the wide receiver position, but let's not kid ourselves and leave him out of the conversation.