The NFL has unequivocally become a passing league, and it shouldn't come as a surprise that one wins in a passing league by controlling the passing game. Eleven teams averaged over four yards per designed run play in the 2018 regular season. Only four of those teams made the postseason. By comparison, seven of the top 10 offenses in yards per designed pass play made the postseason last year with the other three being the Tampa Bay Buccaneers (who were among the worst teams in the league at defending the pass), the Atlanta Falcons (who dealt with significant injuries, especially in regards to coverage, that played a part in derailing their season) and the Pittsburgh Steelers (who narrowly missed the postseason after losing four of their final six games by one score). This isn't meant to beat the dead "running doesn't matter" horse, but rather to highlight that being good at passing the ball and defending the pass is the best way to string together wins.
Which brings us to the Los Angeles Chargers — one of the more well-positioned teams to challenge for the Lombardi Trophy in 2019. They have an above-average quarterback, an above-average receiving corps, and their defense has the potential to be truly elite. They enter 2019 with a top-five pass-rushing unit and secondary in our rankings heading into the new year. They are good in all the right areas, which has us at PFF ready to double down on our claim from last season that the Chargers are primed for a Super Bowl run.
QUARTERBACK (AND OFFENSIVE LINE)
Due to his team not yet winning a Super Bowl title with him at the helm, Philip Rivers doesn't always get the credit he deserves for how good he has been for the Chargers for as long as he has. As I discussed in the case for his Hall-of-fame resume, Rivers has the fourth-highest wins-above-replacement value of any quarterback in the PFF era behind just Drew Brees, Tom Brady and Aaron Rodgers. He hasn't shown any signs of age catching up to him in recent years, either. In fact, you could make a case that he's only getting better with time.
After a mid-career lull in which Rivers failed to grade above 80.0 three consecutive years from 2014 to 2016, he has had a career resurgence of sorts the last two years, ending the 2017 and 2018 season as a top-10 quarterback in PFF grade. Each of those two years, Rivers has finished as a top-10 quarterback in both clean-pocket and pressure grade. The latter is important because the Chargers' offensive line remains their biggest question mark.
Their line enters next season at just 29th in our preseason offensive line rankings … not exactly where you want to see the group up front land. Rivers was able to alleviate the poor pass protection to an extent with a quick release — his time to throw of 2.42 seconds was the fourth-fastest among quarterbacks with 250 or more dropbacks — but pressure still played a part, and quick pressure at that. Rivers was pressured on 140 dropbacks in 2.5 seconds or less, tied for seventh-most of any quarterback in the league. Luckily for Los Angeles, Rivers was able to operate effectively while under duress with an overall grade of 72.4 under pressure, which trailed only Patrick Mahomes in 2018.
There is no denying that the offensive line is a major concern, though, and things will be a whole lot easier for Rivers next season if there is improvement up front. A healthy Forrest Lamp with an entire offseason under his belt may be able to help in that regard if he can crack the starting rotation, but even then, there isn't a whole lot of offseason change that signals the group will be a whole lot better than they were last season. If any unit holds back the Chargers, it will be the offensive line.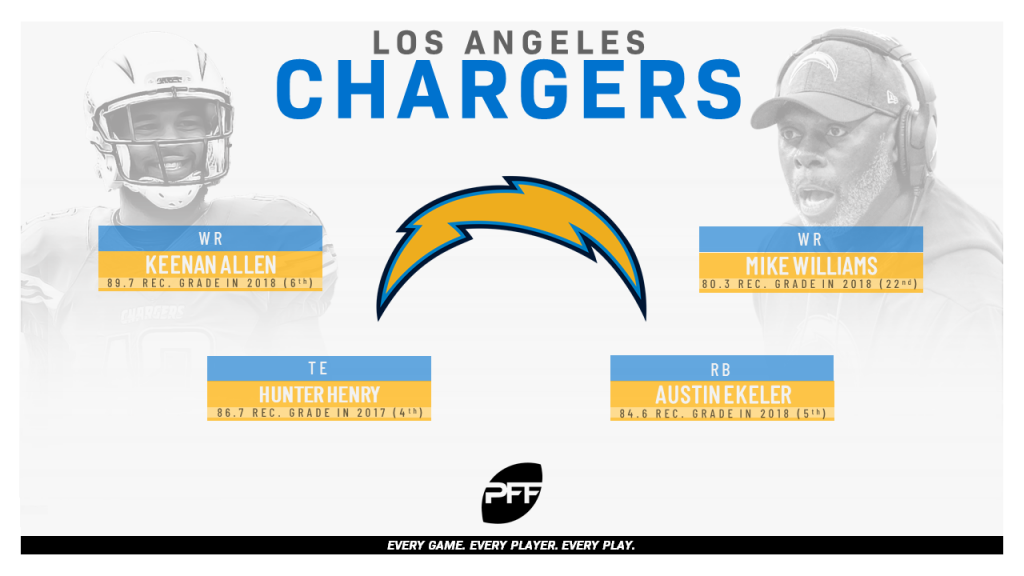 RECEIVERS
After several seasons in which injuries hindered Keenan Allen to open his career, the sixth-year wideout out of Cal has made it clear over the last two seasons that his name belongs firmly in the elite wide receiver conversation. He's one of the best route runners in the entire league. He can play effectively in the slot and out wide, allowing the Chargers to move him around the field and pick out matchups. Case in point, Allen had 27 regular season receptions against a linebacker in primary coverage last season, which trailed only Michael Thomas among wide receivers. PSA for NFL teams: Keenan Allen should never be covered by a linebacker. He has the fourth-highest receiving grade of any wide receiver in the league since 2017. He's elite no matter which way you cut it.
Rising to the clear-cut WR2 after the departure of Tyrell Williams is the third-year Clemson product, Mike Williams, who rebounded in a big way last season after a disappointing rookie campaign. Williams ended the 2018 season with an 80.5 overall grade, ranking 22nd among all qualifying wide receivers. He was especially effective in the red zone with an 82.2 overall grade inside the opponent's 20-yard line. That ranked second among 50 wide receivers with 100 or more red-zone snaps, trailing only Davante Adams. Together, Allen and Williams should form one of the better one-two punches in the NFL at the wide receiver position next year.
The Chargers' receiving talent doesn't dry up at wide receiver, though. They have a deep well of pass-catching talent that extends to the tight end and running back positions, and the return of Hunter Henry looms at the front of that charge.
Henry had two strong seasons to open his career, finishing sixth at tight end in overall grade in 2016 before rising all the way to second in 2017. Henry missing the entirety of the 2018 season, minus a very limited role in their divisional round loss to the Patriots, was a significant blow to the Chargers' offense, especially given the rapport that he and Rivers have built. Among all quarterback-receiver duos since 2006 with at least 50 targets between them, Rivers and Henry have the highest passer rating when targeted at 143.7.
Lastly, they have a talented pass catcher at the running back position in Austin Ekeler. His name has been discussed a lot more frequently than a backup running back's name normally would heading into next season given the current standoff occurring between Melvin Gordon and the Chargers that doesn't appear close to being resolved. More Ekeler would certainly not be worse for the Chargers' passing game, though. His receiving grade of 84.6 last season ranked fifth among all qualifying running backs and his 2.13 receiving yards per route run came in at third at the position behind only Tarik Cohen and Jalen Richard. He's just one part of a multi-faceted group of skill position players that should once again give the Chargers a dangerous passing attack.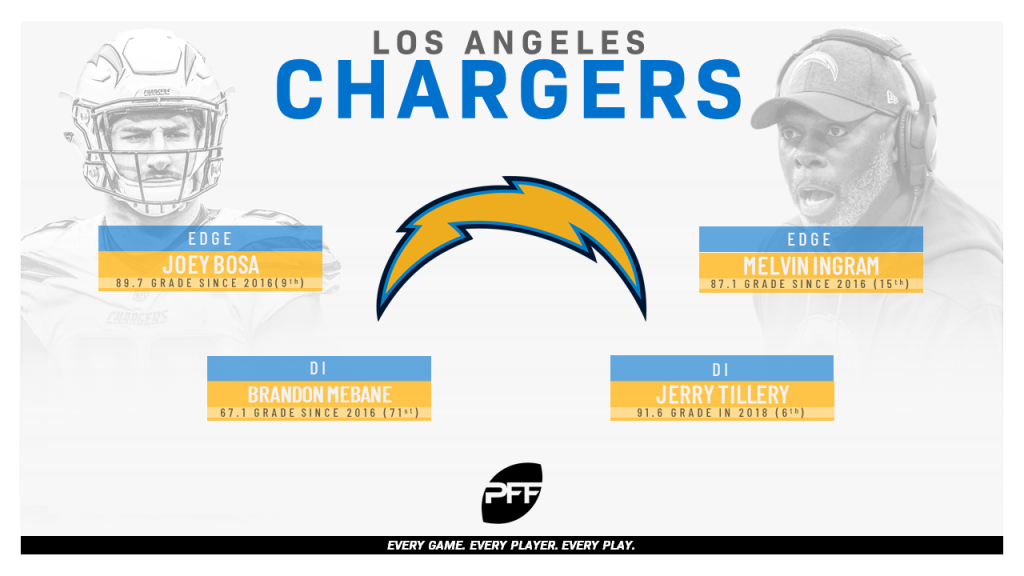 PASS-RUSH
The Chargers have blitzed at one of the lowest rates in the NFL over the last several seasons, blitzing at a rate of just 19.7% in 2017 (31st) and 20.6% in 2018 (31st). That means that in order to get pressure, it must come from their defensive line, which probably has a lot to do with who they have on that unit. Joey Bosa and Melvin Ingram had down years by their standards last season. Bosa graded at just 72.2 in 427 regular season and postseason snaps due to an injury-shortened season, while Ingram picked up a grade of 73.9. When you look at 2016-2017 grades, however, both stand out as top-10 edge defenders in the entire league. Since 2016, both Ingram (14.6%) and Bosa (15.9%) have top-10 pressure rates among qualifying edge defenders, as well.  Bosa, particularly, has been nearly unstoppable in pass-rush situations. His pass-rush win rate of 21.2% ranks first among all qualifying edge defenders since entering the league.
Though they possessed one of the best edge-rushing tandems in the NFL, the Chargers didn't have much in the way of interior pressure. That should change in 2019 with the arrival of Jerry Tillery. Drafted at pick No. 28 despite being No. 7 overall on the PFF Big Board leading up to the draft, Tillery was a steal for Los Angeles. His 92.5 pass-rushing grade last season tied Quinnen Williams for the highest among draft-eligible interior defenders and ranked behind only Josh Allen among all drafted defenders, regardless of position. He didn't pile up the sacks like some other guys, but it's hard to deny how dominant he was at beating his blocker. His arrival in LA adds just another top-end pass-rushing talent to the defensive line.
COVERAGE
As our two lead data scientists — Eric Eager and George Chahrouri — explained this offseason, coverage is king when it comes to defense. The Chargers have coverage, and they have a lot of it. Casey Hayward is recognized as a top-end cornerback in the NFL, but even at that, he may be undervalued. Since 2012, Hayward ranks first among all cornerbacks in forced incompletion rate (18.3%) and he has allowed a passer rating of just 70.6, ranking fourth among cornerbacks with 250 or more targets into their coverage. He's coming off a down year by his standards — 75.9 overall grade in 2018 — but his track record indicates he should bounce back in 2019.
The addition of a healthy Trevor Williams back from injury should only help things out after he broke out with a 79.1 grade on 1,000-plus snaps in his second season after entering the NFL as an undrafted free agent out of Penn State. In that 2017 season, Williams broke up 12 passes and allowed a passer rating of just 70.5 into his coverage.
They're not only set at outside cornerback though. The slot can't be disregarded, as teams have begun to realize just how important it is to win the battle inside given how much production there is to be had when targeting the slot. In that regard, the Chargers are one of the teams best suited to shut down opposing teams' slot receivers and tight ends. Among all defenders who have played 350 or more snaps in the slot since 2017, Desmond King's slot grade of 91.5 ranks first in the league — and his competition isn't particularly close. The next closest player is graded at just 84.9.
That's before you get to their standout rookie from a season ago — Derwin James. James is the perfect defensive player for a modern defense, a chess piece that can do it all. He could have been included in the pass-rush section because James is a legitimate above-average pass rusher despite being a safety.  In 62 regular season pass-rushing snaps in 2018, James recorded 19 pressures. His real value, though, is in coverage. The stat line he posted when quarterbacks targeted a tight end in his coverage is remarkable: 23 targets, 11 receptions, 47 yards, zero touchdowns and two interceptions. That translates to a passer rating of just 18.2. It wasn't as if quarterbacks were simply missing the receivers either, as his six forced incompletions against a tight end were tied for the most at the position. He's a game-changer on defense that fell into their lap a year ago.
Lastly, the Chargers addressed the biggest hole in their secondary — free safety — by drafting Nasir Adderley. Adderley's overall grade of 90.3 in 2018 was second among all draft-eligible safeties. To give some perspective on just how little he allowed in coverage last year, his passer rating allowed was 1.3 on 23 targets into his coverage. He had as many interceptions (4) as he did first downs allowed receiving. Pairing a player like that with James should immediately give the Chargers one of the best young safety duos in the league and round out what should easily be one of the best secondaries in the league on paper.
FINAL THOUGHTS
The Chargers have one of the most talented rosters in the league, and they're loaded in the right areas — areas that impact the passing game. They have above-average to elite units at quarterback, receiver (including tight end and running back), pass rush and coverage. The only thing holding them back is an offensive line that projects to be one of the worst in the league, which is something that needs to improve if they have their eyes set on a Super Bowl. With simply average offensive line play, they should be one of the favorites to still be standing come February. The roster that Tom Telesco and company have put together is primed for another run at the Lombardi.