The 2018 NFL league year is upon us and with that, the hustle and bustle that was the legal tampering period is over and teams can make their reported free agency signings official. With the dust settling from a few hectic days of reports, we at Pro Football Focus take an in depth look at some of free agency's biggest deals in our exclusive 2018 Free Agency Deal Grader.
Taken into our deal grades here are many contributing factors, including but not limited to scheme fit for the player signed, contract value and salary cap hit, PFF's overall grades for both player and team, and several other facets.
For more insight including reported contract details, insight for each player and their team fit, read our full-length description of each signing listed below.
Grade: A+
There's no doubt he can have a substantial impact on the 49ers fortunes in the NFC West in 2018. Read more…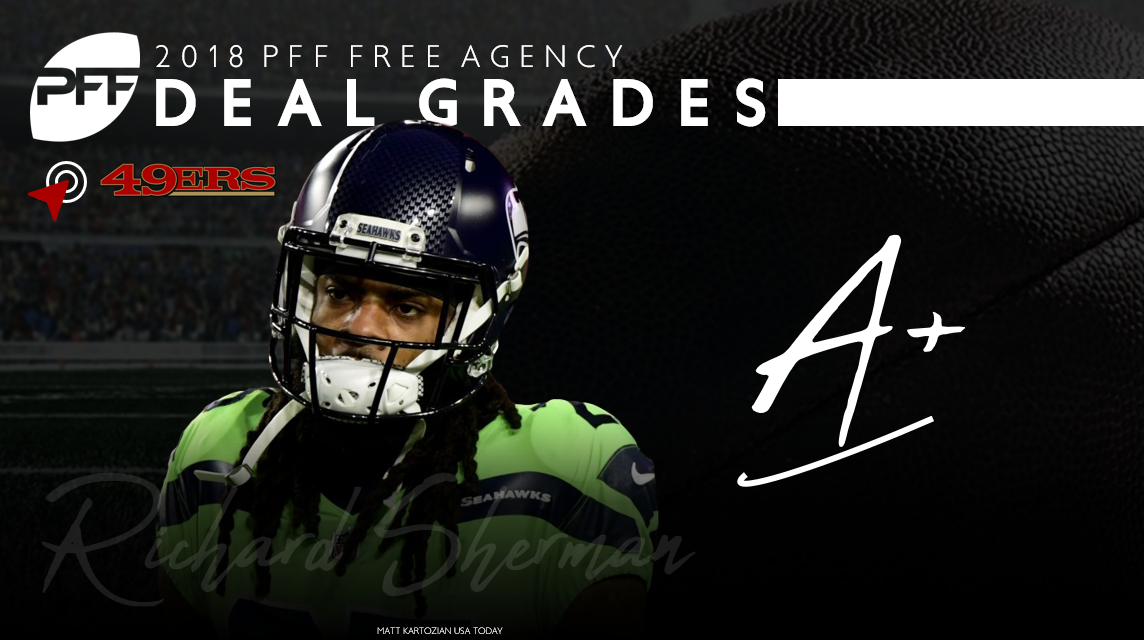 Grade: A
The Jaguars took a huge step in fixing what was clearly their biggest need. Read more…
Grade: A-
This seems to be a classic high-ceiling, low-floor deal for both sides. Read more…
Grade: A-
Signing Wilkerson to a one-year, "prove-it" deal limits the risk for Green Bay and gives Wilkerson an opportunity to return to fame before inking a much more lucrative, long-term contract. Read more…
Grade: B+
The Broncos have likely secured a quarterback who should at least keep them in that competition in 2018. Read more…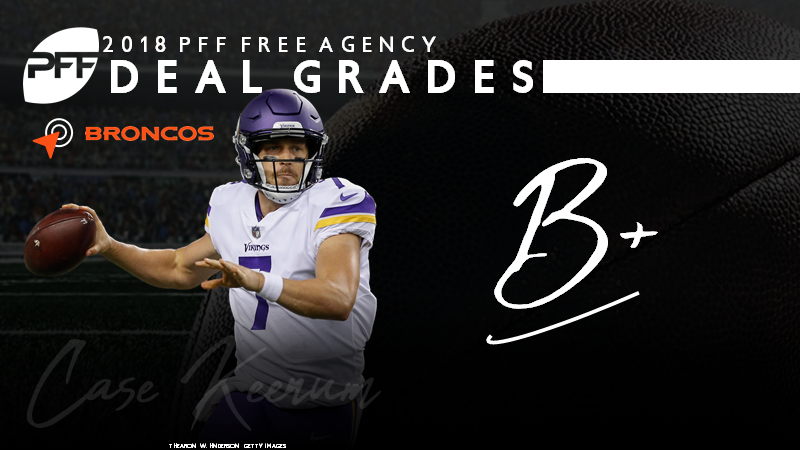 Grade: B+
Lewis ranked No. 1 in PFF's elusive rating (73.2) among running backs with at least 165 attempts. Read more…
Grade: B
Miami deserves credit for working quickly to fill Landry's shoes before scrambling later in free agency and the 2018 NFL Draft. Read more…
Grade: B
The addition of Butler solidifies a key position for the Titans already promising secondary. Read more…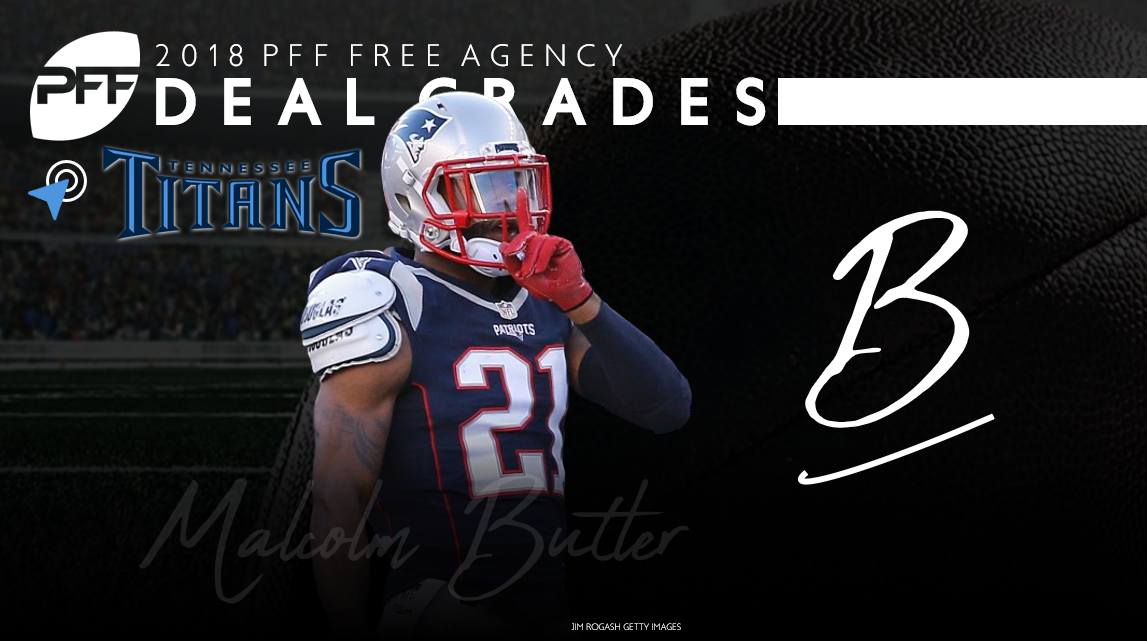 Grade: B
Cousins joins a superb supporting cast that features two PFF top-10 graded wide receivers in Diggs & Thielen. Read more…
Grade: B
Watkins enters a plum situation offensively in Kansas City. By all accounts, second-year signal-caller Patrick Mahomes has all of the tools to take advantage of Watkins ability downfield. Read more…
Grade: B-
The Cardinals needed a new starting quarterback after Carson Palmer's retirement, and in Bradford they are getting a low-risk, high-upside option. Read more…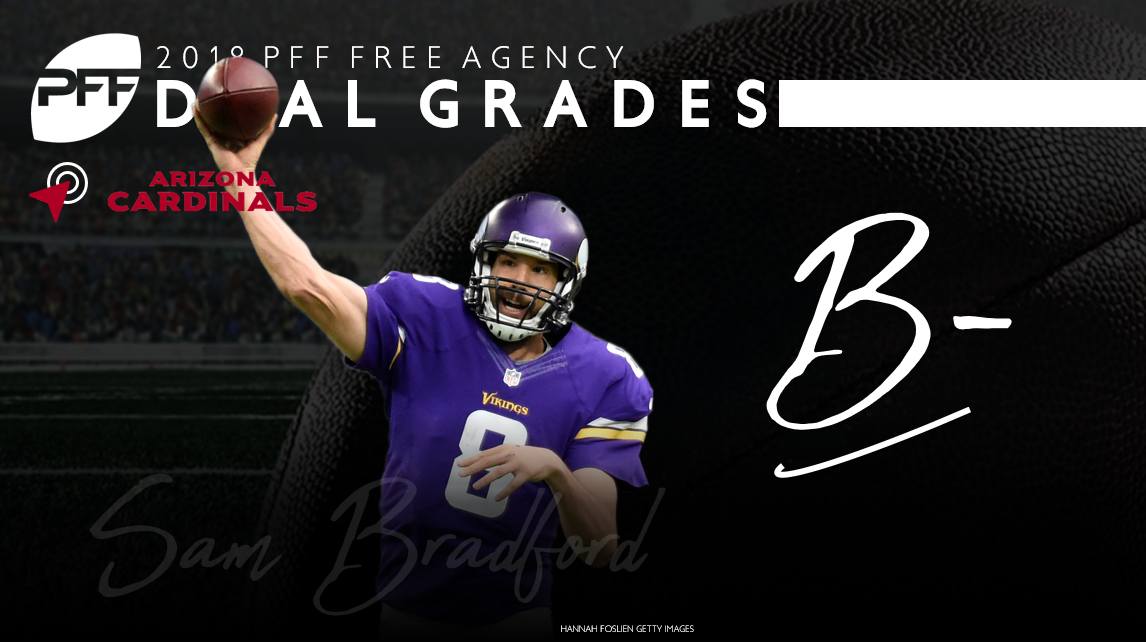 Nate Solder signs with the New York Giants
Grade: B-
Shifting Flowers to right tackle should alleviate some of the obvious pressure on the former ninth-overall pick, while Solder will serve as an immediate upgrade in pass protection for Eli Manning. Read More…
Grade: C+
What San Francisco has acquired in McKinnon is a running back that has been, and likely will be, a solid component of a committee approach to the running game, and a player that can contribute in a meaningful way to the passing game. Read more…
Grade: C
Burton is clearly a talented tight end but only 741 career snaps is a small sample size and doesn't give true indication of the type of production the Bears can expect on a consistent basis. Read more…
Grade: C-
Graham is 31 years old now, so he isn't the dominant presence he once was and is on the heels of his worst season as a pro. Read more…